YouTube TV vs. Sling TV: Which one is worth the monthly subscription fee?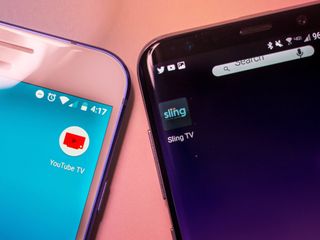 The greatest gift given to me by Google and Sling is the promise of live TV wherever I am on whatever device I have in my hand — as long as I'm paying the monthly subscription fee, of course. I've missed cable so very much; the on-demand way of life is certainly appealing when your world is upside down and your schedule is constantly in flux, but as I've been adjusting my life to be more serene and scheduled, it means I've also found time to sit down and watch my favorite shows in real time.
At present, YouTube TV and Sling TV (opens in new tab) are the two over-the-internet television services worth choosing between if you want cross-platform watchability. (Hulu's Live TV is currently available in beta, but we'll revisit it once it's fully launched. Plex also offers a live option, but it's limited to Android TV.) They both offer ways to watch live television while you're on the go or at home, as well as a vast on-demand library and cloud DVR capabilities.
Their pricing structure isn't the same, however, and I found that overall, YouTube TV is the better deal for those who want a fluid television experience with recording capabilities. If only it weren't so limited by region.
See more on Sling and streaming TV at CordCutters.com!
Update: A correction has been made to the Sling TV Extra's list to explain that they're only available to Sling Orange subscribers. Also updated to add that Sling TV's DVR capabilities are supported on Apple TV.
The all-inclusive nature of YouTube TV
There is a definite difference between marketing strategies for YouTube TV and Sling TV. The former seems more positioned as an add-on to your already involved YouTube experience — the fourth thing you see when you scroll through the app on an Android device is original YouTube Red content. But for the most part, the subscription content you view on YouTube and the television you watch with YouTube TV remains mostly segregated.
For $35 a month, YouTube TV offers 46 different channels, including the major network television stations, a bevy of live sports channels, and bilingual content from Telemundo. You won't get all the local channels like you would with regular cable, however, which means you'll miss out on PBS and public access television in the crawl. (Thankfully, PBS is already available to stream for free online.)
If you're aching for more than what YouTube TV currently offers, add-ons are pretty limited. You can add on a Showtime package for $11 extra a month, or Fox Soccer Plus, which offers access to all the big matches for $15 a month. If you desire more, you'll have to satiate your desire for more content by subscribing to a third-party video streaming service, like Netflix.
YouTube TV is only available in New York, Los Angeles, the San Francisco Bay Area (I've tested it as far out as San Jose and as far north as Petaluma), Chicago, and Philadelphia. If you're not in either of these areas, you won't have access to the service, nor can you watch any recorded content you may have set up beforehand. I had to pay Google Play on top of my monthly subscription to YouTube TV while I was in Iceland, for instance, to stay caught up on my shows regardless of the fact that I had programmed YouTube to record them. This isn't live TV on the go.
If you're a television buff, however, and you're wholly devoted to staying on top of your favorite shows as they debut on television, YouTube TV's built-in nearly-unlimited DVR feature is incredible. You can set it up to record any show or movie as it plays on live television, or follow your favorite sports teams for that matter. You can then access those recordings from your TV Library and they'll stay in your crawl for up to nine months or until you've finished watching them.
Perhaps my favorite feature of YouTube TV is the ability to enable family sharing with up to five additional people. My gal pals and I are all enraptured fans of the Real Housewives series, and I shared my account with them so that we can all stay up to date on the various shenanigans without each of us having to pay individually for the varying sessions through an on-demand video service. And if we feel like binge watching, the subscription to YouTube TV also provides access to all of Bravo's on-demand content right from within the app.
The a la carte offerings of Sling TV
Sling TV is a much better alternative to cable for the sheer fact that it offers more choice. In fact, it seems to have built a subscription model based entirely on the fact that it is a viable option to cable. What you pay monthly for Sling TV varies on which package you choose, as there are a multitude of tiers and add-ons to choose from. Here's a sampling of some of what's available.
Sling Orange
At the basic $20-per-month plan, you get ESPN, TNT, TBS, HGTV, DIY Network, Food Network, Travel Channel, CNN, Cartoon Network, Disney Channel, Comedy Central, AMC, IFC, A&E, History Channel, Lifetime, Bloomberg, Newsy, Flama, Viceland, AXS TV, and Cheddar.
Note that some of these channels, including Newsy and Cheddar, are already streaming for free on rival apps like Pluto TV.
Sling Blue
For $25 a month, Sling Blue offers access to the same content as Sling Orange — except for ESPN, strangely — as well as access to content from Fox, NBC, and Viacom's respective channels. Some of those channels include Bravo, NBC Sports, Syfy, and Univision. You'll also need to pay for this tier if you want to share your account, and even then you can only enjoy up to three streams at a time.
Sling Blue+Orange
Getting overwhelmed by choice? That's okay — that's often a byproduct when the service is a la carte. If you want to add a fourth person to stream, you can pay $40 a month for the Sling Blue+Orange tier, which also unlocks access to ESPN, the Disney Channel, and Freeform. (And if you've got a teenager in the house, you'll definitely want to subscribe to Freeform.)
The add-ons
But wait, there is quite literally more! If you'd like to watch any of the premium television channels in real time, you can subscribe to them for an additional fee. HBO is $15, for instance, while Cinemax is $10. STARZ is also offering a premium pay package for $9, and that includes STARZ Encore. Lastly, SHOWTIME and its affiliated channels can all be added on for an extra $10 a month.
And then, there are more
If you want even more content, here are a sample of some of the packages you can purchase for an additional $5 with a Sling Orange subscription:
Heartland Extra, which adds PixL, Family Net, Sportsman Channel, Outdoor Channel, World Fishing Network, and RFD-TV.
Kids Extra, which includes Disney Jr., Disney XD, Boomerang, NickToons, Nick Jr., TeenNick, Sling Kids, Duck TV, and Baby TV.
Sports Extra, which adds the SEC Network, ESPNEWS, ESPNU, NHL Network, Universal Sports, Univision Deportes, beIN Sports, ESPN Buzzer Beater, ESPN Bases Loaded, ESPN Goal Line, Campus Insiders, and Outside Television.
Comedy Extra, which bundles MTV, TruTV, Spike, MTV2, CMT, Logo, TV Land, GSN, and El Rey.
Lifestyle Extra, which comes with the Cooking Channel, DIY, truTV, WE tv, FYI, LMN, VH1, BET, Vibrant, Oxygen, and E!.
Hollywood Extra, which includes both live and on-demand content from EPIX, EPIX2, EPIX3, EPIX Drive-In, Sundance TV, Fandor, Turner Classic Movies (also known as TCM), and HDNet Movies.
News Extra, which includes channels from Fusion, HLN, News 18 India, Euronews, NDTV 24x7, France24, RT, BBC World News, MSNBC, CNBC , and TheBlaze.
And lastly, you can choose from Broadcast Extra, which only available in select cities. This package includes ABC, Univision, and UniMas.
There are also extra tiers if you speak Spanish, Mandarin, Italian, French, German, and Brazilian Portuguese. You can view the entirety of the constantly changing lineup here (opens in new tab).
After reading all this, you might feeling a little overwhelmed. I don't blame you: signing up for Sling TV is a bit of an experience, as it's not merely a "tap to subscribe with your Google account" kind of service the way that YouTube TV is. Sling TV does do all of the calculations for you as you add on packages, however, so you can see in real time how much a monthly subscription will cost you. At the very least, the lowest Sling Orange tier seems to offer all the basic channel necessities, including ESPN for the sports buffs.
Sling TV also has the advantage of working across a variety of devices. Whether you've got several set-top boxes, game consoles, or smartphones laying around, they're all capable of working with Sling TV's apps. However, as Android users you might find that Sling TV works better on a wired, connected device rather than through Google casting. I can report that I had several issues with regards to streaming Sling TV (opens in new tab) from my smartphone to the Chromecast, to the effect that the app would randomly freeze up during an advertisement or start over the video feed.
Perhaps the biggest caveat, however, is that Sling TV doesn't bundle in Cloud DVR like YouTube TV. It's a $5 add-on, though it's limited to the Sling Blue and Blue+Orange tiers. It also only offers a 50 hour recording limit, though the videos will stick around as long as it takes you to watch them — there is no nine-month limit like there is on YouTube TV.
Sling TV's DVR services are available on Roku devices, Roku TVs, the Amazon Fire TV Stick, Amazon Fire TV, Android devices, and Apple TV. It's a bit more robust than YouTube TV's offerings, too, since you can choose how to record, like whether it's limited to one time or all showings of a specific program. You don't get that kind of control over recordings with YouTube TV.
The apps
From left to right: YouTube TV's front page; your personal library in YouTube TV; the Live TV crawl.
As far as Android app capabilities go, YouTube TV has a number of user interface features working against it. The minute I log into my account, I'm bombarded with all the available content, which can be overwhelming when all I wanted to do was catch one particular show. The Android app also has a propensity to auto start whatever I was watching last, so if the media volume is loud for whatever reason, it can be pretty startling.
I was not a fan of Sling TV's Android app, but that's because of its constant crashing and casting issues, which I mentioned above. I have a Roku box as a backup for when things just don't Chromecast, but I much prefer to be able to grab my phone and send the stream to the television than have to navigate through another system just to watch TV.
Sling TV's user interface is a tad better than YouTube TV's in the sense of how it organizes the content, though I'm not a fan of its droll color scheme. When you start up the app, it takes you directly to your own customizable landing page, the idea being that you're immediately led only to the content you'd view. If it were me, for example, I'd set it up with Bravo and E! as my bookmarks, and HGTV as backup. This way, I'm always privy to what trash television is on when I launch the app. If you need to jump into the main channel guide, it's easily accessible in the overflow menu.
Conversely, YouTube TV requires you scroll over twice to the left. This is fine, and I appreciate the ability to quickly swipe over without even thinking about it to get to what's on TV, but with the aforementioned auto play issue it can be a little slow to load the latest even on my Pixel XL.
I'd wager the reason that Sling TV's app interface is so much more navigable is because the company behind it knows television. There's a bit of a standard to navigating TV; you know how to jump into it wherever there's a Guide button on the remote, for example, and Sling TV sticks to those typical conventions. YouTube TV, on the other hand, seems more designed for smartphone users, which results in one long, giant page that requires you scroll through a massive number of thumbnails to find what you want. The thumbnails are fine because I can more quickly scan what's on TV with them there, but man, they are not pretty to look at.
Which one to choose?
Choosing between YouTube TV and Sling TV can seem like a whopper of a choice to make, but the good news is that both services offer trial periods. YouTube TV is currently offering a promotion that gets you a month free of the service, plus a free Chromecast after you subscribe. Sling TV is running a similar promotion with a week free of service, plus a free Roku Stick when you subscribe.
There's another way to look at the two services if you're choosing between the two: YouTube TV is made for smartphone users and those who are deeply entrenched in Google's ecosystem. I like that the app is immediately visible from the Google Home app, for instance, and that all I have to do to log in to the service is link up my Google account. YouTube TV is meant for the Google user, which is also why it works nearly impeccably on both the first- and second-generation Chromecast streaming sticks.
Sling TV is made for people who want to ditch their cable companies. It offers the most variety and the most choice, but it's modeled after the way we wish cable companies would operate. Its services really are a viable option to a Comcast or Time Warner account, and the barrier to entry is relatively low. All you need is a little device that supports the service, which you can buy almost anywhere those things are sold.
In the end, your choice will rely mostly on price. I'd suggest tallying out what it is you pay for separate streaming services and attempting to whittle it down to which would be the most cost efficient and which works best in your region and with the devices you have in your home. Note that both services also offer a giant heaping of movies and on-demand video, which could help as you're deciding which streaming services to stick with.
Regardless of whether you choose YouTube TV or Sling TV, It'll be interesting to see how other rival services, like Plex and Hulu, will manage throw a wrench into the live television experience. It's also possible that this particular idea of live television anywhere will become merely another essential add-on to our already constantly-connected lives.
Florence Ion was formerly an editor and columnist at Android Central. She writes about Android-powered devices of all types and explores their usefulness in her everyday life. You can follow her on Twitter or watch her Tuesday nights on All About Android.
YouTube TV is a non-starter for me without TBS, AMC, BBC America, etc.

Exactly. I'm pretty disappointed it's missing these.

Give YTTV a few years to mature. They could dominate given fewer restrictions (DVR, out of home viewing). They just need the content deals.

If you are a youtuber or cable tv channel is not important for you. You should keep youtube ,it's very cheap for your dollars.But if you like tv with different channels like cables,you should subscribe to sling tv,it's very cheap,you will be able to choose any plans they offer.

YouTube TV actual has AMC and BBC America now, just not TBS yet.

AMC & BBC America are on YTTV already.

until YouTubeTV gets set top box support, it is a non-contender for me. I use PS Vue over Sling, but YouTube TV could be a real contender if they had native support for boxes like Roku or PS4, etc

Being only available in NY, LA, and Frisco, Youtube TV is barely a beta test, and hardly anything worth comparing to an existing actual national service. Also, it seems pretty ridiculous that these services simply don't carry CBS, ABC, NBC, Fox everywhere

If I am seeing this correctly (per Sling's website), Sling does not carry CBS correct? I believe that CBS is included on YouTube TV? I am patiently waiting for YouTube TV to come to my market (St. Louis, MO), and I can ditch cable TV.

In Bridgeton so same boat as you but it's gonna be awhile.

You could always just get an HDTV Antena and get over the air CBS free.

We have tried the antenna route, but we are on the edge of decent reception, and we are kind of down in a valley. It's spotty at best.

Sling sucks! The service is awful and the customer service is worse. I've tried it twice a few months apart. I really want it to work, but the constant freezing and errors makes it unusable.

The only thing I liked about Sling was the UI in their AppleTV app. Sling gets an F for inconsistent functions between channels. For example, you can pause live streams on some channels but not others. Are you f-ing kidding me? That was a total deal breaker, so my free trial laster about 30 minutes.

Did you happen to have those errors on Chromecast?

Neither, I used SLING for six months and it is complete crap. I found PS Vue and haven't looked back.

I have been using YTTV since it's inception, and although I wish there were more channels, I love the platform. I believe as more people join and send feedback of which channels they're interested in, the platform will grow to accommodate them.

Playstation Vue is better than all of the above. I've tried all the streaming services and keep coming back to it hands down.

Completely agree. PS Vue is the best

I like Hulu Live TV package because I also get their commercial-free back-catalog of shows. Can't beat that. Just needs AMC added to the lineup.

Do you still need a Playstation to get it? I looked into it but that part is a hurdle for me.

Nope, no longer required.

YOU DON'T NEED A PLAYSTATION TO GET PLAYSTATION VUE. IT IS JUST THE NAME OF THE APP. The app is available on any streaming device. I currently have it running on three different devices in my house including, an Amazon Fire Stick, a Roku, as well as an Android TV Nexus Player.

I liked PSVue a bit more than SlingTV. For me the channel pkgs were easier to choose from. The 1 thing I did not like about PS Vue was that very little was available once I left my home network. 2/3rds of the channels and my recordings were not available once I was off of my home wifi.

As the commenter above notes, PS Vue is quite a bit better than all the ones mentioned here. I keep looking for better options, but none are better than PS Vue. The apps are great, the selection is great, pricing is reasonable, unlimited DVR, 5 screens at once, etc. Better than all the rest at this point. I use it on my Pixel XL, my iPad Pro, my Amazon Fire TV, etc, and the experience is almost always great...

I use Sling TV blue. I got it on the T-mobile promo so only 18/month the first year. I love it
has all the channels I need AMC and TBS are a big plus. Also I can use it on different devices
at the same time so I share my account with family.

Leaving PS Vue out of the discussion somewhat invalidates this column.

Completely agree. Sony probably didn't pay them to be included. That being said, PS Vue is the best.

PlayStation Vue is locked to your home. The article seems to be based more for on the go usage which is probably why PS Vue was left out.

I'm not sure where you got that idea from, but I use PS Vue outside of my home pretty regularly

I stand corrected then, I thought it had very limited use outside your home network. No idea why it wouldn't be included then.

It seems the intent of this article was to review streaming services Flo could share with her gal pals, which one can do with Sling and YTTV. Vue uses your home IP address so you can't give your credentials to your pals so they can use it at home.

YouTube TV needs Nick Jr. for my family's use.

You say Plex has a Live service??? It is not a true live service. You need to have a usb tuner for OTA, or an hdhomerun device like the prime to receive channels from your cable provider. PS Vue blows the rest out of the water anyways.

Yeah not sure why Plex is being mentioned here. YouTube TV, Hulu Live, PS Vue etc are IPTV services. Plex is not.

I have tried them all and Hulu Live TV is the best option for two reasons. 1. Hulu offers some good original shows and 2. Hulu gives you access to a ton of full seasons. All the rest are limited to the current season in most cases.

Doesn't PlayStation Vue cost like $60/month? maybe that is just their highest tier. I can't look it up here at work. It is blocked.

In markets where all of the major networks are not included, PS Vue starts at $29. If you can receive locals over the air, this is a great bargan.

What about DirectTV Now? I'm using it, $35 month for over 100 channels, including all listed above. Free streaming on phone if you have AT&T. It does not have a DVR though, and it's 2 streams only...

I need El Rey Network. Comcast doesn't offer it to me here and FIOS wants a huge deposit to give me service.. So my only option is Sling TV, which I only subscribe to during the NBA Playoffs and when Lucha Underground is in season.

To cut the cord, I really wanted to like YouTube TV. It's easy to use and the DVR is great. With 2 days left of the 30 day trial, I'll pass it (even with the Chromecast after paying for the first month.) With 3 Rokus in the household, not interested in having to buy yet another device. Plus many favorite channels YouTube TV doesn't carry. I wrote them twice already about it and they said they'd pass my comments along! Yet from the Sling TV bad reviews, I'll have to wait for a better live TV streaming service to come along, whenever!

I may subscribe to YouTube TV just to get another Chromecast. I'll have to look and see if it's worth it for the chormecast alone, or if I'd be better off just buying a chromecast outright. Is it the new Chromecast ultra, or the old one? Edit: should have read this article closer. I'm not in the cities listed above.

If only PS Vue had the History Channel. I'm on Directv Now but it's still buggy.

Waiting for HULU TV as they report will have network stations across the country.

No mention of playstation vue which is by far the best service out right now.

What about PlayStation vue? I agree with Kyle1745 and it has cloud DVR!

No Hulu for me until it is available on Roku! I would like Youtube TV since I can share with up to 6 people!

this link gives a pretty good break down of all 4 services and Chanel lineup. https://www.cnet.com/news/youtube-tv-vs-sling-tv-vs-directv-now-vs-plays...

I get 20 something channels over the air free with an HDTV Antena. CBS, fox,NBC, abc, PBS ect...they should over a slightly dicounted plan that doesn't include local stations at all.
Most people don't realize they can get their local channels in HD right over the air.
If YouTube offered a plan like this, they would not have to wait to roll out to more cities as Google negotiates with each abc,CBS,NBC, fox affiliate.

I use a TiVo Roamio to watch and DVR over the air channels. Coupled with a Slingbox and $29 PlayStation Vue plan, I have every channel I had with cable available everywhere for under $30/mo.

DirecTV Now isn't even mentioned? That's my choice. I just wish they had DVR service.

I use Sling Blue here in Toronto, Canada and don't have any problems with the service. I might add HBO again soon for GoT.

I wish YouTube TV had TNT and TBS.

I wish Youtube TV had Red bundled with it.

At $20 a month sling is essentially an impulse buy, it's only $8 more than a 4 screen Netflix. Granted you would give up some of those screens. Don't really see any huge offering from Youtube, Hulu, PSvue or Directvnow, all are more expensive and each with it's own set missing networks and streaming glitches. Seriously, what is on network tv that is must watch? Daytime is full of crap infomercials, judge and lie detector shows interspersed with what seems like 15 hours of local news. Evenings are full of crime drama, sitcoms, and reality crap.

Have people had video/audio not syncing with Chromecast? I have a Gen 1 and audio is frequently a second behind or so, with an audio pause every once in a while. Video will speed trying to catch up or sometimes slow to half Not doing it on YouTube TV and been watching for 30 minutes. I know YouTube is owned by Google so maybe the technical aspect is easier but trying to find an option with the channels I want means only Sling right now
Android Central Newsletter
Thank you for signing up to Android Central. You will receive a verification email shortly.
There was a problem. Please refresh the page and try again.