Is your Pixel randomly shutting off Bluetooth? You're not alone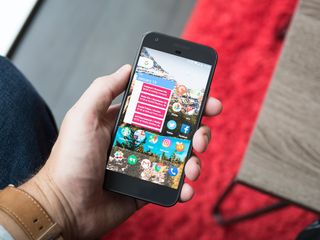 The Google Pixel has been a bit buggy after this month's February update, and Google has identified a fix for one of the more noticeable ones: your Bluetooth randomly shutting itself off. Listed in the Pixel's Product forum, community leaders say that a fix has been identified and that it will be pushed out in a coming release, hopefully alongside the March security update.
The issue that many Pixel users have experienced is an infrequent but nevertheless annoying disabling of Bluetooth without the user having gone anywhere near the settings. If you're playing music through a Bluetooth speaker at the time, it's easy to detect, but for most of us, you don't find out until your phone keeps dinging for notifications and your wrists doesn't, or when you get in the car and your tunes never start up.
Numerous users have been chiming up with this issue in the Pixel User Community, helping the Pixel team find the issue and identify a fix. There doesn't seem to be much of a workaround while we wait for said fix to roll out, but it's good to know that it's not just us, and it will be fixed. Hopefully soon.
Android Central Newsletter
Get instant access to breaking news, the hottest reviews, great deals and helpful tips
Ara Wagoner was a staff writer at Android Central. She themes phones and pokes YouTube Music with a stick. When she's not writing about cases, Chromebooks, or customization, she's wandering around Walt Disney World. If you see her without headphones, RUN. You can follow her on Twitter at @arawagco.
Yes, this has happened on numerous occasions to me. I'd have my Bluetooth headset in my ear and randomly hear 'Phone 1 disconnected'. Very annoying to say the least. I really hope the March update fixes this issue.

Haven't had this, thankfully.

Thankfully, I haven't experienced this at all, either in the car or daily use of BT earphones. However, it does sound like an annoying issue, so I feel for those who are experiencing it.

I think this is an Android thing in general. My GS6 does this randomly as well, but my wife's iPhone 6 has never had Bluetooth connectivity issues. Very frustrating.

I don't think so. I had this happen to me when I had my Pixel XL. I sold it. But I had an iPhone 7 Plus, and this happened all the time. I haven't had this happen with my S7 Edge, S6 Edge before it, Note7, or now my LG V20.

I should clarify that I have had zero Bluetooth stability problems with my Gear S3, but all my Bluetooth headsets randomly disconnect.

This same bluetooth issue is happening on my Nexus 6 as well, so I don't think it's necessarily limited to the Pixel / Pixel XL. It began after the last security update. My bluetooth will stay on most of the day and then I'll look down at my huawei watch and find that it's disconnected and the bluetooth is disabled on my phone. Bluetooth connectivity overall has been garbage since the last update, have to restart just to get it to connect to anything.

I agree! My 3T is doing the same.

Same here with my 5X and LG Urbane!

Here is something odd, same here (N6 and Huawei watch). Except my N6 is on MM and an old version at that (rooted, no time to upgrade, all those excuses no one wants to hear). I wonder if your and my issue isn't the phone, but something the Huawei watch is doing? Maybe a recent update? It seems to have gotten progressively worse after the last update to the watch. I turned off the phone audio part of my HW, and it seems to be behaving right now.

Sony master race? lol just kidding but I have zero problems on my X Performance + Lg Gwatch R on nougat since December

Ha, I thought it was me when I noticed my LG Watch Sport was suddenly disconnected from my phone. Only has happened once for me so far.

No one is reporting but I received on ota update from Google on my Pixel XL today and no it isn't the February Security Patch. I got that on the 4th of February. It is a 98 mb update.

Then you're lucky, but I haven't seen it yet. Stupid staged rollouts.

Are you on the 7.1.2 beta? If so then you won't get the security updates until the next beta update.

This isn't just a pixel thing, my Nexus 6P has been doing it as well.

I have this happening on my Pixel XL running Dirty Unicorns 11.1.

Same with my 6P. It's only happened since the Feb security patch though.

Why can't they get BT right? I swear, I never hear of any BT problems from iPhone users. *cue the Apple magic comments*

Honestly, I switched to the iPhone 7 Plus temporarily after the Note7, and was shocked at how unstable it was. I had Bluetooth disconnect issues, WiFi disconnect issues, random freezes, etc. Started wondering what all this iPhone is so stable stuff is about.

So your anecdotal testimony beats his anecdotal PoV?

Exactly. Lol. No, just saying the grass is not so much greener on that side either. That doesn't excuse any of these issues. This should not be happening in modern phones, and particularly not in flagship phones.

It seems that a phone designed by Google and manufactured by HTC would be pretty much bug free. I understand that things crop up from time to time but it seems the Pixie has a new problem every few weeks, which to me is unacceptable. I almost bit and bought one....got the financing on Google's store, put phone in cart but waited to sleep on it. Came back the next morning for it to be out of stock. LOL, so I bit and bought another S7e (black onyx) and glad I did. Would have waited for the S8 but can't justify it's price for features ratio. As for the iPhone, I have the 256GB matte black 7 and the 32GB matte black 7+. While good phones, like you said, aren't without their problems. My 7 works great except for dropping wifi at times. The 7+ has frozen on me 3 times while trying to make a call....once while answering a call. So yeah, the moniker that the iPhone "just works" is asinine at best.

My Windows Phone doesn't have this problem. BT does not shut off randomly.
But one problem both my Android and WP have in common is WiFi interference.
I have to turn off WiFi when mobile, or I will lose my BT and or Mobile Data connection, as I leave WiFi connections.

Happens almost daily on my XL :(

Same Bluetooth 'turn off' issue here with Sony Xperia Z5 Compact and Asus Zenwatch 2. Seems to happen if the phone and watch go out of range of each other.

No but my Pixel wouldn't update or dl anything unless I turned BT on @#$&. Talked with Google three different techs then one day boom it was fixed.

This isn't "infrequent" by a long shot. A co-worker and I cannot stay connect to our watches for more than a few minutes. We've both reset our phones AND watches hoping to fix it, before realizing it was an update issue.

Am I the only one that's experiencing this problem in reverse? I never had issues with my Pixel until last Thursday. Now the only way i CAN make calls is through my bluetooth headset. My microphone seems to be on the fritz. I've tried the speakerphone trick flipping it on and then off, but that no longer seems to work. Anyone else in my boat?

Interesting... I have been having this very issue on my Nexus 5 for the last two weeks. It seemed somehow related to security settings/pattern unlock in tandem with Smart Lock (Garmin vivosmart). No combination of any settings or reinstall fixed it. Ultimately, I reset all app permissions and that finally resolved it. I still have a lingering issue whereby Bluetooth does not automatically re-enable after disabling airplane mode. Don't know if my issue is related to the Pixel issue, but that's quite a coincidence (my N5 having similar symptoms at the same time)

my chromebook plus just did this random

Anyone with me that Google's software is going to ****? I understand updates to increase security, add features, and improve stability....but it seems with just about every update they introduces new bugs while breaking things that previously worked. But this is a wholehearted conundrum. People with Google phones scream for fast updates so Google pushes them out half baked to make everyone happy which could introduce problems. If they hold off to get it right, People are screaming that their update is a day late. Google can't win for loosing. In the same boat though, with G's resources, this shouldn't happen.....at least on the software side of things.

I have had this issue on my my Nexus 6P since I have had it and at that time it was running Android 6.01. Every update since then I keep my fingers crossed that the annoying bug has been fixed. Guess I will wait a bit longer.... *Sigh*

I left Pixel a few months ago due to the initial Bluetooth problems, namely locking up my entire UCONNECT system (have to stop and turn off car for a few minutes to recover) or it not connecting to older Bluetooth systems. I still like this phone but had to replace mine and a few here at work with Moto Z Force Droids.

2 years. Nothing's change, it may have even gotten worse. I don't even want to waste time listing all the issues, I'll just say it's all fudged up.
Android Central Newsletter
Get instant access to breaking news, the hottest reviews, great deals and helpful tips
Thank you for signing up to Android Central. You will receive a verification email shortly.
There was a problem. Please refresh the page and try again.