Your AT&T Galaxy S4 is getting an OTA today, even if you already have 4.3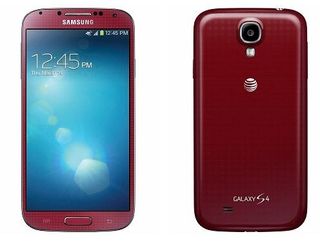 Two updates are pushing to get everyone on build MK2
AT&T and Samsung have reissued the Android 4.3 update for the Galaxy S4, and according to AT&T it should start pushing out to devices today. The update seems identical to the last round, which was pulled for unknown reasons by Samsung shortly after things got started. We imagine there are important changes under the hood, though.
Anyhoo, if you're not yet on Android 4.3 your update will be a wifi-only 727MB download, and when all is said and done your device will be current as far as things stand now. If you had previously installed the 4.3 OTA, your update will be a small 28MB update. In either case, you'll be running version I337UCUEMK2.
Got that? Don't fret if you're not up on all these numbers and versions. Just wander into the forums, where you can get all the help you need from people just like yourself. OTA days make the forums especially love-filled, so don't miss all the good feelings and karma.
And enjoy your update and your turkey.
Source: AT&T (opens in new tab). Thanks, Michael!
Senior Editor — Google Ecosystem
Jerry is an amateur woodworker and struggling shade tree mechanic. There's nothing he can't take apart, but many things he can't reassemble. You'll find him writing and speaking his loud opinion on Android Central and occasionally on Twitter.
Any news on the t-mobile galaxy s3 lte update?? This is good for at&t though Posted via Android Central App

Stick to 4.2. 4.3 sucks on the s3. A lot of lag due to the fact that you can add widgets to the lock screen. Posted via Samsung GS3 Wishing It Was A N5

Pulled my S4 out of the drawer fired it up and got the 28 MB update. Not sure what it did, but I got it! Pulled my SIM out and put it back in the drawer!

Pulling it down for my wife and daughters' S4s...one at a time and it is taking very long.

That reminds me, I forgot to do my old s3 ----------------------------------------------------
So where is the competition for the Note 3? Oh right there isn't any...

Made it to 90MB before being interrupted. Told to wait 24 hours before trying again. Hardly worth the effort.

If you go to Settings > More > Time & Date, and set ahead 24 hours, you should be able to download again. One thing is you need to keep it plugged in and keep checking (that's what I did).

Got the same thing and I thought it was my WiFi connection which happens to be slower on the S4 than it is on my Note 3. I have tried 3 times moved the date all the way to 11/30!! Now at 19% (150MB), this is the furthest it has has gone without stopping...fingers crossed.

You to eh, I've been trying to update it since it came out... Nothing :-( thus is my first Android phone so I have no idea what km doing lol any advice?

Why is the ATT update 727mb's and the Tmo update was 781mb's? Posted via Android Central App

Tmobile either has more apps or their apps are bigger. This update essentially includes everything had your device come directly from your provider.

"Anyhoo, if your not yet" *you're (Is there a way to notify the article's author without posting an obnoxious comment like this?)

Is there a way to not be an annoying grammer nazi freak? Posted via Android Central App

Nah ----------------------------------------------------
So where is the competition for the Note 3? Oh right there isn't any...

I understand why it bothers him. When someone makes that mistake in a comments section it is one thing. But when someone whose job it is to write articles for a living makes that mistake, I think it deserves some criticism. It was probably just a simple mistake, but it looks very unprofessional coming from a professional. The same goes for there, their and they're, or to, two and too. The rules for these words are very simple, but people still get it wrong. I agree that pointing out these mistakes makes a person sound like a snob, but again when the mistake is being made by a professional writer I think it is warranted. Most professional writers when faced with criticism like this are gracious about it and thankful for the correction. It helps make them better writers.

Yes! email actips@androidcentral.com All the editors get it when that happens, and one of us will get right on it. Everyone else — we like it when someone politely mentions a typo. We write millions of words per month, and mistakes happen. We don't take it personally. :)

I just got a S4 replacement coz the one that i had previous broke. I can't update that for some reason via wifi nor kies.it says that its alteady up to date but its sitting at 4.2.2. Does anyone know the solution? Posted via Android Central App

I don't know of any but you're not alone man the same thing is happening to me :-\

This is great for the S4, but when are they going to update the original galaxy note 10.1 to 4.3? Posted via Android Central App

Checked for the software update and it's currently downloading. Taking a long time though. I have to keep checking my phone because the download pauses if the screen is locked.

I was so excited for 4.3, but I keeps noticing little problem after little problem. Hopefully they will get fixed soon. Oh, and I have the t-mobile version and I just got the update tonight.

This second AT&T update for the galaxy s4 is definitely more stable but there are still major battery drain issues that have not been corrected

This 4.3 update for the S4 has been anything but trouble free. The folks with HTC Ones didn't have anywhere near as many problems. Posted via HTC One on Android Central App

Hello I'm new to the Android world. I switched from iPhone 4 to Galaxy S4 when it came out so excuse my elementary question please. I'm currently downloading the new software but my phone lock screen keeps pausing the process. Is there a setting to keep the screen active? Posted via Android Central App

Disable Lockscreen and extend "Time Out" time.
Or you can just touch the screen every so often to stop it from timing out.

I still haven't been able to get the 4.3 update. I've been trying changing the time ahead a bunch of times and still says update not available. I eventually lose what date I was up to so I just change the year and now I'm at the year 2020!

Same here. I ended up having to do a factory reset and still nothing Posted via Android Central App

MK2 update solved my problem from the first 4.3 update. I was unable to charge with my car charger... now I can. Posted via Android Central App

Still nothing yet for me: AT&T and S4. And still sounds like a troubling experience reading about other recipients. Just received 4.4 on my Nexus 7: quick and smooth. What's the deal with Samsung and AT&T?

It is awful for T-Mobile too. Such a bummer, because I was excited for the little things like Trim Support and Knox, but there are so many problems that came with this update, that I would rather have 4.2.2 back. I thought about turning my s4 into a google edition phone, but I need wifi calling, and stock android doesn't have that.

Thank you SoreAintya! Posted via Android Central App

I've tried downloading the latest 727 MB update twice, only for it stop both times. My Google Now stopped working, and now simply scrolls multicoloured bars across the top. Oddly, I now see Knox Store and Knox Notification Manager in application manager. My SGS4 still indicates Android 4.2.2. Nice mess, AT&T and Samsung. Posted via Android Central App

The first time I attempted to update my SGS4, it downloaded most of the update and then said that the update was interrupted. Now when I try to update, it checks for updates and then gives the message that the update was interrupted and will check again in 24 hours.The weird thing is when I open the software update tab, there is an option to "continue update" but it is grayed out. When I updated my wife's SGS4, it took on the first try.

I'm having the exact same issue. I've tried forwarding the date 24 hours and trying again, to no avail. Anyone with ideas?

Now, I just got it to complete the download, but as soon as it finished, I was told that the update was interrupted, and that I'd have to try again in 24 hrs. Anyone have a fix, or am I better off waiting? I've had this SGS4 for 2 1/2 days now after switching from an iPhone.

So, about 30 min. after my last post I received a notification that my update was ready to be installed and that the phone needed to restart to begin. It restarted, installed and fired up with no more issues. So far, so good.

Me, too... Any advice? Googling seems to come up dry...

Samsung and AT&T need to get their act together. When it's right then release it. Until then stop causing distress to their customer. This is really unacceptable. Are you listening???

Can someone please help me I accidentally deleted my at&t software updates app is there any way I can re download at&t software updates? Email @ crawler350@aol.com ..#2404477834

Im downloading the new software for my S4 active now Its at 60% will let u know how it works out

After reading all the comments..hope all goes well..its at 70%
Android Central Newsletter
Thank you for signing up to Android Central. You will receive a verification email shortly.
There was a problem. Please refresh the page and try again.