The 5.5-inch YotaPhone 3 has a secondary e-ink screen and a Snapdragon 625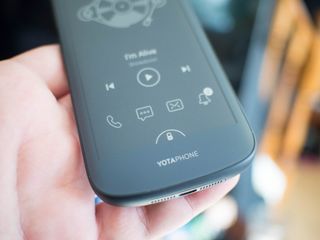 Remember the YotaPhone and the YotaPhone 2? They were those crazy phones from Russian manufacturer Yota that had a regular screen on one side and an e-ink display on the other. The first one pretty much sucked but the second version was not completely terrible, though it never made it to the U.S. as promised. Well, there's going to be a third model.
Lilliputing tells us that Yota Devices has announced the YotaPhone 3 at the China-Russia Expo in Harbin. They didn't share very many details but we do know that the 64GB model will retail around $350 and the 128GB model costs $450. Both will feature the dual-display combo, with a full-color display (no word on exact display type or features was given) on the front and an e-ink display on the back, just like the previous models.
Russian site Vedomosti also says that the YotaPhone 3 will ship in China this coming September and pre-orders in Russia will start at the same time. Considering the company's track record, we don't expect to see sales of this uber-niche device expanding too far outside its home range. But hey, it never hurts to hope.
Now we have official specs of the phone thanks to Russian retailer VK.com:
Swipe to scroll horizontally
Category
Spec
Operating System
Android 7.1.1 Nougat with Yota OS 3.0
Display
5.5-inch 1080p Super AMOLED, 5.2-inch 720p e-Ink Carta
Processor
Qualcomm Snapdragon 625 octa-core
GPU
Adreno 506
RAM
4GB
Storage
64GB or 128GB
Expandable
N/A
Battery
3,300mAh
Charging
USB-C

Water resistance
N/A
Rear Camera 1
13MP (1.4µm pixels) color sensor
dual-tone LED flash
Front Camera
12MP
Connectivity
300 mbps LTE (X9 baseband)
802.11 a/b/g/n/ac dual-band
Bluetooth 4.1
SIM
Dual Nano-SIM slot
Colors
Black
Our own Russell Holly loved the last one, so if any inkling of a broader release with network support for North America gets kicked around, we'll let you know.
Update, August 24: This article was updated with the YotaPhone's newly-announced specs.
Android Central Newsletter
Get instant access to breaking news, the hottest reviews, great deals and helpful tips
I'm willing to bet half the members of 45's Cabinet, including 45 himself, will have one.

Do you really want Google and now Russia seeing everything you do?

I wouldn't really trust it tbh. They all need encryption backdoors to be sold in Russia, so it's not really secure if lost. Plus, I'm unsure I'd want to support a Russian company with their government's stance on lgbt.

I really hope you forgot to add /s if not, which is your favorite Chinese policy in regards to human rights?
Or rather, which of the Corporations you would endorse , considering that that they are all multinational companies with investors from all over the world? if I was to look at any of them closely from moral stand point, I would end up without electronics in my house.
So, how LGBT is treated in Russia doesn't bother me more or less than how the general population especially those who build the electronics I use are. It's fcuked up

Agreed. What about avoiding American companies goods because of the American governments support for neo **** groups?

Don't fool yourself, you're not that interesting.

"Fear is the path to the dark side. Fear leads to anger. Angers leads to hate..." Oh wait wrong Yota.. my bad. ;P

It only need two major improvement for me to pull the trigger as I was interested on Yota 2 as I'm an avid reader. Bigger screen preferably 6" but I can settle with 5.5 and bigger battery. A snappier performance on the ePaper display will be appreciated but its not really a concern for just reading books.

E-ink responsiveness has improved, but it just isn't going to reach the level of LCD or AMOLED

I owned a Yotaphone 2 for about a year before I sold it and replaced it with my Galaxy S7 Edge. I loved the phone and its dual screens, as I am a fanatic reader and owner of several E-ink devices. Unfortunately, the E-ink display on the YP2 was a) too small, b) too blurry, and c) not very responsive, all of which made it not that great for reading books. The cameras were not that great, either, although the software had some nice features like being able to take selfies with the (better) rear camera, too. Yota should build and offer tablets with dual displays instead, I'd suggest two sizes: one sized 7 to 8 inches, and one around 12 inches, both with state of the art E-ink displays (clear, sharp and snappy, no illumination needed) and great AMOLED displays that let me read PDF files however way I like.

A guy at my gym has the YotaPhone 2 as his main phone... jaw was on the floor when i saw it in the wild lol

Since it's unlikely to be coming to the States, here's to hoping for an e-ink Moto Mod.

Never thought of that. It'd be cool

Hoping sammy figure out how to make an eink mode with amoled or qled so they can turn off all other pixels except the words?

That's what an OLED does - check out the Note's Screen Off Notes trick.

I'd buy this if it had lte bands in the US.

Isn't "very many details [...]" a bit redundant?
Android Central Newsletter
Get instant access to breaking news, the hottest reviews, great deals and helpful tips
Thank you for signing up to Android Central. You will receive a verification email shortly.
There was a problem. Please refresh the page and try again.