Yahoo releases official Flickr app for Android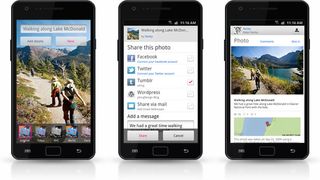 Flickr, one of the most popular photo sharing websites, has finally come to Android. Yahoo held off releasing a native app for a while, frustrating many Android users who love Flickr. Good news for both sides as the app is now available for free from the Android Market, and it's pretty good.
With the release, you can take photos from an in-app camera function, filter the images as you see fit and then share them with the world to Flickr, Twitter and Facebook.
Here are the full features:
Share photos only with the people you want to with easy privacy settings.
Full screen browsing and slideshows for your photos, your contacts photos or any of the public photos from the global Flickr community.
Share the story behind your photo with titles, descriptions, comments and tags.
Keep your track of where you took your photo by keeping your location data automatically through geotagging.
To get Flickr for your Android device, hit up the links after the break. Heavy and casual Flickr users, we'd love to hear your thoughts. Speak out in the Android App Forum.
Source: Flickr Blog
Android Central Newsletter
Get instant access to breaking news, the hottest reviews, great deals and helpful tips
HTC Sense has had a type of flickr app for some time now right?

It was integrated into the gallery and contacts app, don't think it allowed you to upload tho... Could be mistaken.

Could you please post .apk?

This app is unaveliable in our countrie.

When I go to sign in it says "Server busy, please try again later." lol, I think everyone is trying to get on?? @dannychaoe and @impulses, I'm on sense 3.0 (Evo 3D) and yes you can upload to your flickr account via sense integration but it's not an app.

Ok, that's what I was wondering. I've had it on my Thunderbolt and my old Eris even had it. I was just wondering if it was like an official app only available for HTC. Like exclusive.

The Sense flickr integration has always sucked. And speaking of flickr related things that also suck, this app. First off, it's country restricted, not tablet optimized and currently either won't show the auth page or won't accept my login details... I've been a pro user for years and this is highly inconvenient. Get your shit together, Yahoo!

I've been a Pro user of flickr for years now too, and I love the site to death. When I came to android from bb, I almost even went for a Sense phone just because of the flickr part of it (ended up with motorola atrix). Can't wait to test this out!

No tablet support. Not available on my galaxy tab 10.1.

well, downloading right now.........hope i can login unlike the yahoo mail app which doesn't!!!!! *EDIT* nope cant login anyone else has this problem, i'm running cyanogenmod7 7.1rc1 droid inc

Great! It works for me. Lets me login and everything :-) nice!

I cannot explain just how long I have been waiting for this application. With a few more Pro-centric tweaks, they will have been forgiven for the inexcusably long wait. Thanks, Flickr.

+1. Agreed! Been waiting for forever for this (is that enough "for's"?)
Android Central Newsletter
Get instant access to breaking news, the hottest reviews, great deals and helpful tips
Thank you for signing up to Android Central. You will receive a verification email shortly.
There was a problem. Please refresh the page and try again.