Wireless carrier Visible now supports and sells Android phones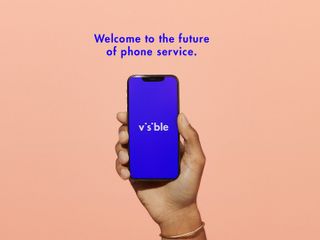 Back in May of 2018, a mysterious new wireless carrier called Visible seemingly came out of nowhere. It was powered by Verizon's LTE network, plans started at just $40/month and everything was handled through an app on your phone. The catch? It only worked with iPhones.
Now, about eight months later, Visible is announcing that it finally supports Android — well, at least two Android phones.
Starting today, Visible works with the Samsung Galaxy S9 and S9+. Support for other Android devices is coming soon, and while there aren't any specifics of what those phones will be, Visible does note that we'll see more added in the coming weeks and months.
Visible's been entirely BYOP (bring your own phone) up until now, and in addition to being able to buy its phones outright, you can also take advantage of 0% APR financing thanks to a partnership with Affirm.
On top of all that, Visible is also launching Visible Protect — an insurance plan for your phone that starts at just $10/month and offers protection against accidental device damage, theft, loss, and out-of-warranty breakdowns.
Now that Visible is finally Android-friendly, do you think you'll consider joining?
Visible: Everything you need to know about Verizon's new phone service
Joe Maring was a Senior Editor for Android Central between 2017 and 2021. You can reach him on Twitter at @JoeMaring1.
Maybe, but I need better reviews for it first.

I seriously considered them until I realized they didn't work for Android. Now that they work for Android I'm no longer considering them. After reading posts from some of the iPhone users they are very unreliable in situations where they have absolutely no service, in places when they had service before, for no reason whatsoever. Working on call I could not afford to go at a service this unreliable.

How can that be? Verizon is the best of the best, but I'll never use them.

My understanding is it has to do with how the visible app handles the connection with Verizon and the phone. Visible only allows connection to Verizons 4g service.

Visible is: Speed-capped to 5Mbps
Deprioritized to the bottom tier of Verizon's service, so if postpaid customers are only getting 4Mbps in an area, and prepaids are getting 1Mbps, Visible customers are likely getting 3G data speeds.
Roaming locked, so if you can't get a Verizon tower you have no service.
Very phone limited. S9 and iPhone only. 3 strikes would be an out. That's 4 strikes. Sorry Visible.

I've been using Visible for a few weeks now on a Verizon iPhone 7. So far it's been excellent. I'm on WiFi most of the day anyway and don't really need more than 5mbps when I'm not. So to have the coverage of Verizon's network at a fraction of the price is fantastic. No issues yet like some others mentioned.

How's your customer service experience been like? I would like to do the jump but reading the bad experiences of others has me concerned.

I haven't had to interact with customer service yet so I couldn't say. I signed up through the app, they sent me a SIM card and everything just worked once my number was ported over.

It says my Pixel 3 is not supported.
Android Central Newsletter
Get the best of Android Central in in your inbox, every day!
Thank you for signing up to Android Central. You will receive a verification email shortly.
There was a problem. Please refresh the page and try again.