Visible: Everything you need to know about Verizon's new phone service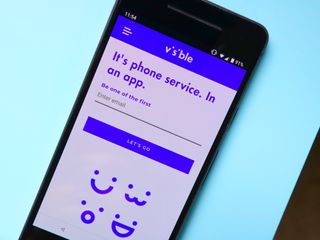 When looking at pre and post-paid cell phone service providers in the United States, there are countless options to choose from. Along with the big names such as AT&T and T-Mobile, you've also got competition from small brands like Mint Mobile and Cricket Wireless.
It can be hard to stand out in this industry, but Verizon's trying to do just that with a new startup it recently launched called Visible. Visible aims to make phone service as dead simple and affordable as possible, and even in such an early stage, looks to be darn promising.
How much does it cost and what do you get?
Visible only offers one plan and it costs $40/month. For that price, you'll get unlimited calls, text, and data in the United States.
There aren't any contracts, meaning you can cancel at any time.
How's the coverage?
Visible uses Verizon's 4G LTE network for service, and as such, you'll be covered just about everywhere you go.
Download speeds are capped at 5 Mbps, which Visible notes is "just right for streaming" and that most videos you watch will be shown in 480p.
According to Visible's site –
Can you bring your own phone?
Yes! In fact, that's the only way you can use Visible right now.
Visible says it'll have devices you can purchase directly from it in the future, but for the time being, it's exclusively BYOP.
After signing up for your Visible account, a SIM will be shipped to your address and should arrive as soon as the next day.
What makes Visible unique?
Here's where things get interesting. Rather than worrying about carrier stores, multiple plans, and everything else, Visible houses everything into its mobile app. After signing up for the plan, download the Visible app, enter your account info, and then pop your SIM in when it arrives. After that, you're ready to rock and roll.
Everything you do with Visible is handled through the app, including billing, customer service, and paying your bill. Along with regular credit and debit cards, Visible also lets you pay with PayPal and Venmo.
When will it work with Android?
There's currently just an iOS app for Visible, meaning it's not yet compatible with any Android phones. Thankfully, Visible says that it'll be "expanding compatibility soon."
See at Visible (opens in new tab)
Get the Android Central Newsletter
Instant access to breaking news, the hottest reviews, great deals and helpful tips.
Joe Maring was a Senior Editor for Android Central between 2017 and 2021. You can reach him on Twitter at @JoeMaring1.
This is really interesting, I might want to give it a try sometime.

So what will be the purpose to remain on Verizon if there is this alternative and it's cheaper and almost if not just as good?

Speeds, customer service, and stores.

1mbps is pretty slow for their regular service. That's what I used to get.

I like where this is going...

Same. I like the idea of using Verizon's network without an expensive caveat. I'll love to try it. I just wish that I had another (sounds odd but that would make it easier for me to test) iPhone to test this with.

You can use Total Wireless, or several others, but they are the cheapest. I just switched to the 3 line shared plan. I get 20GB for $80.70 per month, while with Verizon, it was $140 for the 12GB plan which they do not even offer any longer, it is either 8GB for $130 or Unlimited for $165 which I do not need. So far been very happy, no speed cap at 5GB, videos are not downgraded either, so if you don't need unlimited it is a great deal.

This is great to know, thank you! I have 5gb currently and never come close to using it.

mobile hotspot available ?

No android app @ launch?? Wow...

I'll never understand the logic of making services like this "iPhone only" or "iPhone first". Most iPhones are locked to carriers in the USA. There are so many cheap unlocked Android phones that are out there.

Not the case for Verizon iPhones. In fact, a lot of people buy those for the band support.

Yeah, but even though Verizon iPhones are technically "unlocked", they are mostly leased. So a customer will still have to keep paying the monthly fee for the duration of the lease. Which defeats the purpose of services like Visible.

A lease means you do not own the phone. So taking that phone to another service or breaking your contract with Verizon would render that phone useless and end up on the blacklist.It is very understandable. Verizon phones, even unlocked, are only done so when they are paid off.

No, Verizon phones are unlocked out of the box. Also, they don't lease phones. If you're on a payment plan, you can choose to pay off the device at any time. If you cancel before the device is paid off, they'll charge you the payoff amount on your final bill.

Hmmm.
Currently I use Project Fi and I love it, however I've adjusted my data usage to take into account the billing process of Fi.
I'd actually be really interested in frying this out at $40 a month. While speeds may not be the quickest coverage should be great.

I'm going to be out of my contact with AT&T in September... Project Fi was on my short list... Now this is too...

Fi is great since you literally pay for exactly what you use. If this is good though not having to worry about data is pretty awesome

Wonder if you could use an ios device to sign up and then pop the sim into an android phone

Well I just chatted with online support, no VOLTE , and no HD calling. That's a deal breaker for me at the moment.

From what I was told it is only VOLTE. No CDMA access strictly LTE only

VOLTE / HD voice works on my old iPhone 6s plus from verizon. I already have the service to try out.

Any chance you can hook someone up with a code lol.

Well I've got a spare phone just waiting to try this out when it comes to android. Looking forward to it.

I don't see why you could not register on an iPhone and then pop the SIM into an Android phone.

I'm on Verizon. Love the coverage. The benefit of this plan as I see it is low price for unlimited everything. Data speed cap of 5Mbs isn't a horrible thing unless you rely on high speed connection. You need to bring your own phone, not a big problem as long as you have a device. As far as iOS only, as I read it, that is just the app. Of course access to billing and whatnot are only available thru iOS, but android phones should work mechanically with the network. Therefore it's a software/app thing. So if you can access Visible thru a desktop browser, no issues. I hooked into a 55+ plan with Verizon that is saving me a ton over regular rates, for 2 phones. The plan has unlimited talk, text and data, no speed caps (unless there is heavy LTE traffic), which works for me as I'm still paying down my phones. The 55+ plan versus Visible are very comparable if you own your device outright. I haven't crunched the numbers but quick math in my mind shows a difference of about $20 which may be taxes and fees and might be applicable to both plans. imho

Too bad that's only for Florida....

Visible sounds like a great deal. And I'd prefer Verizon's network over many other low cost options.

What's sad is I can't even get that speed on the regular network.