Will my phone get Android 9 Pie in 2022?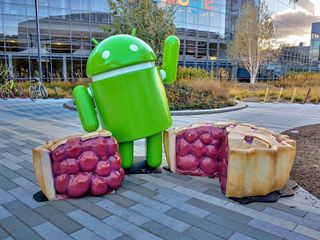 (Image credit: Android Central)
The full roundup
Android Pie has been around a while by now. The fact is that not every phone will be updated to Android 10 — the latest version as of this writing — and Pie will be the final bit of software for them. The good news is that Android phones can be super-functional and secure while running Pie, so for the people waiting for this is pretty important.
While most devices that will be updated already have been, it's still important to keep track of how the rollout of Android Pie is progressing. Let's break it down by the major manufacturers of the phones we love.
Google
All Pixel phones have been fully updated past Pie to Android 10. Even the original Pixel, which was a nice surprise.
And that's it. Prior to the Pixel, Google promised two years of full support and three years of security updates for phones they sell under their own brand. The Nexus 6P and Nexus 5X are just about three years old. Auf Wiedersehen, Adieu, Adios, Goodbye. They were great phones.
More: Here's how Android 10 looks on every generation of Pixel
Samsung
Samsung has updated every device that was scheduled for the Pie update. These include:
Galaxy S9/S9+
Galaxy Note 9
Galaxy Note 8
Galaxy S8/S8+
Galaxy A6/A6+
Galaxy A7 (2018)
Galaxy A8 (2018)/A8+ (2018)/A8 Star
Galaxy A9 2018
Galaxy J2 2018/J2 Core
Galaxy J4
Galaxy J6+
Galaxy On7
Galaxy Tab S4 10.5
Galaxy J4+
Galaxy J6
Galaxy J7 (2017)/J7 Duo/J7 Neo
Galaxy Tab S3 9.7
Galaxy Tab A 2017
Galaxy Tab A 10.5
LG
LG has also fullfilled its rollout of Android Pie for its most popular devices, including:
Huawei
Huawei is one of the largest phone makers in the world, and as far as its Android Pie update rollout goes, all of the following devices have received the official Pie treatment.
Huawei Mate 10
Huawei Mate 10 Pro
Huawei Mate 10 Porsche Design
Huawei Mate RS Porsche Design
Huawei P20
Huawei P20 Pro
Honor 10
Honor View 10
Honor Play
Motorola
Motorola is one of the weaker companies in regards to Android updates, but as of right now, all of the following phones have been updated to Android Pie.
Moto Z3
Moto Z3 Play
Moto Z2 Force
Moto Z2 Play
Moto X4
Moto G6 Plus
Moto G6
Moto G6 Play
While that's a strong list, the notable omissions include the Moto E5, E5 Plus, and E5 Play.
OnePlus
Comparatively, OnePlus has been killing it with Android updates. A bunch of the company's phones received Pie updates, including:
OnePlus 6
OnePlus 5/5T
OnePlus 3/3T
Nokia
Nokia seems to understand that a substantial portion of its own customer base wants fast updates. Like OnePlus, it should listen to their current customers while trying to find new ones if they are to be successful. Here's a list of phones that have been updated to Android Pie from Nokia.
Nokia 3
Nokia 5
Nokia 5.1 Plus
Nokia 6
Nokia 6.1
Nokia 7 Plus
Nokia 7.1
Nokia 8
Nokia 8 Sirocco
HTC
Disappointing sales have left the future of HTC's smartphone business in uncertainty, but the company did update all of the phones on its list of devices scheduled to recieve it. Those being the following:
HTC U12+
HTC U11
HTC U11+
HTC U11 Life
Sony
Sony is another company that's not quite as popular in the Android space as it once used to be, but also similar to HTC, Sony has delivered on its Pie update plans.
All of the following Sony phones have received their Pie update:
Sony Xperia XZ2
Sony Xperia XZ2
Sony Xperia XZ2 Compact
Sony Xperia XZ Premium
Sony Xperia XZ1
Sony Xperia XZ1 Compact
Sony Xperia XA2
Sony Xperia XA2 Ultra
Sony Xperia XA2 Plus
Other phones
There are a few phones with promised Android Pie updates that still haven't received them. The BlackBerry KEY2, for instance, was slated to receive an update to Android 9 at some point in 2019 but has not received anything yet. Even here in 2020, we're still waiting.
Google has moved onto Android 10, and if your phone still hasn't received its Pie update by now, it probably never will. Maybe it's time to start looking for a new phone.
Get the Android Central Newsletter
Instant access to breaking news, the hottest reviews, great deals and helpful tips.
Senior Editor — Google Ecosystem
Jerry is an amateur woodworker and struggling shade tree mechanic. There's nothing he can't take apart, but many things he can't reassemble. You'll find him writing and speaking his loud opinion on Android Central and occasionally on Twitter.
Loving the Nexus one comment and I'm sure that XDA will get it on there before Samsung gets it on the S8! Lol!

The way Samsung treats updates, I'm sure someone on XDA will get Android P on a Nexus One before the US S8 variants (both carrier and unlocked) get Oreo.

Hate to burst your bubble, but I am installing Oreo on my Verizon S8+ as I type this.

Cool story 7 months later

It's 3rd October it's time for pie😊

As if it matters. Stock Android updates are such a harsh subset of Damsung's software. Feature-wise, Samsung mind as well be on Android 12 today. The only thing that would make Android updates matter is if developers stopped sticking to older API levels. When apps get fast updates with great features that work on a $500 phone but not on their $99o flagships, that will be the only reason for them to care. Otherwise, it really doesn't matter. They already have 95% of what the update brings in their software, and the other 5% is not important enough to care about. I get it. Apple releases updates fast and people are partisan about their tech, but even their updates really aren't that excited. Excited to read about, and install... but that's about it. The this g that makes iOS worth upgrading is, often, the fact that developers will drop support for old versions in app updates, and new apps tend to launch without support for any old OSes. That's what needs to happen on Android. It will hurt people with current or older devices in the short term, but it will push the OEMs to develop better, faster software updates; or lost tons of sales to those who do. There is not benefit to being on Pie instead of Oreo or even Nougqt right now, except to say your version number is higher.

I totally agree. I actually prefer staying with the version a phone initially comes with. Less hassle.

I installed 8.0 on my VZW S8 yesterday, no problems.

Yet the rest of us are on 8.1 not 8.0 so this just proves how slow Samsung are with updates.

Samsung is developing an ecosystem, not just throwing out near-stock Android firmware ASAP. That 0.1 isn't worth much of anything. People buy their phones because they have other selling points that far outpace the version number of the OS underlying the Samsung Experience. U less Googke starts releasing accessories and wearables as good as Samsung, I couldn't give two sites about Android Pie. The phone is only one piece of the overall pie - pun intended - and it's actually decreasing somewhat in relevance as more and more devices gain connectivity and powerful computers come down in price (relative to what you could get years ago for similar price). Ecosystem is everything. Google even feels second-class on Samsung devices - not that I'd complain given how little I use anything from then. The Galaxy phones are starting to feel like Samsung sPhones that simply do the bare minimum for play store Access :-P I like where Samsung is going with that. Boasting about Android version numbers is like boasting your Linux distribution hsa kernel 0.1 higher than someone else's. Consumers re not buying Android versions they're buying the overall UX and capabilities of the device. S Pen users aren't going to go Pixel just because it has Pie. Stock Pie I a massive functionality nerd compared t DSamsung phones on Nougat, never mind my revision of Oreo... What really is most i.portant are security updates, and major OEMs all seem to be doing decently with those.

Kinda funny that you like how Samsung is pulling away from Google Play Services, which are still the backbone to the phone in your hand, and the security of that phone. KNOX. I will take better than decent when it comes to security updates. I can't imagine what devices other than phones that you are speaking about that Samsung does better than Google. Chromebook, no way, Chromecast - nope, Home - NOPE! Doorbell - NOPE, home WiFi - NOPE. That ecosystem you are referencing is very shallow. Be careful what you wish for, maybe the next Sphone will be Tiezen. Wear OS - Sure people may not like the UI and it does need better health tracking, but those are not deal breakers for me in the least. Your enthusiasm for all things Sammy is nice and all, but a little too much hyperbole for my taste. What you call ecosystem, I see as BLOAT!

And that's why we have choices. What you call bloatware, I call being overdramatic.

I'm sure the person was talking about SmartThings. Controlling everything in your house that's Samsung. I love Samsung just because of there phones, some of the most innovative phones made. Also in my opinion the best looking. They take along time to put out there software updates because of how customizable there phones are, plus it's not hard to put a software update on your phone when you make it lol. Google phones are made by HTC and LG anyways so they are not true Google phones. Granted they are a huge company so it's easy to push alot out even if they fail on a few things they would be fine. Samsung is talking about pushing there own software out now so it should be good. Considering how tedious they are with there brand. I have seen to many Google pixel 2 phones get returned due to overheating I will never get one. Plus I am a Samsung guy anyways, they even sold apple screens and parts to make the iPhone x, which they stopped making due to owing Samsung to much money. Anyways all brands have there advantages and disadvantages but it all comes down to loyal customers and good products in the end. And Samsung will be there till the end, the last three years they out performed Apple if that tells you anything.

This is an interesting case of Stockholm syndrome some Samsung fans have developed. They're now actively arguing that updates are unimportant and unnecessary. Their level of commitment to the mothership is remarkable. I understand features are important, but you can have features and updates both.

Um...I have had two Pixels and one Samsung phone in the last 3 years. Please explain to me what I'm missing? Because we all have the opportunity to purchase what's important to us. I have never wanted for anything with a Samsung phone. And I know this because I've actually owned both.

It's the CARRIER'S that are holding back updates, not Samsung

They will figure either out way before Samsung gets it on the note 9 or even s9.

I remember since NOKIA N8 (SYMBIAN) AMOLED. The darker you proceed, the more battery power you save (even from betalabs tests). Tell me dark is wrong theme

Lol, what if they could get it onto the HD2?

Nokia committed (probably a strong word but so far they are doing fine) to 2 years of security patches and 2 major updates for the Nokia 8. I got the phone in October and it has had the security patches by the middle of the month every month. 8.0 was in November and 8.1 in February. I would expect P before the end of the year.

Good to know about Nokia. They have always made food hardware. It's a shame they chose symbian way back when. Maybe had they chose Android sooner, they would be topping Samsung and giving people non Nexus supported flagships.

Find this sentence a bit strange "It's a shame they chose symbian way back when". What do you think they should have chosen insyead? It is not as there was a lot of options back then.

They could have went Android back when Google released the G1, but they didn't. They waited a couple of years and went with Microsoft. Way back when, was when they should have went Android.

I disagree, Android wasn't as mature then as it is now so Symbian was the logical choice and having been bought by Microsoft I don't think using Android was really an option, do you?

If my LGV30+ could just get Oreo, I'd be more inclined to hope to also get P down the road.

LG G6 will get P....in Q3 2020.

Maybe that is why the article says LG G6 will "see Pie", while the rest of the LG lineup states it will "update to Pie". Hmmmmm

Blackberry keyone or motion??

Does TCL have any BlackBerry devices on the current latest (Oreo) version of Android? They must right? Being the world's most secure Android smartphones......

Apparently, it takes extra time to harden the security of the OS and kernel blackberry style, so major updates are slower. But security patches are one of the quickest. Oreo is coming soon according to blackberry

As of today, still negative on that front.

The LG G6 I have hasnt even got 7.1 let alone getting Android P. Getting fed up with LG and their ADHD when it comes to devices and software

Weird. I have 8.0 on my G6

"Essential will have learned from mistakes with Oreo and the EP1 will be fast-tracked for Android P." Per the article.

Typing from my Essential Phone updated to Pie a couple of hours ago.

My Moto G5+ hasn't received Android O yet...I don't expect it to get P at all

I'm pretty sure the Moto rollout of Oreo is a cruel joke at this point. So far, I've heard Fall of 2017 - nope, Winter of 2017 - nope, Spring of 2018 - probably not .... and so on ... and so on .... Maybe, by Summer of 2034?

My Moto G4 Plus was promised O as well. I don't expect ever to see it.

I'm part believing any promises from Motorola regarding updates. G5 plus on 7.0...
If Nokia can deliver on quick updates and maintain stability and QC, they'll be the King of budget phones this time next year.

Do not worry about who is or who is not getting android p yet. This post mostly for SEO purposes.

My Oneplus 5 probably will... Whether I accept the update is a different matter.

I would love to see Android P come to the S7 and S7 Edge.

Why are they floating idea of S7 getting Anroid P? Seems pointless since O is just today rolling out on VZW S8, etc. No one even kids themselves about S7 getting O, let alone P.

I'm hopeful about Android P on Moto G5S+

At this point not optimistic

P is for Pralines... seriously. If I say how I know, I'll be found out.

I hope "Q" is quesadilla. While not really a dessert, I mean seriously, what else could it be.

My next phone will be a pixel. All the others promise and don't deliver or way to late. I'm done with Sammy and the others. A Google pixel it will be.

Yet Nokia have been pretty quick with updates on the vast majority of their devices. My Nokia 8 is up to date as far as updates go being on the July security updates.

Updates is just one of the reasons why I'll only get a Pixel phone, plus the fact that I'm and stock Android and Google lover.

I have one word in response to that: Nokia.

Going forward I will not consider any phone whose manufactures does not make clear there software update policy front and centre...and that policy better be for 3 full years of support : updates and patches on a timely basis. So for now that is GOOGLE & APPLE with maybe NOKIA if they come to the americas...the big disappointment is HONOR/HUAWEI with there own Kirin chipset (no excuses need to be made) and yet My HONOR 8 is still on Nougat 7.0...there is no valid reason other than they do not care once the sale is made. This is a shame as that phone could run P but fat chance that it will get that far!

Of course my pixel 2 XL will get P...that's one of the biggest reason I only use Google phones. It cracks me up when some phone finally gets O and I'm already on P version 2..lol

Compared to, say, Marshmallow, what _usefull_ improvements and new features do Oreo or P have?

Password autofill in apps websites and system wide for one.

My wife's Pixel is on 7.1!
Some people just don't care.

No, but I'll take an Oreo ;-D

When will the v20 get Oreo?

I don't really mind the fact that manufacturers have their own upgrade cycle. Sure, my Huawei got Oreo now as the first versions of Android P is going around. If they decide to give me Android P in 12 months time, when Android Q is going out for public testing. That is perfectly fine to me. As long as the cycle is somewhat stable and predictable I know what to expect when buying a phone from that company. Sure, I might buy it in July 2020 and it will be until March of 2022 I get that new and fancy version of Android that was all the talk in the news when I bought the phone. But I knew that making my purchase and I can easily live with my own choices .

I want to know will my LG Stylo 3 plus from MetroPCS will it get the Oreo update????

I very much doubt your LG Stylo 3 will get Oreo as, it's a mid-ranger and LG don't prioritise those phones. If you want fast updates and garranteed monthly security patches, the Pixel is the only choice.

Ha ha. Shows how much you know asshat. The stylo 3 got Oreo here. Pixel is no better considering the **** blue screen it has. Lg even put better screens in their mid rangers. Ha ha ha. Sheep.

I still can't stop thinking of the Philadelphia Philly's logo every time I see the android "P."

I thought I was the only one!

Interesting, considering the Phillies logo is Red and White?

I would guess that at least 95% of current phones will not get P. Some phones at 7.1 will get Oreo, but not all.
Good thing is that it doesn't really matter. App developers can see where the users are, and can choose to target all the way back to Lollipop (quarter of all devices). Maybe "the next pokemon go" will require Marshmallow 🤔

IT took almost a week but my new out of the box Moto Z Force Droid phone took a week to get to Nougat 7.1.1 and the Feb Security Patch. I fully expect to see P on it.

LG V20 still on 7.0, it never got 7.1. I'm hopefull LG updates to 8.0 at least with the same features of the V30, but I highly doubt it will ever see P or whatever it will be point wise. These manufacturers need to be on point. If the latest version of Android is released no phone within 3 months before release date should have anything else.

Haha if the LG V20 didn't get Android Nougat 7.1 what makes you think it will get 8.0 or 8.1? It's unlikely it will get Oreo, if you care about updates on a consistent basis like I do then the Pixel 2 XL is the number 1 choice and my next phone.

Let's correct a misconception: Android Security. Android OS version and Android security are two separate things. Security updates occur monthly and are called Android Security Patch Level updates. The latest occured March 1. Most phones get updated one month after the patch release. The overall security threat to Android is very small. Fact: 1.1% of Android devices run on Oreo, six months after its release. The last couple of Android releases have been very minor... It's why there is no rushed panic by manufacturers to be compatible quickly ..... Except... Except articles like this one are a marketing narrative pushed by Google to sell it's very average mobile hardware for a premium price. Is Android O better than N, and P will be further progress? Yeah, sure. But can you live your Android life without P? Absolutely... It's immaterial.

PS Often, a company like Samsung will lead with features like hands free gesture controls, split screen, and personal AR emojis in its Android skin (Samsung Experience) that may or may not later become standard features in future Android OS releases.

Think it's more about the time scale with security patches.
Some phone manufacturers/carriers stop sending out ota updates before others.
Could have stopped updating Android at 6 as far as I'm concerned.
Many of the so called features do nothing for me. IP68 and better cameras have been far more important to me than gestures, emojis and splitting a 6" screen.

BlackBerry Key2 and Key2 LE getting pie sometime this year but no monthly schedule date released yet.

Xperias gettin the P as Final OS update for:
XA2
XA2 Ultra
XZs
XZ Premium One more OS update after P update
XZ1
XZ1 Compact
XZ2
XZ2 Compact And one little correction:
These may be the companies we're most familiar with in the US (not west) that sell Android phones

I am not sure what all the big fuss about Android P is. Samsung already has many of the features provided an then some. Monthly security patches are provided by most flagships and it is rolled out by the carrier.

What about those people like me who have no intention of ever using a Samsung device, unless you're saying that Samsung are going to provide their features to every Android phone from every manufacturer!!!!!

Don't care. I stopped caring about Android version updates after I got Marshmallow. I have Nougat now, and can't even tell what's different about it. If anything, I'm tempted to avoid updating to Oreo or P until it's clear that it won't bork my phone.

I'd rather see better optimization in performance and memory usage than just another android version 🤔

Will the Pixel 3 XL get Android Pee?

I'll believe the V20 will get an OS update when I see it! :D We're still on 7.0. While we have had a few security updates....there's no hint of getting a cookie, let alone a PB&J sandwich!

It would be great if the Essential EP-1 gets it and it should be a guarantee that with Android One on the Nokia 6.1 I just bought, it will be updated too.

Essential is being pushed out now

Razer Phone likely to get Android P from reports and hopefully not with too much of a delay like android 8 which it missed

Now waiting here with my Nokia 6.1 for the update. Hopefully it won't be too long before we see it.

Waiting for the update on my Nokia 8, shouldn't be too long as Nokia don't add a lot of their own software into the updates anyway.

My 7 Plus updated tonight. NZ got the update several weeks after Australia, who in turn got it a few weeks after some other countries. It is different, and after the home screen changes I am off to look at launchers. I still miss live tiles :)

I sure hope the BlackBerry KEY2 gets Android Pie. I like pie.

By next year if you're lucky lol.

Just to clear things up... OnePlus is pushing Android Pie all the way to the OP3. It might take a while, but they announced it.

Just came to my essential phone 10 minutes ago. Updating now

OnePlus 3 and 3t will get the update. Samsung will be a desaster. That's the reason I won't buy the note line up anymore. Waiting forever.

Exactly why I have a Nokia and not a Samsung phone, I had an S6 for work and it was a POS.

Just got it on my pixel 2 xl whoop!

Wow - just got the Pie update on the West coast. Pixel 2 XL. 👍

Still no Pie yet for my Pixel 2 XL but I'm sure I'll get it within the next few days although I hear some people in the UK on the Pixel 2 XL Facebook group, where I live, are telling me they've already gotten the Android Pie update so it's only a matter of time before I get it.

Really I got it this afternoon lol.

I've been getting the security updates on my Pixel in the afternoon so I'm most likely will get Android Pie around that time as well. I'm supposed it will be this week or next. Anyway I'll get the notification when it arrives so I'm happy to wait.

I have friends who've also gotten it already after 1 click on the update button. Its now after midnight on the east coast and I still can get it on my 2XL. It'll probably come at 3am like it usually does.

Why did I buy Samsung? Why? One year F me! I knew it is going to be painful going from Pixel to Samsung, but one year! Come on!

Any chance my HTC Thunderbolt gets pie?

Don't care. I was perfectly happy with Nougat and Marshmallow. If I could go back to one of those from Oreo, I would.

Where does Android Enterprise Recommended fit in with all this, or does it? https://www.android.com/enterprise/recommended/

I had pie on my U11 a month ago, but it was during dessert and I had to wash it off ;)

Love having P on my Essential before some Pixel friends..

To have another OEM come out with OS updates - that sometimes beat Google - is just refreshing. Glad to see it.

Still waiting for Oreo on the V20 LG !

It's beng released as we speak (in South Korea). Maybe US users will get a cookie for Christmas...c

AT&T LG V20... Almost 2 years after release and no Oreo. Pie...maybe in 2020 Mate 9 supports project treble and they seem to update every 3 months or so for security updates.

Still waiting for oreo on moto g5 plus. Android P probably in 2020 if ever.

As a Huawei (P10 plus)owner I would be VERY happy if the Pie update came with the promised GPU turbo update. But the possibility of Pie is good news. It's been a bit rocky, but I'm now on July security patch, I have a GPU turbo update comming towards the end of the year and in 2019 I might get Android 9 Pie. If Huawei comes through, I most definitely will look to stay with Huawei for my next phone. Unless Google gives us access to the Pixels.

My Essential had it waiting for me. The phone just keeps on giving

Worth mentioning that the Essential PH-1 phone received the Android Pie within hours of release on August 6!!!!!!

Yup! Love it. The most underrated phone in history

Downloading Android Pie on my Pixel 2 XL right now finally. I had to do it through the beta program though, and it looks like it's the final release yay.

No mention of Sony? Bet my XA2 will get an update sooner than the big names.

My Pixel XL for much of the day has had a G on it with a moving line under it. It never said it was updating to Pie, but my guess is that this is what's happening. Does that sound right? How long does this take (how long before I should take it into a Verizon store and get help because it doesn't seem to be completing)? I plugged my charging card into it, but will it actually charge while the update is going on? If not, what happens if the battery runs out of power while it is updating?

I'm on the last update push either way. I never get the updates to my pixels until it's being packed up for trade in as the newer pixel is being unwrapped for set up. So I stopped worrying about it 2 pixels and 3 nexus ago. Just the state of my electronics world heh.

Based in the comments from 5 months ago, I'm guessing you wrote over the "will me phone get Oreo" article. Spell check all of the misspelled "Oreo" words with "Pie" and send it!

The LG V20 is still on 7.0. LG is awful when it comes to updated software. Really no excuse for it either.

Speak for yourself, my V30 received Oreo and several security updates since.

Motorola messed it up with me, this G5 Plus is still on 7 Nougat!!! It came out last Feb..... NO MORE MOTO FOR ME!!!

You should've known what you were getting into.

The Motorola Defy out me off Android for years - after two Windows Mobile devices I got that POS as a replacement for an HTC Snap, then went back to Windows for an Ativ S and Lumia 950. Now I am on a Nokia 7 Plus, and it has reassured me that Android isn't as bad as Motorola made it... And what on earth was MotoBlur supposed to be?

Huawei P9 still on Nougat 7 here. Vodafone have no intention of an update. Currently looking at eith Pixel 2, Huawei P20 or Xperia XZ premium.

If you're serious about updates definitely get a Pixel 2 and best of all, no interference from carriers, you get the updates straight from Google.

The Moto G6 I bought for my is still on 7.0... guess Oreo wasn't that important to them lol

When I used the Moto G6, it ran Oreo. Preloaded at launch.

J7 2017 will be good after oreo to get Pie. For battery.

How they just going to cut the G5S+ it isn't even a year yet, edit I see they only support the current G model by 1 os update but still where is 8.1

wow. moto excluding the entire 5 range from update after saying theyd get updated...id be pissed

hi i have General Mobile Gm6 when i get Android P

I have a Samsung Galaxy j6 2018. Will my phone get Android Pie?

I've had Pie for a month, just got the October update.. I get up-dates by the 5th every month..
Love my Pixel 2XL!

I got Pie on my One Plus 6 the other day.

If you're asking this question then you have the wrong phone.

So glad Sony aren't updating the XA1 series to Pie after the monumental mess they made of the Oreo upgrade. Broken Bluetooth and no Vulkan drivers which still haven't been fixed and not likely to seeing as Sony won't acknowledge the problems they caused.

Will your phone get Pie? Only if your kittens have found their mittens.

Got it on my OP6 a few days ago. No issues whatsoever.

Ah yes, Pie... It's a nothing burger considering Android OS released two years ago is still #1. I mean, Pie is welcome... But no, it isn't important... And really has no significance on apps being run. Circle jerk Android forums like this one make the latest Android OS a bigger deal than it really is.

Having the 1+3 is one humbling move from 1+ Then I turn to frown at the HTC10 and the S7 from 2016

Huawei users outside China have no clue on when the Pie update will come. I got an update from Huawei few weeks back with August security patch. With no way to install custom ROMs, it's all dependent on Huawei .

Will update my Huawei P10 Plus? Why not list im angry

P10 will likely get the pie update, it'll be it's second major platform upgrade
If they don't they'll be damn screwed.

I buy-$200-$300 phones and change them out every 18-24 mos. So I don't care about updates. If I were buying premium I would care though. That's why Pixel is the only way to go, if buying unlocked.

Having a Huawei Mate 20 Pro on order I'm nervous about going from a Pixel 2 XL. I was going for the Pixel 3 XL but the high spec huawei suckered me in like a magpie looking at a shiny object.

Who cares? In 6 months you will all be obsessing over Android Q. 🤣

All about the beta. But I am going to wait for the non beta this time. Too much issues with apps not being compatible for a week here, a few days there, a month here. Can get a little buggy with slow app updates. I mean, some of these developers can't even get an app ready for the official non beta release.

Yep. It's quite irritating. Since Android 7 Nougat I've not seen significant changes in my day-to- day usage of phones. All I'm eagerly waiting for with Android Pie is the Dark Theme for my Note 9.

Can we change the format of the phones to a list per manufacturer reference? Maybe update the list to show which are actually updated/being once they are. And if late, note that as well.

I still argue that Oreo is better than Pie but glad and in no rush to see that my V30 will indeed be updated to it.

Just my OTA Android Pie on my Moto X4 yesterday!! Not much change. but the little bit of change I got I like except for the OK Google bar on the bottom.... I HATE THAT!!

By the time everyone gets Pie there will already be two other new Android operating systems out.

No. No it won't. Unless it is worthy.

Yes, my phone will get Pie... But I could care less.... Much like the majority of Android users who use an Android version two years old, +.

I'm on XZ1 Compact. No Pie for me.....

I'm from Poland and my Xperia XZ1 Compact is still on version 47.1.A. 16.20.
NO UPDATES EVER?

Any word on a Lgv30+ updates?

Pie has been good on my Android One Moto X4. I like the visual changes in the UI, and battery life has improved. And for once, a .0 Android update seems to be fairly smooth, without a lot of bugs. I'm forcing myself to use the gesture based UI. The only downer is that I have three other older devices on Nougat, and all the swipes are different. Other than that, Pie isn't that much different even than Marshmallow, especially if you choose to keep using the navigation icons.

No update yet, S9 T-Mobile 😡 Carriers suck!!!!! Time to start buying unlocked devices.

Should've done it years ago mate.

Still waiting for the upgrade on my Note9 through Spectrum.

Getting to the point of meh who cares attitude....the new updates are nothing ground breaking anymore....

Just got Android Pie today for my View 10. Didn't expect that at all

My LG v20 is getting 9.0 huh? I'l believe when Apple adopts micro sd card support

So androids still getting updates a few months before the new rolls out lol...think im finally going Pixel this year.

I went Pixel last year, no regrets at all..

Will the Samsung Galaxy S7 Edge get the update?

Where is the Nokia 6.1 Plus, it should be mentioned though.

What's the problem, who doesn't have Pie? I've had it since September...
Oh yeah, I have a Pixel 2XL ahHHAHAHA

The article says Samsung moved up the Pie Update by a month....n Note 8 would get it n Feb instead of March........well it's the end of FEBRUARY!!!!! N MY NOTE8 TMOBILE STILL DOESN'T HAVE IT MEAN WHILE MY WIFE HAS ALREADY HAD IT N PRE-ORDERED THE S10.........SMH

My Note 9 has been on Android Pie One UI for over 5 weeks. The question I ask myself is "Do I want my Galaxy Note 9 to have Android Q?" .

I got mine a few weeks ago. Xperia XZ1 Compact. Not that great an update. Let's see what Q brings.

Double check the LG section, current news is that they dropped all future support for the V20, despite saying in the past it would get Pie... We even no longer get security updates since November...

According to the Samsung members app info the J3 2017 will get PIE as well

Well... It's March. Wonder when this month the S8/S8+ will get the update....

Anyone heard anything on the BLU Vivo XL4? Last I read (in November) it was going to be in May, but, it has been quiet for a while.

3\15\19 Verizon just rolled out Pie to my Note 9. Always the last one to the party.

On ATT and downloading Android Pie on my Note 8, as stated in the article. Happy as a chipmunk, with a cheek full of nuts.

This article is essentially a rehash of dates that have already passed

Thanks guys for the heads up..
Just downloaded Pie on my S8+ from AT&T, runs great. 👍

I have an S8 Active, still no update...

Still no update for me 😞 I guess the S8 Active will get no love...

Still no update, however a chat with Samsung via the members app said it is coming...

Stoked to get it on my S8+ on T-Mobile! Great features! Great support from T-Mobile!

Pie updating Right Now on my Verizon Note 8 - Finally Baby!!!

LG V30 for my wife....still nothing....which is why her next phone will be a Pixel

I got pie for my T-Mobile Note 8 April 7th. Personally I not liking the new notification shade. I like that it had a dark mode though. It definitely feels smoother.

I'm so looking forward to getting a Pixel 2 XL again in June (I miss my old one so much since I lost it last year), so I get to enjoy Android 9 Pie again before Android Q rocks up in August.

My Huawei Mate 9 (international version MHA-AL00) just got the EMUI and 9.0 Pie update as well. Glad that Huawei is STILL supporting their legacy flagships. Definitely going to keep this phone now till the Mate 30 Pro 5G comes out.

Moto z2 Play dos NOT have Android or yet. Please fix that in your list. I should know, I'm typing this on one right now.

BlackBerry Mobile aka TCL is one of the worst companies/brands when it comes to software and security updates. It took me unfortunately too long to understand that. I moved to Nokia and never looked back. They actually do understand (not sure what the "they should listen to their customers" bit is?) their users. HMD Global is not perfect but compared to the nitwits and a-holes I've dealt with over the years as a customer, they're light years ahead.

Samsung is always my first choice in mobile brands...have been using its A50 series mobile and fully satisfied with its job..

Lg v30+ (sprint)
Still stuck at 8.0.0 So disappointing.

Still 8.0.0 and Aug security patch...

My 7T shipped with Android 10 but am still on the November security update, nor good enough, OnePlus but I'm sure in the future OnePlus will improve.

Can anyone help me??? Ever since the update on my S9 to android 10 OS, google maps cannot find GPS. I have read all of the support group help and comments and nothing works. There is no GPS option for location nor accuracy mode for high. I am at a loss with what to do.

My Sony XZ2C just got 10 today and everything works. So it won't be getting Pie in 2020.