Will my Galaxy Note 8 case fit on my Galaxy Note 9?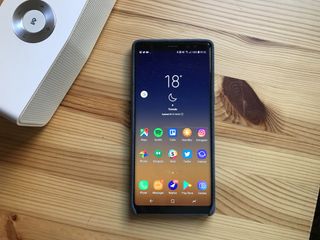 In case you haven't heard, the Galaxy Note 9 is finally official! As you probably expected, it's another ultra-powerful Samsung phone augmented by a newly improved S Pen — but from most angles, it looks almost indistinguishable from last year's Galaxy Note 8.
With that in mind, you might be thinking about picking up an older, cheaper Note 8 case to use on your shiny new Galaxy Note 9 … but sadly, that's just not going to work. For as similar as the two phones look and feel, there are just a few key differences that will stand in your way.
Remember how frustrating it was to try and reach the fingerprint sensor on the Galaxy Note 8 without accidentally smudging the camera sitting right next to it? That is, if your finger could even reach the fingerprint sensor, since the entire module was placed so high up on the back of the phone. It was a bad location from the very beginning, and it needed to change.
The good news with the Galaxy Note 9 is that the fingerprint sensor has been moved below the cameras, which makes it significantly easier to reach and should lead to fewer camera smudges. The bad news is that the relocated fingerprint sensor will obviously require a cutout that just isn't there on Note 8 cases.
Suppose you just use Intelligent Scan to unlock your phone, though, and you don't care about the fingerprint sensor. Depending on how flexible your Note 8 case is, you could technically jam the Galaxy Note 9 into it ... but it still probably isn't a good idea. On top of the case obviously not being made to accommodate for the relocated fingerprint sensor, the new Note is physically just a bit wider (and shorter) than before; measuring in at 161.9 x 76.4 x 8.8mm, the Note 9 is 0.6mm shorter, 1.6mm wider, and 0.2mm thicker than the Note 8. While that all seems pretty negligible, the added width is enough to keep tight-fitting cases from playing nicely with the Note 9.
If you're moving from a Note 8 to the Note 9 and just need something to hold you off for a few days until the Note 9 case you ordered online shows up, sure — assuming it fits, go ahead and slap on your old case for a bit. Some protection is better than none, and the last thing you want is to break your expensive new phone after just a day or two. But don't rely on it forever — be smart and buy a case made specifically for your phone.
Get the Android Central Newsletter
Instant access to breaking news, the hottest reviews, great deals and helpful tips.
Hayato was a product reviewer and video editor for Android Central.