Why is there no AR Plus mode for Pokémon Go on Android?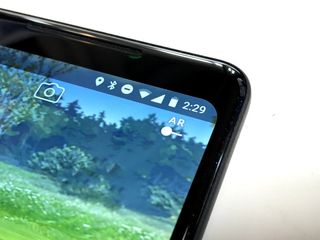 For a company that used to be a part of Google, the folks at Niantic sure seem to be favoring people who use iPhones with the smash hit Pokémon Go game. The Apple Watch is the only smartwatch available today with its own Pokémon Go app for tracking steps, and no further mention of this ever coming to Android Wear. Now, with the latest update to the app, Pokémon Go has a new set of abilities and score modifiers that only work if you have an iPhone.
It's called AR+, and before you get too mad about this feature not being available on Android phones right away it's important to understand how it works.
As the name suggests, AR+ is an enhancement to the augmented reality option on every version of Pokémon Go. In its original form, this feature let you see Pokemon as though they were actually in the world in front of you. It's cute for taking pictures, but not particularly useful for taking playing the game. AR+ changes that, by letting you do things like sneaking up on the Pokemon as they hide in Tall Grass. You can now earn Expert Handler bonuses for catching creatures unawares, and of course the closer you can get the more likely you are to score an Excellent Throw bonus. If you mess it up though, the creature will flee and you'll have to find something else to stalk.
So why isn't this on Android? Mostly because the AR tech from Google isn't ready yet. Apple's ARKit has been around since the launch of the last iPhones, where Google's equivalent ARCore is just now entering the second stage of its beta program. While it's true we've seen some great examples of Google's ARCore working _really_well, especially the new AR Stickers feature in the Pixel phones, developers don't have access to the final version of the code Google is going to use when it is rolled out to Android as a whole.
Basically, relax. AR+ will absolutely be coming to Pokémon Go on Android phones in the future. The delay here is on Google's end, not Niantic. And once it is rolled out to your phone, it's going to be pretty awesome.
Get the Android Central Newsletter
Instant access to breaking news, the hottest reviews, great deals and helpful tips.
Because they know iPhones are used mostly by kids

Are you trying to say kids play Pokemon Go because that isn't true at all. I don't see many kids playing it all unless they are playing with their parents.

Will we need a Pixel Phone or it will work on any Android phone?

ARCore is going to work on lots of phones, so you should be fine as long as you have something made in the last year or two.

People are still playing this?

Nope. It's completely dead. That's why the company is spending man hours and money on new features. It's like when a bank is going out of business, yet they decide to open up a new branch. Makes sense huh?

Yes, 5 million users still play it every day and 10 times as many are still active users. Mostly played by young grown-ups (but I'm 54). In the recent "Travel event" the Pokémon Go users caught 3.4 billion pokémon in the 7 days the event lasted.

I'm not interested on this game although I did play for a couple of days, but I still see a few people playing it on a regular basis. The hype significantly died down compared to its initial launch but thats true for almost every game. Its actually impressive that they still have this large of an audience for a game that requires too much effort(data and battery) to play.

When is android prioritized over iOS? Also it's a bit easier to make a feature work for 1,2,3,4,5 phones like Apple phones instead of making a feature work for the 400 different phones Android has. Or even the 20 flagships...

Not have another Apple - just moved back to andorid after 4 years and have got to say the Pixel 2 is probable the most perfect phone I have used. Happy to wait for Google to really show us the power of their AR core.

Your comment makes a lot of sense. Apple have invested and supported Niantic on this AR technology, and when you have a standard OS system as Apple does, it is straightforward compared to Android. There are plenty of variants of the Android OS, all of which are tailored to the many phone out there that use Android; Huawei, Samsung, HTC, etc. And all these makes have different handsets that use different OS versions! So for Google to create an AR system with Niantic, it is going to take a lot more work work to cover as many different handsets as possible, but not all will get it. All I know is that Samsung phones will get it in the future.

Why isn't there an Android wear app did Pokemon go?

I do have the AR+ mode on my Android phone.....Nokia 8.