Why is there no AR Plus mode for Pokémon Go on Android?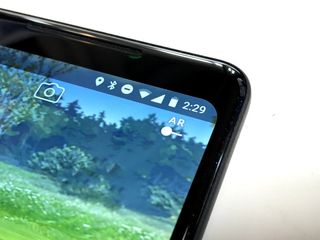 For a company that used to be a part of Google, the folks at Niantic sure seem to be favoring people who use iPhones with the smash hit Pokémon Go game. The Apple Watch is the only smartwatch available today with its own Pokémon Go app for tracking steps, and no further mention of this ever coming to Android Wear. Now, with the latest update to the app, Pokémon Go has a new set of abilities and score modifiers that only work if you have an iPhone.
It's called AR+, and before you get too mad about this feature not being available on Android phones right away it's important to understand how it works.
As the name suggests, AR+ is an enhancement to the augmented reality option on every version of Pokémon Go. In its original form, this feature let you see Pokemon as though they were actually in the world in front of you. It's cute for taking pictures, but not particularly useful for taking playing the game. AR+ changes that, by letting you do things like sneaking up on the Pokemon as they hide in Tall Grass. You can now earn Expert Handler bonuses for catching creatures unawares, and of course the closer you can get the more likely you are to score an Excellent Throw bonus. If you mess it up though, the creature will flee and you'll have to find something else to stalk.
So why isn't this on Android? Mostly because the AR tech from Google isn't ready yet. Apple's ARKit has been around since the launch of the last iPhones, where Google's equivalent ARCore is just now entering the second stage of its beta program. While it's true we've seen some great examples of Google's ARCore working _really_well, especially the new AR Stickers feature in the Pixel phones, developers don't have access to the final version of the code Google is going to use when it is rolled out to Android as a whole.
Basically, relax. AR+ will absolutely be coming to Pokémon Go on Android phones in the future. The delay here is on Google's end, not Niantic. And once it is rolled out to your phone, it's going to be pretty awesome.
Sign up for Black Friday email alerts!
Get the hottest deals available in your inbox plus news, reviews, opinion, analysis and more from the Android Central team.