The Pixel's AR Stickers are the most fun you can have with a camera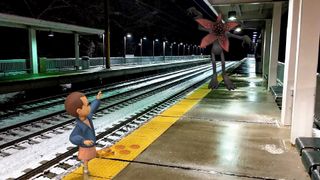 Alongside the update to Android 8.1, Google slipped in a feature originally shown off at the Pixel 2 launch event. AR Stickers, the camera mode which allows you to drop augmented reality objects into your photos, has arrived! What originally sounded like a silly gimmick now has me looking for excuses to toss in a couple of fun extras into whatever photo I am about to take. I find myself reaching to use it in situations where I wouldn't normally take a photo, after only a couple of days having it on my phone.
Here's a quick look at how it works, and how I'm using it!
Quick to launch, easy to use
AR Stickers aren't a separate camera app on your Pixel. Instead, it lives right inside the Google Camera app. You access it just like you would Portrait Mode, by tapping the Menu button on the side of the camera and selecting AR Stickers as an option. Once you're in this camera mode, you'll see the standard video and photo button options underneath a host of augmented reality characters for you to drop into your shot.
Adding an AR Sticker to your shot is easy. You swipe through the options, drag the option you want into the shot, and once you release your finger that character springs to life. Once a character is placed, you can move it around and adjust the size as you see fit. This allows you to create tiny scenes on a table in front of you or life-sized scenes on the street next to you with ease, but the real magic happens as you move around the scene you've created.
Google's AR Core tech makes it possible to position an AR Sticker and move around it as though it was really there. Get closer, and it feels closer. Walk around it, and you can see every angle. Best of all, as you move around the characters you've placed the lighting and shadows around them will change to look and feel more realistic.
For all of this to work, AR Core has a couple of cues for different environments. In ideal lighting situations, you will briefly see an array of white dots on the surfaces AR Core can detect when the camera opens. If the lighting is questionable or the surfaces in the shot aren't idea, the camera will prompt you to slowly move the camera in a circle in front of you. This gives the camera a little more information to create the depth map needed for AR Stickers to feel real in the shot. You can still place AR Stickers if this depth map hasn't been created, but there's a huge difference in realism if you take a moment to set the shot up correctly.
Porgs and sleepy coffee cups and balloons!
Google promised a healthy selection of AR Stickers at launch, and as long as you're a fan of Stranger Things and Star Wars you'll agree that promise has been kept. We've seen the shot from the Pixel 2 launch where Eleven sends the Demogorgon back to the Upside Down, but that Sticker pack has a lot more to offer with most of the popular characters from the first season. To get in on hype for The Last Jedi, there's also a Sticker pack with everyone's favorite droids alongside Porgs and some of the more action-oriented fighting vehicles. Google's intention here is to keep this section fresh with lots of pop culture Sticker packs, which means it probably won't be too long before we see Game of Thrones and Avengers joining this set up.
But there's more than just the latest characters from that new movie. Google's own creation, dubbed Foodmoji, offer some emotional food and drink to help tell whatever story you're trying to tell. My personal favorite is the sleepy coffee cup, but most of these characters do a great job putting a smile on your face as you enhance your photo or video. You'll also find a series of balloons you can use to spell out basically anything. This gives you a little more direct control to say something in a photo, and each balloon set gives you the ability to change the colors and adjust the height as you place the Sticker. Finally, a set of generally silly Stickers, like a roller skate with wings and a pile of cash, exists to give you something for as many occasions as possible.
Go forth and Sticker everything
Overall, AR Stickers are a success. Google delivered a healthy selection, promises to offer more, and the stickers themselves are a lot of fun to use in both photos and video. When compared to standalone augmented reality sticker apps like Bemo on iOS, it's clear Google's AR Stickers not only significantly more capable but generally more fun to use.
The only thing I feel this experience is missing right now is the ability to use the front camera for photos and video. A shot of the Demogorgon screeching over my shoulder, or a Porg sitting on my head, would be amazing but technically very difficult. Google's made no promises to use the front camera in the future, but it'd be nice to have if there's a way to make it work without sacrificing quality.
Of course, there's one other general downside to AR Stickers: if you don't own a Pixel or Pixel 2, you don't get them. This camera update will be rolling out with Android 8.1, but it's going to be a Pixel exclusive and there's currently no plans to change that. The good news, at least for Pixel fans, is this feature is absolutely good enough for Google to keep making it better all the time.
Get the Android Central Newsletter
Instant access to breaking news, the hottest reviews, great deals and helpful tips.