Who you should be following on Periscope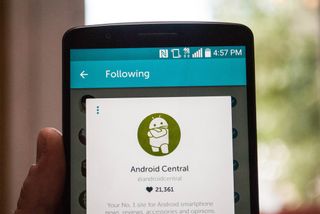 Trying to find new people to follow on Periscope can be a real hassle. We've been talking about Periscope for a while now, and we've covered most of the basics.Finding new users to follow is definitely difficult unless they are broadcasting and pop up into your global feed. What you need now is a handy list of awesome people to follow.
With that in mind, we've put together a list of accounts you should definitely be checking out.
Let's start with the folks from Mobile Nations:
@AndroidCentral—Android Central
@RussellHolly—Russell Holly
@gbhil—Jerry Hildebrand
@azeis—Adam Zeis
@James Falconer—James Falconer
@markguim—Mark Guim
@Ricker666—Richard Devine
@Daniel_Rubino—Daniel Rubino
@reneritchie—Rene Ritchie
@kevinmichaluk—Kevin Michaluk
@philnickinson—Phil Nickinson
@andrewmartonik—Andrew Martonik
@Jareddipane—Jared DiPane
@jaduino—Justin Duino
@arawagco—Ara Wagoner
Here are some other amazing accounts:
@Kayvz—Kayvon Beykpour
Kayvon is the co-founder and CEO of Periscope. This is the man who brought this awesome app to the world, and has Periscoped some interesting stuff. His twitter feed is also full of some awesome retweets of Periscope broadcasts that he has come across.
@ReneRedzepiNoma—Rene Redzepi
Rene is a chef at restaurant Noma in Copenhagen and his feed is absolutely delicious. He's broadcasted from inside the restaurant several times now, and his twitter feed is filled with the most scrumptious pictures imaginable.
@GlobalPeriscope—The best and most intriguing Periscopers around the world.
Global Pericope is a cultivated feed of multiple different users from around the globe. Recent tweets have linked to broadcasts that cover everything from street art graffiti in Paris, to a beautiful sunset in Kathmandu Nepal.
@PeriscopeTV—A curated feed of current awesome live broadcasts.
Periscope TV is a curated feed, handled by Periscope themselves. Their feed is filled with retweets of other user's broadcasts. The feed tends to have a lot of broadcasts by celebrities by the likes of Michael Jordan, and Oprah Winfrey. It also has plenty of other posts as well like a sunset at Bonnaroo, or feeding crocodiles in Australia.
@NMNH—The Smithsonian Natural Museum of Natural History
The Smithsonian's Natural Museum of Natural History has been using Periscope as well, which was a pretty exciting discovery. They've broadcast with a few different things found at the museum, and promote upcoming broadcasts on their Twitter feed. Most recently, riding on the launch of Jurassic World, the team did a walk through the dinosaur exhibit.
This is by no means an exhaustive list. These are the accounts that we found to be excellent for a variety of reasons, and felt compelled to share with you. Who are you following already, and what kind of thing would you like to see on Periscope? Sound off in the comments and let us know.
Android Central Newsletter
Get instant access to breaking news, the hottest reviews, great deals and helpful tips
Jen is a staff writer who spends her time researching the products you didn't know you needed. She's also a fantasy novelist and has a serious Civ VI addiction. You can follow her on Twitter.
I still don't understand what Periscope is intended to do.

It allows users to instantly interact with their audience from wherever, whenever. Example, you are traveling somewhere and you see something that you would like to share with your family & friends instantly. Periscope allows you to essentially let your followers experience it with you at the same time. People watching Periscope streams can ask the host questions & tap the screen to "heart/like" what it is the host is discussing. Of course, your experience will be completely dependent on whom you are following if you are just planning on watching streams. Some people are constantly streaming & it actually gets annoying but you can choose to follow whomever you want.

It's designed to drain your battery.

Kevin Hart "a fanboy, DAT that sh...I don't like"

Webcam Girls on adult sites just giggled with glee with periscope and meerkat.

Lol Posted via the Android Central App for Sailfish OS on my iPad 7

What? No shout out for Derek Kessler? My last link to webOS nations. :( Posted via the Android Central App

How do you all at Android Central keep up with all this social media? Facebook, Instagram, Twitter, Google+ and Periscope (not to mention having to manage the actual Android Central website/app. That's a lot of social media to keep track of. Posted via the Android Central App

The long and the short of it is that we all don't mess with all networks. A few AC members hardly ever mess with G+, but some of us aren't on instagram. I split my time between G+, Twitter, and I'm going to start using Periscope to get more comfortable on camera. Time management helps, too.

That's awesome. Posted via the Android Central App

I just gave Periscope a chance this evening after the Warriors game and I think I'm hooked LoL Posted via the Android Central App

Ads = money. Having articles about stuff people apparently want = clicks. Clicks = ads = money. It's their job basically.

I can maybe see myself using this app for a family gathering or so, but that's it nothing else. I'm really not interested in watching what other people are doing lol no offense. Posted via the Android Central App

It is starting to get somewhat irritating. Notifications pop up and I don't have time to watch some 19 yr old blather on about nothing. But then again My Space irritated the crap out me! :P

Turn notifications off?
Don't follow 19 year olds who blather about nothing? Posted via the Android Central App

If you follow me on Periscope it's a 35 year old blathering on about nothing! Well, not quite.. more like tech and gadgets and stuff. It's fun. Free entertainment! :) @kevinmichaluk

How do you add someone to follow?

You can do it using the search function found under the 'most loved' tab, (far right on the top bar) or by using twitter and following links back to user's page on Periscope. If you tap on a user, their profile should pop up giving you the option to follow.

Suicide girls Posted via the Android Central App

Watching the Warriors after party on Periscope! This is kick ass! BAAAAY AAAREA! Android All Day Everyday!

I'd like to see it be used in landscape mode rather than portrait all the time especially sports games. Posted via my Motorola Startac

Yeah, the problem seems to be that broadcasting in landscape turns the broadcast for all the viewers. So everything is sideways. Hopefully it will get updated to allow for landscape casting in the future.

I recommend you to check a new mobile app that is going to be launch soon, FeedCast.co. It is definetely excellent.
Android Central Newsletter
Get instant access to breaking news, the hottest reviews, great deals and helpful tips
Thank you for signing up to Android Central. You will receive a verification email shortly.
There was a problem. Please refresh the page and try again.