What are the best places to buy the Pixel 3a in 2019?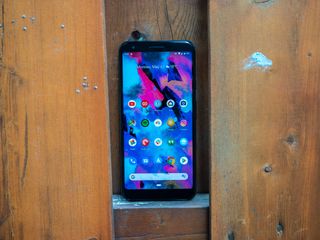 (Image credit: Android Central)
Best answer: If you're in the U.S. and want to buy the Pixel 3a or 3a XL, you can purchase it right now either unlocked from Amazon, or through a carrier like Google Fi, Verizon, Sprint, or T-Mobile.
The Pixel 3a and 3a XL are available for purchase right now
After some initial stock shortages at various retailers, the Pixel 3a and 3a XL are both reliably in stock from retailers and carriers.
The regular Pixel 3a costs $400, and if you want to upgrade to the larger 3a XL, it'll set you back $480. There are three colors available for both sizes: black, white and purple.
If you want to buy unlocked
Buying phones unlocked is the way we prefer doing things around here, especially when they cost as little as the Pixel 3a. If you agree, your best bet is to buy from Amazon.
Amazon's Pixel 3a stock has been the shakiest of the big reatilers, so if you can't get it there take a look at B&H. It carries the Pixel 3a and 3a XL, and no matter which one you get, it also includes three months of Mint Mobile's 8GB plan for three months of free phone service (a $60 value).
Lastly, if you get the Pixel 3a using B&H's new Payboo credit card, you'll get instant cashback for however much you paid in taxes. Here in Michigan, that works out to a 6% savings compared to buying at any other store,
Alternatively, you can get the Pixel 3a unlocked if you buy from the Google Store. Google's early $100 gift credit has expired, though, so unless you find a specific deal you're better off buying from Amazon or B&H.
Our pick
A prime way to get a Pixel 3a.
There are a lot of places to buy a Pixel 3a, but if you want it shipped with Prime, or just want to know that you're buying from a reliable retailer, Amazon now officially sells Google's latest phone.
B&H (From $400 at B&H)
The best way to buy the Pixel 3a unlocked.
The Pixel 3a is already a great deal, so getting it with three months of Mint Mobile service and the option to get back any money you spend on tax with the store's credit card, and you end up with a solid offer.
Google Store (From $400 at Google Store)
Should you buy the Pixel 3a from the Google Store, you may find some discounts and offers depending on when you shop — but we still prefer Amazon or B&H's deals.
The phones are also available at a variety of carriers
All the way back to the first Pixel phones in 2016, Verizon's been the exclusive carrier partner of choice in the United States (sans Google Fi). That ends with the Pixel 3a. In addition to Verizon and Google Fi, you can also buy it at Sprint, T-Mobile, U.S. Cellular, and Visible.
Verizon
Starting first with Verizon, the Pixel 3a and 3a XL are available in Just Black and Purple-ish (no Clearly White model here). You can pay the full $400 or $480 upfront if you'd like, or finance them for $16.66/month or $19.99/month for 24 months, respectively.
If you buy either phone on a new line, you can get $100 in savings that's paid out over the course of your 24 monthly payments. As such, this brings the Pixel 3a down to $12.50/month and the 3a XL to $15.83/month.
Verizon
You can get the 3a and 3a XL at Verizon in your choice of black or purple. Along with being able to buy them outright, you can get 24-month financing for $12.50/month or $15.83/month, respectively.
Sprint
Not a Verizon person? Sprint's got you covered, too. You can get the Pixel 3a or 3a XL in all three of its colors at Sprint and buy the phones outright with on upcharge on the pricing.
If you're buying on Sprint, however, we'd recommend leasing the phone with its 18-month Sprint Flex program. $0 is due today, and thanks to a promotion Sprint's running right now, you can get the Pixel 3a for $11.07/month or upgrade to the larger 3a XL for $14.40/month.
After you've had either phone for 18 months, you have the choice of returning it and upgrading to a new phone or buying it through one lump sum or through six additional monthly payments.
Sprint
All three colors of the Pixel 3a and 3a XL are available at Sprint, and if you get them through the Sprint Flex 18-month lease program, you'll pay only $11.07/month for the Pixel 3a or $14.40/month if you want the XL model.
T-Mobile
T-Mobile is the third biggest carrier selling the Pixel 3a here in the States, and while its prices are pretty great, there's one thing that's missing — Purple-ish. While you can get the 3a and 3a XL in Just Black and Clearly White colors, the gorgeous purple finish is nowhere to be seen 😔.
Thankfully, T-Mobile does make up for this with a pretty great deal.
If you trade in an eligible phone when buying your Pixel 3a, you can get up to $400 back that's paid via monthly bill credits. In other words, this works out to a free Pixel 3a or only having to pay $80 for the Pixel 3a XL. Some of the eligible phones for the $400 credit include the Samsung Galaxy S9, Galaxy Note 8, LG V40, OnePlus 6T, and iPhone 7.
If you don't trade in a phone, T-Mobile charges $16.67/month for the Pixel 3a and $20/month for the 3a XL over the course of 24 months.
T-Mobile
T-Mobile might have one of the best carrier deals in the U.S. If you trade in an eligible phone when you buy the Pixel 3a, you can get a $400 credit — essentially making the 3a free as long as you hold onto it for two years.
Google Fi
To absolutely no one's surprise, Google Fi is also carrying the new Pixel 3a series. Both phones are available in all three colors, because of course they are.
The outright pricing is the same as everywhere else, or you can pay month-to-month and get the Pixel 3a for $16.63/month or the XL for $20/month.
No matter which one you buy, Google includes a $100 Fi service credit once you get your new phone activated.
Google Fi
Google Fi is carrying all three colors for the Pixel 3a series, and when you buy a phone and get it activated, you'll receive a $100 credit that can be used on future monthly bills.
We'll keep an eye out for future deals
Not ready to buy the Pixel 3a just yet? No worries.
We'll keep this guide updated with the latest promos/deals as they're available, so check back from time to time to see what's being offered when you are ready to pull the trigger.
Amazing value
The new mid-range phone to get.
If you have $400 to spend and need a new phone, stop what you're doing and get the Pixel 3a. It has the same amazing camera of the $800 Pixel 3, a fast and clean software package, guaranteed updates for three years, and a headphone jack.
Google Pixel 3a ($479 at Amazon)
For $80 more than the regular Pixel 3a, the 3a XL delivers a larger screen and a bigger battery. It's a slightly worse value, but if you plan on doing a lot of media consumption, it's probably the better choice.
Get the Android Central Newsletter
Instant access to breaking news, the hottest reviews, great deals and helpful tips.
Joe Maring was a Senior Editor for Android Central between 2017 and 2021. You can reach him on Twitter at @JoeMaring1.