Where to buy Google's new Chromecast and Chromecast Audio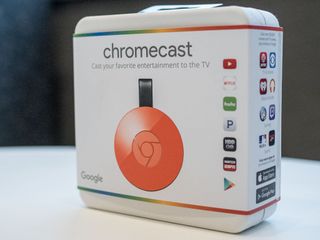 Google's new Chromecast hardware is now available for purchase. The new Chromecast and Chromecast Audio haven't rolled out to the extreme number of retailers that were available for the previous model, but you have at least three options in the U.S. and one in the UK right at launch to pick up the new streaming dongles.
Where to buy Chromecast
Where to buy Chromecast Audio
Everything Chromecast
Everything you need to know about Google Chromecast
Andrew was an Executive Editor, U.S. at Android Central between 2012 and 2020.
I ordered mine. I stuck with black. You can't see the device behind the TV anyway.

Same for me as well. Posted via the Android Central App

Actually, that's why I'm kind of in favor of going with one of the other colors... you cant see it while it's behind it, but occasionally it needs rebooted or I grab it off to put on another tv. So having it be other than black, like EVERY other cable behind my tv, the brighter colors might help me see it easier! :)

Good idea. The logic is strong with this one. Wubba lubba dub dub!

Boom- red already on the way

Got a red one for some reason. Posted via the Android Central App

Same Posted from my Nexus 6/Nexus 7 2013/Surface Pro 3

Me too. I like red. I won't be able to see it, but I still like red.

I ordered the red one too, just so it's easier to spot if I have it laying around on my messy desk and tables where most of my gizmos are black.

What are your expected delivery days? Mine is saying October 7-14

Oct 7 - 14 using the free shipping. Posted via the Android Central App

Mine is the 12th-19th as of 3:32pm Posted via my S6 on the Android Central App

Same dates for me 12-19th.

Interestingly, my unit shipped already! Posted via my S6 on the Android Central App

Ordered through Google and received mine yesterday.

mine's being delivered today.

Mine was delivered today.

Mine has been shipped already and will be in my hands tomorrow Oct. 2nd!!!!

I got a black one and a red one, although I have no idea why I felt compelled to get a red one since it'll be behind the TV. I guess I just liked the way it looks. I wasn't really all that attracted to the piss-colored one.

So with chromcast (normal version) can one stream music from his/her phone?? Posted via the Android Central App

Yup. Simply cast like normal from a supported audio app. Posted via the Android Central App

Yes, but you have to stream through a device that has a HDMI input. For instance, I have my home theater running through a Sony AV receiver. My Chromecast is connected to my TV through HDMI. My TV is connected back to my receiver through an optical TOSLINK cable so that the receiver/amp can play TV-originated material, whether it be broadcast TV coming in through the antenna, the smart apps that are built into the TV, or the Chromecast. If I had enough HDMI ports on my amp I'd connect the Chromecast to it directly. The new Chromecast audio will connect with any speaker or device that has a 1/8" stereo phono plug input, a nearly universal configuration. This will obviate the need for a HDMI-capable device to be the intermediary.

I must of missed the announcement about this. What is improved over the current chrome cast? Posted via the Android Central App

Both 2.4Ghz and 5Ghz and 802.11ac Wi-Fi are now supported. There is also a new antenna design to make the connection more reliable.

80% faster with no buffering.....so they say

I didn't notice much difference, honestly. However, the "pre-fetch" capability, which will pre-buffer the next show while you are watching (good for binge watching Netflix, I guess) hasn't been implemented yet. If you are happy with your existing Chromecast, I would say there is little reason to upgrade. However, if you have need of additional units for other sets in the home...go for it!

Anyone care about chromecast audio? Posted from my Nexus 6/Nexus 7 2013/Surface Pro 3

Yes. Posted via Android Central App

Certainly. It will give new life to a lot of good quality speakers in a lot of houses. Posted via the Android Central App

Ok Posted from my Nexus 6/Nexus 7 2013/Surface Pro 3

You mean like a Bluetooth adapter for older sets? I really don't understand the separate audio Chromecast device. Posted via the MATERIAL AC App

BT won't have close to the sound quality as this, think more Sonos and less your crappie ten dollar bluetooth speaker. Posted via the Android Central App

This. Posted using SwiftKey on my LG G4 via the Android Central App

Bluetooth you have to keep in range. This is a stand alone wifi player that you control with your phone, just like the Chromecast. No need to stay in range, just start it playing and you can even turn your phone off.

Better range...it works on Wifi, and since the phone is only sending a URL to the Chromecast and not streaming from the phone, it doesn't kill your phone's battery like bluetooth streaming will. In addition, since it's not compressed like bluetooth, it will sound MUCH better! Also, in the future, it will be able to sync music to multiple units in the home...so you can play the same music throughout your home. Think "Sonos", but at 1/5th the price...and you can use your existing gear, everything from soundbars to old computer speakers to a HiFi!

I hooked up a Chromecast Audio to a pair of old Logitech 2.1 speakers in the master bedroom FTW!

Yes. Very much. Posted using SwiftKey on my LG G4 via the Android Central App

Do you need WiFi for this or Bluetooth. Like to use in my truck vs aux cable into my phone Posted via Android Central App

Got my red one today! Posted via the Android Central App

I just wanted to say that I ordered mine as soon as the google site went live on launch day and received it in about 26 hours O_O :-D

I WAS gonna get a nexus tv... Not anymore! Thanks Google.

I checked earlier today and you can't even pre-order it from Amazon (yet, anyway).

You probably won't be able to. Amazon is banning Chromecast and Apple TV because they don't support Prime videos.

Yup. Amazon is screwing itself with this move. I use Amazon for a lot more than just this kind of stuff, so I won't be cancelling my Prime. But it's still a very bad move.

More accurately, Amazon has chosen not to make PIV compatible with the Chromecast and Apple TV. Posted using SwiftKey on my LG G4 via the Android Central App

So is Amazon not selling pre-orders because they are now a competitor? I bought the first gen chromecast pre-order from Amazon, but that was before the Fire stick existed. Posted via the Android Central App

They're still selling the first gen for now.

Only until the end of October I believe.

Does it support captive portals login for college wifi?

Huh? If you can log into WiFi, I would think your good. It will need to have access to the password for WiFi to setup.

Like a hotel or free access point where you have to accept some terms in a browser before it gives you the connection. I would like to know this as well Posted via the Android Central App powered by Droid Turbo

Just don't bother looking for one on Amazon. Posted using SwiftKey on my LG G4 via the Android Central App

Does anyone who had an issue with connection and buffering with their old chromecast notice an improvement with this one?

Just got mine from the play store about 15 min ago. Wow that was quick. Posted via the Android Central App

I'm loving my two Chromecast Audio devices and the family is having a ball listening to their music!

so is this thing supposed to droop around? If you have one of those HDMI ports on your TV that are oriented sideways, I can see the New Chromecast just dangling weirdly.

Bought mine from the Play store the day it was announced! The new model works great...but it's not that much different from the original it replaced. My brother is happy with the hand-me-down, though! What I am REALLY excited about is the ChromeCast Audio piece. That is a GAME CHANGER! Really hope the multi-room functionality comes sooner rather than later, though. Disappointed it isn't launching with that capability. VERY happy that it supports digital audio out though!
Android Central Newsletter
Get the best of Android Central in in your inbox, every day!
Thank you for signing up to Android Central. You will receive a verification email shortly.
There was a problem. Please refresh the page and try again.