Where to buy an unlocked Galaxy S9 or S9+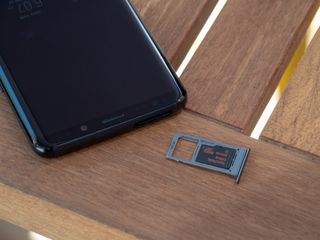 (Image credit: Android Central)
You can buy a Galaxy S9 or S9+ just about anywhere, and in the U.S., most people will typically buy directly from their current carrier or one they're in the process of switching to. However, you don't have to buy from a carrier — you can buy a GS9 or S9+ unlocked, and even have a choice of multiple retailers from which to get it. Now that the GS9 is a bit older, the choices for where to buy, and discounts you can get by shopping around, are even more varied.
The U.S.-unlocked Galaxy S9 is designed to work on all major carriers, including Verizon and Sprint, and in terms of hardware, it's identical to what you'd get from those carriers. There are differences in software but for the better — you don't have carrier customizations or pre-loaded apps to contend with. There are also zero hoops to jump through if you ever want to switch carriers — being unlocked from the get-go, you can just switch SIMs and be on your way.
You really should consider buying your Galaxy S9 or S9+ unlocked — and when you do here are the places you can buy one, and the reasons why you'd choose each retailer.
Buying new
Amazon
When buying unlocked from Amazon, it's important to be sure that you're buying the proper model. Amazon does sell correct unlocked Galaxy S9 and S9+ models with full U.S. carrier compatibility and warranties, but third-party sellers also offer international models — ones that may not have complete carrier compatibility and definitely don't have a U.S. warranty. We've linked to the proper model below.
Amazon offers 12-month no-interest financing for purchases of $599 or more using its self-branded credit card. This isn't as generous as what Samsung or carriers may offer, but it does help you spread out the cost of these expensive phones when buying unlocked.
Best Buy
Best Buy has the Galaxy S9 and S9+ available unlocked right next to the carrier versions. In many cases, the unlocked models will be listed for less than the carrier ones as well, though you won't see all of the purchase incentives the carriers offer. There aren't any concerns over getting the right model — Best Buy only sells the U.S. unlocked version of the phones.
You can also get 12-month no-interest financing from Best Buy on your Galaxy S9 or S9+ purchase using its store credit card.
Walmart
Walmart actually offers competitive pricing on unlocked phones, even online, and you can get the exact same unlocked S9 and S9+ models as other major retailers. It's also worth following Walmart's deals just in case it drops one of its regular discounts on the phones when you're looking to buy.
Samsung
If you're going to buy a Galaxy S9 or S9+ unlocked, Samsung is the simplest way to go — though it may not always be the cheapest. There's a better chance you'll find a discount on Amazon or Best Buy, but there's never anything wrong with buying direct from the manufacturer on Samsung's website.
You can also get 24-month no-interest financing for Galaxy phone purchases, which is on par with the terms that carriers offer.
Buying refurbished or used
Best Buy
Best Buy sells refurbished, pre-owned, and open-box phones at discounts ranging from 10-30% off. Open-box deals in particular are great because they're typically devices that have just been purchased, opened, and returned, not even used. The Galaxy S9 and S9+ are available for about $200-300 off, depending on the model.
Amazon
Amazon has a "renewed" refurbished electronics section where you can find current-gen devices at good discounts. There's more variety of conditions, though, and it isn't always clear exactly what you're going to get when buying because the products come from a variety of companies that don't follow the same refurbishing process. But if you do your research, you're going to get roughly $300 off MSRP.
Gazelle
Gazelle refurbishes and sells phones it buys from consumers, and offers the last few years of popular devices from Samsung. Gazelle has higher standards for refurbishing and selling devices, meaning you're going to get a device that's often in like-new condition with accessories included. There's also a great variety of storage options and colors available. Prices are correspondingly a little higher because of that.
Swappa
Swappa has great deals on unlocked phones through its person-to-person marketplace. The people who frequent Swappa tend to place higher values on selling unlocked phones, so there's a good amount of inventory available. There are low fees, and prices adjust quickly with the market, so this tends to be a really good place to pick up a used device.
Sign up for Black Friday email alerts!
Get the hottest deals available in your inbox plus news, reviews, opinion, analysis and more from the Android Central team.
Andrew was an Executive Editor, U.S. at Android Central between 2012 and 2020.