Where to buy the Essential Phone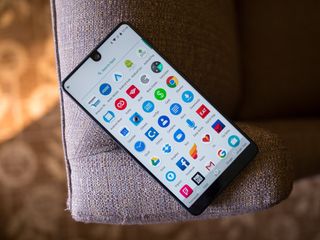 If you're looking for a high-end phone, it's hard to ignore the gravity of the Essential Phone right now. When a company run by Andy Rubin releases a phone, people take notice — and they'll also have to take out their wallet, because the Essential Phone is a cool $699.
It's available in the U.S. and Canada, with a variety of retailer options and a few good deals. Here are all of the details.
U.S.
The U.S. is obviously Essential's dominant launch market, where you have multiple retail options.
Amazon
Amazon has both black moon and pure white colors for sale, but it's difficult to find either phone right now. Pricing is set at $699 with free shipping for Prime members.
See at Amazon (opens in new tab)
Best Buy
Best Buy is listing both the black moon and pure white colors of the Essential Phone, but won't actually let you place an order for the white model just yet. Pricing is set at $699, and you can finance that with Best Buy's in-house financial services if you'd like.
You can also buy the phone via Best Buy to use on Sprint, if you want to get your phone and carrier setup all handled at once.
See at Best Buy (opens in new tab)
Sprint
Sprint has just the black moon color available, and the same pricing as elsewhere at $699.
For a limited time after launch, Sprint is offering 50% off a lease of the Essential Phone, knocking it down to just under $15 per month for 18 months. Sprint's leases end with an option to continue payments another 6 months to buy the phone outright, or an option to return the phone for an upgrade on a new lease.
Essential
It's always great to see a phone sold unlocked directly by the company. Both black moon and pure white are color options, but only the black is available for immediate ordering. The price is of course $699, and you can choose whether you want the $99 two-year warranty on top of that. The phone will work with all major U.S. carriers.
For a limited time, it's offering a deal for its 360-degree camera accessory for $50 off when you buy it at the same time as the phone.
Canada
Canada isn't quite as lucky as the U.S., as Essential isn't selling unlocked in the country but instead sticking to the exclusive deal with TELUS.
TELUS
Things are pretty simple here. Black moon is the only available color, and you'll have to sign on to a two-year contract to get the phone. With a plan at $85 per month you can have the Essential Phone for $490, or if you opt for a more expensive $95+ plan you pay just $290. The phone costs $1050 outright.
See at TELUS (opens in new tab)
Andrew was an Executive Editor, U.S. at Android Central between 2012 and 2020.
Anyone know how to finance through Affirm? I can't find where to do it.

When I checked out it was a option. I did it no problems.

Affirm is not longer a finance partner with Essential. And probably best they aren't.

Before or after entering credit card info?

I can't find the Affirm option either...

Affirm is no longer an option. I'm dealing with them now to get a dispute resolute for the return of this phone.

Is this another of those unlocked phones that will "work" on Verizon? As in work half-assedly without essential services like Wi-Fi calling, all LTE bands, Visual Voicemail and VoLTE?

Essential hasn't confirmed what it will support, other than simply saying it has the network bands to work on the carrier.

The PH-1 works just fine on my Verizon wireless account, don't know about wifi calling as I don't use it, and yes no visual voicemail yet, my Nexus 5X also did not have visual voicemail until it was supported at a later date with the Verizon Nexus app. For now I use the standard voicemail by dialing *86. Thy phone works on all Verizon bands, yes even the slow as molasses 3G.
Here is a post regarding wifi calling on Verizon and the PH-1 by Essential. https://forum.xda-developers.com/essential-phone/how-to/wifi-calling-t36...

I think Verizon will be a problem. Verizon is always a problem especially if you don't purchase thru them! Yikes!

I've been using it perfectly fine on Verizon for almost 2 weeks. HD Voice, LTE, 3G, CDMA radios and all!

This phone is not available yet. Essential has again pushed back sales are retail per people in the forums https://forums.androidcentral.com/essential-phone/826495-essential-order... People are saying they are stating another week out at least. Best Buy still has the phone listed as Coming Soon and Amazon only shows from a Third Party seller.

I should state still not on sale yet from retail locations

Thanks for the heads-up. Sprint still claims that it's shipping as of today on its website, but I'll keep track of it and see if there are any official changes.

Could be. Seen a lot of discrepancies. Hoping for the best for people who don't deal directly with Essential.

Sprint has been pretty good with shipping phones, however they did have to delay their original shipping date which was August 31st. Here's to hope that some might actual see their Essential phones they've ordered.

Even if it was wouldn't you want to wait till you can be sure there's no more security incidents likely to occur? There is no foolproof data protection but they do seem a bit bumbling at present...

"...it's hard to ignore the gravity of the Essential Phone"
'Gravity'? Is that because it weighs as much as a Buick and is as slippery as a wet bar of soap?

Lift weights. But won't argue the wet soap. This thing is slippery. But I love the weight of this phone. Super solid. But i guess the weight doesn't bother bench pressing 245...

But it's actually Not available at any of those sites?

The top bezel is too small. It's unsymmetrical and this creates a very distracting artifact with the camera placement. Distinctive, yes.
Attractive ... practical? No.

In 2 days after a certain product launch this impractical design will be hailed globally as the ultimate statement in cutting edge product design and functionality. 😋

Amazon currently has 3 in stock. Sprint says ships by 9/13.

Why would anyone want this phone after the reviews?

Because this is a new phone by a new company. They just sent out an update that fixed or at least addressed some of the issues that people were experiencing. The camera will come around with Mr feedback and data from the users. Still waiting on the white one to be able to purchase.

BestBuy: Coming Soon It'll get there when people stop caring about it. So I'm guessing any day now.

Apparently the software on this is a bit sluggish. Throttling is the word I've seen used to describe it. It's putting me off!

The 360 camera is only $20 off now at the Essential website. This sound be updated.

i was all set to buy this phone but now after weeks of pushing it's availability date i no longer crave to buy this phone and i am sure there are a number of people like me who are not interested to buy it no more

Off-center screen with a piece out of it for the camera... They are trying to trigger all of the OCD on the planet. This is one of the most unattractive devices I've ever laid eyes upon.
Android Central Newsletter
Thank you for signing up to Android Central. You will receive a verification email shortly.
There was a problem. Please refresh the page and try again.