WhatsApp cracks down on users of unofficial clients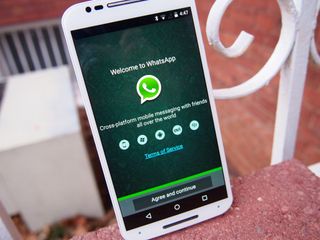 It looks like WhatsApp has begun to crack down on users of third-party clients for the messaging service today. The company recently began instituting 24-hour bans for users of WhatsApp Plus, specifically. However, there have been various reports of WhatsAppMD users being affected as well.
WhatsApp has officially acknowledged the bans via a support FAQ on its website. It states
WhatsApp then goes on to state that uninstalling the unauthorized application and installing the official app should remedy the situation.
As frustrating as this may be for users of these third-party apps, it really shouldn't come as a big surprise. Not only are the apps not listed on Google Play in any capacity (requiring side-loading the APKs to get them on a device), but they also make use of WhatsApp's network without permission. Really, it was only a matter of time before action was taken.
Thanks to everyone who sent in tips on this one!
Source: WhatsApp
Can't blame them Posted via Android Central App

Funny how users of 3rd party apps are outraged by this look lmao.

The outrage is not the banning but the the fact the features in the 3rd party apps offer that should be in the app. But not to worry b/c theres already a work around. From my G3

Give us a dark them and a bunch will return to the official app.

WhatsApp definitely needs a dark theme applied to it.

The whole app looks 5 years out of date. I just can't bring myself to use something that looks so bad, especially if you have to pay for IAP. Posted via Android Central App

Funny...cuz ever since Facebook bought them whatever I talk about with my friends on whatsapp shows up in ads on Facebook... Posted via Android Central App

It also needs a true do not disturb mode. The main reason I keep uninstalling it is there's no way to log out of it. Posted via Android Central App

greenify Posted via the Android Central App

Greenify even works without Root now. Posted via Android Central App

It's fine that a company doesn't want unauthorized access to its servers, but spare me the bullshit security concern. Of course, I don't even use the app. Posted via the Android Central App

Tell me about it. Posted via the Android Central App

It's all about money, surveillance and data mining. Which is exactly why Microsoft canned all 3rd party Skype apps.

thats fine, but that isn't how whatsapp works. They sell the service so they don't mine your data. messages are encrypted end to end and deleted from their server as soon as it is delivered.

Anything owned by Facebook is something I wouldn't even trust around my dog.

update the app and people wont use third party apps.

I don't care getting banned for 24 hours. But I'm not using any modification. The only possible modification is, I accidentally copied PLUS folder into /Whatsapp folder, from a backup I made 7 months ago from my old phone. Funny, thah folder is from another old phone, dated almost one year before that. Just a folder. Not a modified apk. Im using official Whatsapp from Play Store. Tried to email them, and they response with an automated email. I'm wondering what happened after this if I rename one of the folder inside /Whatsapp folder, just for the sake of computer "science".

If Whatsapp listen to people, update their software and put features people wanted/love/need, then this whole thing won't happen in the first place.

It's owned by Facebook now... And they have SUCH a wonderful track record of "listening to the consumer" right?.... No I forgot they fucking suck. Posted via the Android Central App

Hey WhatsApp, give us Material Design instead of awful Froyo land. And what about respecting your paying customers, listening to their concerns etc? Unheard-of!

Well .. if they tried to offer more costmization options no one will go and use what's app plus Posted using my note 3 via the AC App

Thanks to inform us. I must share your article on my FB account to inform all my friends to beware from Whats app+ . To get more information about Whats app. Visit on our site http://www.republicdayindia.in/

They'll remove ur comment......AC is rude Posted via the Android Central App

Uhm. No. Posted via the Android Central App

Rename the app. Also people, this is FB tightening the noose on the intellectually challenged. Posted via the Android Central App

If the app didn't look so freaking ugly and didn't lag the crap out of my phone as much I wouldn't be using a third party app...
Fix it and people will use the normal app.. Simple

If only the app wasn't so damn ugly then I wouldn't keep using WhatsAppMD.... Posted via the Android Central App

WhatsApp+ is officially Dead!!!! https://plus.google.com/107247863205319096128/posts/99mmV7RA7ne Posted via the Android Central App

So... people are up in arms over an IM client? Just install Trillian and be done with it.

Whatsapp+ got a classic cease and desist letter from Faceb-- I mean whatsapp. I do believe twitter will eventually turn to this. Posted via the Android Central App

WhatsApp Spy tool <a href="http://whatsapphacktool.wix.com/whatsapphacktool">Whats App Spy Hack Tool 2015</a>
Android Central Newsletter
Get the best of Android Central in in your inbox, every day!
Thank you for signing up to Android Central. You will receive a verification email shortly.
There was a problem. Please refresh the page and try again.