What's in Andrew's 2017 gear bag?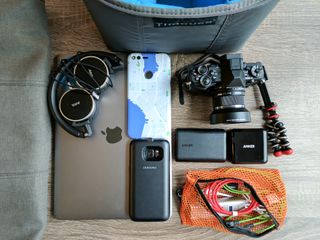 The editors here at Android Central get a lot of work done on the road, and that means we're always looking to have the best gear available in our bags so we can bring all of the best coverage to folks back at home. When we're getting ready to gear up for a big show like CES, it's a perfect time to double check the setup and get everything in order before we fly out.
Here's what I'll be carrying to Las Vegas this year, and for the most part it's what comes with me any time I leave the house and need to get work done while I'm out.
The bag: Timbuk2 Classic Messenger
I picked up my Timbuk2 Classic Messenger (size large) nearly two years ago, and I've been very happy with it as both a daily carry bag and for travel needs. The handful of pockets inside make it easy to find a place for my essential gear, while the separate laptop compartment keeps my computer safe and I can use the rest of this cavernous bag for anything else I need.
Most days I have the external straps tightened down, which collapses the bag for a slimmer profile since I don't have much to carry. But you can also loosen those straps out and fit a weekend's worth of clothing and gear or a full set of camera equipment for a day of shooting. The versatility of the big open bag is great, even if I'm carrying the same things most of the time.
Oh, and you just can't beat Timbuk2's warranty (opens in new tab), particularly if you have a store where you live. You'll never have to worry about being caught without a bag or being charged for replacements if manufacturing-related issues arise.
See at Amazon (opens in new tab)
Also inside: Timbuk2 Snoop Camera Insert
Because I use this bag for photography gear on a regular basis, I also invested in a "Snoop" camera insert; and I went for a medium size for my large bag so that I have extra room for non-camera gear.
This is a fully-contained zip-closed camera container with two movable dividers and a soft cloth interior that can easily hold my camera, two extra lenses, cables, batteries, and usually for me a couple more phones. It has a handle on it so you can quickly yank it out of your bag, and because it's self-contained it means I can quickly turn my messenger back into a standard carry-all bag in a snap.
See at Amazon (opens in new tab)
And finally: Peak Design Capture Camera Clip
The Peak Design Capture Camera Clips came as a recommendation from several people, and I just don't carry a camera without it anymore. It's a simple and secure way to mount your camera on a bag strap or belt, letting you quickly remove the camera for shooting and then clip it back on the bag until you need it.
No more camera swinging around your neck from a strap, and no more stashing it in your bag where it's hard to reach. This thing is absolutely crucial for trade shows, but I've started to use it when I'm traveling for vacation as well.
See at Amazon (opens in new tab)
The laptop: MacBook Pro with Touch Bar (13-inch)
When Apple refreshed its laptop lineup in the Fall of 2016, it was finally time for me to let my 2012 MacBook Air go and move to the new model.
There have been plenty of complaints about what's wrong with the new MacBook Pros — many of which I agree with. Yes I miss MagSafe. Yes the lack of USB-A ports is annoying. Yes it's expensive. Yes the battery life can be a little finicky. But that being said, I'm still overall happy with the laptop.
The screen is absolutely gorgeous, the power on tap here (I have a 3.1GHz Core i5 and 16GB of RAM) is immense, Touch ID is a great addition and it's actually a smaller overall package than my four-year-old MacBook Air. After just a couple weeks I'm already in love with using USB-C to charge from any of my myriad wall chargers and battery packs. I've already gotten used to typing on this extra-shallow keyboard, and the non-clicking trackpad just isn't an issue.
Is the new MacBook Pro a dream machine for every professional and power user out there? Hardly. But it's more machine than I need (even without maxing out the specs or getting a 15-inch model) in terms of internal hardware, and fits my needs very well as someone that most of the time relies on a laptop as my primary machine and travels upwards of 100,000 miles a year.
See at Amazon (opens in new tab)
The phone: Google Pixel XL
For the first few weeks after the launch of the new Pixels I regularly bounced between the standard model and the XL depending on how I was feeling, but for travel there XL is really the only option here. The bigger screen and extra battery are crucial for long days with lots of screen-on time and bad wireless signal.
The camera on the Pixel XL is still proving to be fantastic, and Google's software is still stable and quick even a couple months on. (You may also notice my Places Live Case ... it's working a bit better than before, so I'm keeping it around for the time being.)
See at Google Store (opens in new tab)
The carrier: Project Fi
My move back to using the Pixel and Pixel XL has let me get back to an extended period of using my preferred carrier, Project Fi. Sure it's a little on the spendy side in terms of raw price-per-gigabyte, but I love the consistency of the service and the extra flexibility afforded by its use of three different networks and Wi-Fi for calling.
The transparency of Project Fi in how it bills you and refunds for unused data is fantastic, letting me seamlessly use a large amount of data one month and then go back to using less than 2GB the next with no fear about changing plans or managing data buckets. My average Fi bill was $48 per month over the past 10 months, and that included a $160 monthly bill coinciding with my trip to Berlin for the IFA trade show (so. much. tethering.).
And as I regularly travel internationally I really appreciate how things stay exactly the same when I'm abroad. It's a real shame that Project Fi is limited to just Pixels and Nexuses, but when I'm using my Pixel there's no other carrier I'd prefer to use.
The other phone: Galaxy S7
The Galaxy S7 is always a great backup device for me, and at times I pick it up as a primary as well. Despite being more compact than the Pixel XL it has really solid battery life, and of course has a great screen and wonderful camera. Lately I've been using it running the Android 7.0 beta from Samsung, which has proven to be surprisingly stable.
See at Amazon (opens in new tab)
The carrier: T-Mobile
I've had a personal T-Mobile line for several years now, and it's the SIM that lands in my secondary phone when I'm using Project Fi on my Nexus (now Pixel) over the past couple of years. Though T-Mobile is hardly the scrappy underdog anymore, I still appreciate the service and simplicity I get from the carrier on my Simple Choice North America plan — which means I can go to Canada and Mexico and use my phone just like I do at home.
I'm not sure I'd feel the same if I had to pay considerably more per month on one of its new "T-Mobile ONE" plans, particularly considering I'd have to get the high-speed tethering data add-on, but right now I'm still happy with my T-Mobile line.
The camera: Olympus OM-D E-M5 Mk II
This is now my third successive Olympus Micro Four Thirds camera, and the OM-D E-M5 really shows the best of what this format of camera can offer. Just like my E-PL1 and E-PL5 before, the E-M5 Mk II gives me fantastic images from a really compact camera. Interchangeable lenses are great, the addition of a viewfinder is welcomed and the extra dedicated buttons and knobs compared to the lower-end model are useful.
Perhaps the nicest thing about these cameras is just how "point and shoot" they can be if you don't have a need for tweaking extra settings. In "Auto" mode with a prime lens it's tough to take a bad shot with the OM-D E-M5 Mk II, and that's super useful when you're in a tradeshow setting crowded in a group of people in bad lighting. I never feel like I need to manage my camera.
See at Amazon (opens in new tab)
And lenses
While the OM-D E-M5 Mk II is a great camera with its 14-42 mm kit lens, it turns into an entirely different experience with a good prime lens on it. Olympus' own 25 mm f/1.8 lens (a 50 mm equivalent for a full-frame sensor) is my go-to lens and it's absolutely fantastic. It's extremely fast and bright, meaning you can go into point-and-shoot mode and never miss a shot, even in bad lighting. Whereas you have to work a bit with the kit lens, you don't even have to think about it with this prime.
See at Amazon (opens in new tab)
Micro Four Thirds lenses tend to be dramatically less expensive than their counterparts from the likes of Sony, Canon and Nikon, which is really great. I often carry a 14-150mm (opens in new tab) for longer shots and a 12mm f/2.0 (opens in new tab) (okay, $599 is a bit steep, but it's fantastic) for some video shooting as well.
Other gear and accessories
I wear in-ear headphones as I travel to and from airports, but when I step on a plane I need to have noise-cancelling technology to block out the world around me. I'm still using the AKG N60nc noise-cancelling on-ear headphones (opens in new tab) , and they've served me well on flights of all lengths. Because the arms articulate a lot they're comfortable on my ears even though they're an "on-ear" rather than generally more comfortable "over-ear" design, even on long flights. The noise cancellation is good, the battery life is great and I like that they charge up over USB rather than having a replaceable battery. They don't offer Bluetooth — and for that reason I'm constantly tempted by the Bose QC35's — but they're compact and continue to serve me well.
Since I'm carrying a USB-C phone and Micro-USB phone, I'm doubling up on cables. My messenger bag now always has a three-foot USB-C cable (opens in new tab) and a three-foot Micro-USB cable (opens in new tab) — I'm using tangle-free cables from Ventev in this case, which let me have two different colors so I can quickly differentiate between them. I've also been carrying around a OnePlus USB-C cable (opens in new tab), which is rigid, nicely winds up and stays in place with a little strap.
No matter how long I'm traveling for I bring the same wall charger: an Anker two-port unit (opens in new tab) that offers Quick Charge 3.0 tech on one port and up to 5V/2.4A on the other. It's just small enough (with a foldable plug) that it's not a burden to carry around in my bag every day, and the extra power output — a total of 31.5W — with the flexibility of two USB-A ports is necessary for me. This is a great charger to power up everything I travel with.
Anker also makes my current favorite daily carry battery pack, the 10,000 mAh Power Core Speed 2 (opens in new tab). When it comes to mobile battery packs I just want the most capacity in the smallest package, and this one is just impressively tiny considering its 10,000 mAh battery. It's smaller than some of my old 5000 mAh batteries, and even though it only offers one USB output that's considering how easy it is to have on me all of the time. My only wish is that I could get one that charges over USB-C (which would then also offer two outputs at the same time) — perhaps Anker will update it soon.
We're often doing video voiceovers and podcasts while we're on the road, and for that reason I always carry my handy Samson Go Mic (opens in new tab). This little USB-powered microphone is really small and has sound that'll blow away any laptop microphone or lapel mic, making it a perfect companion for the road.
So that's what inside my bag when I travel. Have any comments or thoughts on what you carry and how it differs? Shout out in the comments!
Get the Android Central Newsletter
Instant access to breaking news, the hottest reviews, great deals and helpful tips.
Andrew was an Executive Editor, U.S. at Android Central between 2012 and 2020.
Kinda disappointed that you are not bringing an extra pair of shorts in case you get too excited for the reveal of the S7 and need to change.

Well, to be fair, he didn't reveal what clothes he's bringing....... ;) Posted via the Android Central App

I remember you giving a link to those Mesh cables a year or so back. Let me order those.

The cable bags? Still using the same ones. Holding up pretty well considering how inexpensive they are. Vaultz Mesh Storage Bags, Assorted Colors and Sizes, 4 Bags (VZ01211) https://www.amazon.com/dp/B001CDD0X8/ref=cm_sw_r_other_awd_rrLXwbCRDB21G... Posted via the Android Central App

Yup. Just ordered now. I how they can keep those cables organized.

I should properly thank you for those bags. I bought the set a while ago and the one's my wife hasn't stolen from me have been invaluable. It's incredible how something as simple as mesh bag can keep me so tidy and organized.

Yup! I looked around at lots of more complex solutions until I realized I just need a simple bag to grab up all of the loose stuff into one place. I particularly like how they have a clip on the end of the bag, so they can be hung up or attached inside of a backpack or luggage. Not going anywhere!

I ordered these last year as well since you recommended them and they have been awesome in my tech bag as well.

I also ordered them last year and ordered another set for my wife soon after. Big thanks for the tip! Posted via the Android Central App

I remember you posting about them awhile back, and bought a set myself! From my Nexus 6P or 5 via the cooler than cool Android Central App

ORDERED!!! Posted via the Android Central App

Project Fi internationally is Fantastic!
Welcome to Taiwan!
Welcome To Korea!
Welcome to Vietnam! Cellular calls wont work but wifi calling works the same. Everything on the last adventure just worked.

Cellular calls do work, though you need to enable them first. And even then, I wouldn't suggest you do that ... the rates are pretty expensive in most countries. Like you said, Wi-Fi calls all the way!

Not in Vietnam. One country not on the list. Posted via the Android Central App

They really offer calls in every country but Vietnam? That's really interesting. Fi even lists calling rates for Vietnam calls in its help forums.

I like your Samson microphone. I added it to my Wish List.

It's great for travel. I've even done a few podcasts at home with it when my main mic was broken. The tripod mount screw on the bottom really helps with that.

I'm (kinda)surprised none of you had a Chromebook in your bag. (but not really) Posted via Nexus 6P snitches

Not enough editing capabilities most likely.

Not reliable enough for serious photo/video editing on the go. Can't run Final Cut Pro on a Chromebook ;-) Posted via the Android Central App

How about wevideo? Is it any good? After reading most of you guys carry Mac books and use final cut, I started looking up alternatives. It seems many people recommend WeVideo. Ever heard of/used it? Posted via Nexus 6P snitches

No idea. I use a Windows laptop though because I'm a rebel. Or a hipster. Or something. Posted via the Android Central App

Wevideo is probably the best option for video on a chromebook besides running some form of linux. It's actually pretty easy to make a decent video with effects and music. Nothing breathtaking but a quick Mashup or something. Posted via the Android Central App

I was thinking the same. Thought there might have been a Chromebook Pixel in someone's bag. Posted via the Android Central App

Just isn't an option for us on the road. I need to be able to bring one machine that can do all of my photo, video and audio editing, as well as properly sync Dropbox and run a handful of other applications like Skype. I still have my Chromebook at home and use it regularly, but I don't see any way I'll be taking one on a work trip any time soon.

thx for showing is the inside of your insert ... I wish everyone did that

Yup! The layout changes (those dividers are movable) depending on what I need to carry, but that's my "standard" layout.

Do you prefer USB-C or micro?

Absolutely prefer USB-C as a connector and a standard. Unfortunately I'll be carrying micro-USB cables for a good long while.

When I see posts like this I feel so soooo poor xD, I just carry my keys, an asthma spray, some money and my public transport card,oh and my phone! (not a Note 5 or N6P at all haha)

Awesome that you use a Timbuk2 messenger. I have the Commander version of the messenger myself. It's taken alot of abuse when I travel, but it's held up well, tons of pockets, and Timbuk2 has an excellent warranty. Well worth it IMO. From my Nexus 6P or 5 via the cooler than cool Android Central App

Thanks for sharing. Very simple and efficient setup you have. Funny to see on the over view shot that the 6p looks so much larger then the Note 5. I remember the days of just a couple years ago when a Note looked huge next to any other phone. How things change. Never thought the day would come where any Note would be a more manageable size.

Shoot some hands-on videos of Galaxy S7 and LG G5 with your Olympus camera please. Posted via the Android Central App on my Galaxy S3 Neo Dual Sim which thankfully doesn't have S-pen and does not have a horrible metal body.

Knew nothing of the Timbuk2 Classic Messenger before this post. I'm not personally a fan of over the shoulder bags, but this has my attention. Strongly considering this bag. Posted via the Android Central App

2 questions:
how do you clean your timbuk2 bag? I have a similar model and am scared of throwing it in the wash but I use it daily and it's a bit dirty now.
Secondly, I too use a MacBook and find limitations like mkvs not playing and it not recognizing Android phones. How do you deal with these?

Hm I haven't ever considered washing my Timbuk2 bag, actually. Though know I'm thinking about it! I bet you could ask Timbuk2 what its recommended care is, but I would think that if you empty it out and run a gentle cycle in the washer then hang dry it it'd be fine. Just be mindful of washing it with other things since there are clips and velcro on it that would definitely beat up anything delicate. As fro the other Q: I use VLC to play .mkv files, and the Android File Transfer app to connect to phone's isn't perfect but it does work. Best of all you never have to think about getting drivers for your specific phone — just plug it in. Though truth be told I mostly just use Dropbox for file transfers — I can upload and then download the files faster than I can even find a cable.

Olympus, classic brand, classic look. Used to go Pentax but the mirrorless Olympus does it for me :)

I was a big Olympus shooter but switched to Fuji when I went mirrorless. Mirrorless systems are incredible now.

I'm kind of curious, how does someone use a "backup phone"? Or does one not care about things like not having backup text messages? I'd be thrown off because my conversation history wouldn't be there. Using 3rd party apps would take a while to restore as I do not believe Google backups up things like text messages automatically. Then there's the other chat apps (if someone uses them) like WhatsApp etc.

I don't know about others but I use Google Voice so all text messages are on my main phone and backup phone. I can also receive calls on any of my numbers (also have 2 LTE enable smart watches) because my Google Voice number is the one I give out. One number reaches any of my devices. As far as chat apps, the only one I use is GroupMe and that syncs to all my devices regardless of which one is on my person.