What is PS4 Play Together?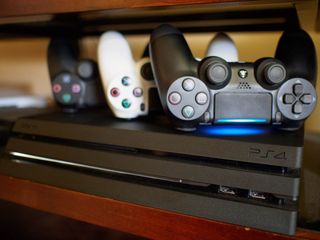 (Image credit: Android Central)
Best answer: Play Together is a PlayStation feature allowing you to start a game from your Party screen after you form your party. Once launched, you can still manually invite friends to play from the game.
Party up & play
The way I picture Play Together is basically like you are hosting a game night at your place, but it's virtual. Play Together is an easy way to join up for co-op games and team games that support the feature. Instead of having to invite each friend individually after you launch the game, you can invite them all in one fell swoop.
If you're planning on playing some Dauntless or Black Ops 4 with a handful of friends, you can now go to your party screen to invite everybody at once. Pick from All Friends, Custom Lists, or Follow to find the friends you want to add. Click on their names, and when you have everybody you want to play with checked off, hit invite.
You can also create a custom invitation message just in case they need a reminder of what the plan is, or if you simply feel sassy and want to give your friends a personal welcome. I usually include some random fact. Did you know that moose can run up to 56 km/h?
Once everybody is added, and in the party, you click on Play Together, Create a New Game Session (Host), and launch the game without having to leave the party screen. Alternatively, if you're not hosting, you can click Join a Game Session (Guest) that is already going on.
However, a game has to support the feature. Games that don't support Play Together can still launch this way, but you will still need to invite each person separately after starting up the game. This is precisely how you had to invite people in the past.
Join the party
You can join a Play Together game that has already started by either getting a manual invitation from the party host or by going to your party menu. Select the Play Together session you would like to join.
Joining without the host's invitation will only work if the Play Together party wasn't marked as private. Private games that have already started will require the host to give out manual invitations for every new player who wants to join. And if you don't fill the party at launch, you can leave it open so more friends can enter as the night goes on.
Play Together friends
The Play Together system is far from perfect. Older games don't seem to support it, newer games do, and everything in the middle is a haphazard maybe? Without a definitive list to be found, all we can do is give it a try. The worst-case scenario is having to invite people as we have had to in the past and knowing that game is one of the middle ground nopes.
There is no harm in trying and moving forward, more often than not, it will make joining games with your friends easier. So, party up and play away!
Multiplayer must
Playstation Plus: 3 Month Membership
Online multiplayer and more
A PlayStation Plus membership is a basic necessity for those who regularly want to play online games with their friends. But a bonus to playing well with others, you will also get exclusive deals and discounts.
$25 PlayStation Store Gift Card ($25 at Amazon)
Keep your PlayStation 4 wallet topped up and ready to go with a digital gift card; or gift one to your gaming friends! It's a quick and easy way to grab any in-game items or DLC you might be looking for.
Astro A10 - PlayStation 4 ($60 at Amazon)
Half of the fun playing games with your friends is talking to them while playing. Astro A10's are an affordable option that still give clear sound quality. Their durable, flexible design is excellent for even the most enthusiastic gamers.
Get the Android Central Newsletter
Instant access to breaking news, the hottest reviews, great deals and helpful tips.