What it's like to use Amazon Prime Now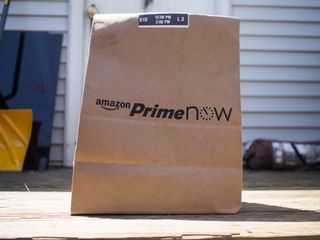 I am well and truly embedded in the Amazon shopping ecosystem. Having things shipped to my door, often within 36 hours of having placed the order, is something I use several times a week nowadays. It's useful for regular day-to-day items, but incredible for last minute birthday and Christmas stuff. When Amazon announced Prime Now, an extension of their shipping service that allowed for same-day — even same-hour — delivery, I was plenty excited. Since I live in the suburbs, just about 35 minutes without traffic from Amazon's Baltimore facility, it seemed unlikely I'd be able to participate in the service anytime soon.
Last week, however, the Prime Now app lit up and claimed I could order things and have them delivered to my house within an hour. It turns out Prime Now and Prime offer wildly different experiences, and choosing between the two for orders in the future is going to be its own unique little first world problem.
Amazon Prime Now is an entirely separate app from Amazon Shopping, and this is the only way you can participate in the service. If you head to the Amazon website to order something for immediate delivery, you're directed to this app instead. For the most part, the shopping experience is the same. You're offered essentially whatever products Amazon is able to keep in stock at the local warehouse, so while selection is limited the product categories and brands you're used to seeing are there to choose from. The disconnect between Prime Now and Amazon Shopping is a little odd, but likely has more to do with Amazon figuring out how to offer both solutions without confusion than anything else.
Once you've filled your shopping cart, Prime Now asks you to pick a delivery window. For this area, if you're ordering between 8AM and 10PM you're options are to pay an extra $7.99 to have your order delivered in under an hour, or select a series of two hour windows to have your products delivered for free. You'll also be prompted to select a dollar amount to tip your driver, with a default of $5 selected for you at checkout. Once you've completed checkout, the app processes your order and you get an email just like regular Amazon purchases letting you know your package is on the way.
At this point in the purchase, the Prime Now app becomes a tracking app. You get a map showing you where the package is coming from, who the name of your courier is, and a small purple dot to track that driver along his or her route. When you package is ten minutes from its destination, you'll get a text message warning you the package is nearby. This is important because your package isn't showing up in the classic Amazon box with the smile on it. If you've ordered smaller items you get a paper bag with everything collected inside, but anything that can't fit in a standard grocery bag is delivered in whatever packaging the product was given to Amazon in. You, or someone you know, has to be there to accept these items from the courier directly.
My driver arrived in what looked like a personal vehicle, with no Amazon or Prime Now branding on either himself or the vehicle. The unusual assortment of items I ordered made his trip from the car to the porch a little awkward, and when he set everything down every item needed to be scanned to confirm delivery. This driver was using a Samsung Galaxy S3, and since it was 12:30 and not a cloud in the sky his screen washed out instantly and actually scanning the individual items proved a little difficult. Once he had finished, I got a thank you for ordering and off he went.
Overall, Prime Now is great. While I'm unlikely to need that "in an hour for $8" feature often, knowing it's there when preparing for a party is awesome. It's a little annoying to switch back and forth between Prime Now and Amazon Shopping to see whether Amazon has something I want and whether it'll get to me today, tomorrow, or next week in the event something isn't Prime-able, but as a new addition to the online shopping experience it's great that my only complaint is having to occasionally open two apps instead of one.
Get the Android Central Newsletter
Instant access to breaking news, the hottest reviews, great deals and helpful tips.