USB-C is changing the world for the better, but it's still not safe enough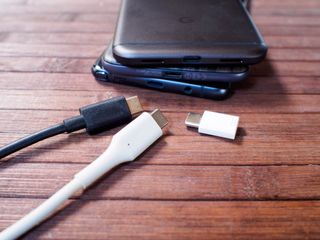 For the most part, techy folks seem to have figured out USB-C. They mostly know you can't just order the cheapest thing on sale at Amazon, are reasonably aware of the dangers associated with using bad cables, and there are consumer advocates out there pushing every day for better cables and more awareness. The beginnings of a safe ecosystem of cables is something that could potentially happen with this level of awareness, and that's great. It sucks that we have collectively suffered through over a year of accidentally damaged hardware through potentially life-threatening cables — even one made by Apple (opens in new tab) — to get there, but forward momentum is always a good thing.
So what happens next? With Lenovo's Moto Z, Google's Pixel, and Apple's MacBooks being scooped up all around the world right now there are orders of magnitude more people using USB-C cables every week. That means people who aren't the knowledgeable techy few are browsing Amazon for spare or replacement cables, which requires some real solutions very soon.
The road so far
Most people don't fully understand why USB-C is so dangerous compared to the previous iterations of phone and tablet charging cables, and it's not hard to guess why. Micro-USB cables can be purchased in bulk for basically nothing, and users are conditioned to "just throw it out and grab a new one" when a cable doesn't behave. Take a look at any technical support guide for connecting something to your PC via USB and close to the top of every troubleshooting list is something about trying another cable. We've been conditioned to accept that sometimes bad cables happen in a batch, so you just grab another one.
USB-C is capable of transmitting significantly more data and several times more power than your average Micro-USB or Lightning cable, and that's where we run into problems. A shoddy USB-C cable can destroy equipment in an instant, because they're designed to be a lot more complicated. These are supposed to be cables with tiny computers inside to help regulate things like power and data transfer, but in the early days several manufacturers were caught taking their regular Micro-USB cable design and just swapping the tip out for that new oval port design. With nothing to tell the brick plugged in to your wall how much power to send, everything can go wrong.
It's not just bad cables; some of the companies making our phones aren't playing by the rules, either. USB-C has its own form of rapid charging capabilities, which makes it possible to boost laptops and phones quickly. Proprietary charging methods, like Qualcomm's Quick Charge system, aren't compatible with the USB-C spec that exists right now. That hasn't stopped Qualcomm or their phone making partners from doing their own thing in order to make USB-C and Quick Charge both happen on the same phone, which has the potential to cause very serious problems for users buying those bargain cables online. Instead of following the guidelines for USB-C, these third parties would rather boast a feature that isn't actually better than what you already get with USB-C rapid charging. This should change with the next version of the spec, but many people will be left in the lurch.
We have several manufacturers now who have either developed a reputation for quality cables or corrected their cables after being called out for not meeting spec, and that's great. Unfortunately, virtually none of these companies are testing every cable they manufacture, so the potential for a flawed product to reach a user is higher than it should be. In most of these cases, the worst that could happen is that the phone doesn't charge or send data as quickly as it could. In more extreme cases, phones and laptops could be in very real danger of permanent damage.
What should happen next?
There are several ways USB-C could move forward to become something safe for everyone to use, but it's going to require some changes on behalf of cable manufacturers and users alike. Since asking users to consult their closest electrical engineer to ensure a cable they found in the clearance bin at Wal-Mart isn't a viable option, most of what happens first is going to be on the cable manufacturers or the people that allow them to sell. It's not safe for manufacturers to deliver USB-C cables the same way Micro-USB cables have been sold over the last 10 years. It's important, too, for consumers to know that each cable is as capable as the last, that it can power your laptop and quickly move 4K video from your phone. These cables are doing more than any single cable like it has done before, and with that extra work comes the need for extra care in their manufacturing.
A lot of this comes down to testing at the factory level, and until recently there wasn't a great way to do that at scale. Recently, I spoke with Gil Ben-Dov, CEO of Total Phase, whose Advanced Cable Tester is designed to address a lot of the per-cable concerns consumers are faced with today. The testing unit is designed to test for continuity, shorts, E-Marker accuracy, signal integrity, with results achieved in less than 15 seconds. This kind of testing unit gives manufacturers the ability to rapidly ensure entire batches of cables are safe and functional in ways most cables aren't ever tested before being shipped out to consumers.
Gil had some other ideas for how consumers might move forward. One possible way to address this is through certification, some kind of governing body willing to say "these cables are the ones to buy" after a set of guidelines have been met by the manufacturer. Those guidelines would need to be more rigid than what currently exists from UL, but the same basic idea could apply. A branding or sticker that let consumers know these are worthy, all-purpose USB-C cables that work in every environment.
The safety branding also needs to be enforced by retailers, which is a problem that has led to several serious issues over the last couple of years. It can't be enough for a company to show Amazon a picture of the UL logo stamped on a battery casing, because it turns out there's no magic involved in creating those markings. Any shady company can claim certification for their product and sell a quick batch of something for what appears to be next to nothing and make a profit. Retailers need to know they are selling cables that work as well.
And so, we wait...
If every part of this process is focused on delivering something that is safe for consumers, it's possible a standard format could emerge quickly that becomes the default way USB-C is handled for the future. This isn't just good for consumers, according to Gil Ben-Dov: manufacturers are eager for a solution that decreases return requests. Many cable manufacturers are looking for a way to step away from the potential brand damage associated with having USB-C cables fail spectacularly, and a certification that claims their hardware is safe can give early adopters an important bump in a crowded market.
It wasn't all that long ago I referred to USB-C as the Wild West, and in a lot of ways it could still be seen that way. The potential for harm to your hardware isn't likely to ever be completely removed, but there are tools in place that didn't exist even six months ago to help make this the stable ecosystem it probably should have been before these ports were put in things and sold to everyone.
Get the Android Central Newsletter
Instant access to breaking news, the hottest reviews, great deals and helpful tips.
I fear for my family and friends that just don't know what they don't know when it comes to cables.

Yep, I am so glad my parents got S7s this year. I am hoping by the time they are ready to upgrade the whole situation will be sorted.

Me too. USB type C is truly a horrific disease.
May God protect us all from the ignorant.

Aside from the bad cables, we can also start by addressing all these different charging standards. Huawei Supercharge, Oppo VOOC, OnePlus DASH, Samsung Adaptive Fast Charging, Motorola TurboPower, Qualcomm Quick Charge, MediaTek PumpExpress, etc. Why not just round them up and make them all USB-PD compatible? Some of those have already started doing so. Alright, standards like DASH and VOOC have one stroke of genius (moving the heat-generating components to the wallwart for better thermals while charging) and I'd like to keep that part. But make them PD-compatible at least?

Every Samsung, Motorola, LG, and HTC phone use QC2/3.0 and just call it something different.

The Moto Z doesn't however. The current USB-C TurboPower chargers charge at different voltage and amp values compared to the older Qualcomm QC-based models. In fact, plugging it into my Anker QC 2.0 wallwart did not trigger QC (the LED stayed blue, where it would turn green if QC is engaged). Some of the standards I mentioned are different from Qualcomm's QC, however.

The Moto x pure as well uses a different charging system based of qc.

I think Motorola switched the based standard when they switched to Type-C.

They did, yeah. Specifically, they use USB-C's 5V power delivery mode at 3A with the TurboPower 15 charger that comes with the Z and Z Play, and at 5.7A with the TurboPower 30 that comes with the Z Force.

I have an Aukey QC2 in my car and when I plug in my G5, it recognizes the QC and tells me its fast charging. Looking at the times to charge and the amps, its doing a QC2.

Or maybe just choose QC as the one everyone uses instead of USB-PD which is used very little. Aren't google's phones really the only devices that use USB-PD? I mean that's like a tiny fraction of devices .

Other phones also support PD, just either not fully or wasn't mentioned. And I'd argue that it's better to have full compatibility with USB-PD because it is an open standard designed to work well with the USB-C connector while Qualcomm Quick Charge up to 3.0 is more of a hack job to make it work with the connector but isn't specifically designed for it. Quick Charge 4.0 is what I'd like to see. People implementing standards that work with Power Delivery while also not doing a hack job that could potentially make it unsafe.

The issue is QC is based on propietary Qualcomm tech and requires licensing costs, PD is an open standard that will ultimately be way more versatile and it's already in use by a variety of laptops and tablets (Apple, Lenovo, Microsoft) in addition to Google's phones and a few others that support it but don't clearly advertise it (Moto Z supports both their QC-ish tech and PD IIRC).

Plus it's not like everyone quickly migrated to QC over Type C in the span of a year, the likes of HTC/LG did but Samsung held off with their GS7 (smart move IMO, given the volume of units they move)... We aren't talking about years of every OEM going with something else.

Are we ever gonna get a usb-c mhl standard?

USB-C has worked with HDMI since day one. MHL is already built in.

Google chooses to disable or not support this to sell chromecasts and crap like that.

Agree. Apple get slated for this type of practice but no one seems to mind when Google do it. My Nexus 5 had both miracast and slimport, so I had no problem connecting to a large screen when I had no wi-fi connection. I have been looking for a USB C to HDMI adapter to let me do this on my Nexus 5X but cannot find one that will work. If anyone knows of one that will work I should be grateful.

I think it's fair to call out Google for not offering any kind of wired video out option on the N5X/6P NOR the Pixels, and it's even fair to guess they did it to avoid those extra licensing/spec fees. By contrast the Pixel C features Displayport out via Type C IIRC, so they can do it, just chose not to on phones for whatever reason. It's not something you ever see mentioned in Pixel reviews either, that kinda bothered me, and I'm otherwise happy with my Pixel btw.

They're called alt modes and they're part of the spec, but not every device will support it.

Good article, and timely, thanks. I've begun my first experience with USB C as of yesterday.

I refuse to even consider USB-C due to the risk of damaging hardware simply by using the wrong cable. That's just inexcusable and tells me the standard should've never been released to the public in such a state. It outright fails to follow the K.I.S.S. principle.

100% yes. When people derided Samsung for not switching to USB C on the S7 I said it was the right move, and I STILL think that. Until someone can go out and buy a cable without referring to a spreadsheet put out by a Google Engineer I don't think USB C should be in mainstream devices.

The standard is perfectly safe, it's not the standardC's fault that third party (and even first party) accessory makers are cutting corners left and right. You can't make a fool proof standard, it's not hard to wreck havok with a bad Micro cable or Type A charger, those devices and designs are just a commodity now. If you rewind back to 4-5 years ago it was actually a pain to find proper BC1.2 chargers that would properly charge Android devices at over 5V 0.5A, everything was made for Apple's charger signaling spec. This has happened before, it'll likely happen again. The potential for things to go sideways is just a little greater when you're pushing 15-30W instead of 2.5-5W.

I have to say it's pointless articles like this that are going to cause me to stop reading AC. Everyone KNOWS USB-C is different than Micro-USB (as is mentioned in the article). Everyone KNOWS that using a cheap charging equipment could damage hardware. How about a deep dive into what makes USB-C different than Micro-USB. How about explaining WHY the built-n fast charging tech in C is preferable to proprietary solutions, or how they differ. Without any meat this article is just a long opinion piece.

Not everyone knows these things though. Either way, leave. You won't be missed.

It's clear you know everything. Why don't you write the article?

I have no doubt I could improve on this. The thesis of this article is "USB-C needs to get better, and consumers just have to wait until it does." I said it in one sentence, why did I have to read 12 rambling paragraphs to get that conclusion? What do I care if there are tools for manufacturers to test cables? This isn't a trade journal.

"why did I have to read 12 rambling paragraphs to get that conclusion" You didn't have to.

please do! i'm dying to read it

How did you know without someone telling you?

I disagree that EVERYONE knows USB C could potentially cause issues. I would bet a lot of money if you took a survey in a busy mall only a very small handful of people would have any idea.

You can't be serious. There is a world out there beyond the tech enthusiast. The average consumer doesn't know the difference between micro-usb and USB-C, or even a Lightning port for that matter. All they care to know is if the cable coming out of their charger "fits". If it doesn't, they move on to the next cable in their drawer, or turn to Amazon for one that "fits"; that's where the problem starts. Bringing awareness of the USB-C situation to these type of users is the point of this article. For that purpose, it serves more than well.

Yes but this ain't TopGear or a MasterChef forum.
This is Android Central, of course average readers know about it...

Worthless troll.. It's clear there's no meat in your brain.

Hmm I didn't know USB C charging cables were dangerous. I just thought this is the new standard, and I'm the guy that every one in my family (in laws side as well) goes to for tech advice. I'd say this is a great article. Good info.

I agree, this type of article is fine as a post it note for people googling the subject, but it should be followed up with more technical articles and/or actual recommendations people can depend on instead of so many vague statements. AC constantly features random $6 deals on chargers, and sometimes puts out device specific accessory guides with little research behind them... They can/should do better.

USB-C is overly complicated for no reason. It should have remained a dumb cable like all the older USB specs. I can use any Micro-USB to charge any device with no problems. I even still use old Blackberry cables, still works, because it's a dumb cable. Same with Ethernet, HDMI, etc.. I can use different spec cables, but no worries, just it plug in, still works.. Why have a spec where the cable is the weakest link...

Can you use that Micro-USB cable to send a video signal or power a laptop? It's overly complicated because it does a lot of things.

It doesn't have to be. It can still do all that and be a dumb cable. Also. yes. I have a windows 10 small laptop that charges via micro-usb . So did the Surface 3 I think. MHL video worked over micro-usb as well, outputted to HDMI and everything. I have tons of devices that worked with micro USB. I mix and matched cables like heck, never had to care what cable I grabbed. Never a chance of one cable destroying a device.
Even with Ethernet, I can mix cat 5, 5e, 6, 7 etc.. Sure I might not get the same throughput, but it'll work and won't make anything burn down my home.
With HDMI I can use regular old HDMI cables or the HDMI cables with Ethernet, it doesn't matter, it just works (minus a feature maybe), no worry of fires or explosions. The device and/or charger should be the only one that controls voltage and such, not the cable.
Don't get me wrong, I have a couple devices with USB-C and I freaking LOVE the plug itself, I just think having the cable as the deciding factor in voltage & compatibility is rather flawed and limits it's ability to be as ubiquitous as micro-USB, HDMI, Ethernet, Etc...

Type C cables don't control anything per se (or at all when it comes to low power charging like phones), you're putting too much trust in the content of this article and making some wildly inaccurate assumptions. There's actually a handshake process between charger and device which decides what power profiles are made available for use etc. A bad cable can screw that up just as well for Type C as for old Type A & B, but the process is generally more complex for Type C since it's so much more versatile and third party charger makers are screwing the pooch even harder than cable makers.

Uh, yes both questions...Nexus 5 user here...

Your micro/MHL/Slimport cable doesn't have anywhere near the bandwidth or build required for 4K video and/or 18W+ charging tho. Your Nexus 5 charged at about 5-7.5W tops (and that was already a hack tacked unto the old USB standard), plus you need a two cable/dongle solution to actually charge and output video simultaneously... Shoot, when the Nexus 5 came out you HAD to use two cables for video output because there were no passive Slimport or MHL adapters, those came later. So yeah, not really the same thing, except in that these teething pains are nothing new.

Well yes, I do use a Slimport adapter

Slimport doesn't do 18W charging nor 4K video out which are things Type C will eventually allow without dongles or dual cable solutions like Slimport.

Nexus 5 & Pixel owner here btw, still using both too. ;) The N5 has become the house remote for things like Ring, SmartThings, etc. Got a Nexus 7 2013 too and I'm glad I have it for trips since Google foolishly chose not to support Displayport alt mode on the Pixel, my only real complaint regarding their Type C implementation. Outside of that I think they did real well with the phone and the stock charger, far better than last year, they should've designed a car charger too instead of leaving it to the likes of Verizon & Belkin. Had they done so there would be zero need to talk about shoddy aftermarket accessories for the Pixel... So close in that regard, but no cigar.

Type C still uses dumb cables for anything under 60W, that part of the article is somewhat inaccurate. Only cables rated for over 5A need to have an e-marker chip, and even then it's just an identifier rather than any advanced computer as the article suggests. Jerry should've written this instead of Russell tbh... The cable isn't a weak link in the spec, the spec is actually quite robust, accessory makers are the ones dropping the ball for the most part.

Why the Apple bashing, right after the words "potentially life-threatening cables", when the article linked to only talks about how it may result in failure to charge the device?

I think the point of mentioning Apple was to get across the idea that USB-C problems aren't confined to crappy Chinese manufacturers that sell in bulk in Amazon, but also include high-end manufacturers that have a reputation for decent quality control. It was just a way of highlighting just how up in the air this USB-C issue is.

It's a fair point, but like several other things the article does a terrible job of properly characterizing the facts. There is already a certification process and cables aren't as smart as the article makes it sound, nor the biggest potential issue (chargers are even more of a mess)...

I agree. I followed the link to the Apple site and there was no mention of the faulty cable being life threatening, just that it might result in the charging being intermittent, a huge difference.

Heh now I see why this comment happened on a USB-C cable listed on Amazon.
https://www.amazon.com/review/R2BFIA9RAFTWLF/ref=cm_cr_dp_title?ie=UTF8&... Any tips on which cables to buy? Which manufacturers to avoid?

Considering even Google sells devices that are non-compliant I would just stick with the OEM charger.

To their credit, Google cleaned up their act since the Nexus 5X/6P release (which featured a mix of iffy chargers/cables between them and picky charging)... The Pixels are fully PD compliant and all the new first party charger/cables are top notch. They still have work to do tho, for instance they're currently selling a Belkin car charger on their store which has serious issues and if the same Google engineers that designed their current AC chargers (wasn't outsourced) had actually tested it the thing would never be in their store. But yeah, don't generalize by brand, everyone has screwed up somehow sometime when it comes to the transition to Type C... Including Apple, Google, and the third party brands many have come to rely on for accessories. I'm actually really disappointed in Anker, Aukey, and Monoprice overall.

Funny that I'm reading this because just 2 hours ago I was shopping for USB-C cables for my newly acquired Pixel. Because I need the cable for car charging I ended up going with a 2 pack of micro usb to USB-C adapters. I have plenty of micro usb cables and I just need them for charging. From what I gather these adapters meet the criteria. https://www.amazon.com/Otium-Adapter-Connector-Mackbook-Chromebook/dp/B0... Come to think of it I should order a USB-C to USB-C cable since my computer I/O has 1 port.

Adapters can put more stress on the port as you have a longer point of leverage, but yeah, an in spec adapter is one of the safer choices overall and definitely the cheapest interim solution. I think it's still worth hunting down Type C cables* for the absolute fastest charging... When it comes to USB battery packs I'd actually advice people to just use an adapter or Type A to C cables tho, every Type C battery I've seen has issues. *Or just get GoogleC's charger, $35 seems like a lot at first but it's not once you take into account it ships free and comes with a quality 6ft cable... A similar combo from a third party is either impossible to find or would end up costing the same anyway.

Yep, nobody seems to get USB-C... Even the Belkin USB-C PD 27W car charger Google is offering for sale on Play is non-compliant, and evidently potentially dangerous, going from a "3" rating (absolute best) to a "-2" (second worst) on the Benson/Nathan spreadsheet.
https://plus.google.com/102612254593917101378/posts/4hNug6vvjox Bad cables/chargers might not only fail to charge a device, but actually can cause damage to them or other connected circuits (i.e., blow a fuse, fry a tablet/phone/, etc).

I need a new phone and don't really want to get one with a Type C thing until this is sorted out.
What a mess!

What's interesting is the Note 7 was one of these phones that used the USB Type-C port but decided to use QC for fast charging instead of what's already in the Type-C standard.... hmmmmmmm

Yay for a Nextbit Robin in one of the pics!!!!

Hopefully mine does not blow up..... So what about the connector adaptors to use on micro USB cables to make em USB c????? @russelholly

There's dozens of those (as well as Type A to C cables) that are perfectly safe and in spec, any of those with a positive Amazon review by Benson is fine. Do note that those choices will all charge slower, but being cheaper and more readily available is an OK trade-off for some.

Yes, I've said the same thing about the Note7, USB C port and QC2.0, full recall, twice. Hmmmm.

And I doubt that had anything to do with the explosion issues. Way to imply it does though.

I'm doing more than implying it, smart aleck. I'll be interested when Samsung finally releases the root cause of the Note7 problems. Funny enough, that's been their only phone with that setup. Sorry to have obviously ruffled your little feathers.

LG, Moto, Sony, and HTC have plenty of phones with QC shoehorned unto Type C and none were prone to explode tho... I'm not excusing QC on Type C, I think it's done more harm than good to the market overall and hampered the adoption of an open standard (PD)... But if it's revealed that the Type C QC charging had anything to do with the Note debacle it'd still come down to Samsung's implementation and not an inherent tech issue.

Oh, I didn't know that you worked with Sammy to determine the cause of the battery failures. "I doubt," is so....investigative and scientific sounding.

Deductive reasoning... If several other OEM had already used Type C + QC successfully, then that in and of itself shouldn't be the root cause of the Note debacle. Even if they claim it is, it would still come down to their poor implementation and not the mix of either element at a high level.

Shouldn't have been released. A reversible connector isn't worth the potential safety problems. The average consumer has absolutely no idea they need to look out for anything other than a cable that fits in the slot.

It definitely should have been released! It's a way better connector than micro, and the benefits go way beyond being reversible... These issues have nothing to do with the Type-C connector itself... These issues are because manufacturers are not properly following the Type-C standard.

Type C is about a lot more than going reversible, it's about finally having one do-it-all cable that has the bandwidth for super high res video, SSD fast data transfers, and the ability to charge anything from a Bluetooth earpiece to a laptop. There's actually nothing inherently dangerous or wrong with the spec, it's manufacturers NOT following the spec that's causing all the potential issues. The spec is very well thought out and drafted with a new connector and it's use are both ends to try and avoid even more issues (rather than shoehorning something like QC unto Type A+C).

My first computer was a Commodore 64. The first PC I built started with a $1400 full tower 486 barebones case. I'm currently using a built gaming pc with 3 780ti's. So far my only USB-C device is my gear vr. Saying all this I feel that when I do start buying USB-C cables I'll feel like a newbie buying my first computer.

I hear ya, I've spent way more time than I cared to researching stuff in order to simply buy one extra charger for my Pixel, a car charger, and a couple extra cables. I figured it out because I'm a geek and at the end of the day I kinda enjoy it, I DON'T expect the average consumer to do so. I'd steer the average buyer away from this mess or I'd offer VERY explicit recommendations.

*Sigh* Note7 we hardly knew ye ... heads should really roll if a $25 item killed $12 bil revenue.

As long as manufacturers like OnePlus offer the best and it better charging tech I will continue to use it. Nothing really crazy about it really, it's pretty damn logical.

Uhh, the USB-IF body is already certifying cables and chargers... There's a few issues that will hopefully get ironed out with time tho. To begin with, they didn't start that certification process until just a couple months ago, plus they've also allowed a few duds to sneak thru and/or gear has acted differently when tested than in the real world (QC and manufacturing tolerances could be an issue too). Still tho, the article makes it sound like there's no official body certifying good products which is factually incorrect. It'd be a good idea to edit that part and feature the official USB-IF certification logo so readers know what to look for, and how to spot fakes to boot. Some products claim to be certified but it's just hot air as they don't feature the logo and/or aren't listed on the USB-IF PDFs.

I'd go as far as saying that if there's ONE thing an article like this should've gotten right and informed the more general public about, it's the USB-IF cert. The whole characterisation of the cables as advanced computers needs a rewrite too IMO, it implies a number of inaccurate things for just about anybody that hasn't actually studied the subject in depth but has just little technical knowledge. Many/most Type C cables are completely passive and have no active electronics nor e-markers, particularly the cheaper/longer USB 2.0 cables that people should or likely will be using for charging (like the stock Pixel Type C cables or the 6 footer that comes with Google's 18W charger). An article like this on AC shouldn't be confusing people with cable build minutia anyway, specially when it's only relevant at this time for things like the much higher wattage charging of laptops or their video output.

Part of the issue facing consumers is that a USB-IF certified cable means the cable design (specifically several test samples) went through a very stringent design certification process. That's not the same as ensuring the specific cable a consumer purchased is safe; e.g. there may be manufacturing variations between the sample cables used for obtaining the USB-IF certification and the actual cable purchased by an end user. Since USB Type-C is fundamentally more complex than many other cables to manufacture (higher speeds, more permutations for number of wires, E-Marker circuitry, etc.) it is more likely to have manufacturing variance (aka increased probability of failure). Couple the 'increased probability of failure' with up to 100 Watts of power, and you have a higher potential for faulty cables to be the root cause of damaged hardware, or worse. To solve the situation for consumers, I see two alternatives:
- a robust random sampling program for products on the market with published results (similar to what Benson from Google does). The challenge is that no agency/firm has the responsibility to do this, and all encompassing sampling programs would be very burdensome to administer.
- a program that tests/certifies every cable at the end of the manufacturing line. This would guarantee that the specific 'logo product' a consumer is purchasing has been tested and is both safe and performs to the specification. The challenge is that testing every cable would add some cost (like 2-3 cents per cable) and is one more step in the manufacturing process. Of course, even if every cable is tested (eliminated as a potential source of failure) that would not mean that all USB Type-C implementations would be perfect, but it would be a great start by addressing something that is largely uncontrolled today. -You could still have some defective controllers, ports, hubs, batteries, or other badly behaved devices causing unsafe conditions, but you will have eliminated one of the more common causes, which can only be good for USB Type-C adoption going forward.

The current certification is absolutely not a panacea, but it's better than nothing and the article failed to even talk about it... Better testing would be great but I don't see it happening anytime soon. It'll probably come down to independent peer review a la Benson and Nathan and the better manufactures eventually realizing it's cheaper to do things right in the long run.

Can anyone provide links to reasonably priced safe USB-C cables? Thanks!

Yes, absolutely, this is what articles like this should be doing instead of confusing people further and making vague claims (at best) about the status quo. The article could've at least shown the USB-IF certification logo buyers can look for instead of claiming there's no certification process and a need for one. If you need a long charging cable, 6ft or so, your best bet right now are the OEM ones. Google's is kind of expensive when bought by itself ($25 IIRC) BUT a pretty solid deal when bought in conjunction with the 18W single port AC charger ($35). The next best bet is Apple's 2m charge cable, it's actually rated for higher wattage than Google's but that's only relevant for laptops, I like the strain relief better on Google's. https://www.androidcentral.com/e?link=https2F2F... https://www.androidcentral.com/e?link=https2F2Fc%2F2... For AC chargers, again, Google's is really the best bet and the best priced (if you also need a second cable anyway), the state of CA chargers is even messier than car chargers. If you need a USB 3.1 cable for fast data transfers (those two longer charge cables are USB 2.0), Black Squid is one of the cheapest and well reviewed/vetted options around: https://www.amazon.com/gp/aw/d/B017V7SI30/?tag=hawk-future-20&ascsubtag=... It's normally $12, just noticed it's currently out of stock, my only knock against it are the slightly larger than normal connector ends and the stamped/bent (vs extruded) plugs, but Micro USB cables used stamped/bent plugs for decades too. Most other decent USB 3.1 Type C cables hover at or over $20. I also have this Kanex which is thicker (better quality jacket) and has smaller connectors plus extruded plugs: https://www.amazon.com/gp/aw/d/B01BYLXURI/?tag=hawk-future-20&ascsubtag=... Targus' new Type C cables look good too and are USB-IF certified, some of Belkin's higher priced cables still have stamped plugs which kinda bugs me, but they have safe choices too. For cheap micro to Type C adapters you can grab the Anker 2 pack at $8, but keep in mind you'll charge a little slower using these: https://www.amazon.com/gp/aw/d/B01AHKYIRS/?tag=hawk-future-20&ascsubtag=... For Type C to legacy female Type A Google sells one directly and I haven't seen anyone reviewing third party ones, the phone does come with a similar thing in the shape of a dongle rather than a cable but it's USB 2.0 instead of 3.0. https://www.androidcentral.com/e?link=https2F2F... I own and I'm using everything I've linked btw (along with a less than optimal Anker PowerLine+ Type C cable, at least the cable case it comes with is nice). I didn't see a need for Type A to C cables myself since I wasn't trying to repurpose any older chargers and I have the micro to C adapters for emergencies or to continue using my old power pack. Benson (Google engineer) has reviewed tons of Type A to C cables tho so those are arguably the easiest to shop for anyway, just look for his Amazon reviews, and keep in mind that just like with the adapters these will charge a little slower (or a lot slower depending on what kinda legacy charger you pair them with).

That is great - thanks so much!

What constitutes a bargain cable? Is Anker OK? Are you saying we should only buy from the manufacturer? No gas station cables? Only handmade cables?

You can't make a blanket statement about anyone's cables right now, much less their chargers. The cable situation has actually sorta settled down and there's plenty of good choices if you do some research, the charger situation is far more dire and I'd go as far as saying that only OEM chargers are a safe bet right now. Anker has had cable recalls tho, as has Apple, Aukey/Tronsmart/Anker have all put out some suspect chargers and/or recalled some, same for Google for that matter. No one has a perfect record. All the first party Google is selling now is finally up to snuff, spec compliant, and good quality. Can't say the same for the accessories they shipped with last year's Nexus tho, or even for some of the third party stuff they're selling on their store. Yeah, it's messy.

Benson Leung and Nathan K have tested a lot of USB-C chargers and cables (it is not just the cables that are the problem). There is the famous spreadsheet here where you can work out what are good cables for your use. You would need to know if your device / charger supports Power Delivery or not what Amps/Volts they want and if you are also using it for data or just charging. https://docs.google.com/spreadsheets/d/1vnpEXfo2HCGADdd9G2x9dMDWqENiY2kg... They also have some very interesting posts on google plus groups https://plus.google.com/collection/ILkNbB https://plus.google.com/collection/UQ94NB

Excellent article, really nails down the situation with USB-C, if i ever have to explain to someone why USB-C is currently not worth it, I will link to this very article.

What's the difference between S7 and Note 7? USB-C

And dozens of other things... Several other phones had Type C even with spec flounting QC implementations and none had the massive issues the Note 7 did. Jumping to this conclusion is like saying, oh, I dislike strawberries so I'll obviously dislike apples, because red.

My laptop is USB-C, and a guy I work with tried to charge his Nexus 5X off of my charger and his phone stopped working. Maybe I know why, now.

Protection for USB Type-C ports. https://e2e.ti.com/blogs_/b/analogwire/archive/2016/11/21/usb-type-c-wil...