What do you use the S Pen for?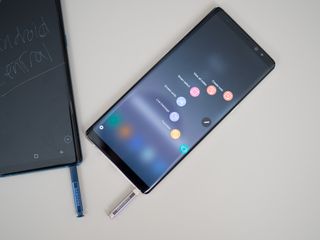 There are a lot of reasons people buy Samsung's Galaxy Note phones. The screens are big, batteries are long-lasting, and the cameras are usually top-notch. However, above-all-else, the main reason the Note continues to stand on its own is thanks to the S Pen.
No other smartphone offers a stylus that's as feature-rich and polished compared to the S Pen, and whether you need to jot down a quick note or are in a mood for doodling, the S Pen is up to just about whatever you throw at it.
Samsung adds new features to S Pen all the time, and so many functions readily at your disposal, we decided to check in with our AC forum users to see what S Pen features they use the most. Here's what they had to say!
If you've got a Galaxy Note handset, we'd love to know — How do you use the S Pen?
Android Central Newsletter
Get instant access to breaking news, the hottest reviews, great deals and helpful tips
Joe Maring was a Senior Editor for Android Central between 2017 and 2021. You can reach him on Twitter at @JoeMaring1.
Cropping pictures, copying text, and if I go to a website with a lot of links I have fat fingers pen point the link better. And for doodling on screen. and if my hands are dirty or greasy use the pen

Copying text, highlighting text, pulling text from images, cropping images, live messages, taking notes, writing quick notes, editing documents. It's a very versatile tool

Pulling text from images? How do I do that on my Note 8?

Use the SPen and tap on Smart Select. Surround the text you want to lift, and when the Smart Select image appears, tap on Extract Text. From there, you can either copy the text or share it.

Handling excel documents, cropping images, precision swipe writing, precision pointer on website and online forms and just regular phone interaction when I get bored to use fingers (which happens a lot more than Id ever think). I got my first S-Pen with the Note 8, and actually it may be the main reason I wont go back to iPhones soon (I was contemplating that after my Galaxy S7). I didnt think I'd use it more than a few times and got the Note 8 just for the sake of it. Now I seek to use the S-Pen, and am thinking of replacing my iPad Air 2 with a Pro version and a stylus.

I was always calling the SPen a gimmick until I bought the Note4. Now, I won't ever defect from the Note line!

I mainly use the pen for writing reminders on the always on display.

I take copious amounts of notes on my note 8 for work, all done face to face, which I organize through samsung notes. I Also sign and return the occasional pdf...

Cleaning between my toes.

Ready for this list? I use the S Pen to jot notes while the screen is off, text by handwriting, edit photos in Lightroom, play games, write on PDFs, color and draw, live messages, and annoying people with the clicky button. I've used an S device since the S3. I wanted the Note 7 but couldn't get it because it was such a "hot" device so I ended up getting an S8 when it came out. I finally switched to the Note series with the 8 and I don't see myself going back. I love this pen and I've found so many uses for it.

I use it as perfect snipping tool to cut specific parts of an image, website, forwards, data etc..I use it to also smudge the private email ID, names etc while doing so...Amazing accessory Love my Note series...

Mostly drawing/sketching and fine photo editing in phone. Then at work, excel and super quick pdf filling

I'm really interested in getting a Note for a number of these reasons, am I better off getting a Note8 for less when the Note9 comes out, or does it look like the improvements for Note9 would be worth the wait/cost, and specifically thinking of potentially bigger battery. Asking here because y'all are obviously experienced Note users 😉

Every year we hear Samsung will put a bigger battery of about 3800 mAh in it's Note. It never happens.

My university life relies on it. All of my notes are in my Note4, and it was so miserable realizing it was broken.

I don't use it at all on my Note5. I just love the other features of the phone and the form factor.

As long as my hands are clean, I use it for almost everything. Does anyone else have issues using it in Google Docs? I found that, ever since I started using the Note8, as you lift the SPen from the screen to the point where the hover dot disappears, the cursor jumps to the start of the line on which the dot last appeared. When I received the latest update, it seemed to have fixed the problem, but now it's back.
Android Central Newsletter
Get instant access to breaking news, the hottest reviews, great deals and helpful tips
Thank you for signing up to Android Central. You will receive a verification email shortly.
There was a problem. Please refresh the page and try again.