What do you think about Zagg's new screen protector for curved displays?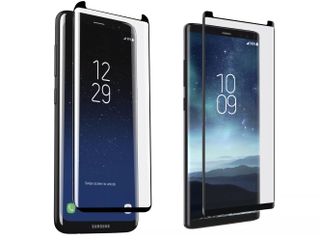 During CES 2018, Zagg announced its latest attempt at making a screen protector for curved displays with the InvisibleShield Glass Curve Elite. Unlike past attempts from Zagg and other companies, the Glass Curve Elite has a strong adhesive along the entire surface to prevent poor touch responsiveness and ugly halo effects.
The screen protector isn't cheap at $50 a pop, but even so, most of our forum users seem quite interested in giving it a shot. Here's what some of them had to say.
Now, we'd like to pass the question on to you – What are your first impressions of the Zagg InvisibleShield Glass Curve Elite?
Join the conversation in the forums!
Joe Maring was a Senior Editor for Android Central between 2017 and 2021. You can reach him on Twitter at @JoeMaring1.
It would be more helpful if we got first impressions from someone who actually used one.

$50 is insane. If that's the price you have to pay for a screen protector that actually works on the S8, etc., then so be it, but $7.95 for a 2-pack is typically what you'll pay on Amazon for glass screen protectors.

You're seriously going to ***** about paying $50 to protect a $1,000 phone??? Come on man, that's a ridiculous argument.

I think it isn't fair that they don't have this product available for the Pixel 2 XL! Seriously, I hope this is the product that finally works for people with these curved displays. It would have been better if OEMs didn't do this to the display from the beginning. I guess we have to blame Samsung for this.

I can't see myself paying $50 for a screen protector on a phone that I won't have for more than a year or two. But I can't speak for everyone else, that's just me.

I feel bad for all the people who wasted $50 for earlier versions of the glass screen protectors. They were just absolute trash. They only had adhesive along the edges, causing touch response issues. Hopefully these new ones will actually work.

Yeah, that happened to me. I was mad!

Yeah I bought the current Zagg for the s8+, but since this 1 was announced, I did a warranty claim and chose that 1 instead, it'll be here in a few days and I'll gladly share my experience with it.

Overpriced for a screen protector, an iPhone 6 screen I replaced for 70$

This isn't for the iPhone 6. This is for the S8 snd Note 8. The Note 8 screen costs almost $300 to replace.

I use the Spigen Neoflex screen protector on my S8. It's a flexible TPU, not glass, but I really like the feel of it and after three months I can't see any scratches on it at all due to the "self-healing" properties. The cover was a bit tricky to put on and requires some patience, but it's been very worth the CDN$14 I spent on it.

''self-healing" lol... I'm not saying these are bad, probably quite resistant and good quality but, do you really believe that marketing BS?

I'm using the Spigen, and it's probably the best TPU, but I've applied 3 of them now, and they always start peeling up on the sides or on a corner. They also make the S Pen feel rubbery, but not so much that the S Pen is unusable.

I'll be waiting for your review on one for the note8! And then, when I know it's good I'll wait for the prise to drop because 50$ is way too expensive.

Hey, look ma, I'm on the news!

Have used this protector with full glue for just 20$ in India love it....same touch as original screen.....and Is case friendly

I used my warranty and this one is on its way to me. One good thing about zaag is their warranty. No upgrade fee or shipping fee.

My opinion, if you're going to spend that much on one buy a Whitestone, and take your time to put it on correctly, it's perfect every time. I've put 3 of them on phones, and all went on without a hitch, and look great with no issues at all. Just read the reviews.

This is just one of the reasons why I will not buy a phone with a curved screen.

I use the Whitestone dome glass screen protector on my S8+ and it is INCREDIBLE!! Best screen protector I've ever used

AQccording to Zagg, it won't ship until Jan 18-19. How can anyone have any impressions of it at all if it hasn't been released yet?
Android Central Newsletter
Get the best of Android Central in in your inbox, every day!
Thank you for signing up to Android Central. You will receive a verification email shortly.
There was a problem. Please refresh the page and try again.