What color HTC U11 should you buy: Black, blue, silver, white or red?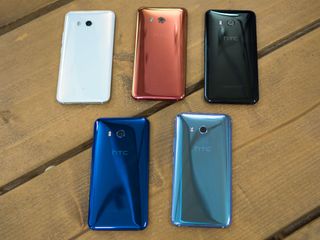 The HTC U11's big design feature is its pristine curved glass back, which has a unique color infusing process to bake the colors into the glass rather than layering on top or underneath. It's a look that you can't get from any other glass-backed phone, and it means you may be taking extra care in choosing which color HTC U11 you want to buy.
We have great pictures of all five colors, and some things you may want to keep in mind when making a choice — read on.
See at Amazon (opens in new tab)
HTC U11 in Brilliant Black
Image 1 of 3
When you're releasing a new phone, you pretty much have to offer a "safe" color — that's Brilliant Black. It's a pretty basic look, but you still get the shiny "deep" color embedded in the glass. When you turn the phone the colors do shift and give it a look of some deeper greens and blues, just not to the extremes that the other colors do.
Who is it for?
If you're interested in the U11 but don't want to go all out with one of the flashy colors, black is going to be the one to get. The glass still stands out, but it isn't way out of line.
HTC U11 in Sapphire Blue
Image 1 of 3
The "Sapphire Blue" U11 is one step above the black in terms of flash. The deep blue glass flows into color-matched blue metal on the side, and it really looks nice. When you tilt the phone the colors change to different shades of blue, and because it's a bit lighter it also starts to pull in colors from around it.
Who is it for?
If the black U11 feels a bit boring for you, but you still don't want to go flashy, the blue will be a good middle ground.
HTC U11 in Amazing Silver
Image 1 of 4
This is where things start to get crazy. Depending on what angle you see it from, the "Amazing Silver" U11 can look like anything from shiny chrome all the way to deep blue. In a purely white room with no other colors around, the silver U11 is more of a very light blue — both the glass back and metal sides. But because of the extreme reflectivity, it pulls in colors from all around — it's hardly ever the same color twice.
Who is it for?
If you want a super-interesting color that will stand out from every angle every single day, this is the one to get. So long as you're okay with the "regular" view of it being a light blue base color, the silver U11 is a good choice.
HTC U11 in Ice White
Image 1 of 3
The "Ice White" U11 is a pretty typical white glass and silver metal color scheme. The back has a very deep color that isn't nearly as reflective as the other colors, and the color doesn't shift as much. You get a pearlescent look and hints of pink from some angles, but the back stays very much "white" from most angles.
Who is it for?
There aren't a lot of white glass phones available, so if you've been looking for something that's beyond the standard black/gold/silver options, this is for you.
HTC U11 in Solar Red
Image 1 of 3
It's hard to explain the ridiculousness of the "Solar Red" U11. Nominally, it's red. But when you tilt it off-axis, it turns a deep gold, orange or yellow depending on the angle. It's an amazing effect that's truly unique, even among the other U11 color options.
Who is it for?
The Solar Red color is absolutely for someone who wants to stand out. Not only are there so few red phones out there in general, but you won't find another "red" phone out there that can change colors so dramatically.
Regional differences matter
As is always the case, you won't necessarily be able to choose from all five colors in all regions around the world. Right at launch, HTC is primarily offering the black, blue and silver colors. White and red were not finalized until later on in the development of the U11, so they won't be widely available for some time. Here's the current breakdown of availability, as of mid-June:
U.S.: Sapphire Blue, Brilliant Black, Amazing Silver (Amazon and htc.com only)
Europe: Sapphire Blue, Brilliant Black, Amazing Silver, Ice White, Solar Red (coming soon)
China: Sapphire Blue, Brilliant Black, Amazing Silver, Ice White, Solar Red (coming soon)
Taiwan: Sapphire Blue, Brilliant Black, Amazing Silver, Ice White, Solar Red (coming soon)
Australia: Brilliant Black, Amazing Silver (carrier/retailer dependent)
One thing you'll notice is that the Solar Red model isn't available anywhere right at launch — but expect it to head out to various regions soon. So if you have your heart set on red, be patient rather than settling for another color, because it is coming.
Android Central Newsletter
Get instant access to breaking news, the hottest reviews, great deals and helpful tips
Andrew was an Executive Editor, U.S. at Android Central between 2012 and 2020.
I would like to have had red or white but opted for the black. I'm satisfied.

Solar red reminds me of Ironman.

Thank you for this! Seriously. I've been wanting a decent breakdown of each color. I liked the black when I saw the green flashes in some photos, but it looks like those shades are few and far between. I've seen the sapphire blue in person but I guess I'm now looking at the silver or the red (if it ever shows up in the states).

Is the front of the devices the same colour as the frame or is it black or white?

Front on the ones I've seen so far are all black, :(

And that's a good thing :)

Wait, so Solar Red is not coming to the US at all?

I wanted the red but it's not available in the US so I opted for black. I'm happy with it and love the phone.

I don't understand why white is suddenly a color that is not brought to the US anymore. Why?

Since I need to replace a broken phone immediately, and red isn't (yet?) available in the US, and because I'm bored with black, and because blue isn't immediately available at HTC or Amazon yet, I guess I'm going with Silver.

Black for me. Mine is coming today.

I'm drawn to the sapphire and before I knew about silver's super reflective, I thought it was flashier, lol. I thought silver was lighter blue and it sounds like it in many ways, but all those color changes would better match my eyes. I don't normally buy white phones, but since I'll be amongst the lands of sun and unreasonable temperatures for a while I'm far more amenable and think it's a good option. I want a like chameleon white pearl paint car, so I think car and phone would be nice. Black phone is fine; I'm using a black Samsung, right now. I don't like gold / yellow, and it is harder to match, so I won't miss solar red.

Your eyes change color? Just curious. I know a couple people who do, and one of them gets asked to try different color clothes by the store staff when she's trying outfits. She's sleeping over tonight (guest room!), as a matter of fact. The effect is fascinating, but not quite as dramatic as the brilliant green eyes a friend of mine had. Combined with rich dark skin, it was a very striking effect. Interestingly, she liked me because I enjoyed her company for who she was, and not just for her looks.

Definitely red... But no availability in U.S.

None, since its only available on sprint. With that I'd rather have no phone at all! 😁

It will be a sprint exclusive. Or buy the unlocked version on Amazon. Works on all carriers. Do some research!

It's also available direct from HTC, and they have financing through paypal.

I'm hoping HTC will make a phablet with the internals of the U11, in which case I'd get one of those in solar red.

Red if only it was offered in North America

I'd be happy with any one of those.

I'm hearing Red is a wave 2 color so it might be available later in the summer

Silver or blue are the hotness! Yeh I said it hotness!

White or silver for something different. Oh, and with 6Gb RAM/128Gb native internal storage. 😉

HTC doesn't think the USA or UK has any need for the 6gb/128gb version so won't release that one in those markets, only the far east countries need that one., ;)

Yes, I know, that was my point, glad that you picked up on it. Sent from the US. 😉

You should see how much the 6GB/128GB versions are selling for on eBay. $740 - $999. Lol

Sprint itself is only offering the Black & Blue colors, correct?

I'd get the Amazing Silver or the Solar Red. Thinking about selling my S8 to get a U 11.

Sapphire Blue <3 Royals <3 Subaru

Thank you Andrew! I've been wanting some good photos to help decide, and I still haven't, but these will help. I'm usually decisive, but HTC is screwing that up this time ;)
If ALL options were available in the US, I would go for red in a heartbeat. The blue looks fantastic, but I think I'll go with the silver because I don't mind being different.

By the way, I sat down yesterday and had a chat with an AT&T rep, and he said that they have been getting lots of customer requests specifically for the U11. Our conversation indicated that AT&T may change their minds about carrying the U11, and he took my email so they would give me priority when it became available for pre-order. This does not mean that AT&T *WILL* end up carrying the U11, but it does give hope of the possibility. Unlocked is still better, but having another carrier on board would be good.

Ok, I've decided. Since I can't get red, I'm getting Amazing Silver.

For once I refuse to settle for a color I don't have my heart set on. I'll wait till Solar Red becomes available for purchase, even though I want the U11 RIGHT NOW!!!

You didn't have to wait very long. Solar Red is available (6/20) for the HTC U11 'unlocked' directly from HTC and the $50 discount can be applied for a total of $599. Yeah!

If I was to get one it would be blue it none at all.

Silver for me, solar red for my wife! Both those colors are awesome.

I won the HTC U11 contest and when emailed about which color and carrier, solar red was an option with one caveat: I would have to wait until July to get it. I am gladly waiting because from what I have seen, it's the most dynamic looking. I can wait.

Congratulations
Which carrier? I hope the Sprint version will have more color choices soon. Waiting for Sprint HTC U11 in Amazing Silver. The unlocked IMEI couldn't be activated on Sprint because Sprint requires a different ROM. Who's contest?
Android Central Newsletter
Get instant access to breaking news, the hottest reviews, great deals and helpful tips
Thank you for signing up to Android Central. You will receive a verification email shortly.
There was a problem. Please refresh the page and try again.