What color HTC U11 should you buy: Black, blue, silver, white or red?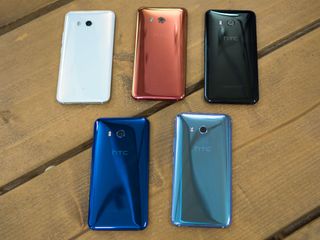 The HTC U11's big design feature is its pristine curved glass back, which has a unique color infusing process to bake the colors into the glass rather than layering on top or underneath. It's a look that you can't get from any other glass-backed phone, and it means you may be taking extra care in choosing which color HTC U11 you want to buy.
We have great pictures of all five colors, and some things you may want to keep in mind when making a choice — read on.
HTC U11 in Brilliant Black
Image 1 of 3
When you're releasing a new phone, you pretty much have to offer a "safe" color — that's Brilliant Black. It's a pretty basic look, but you still get the shiny "deep" color embedded in the glass. When you turn the phone the colors do shift and give it a look of some deeper greens and blues, just not to the extremes that the other colors do.
Who is it for?
If you're interested in the U11 but don't want to go all out with one of the flashy colors, black is going to be the one to get. The glass still stands out, but it isn't way out of line.
HTC U11 in Sapphire Blue
Image 1 of 3
The "Sapphire Blue" U11 is one step above the black in terms of flash. The deep blue glass flows into color-matched blue metal on the side, and it really looks nice. When you tilt the phone the colors change to different shades of blue, and because it's a bit lighter it also starts to pull in colors from around it.
Who is it for?
If the black U11 feels a bit boring for you, but you still don't want to go flashy, the blue will be a good middle ground.
HTC U11 in Amazing Silver
Image 1 of 4
This is where things start to get crazy. Depending on what angle you see it from, the "Amazing Silver" U11 can look like anything from shiny chrome all the way to deep blue. In a purely white room with no other colors around, the silver U11 is more of a very light blue — both the glass back and metal sides. But because of the extreme reflectivity, it pulls in colors from all around — it's hardly ever the same color twice.
Who is it for?
If you want a super-interesting color that will stand out from every angle every single day, this is the one to get. So long as you're okay with the "regular" view of it being a light blue base color, the silver U11 is a good choice.
HTC U11 in Ice White
Image 1 of 3
The "Ice White" U11 is a pretty typical white glass and silver metal color scheme. The back has a very deep color that isn't nearly as reflective as the other colors, and the color doesn't shift as much. You get a pearlescent look and hints of pink from some angles, but the back stays very much "white" from most angles.
Who is it for?
There aren't a lot of white glass phones available, so if you've been looking for something that's beyond the standard black/gold/silver options, this is for you.
HTC U11 in Solar Red
Image 1 of 3
It's hard to explain the ridiculousness of the "Solar Red" U11. Nominally, it's red. But when you tilt it off-axis, it turns a deep gold, orange or yellow depending on the angle. It's an amazing effect that's truly unique, even among the other U11 color options.
Who is it for?
The Solar Red color is absolutely for someone who wants to stand out. Not only are there so few red phones out there in general, but you won't find another "red" phone out there that can change colors so dramatically.
Regional differences matter
As is always the case, you won't necessarily be able to choose from all five colors in all regions around the world. Right at launch, HTC is primarily offering the black, blue and silver colors. White and red were not finalized until later on in the development of the U11, so they won't be widely available for some time. Here's the current breakdown of availability, as of mid-June:
U.S.: Sapphire Blue, Brilliant Black, Amazing Silver (Amazon and htc.com only)
Europe: Sapphire Blue, Brilliant Black, Amazing Silver, Ice White, Solar Red (coming soon)
China: Sapphire Blue, Brilliant Black, Amazing Silver, Ice White, Solar Red (coming soon)
Taiwan: Sapphire Blue, Brilliant Black, Amazing Silver, Ice White, Solar Red (coming soon)
Australia: Brilliant Black, Amazing Silver (carrier/retailer dependent)
One thing you'll notice is that the Solar Red model isn't available anywhere right at launch — but expect it to head out to various regions soon. So if you have your heart set on red, be patient rather than settling for another color, because it is coming.
Get the Android Central Newsletter
Instant access to breaking news, the hottest reviews, great deals and helpful tips.
Andrew was an Executive Editor, U.S. at Android Central between 2012 and 2020.