What an "Always-On" display means for battery life on Android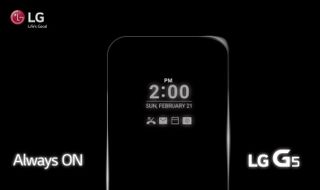 As more leaks and rumors flow forth on upcoming Samsung and LG phones, it's easy to become prematurely concerned about what it all might mean for the battery life of these not-yet-announced phones. The Galaxy S6 and S6 edge were not exactly battery life powerhouses, compromised by the quest for thinness and the demands of physics. News of software that will intentionally keep the most power-hungry part on any phone — the display — up and running on the Galaxy S7 may not sound great to those who don't want to reach for a charger every couple of hours. Meanwhile, LG users who have lived with the double-tap to wake setup may find the new interface on the G5 an unwanted step away from what they are used to.
While it's going to be at least a week or two before we've got hands on these phones at MWC 2016 to know for sure, there's a good chance Samsung and LG have a whole lot more to show us than the leaks suggest.
First things first, let's break down what we're talking about when we say a display is "Always-On" in this context. Much like Motorola's Moto Display and Google's Ambient Display, Samsung and LG are referring to a breathing, black and white representation of information on the screen. Always-On mode will give you a glimpse at the time, recent notifications, and probably one or two other things we've not heard about yet. It means you don't have to wake the screen to see what that notification tone or vibration was, and it means you can just glance down at your phone to get that information. Samsung played with this idea last year with their edge display notifications, and LG's use of a second screen on the V10 demonstrated how they view notifications when the primary display is off. In many ways, Always-On is the natural evolution of existing display ideas.
So does an Always-On display mean more energy is consumed during the day to deliver that information to you? In most cases, no. The idea is you'll be using the breathing notification instead of constantly waking your phone, which means your phone can stay in a low-power mode to deliver you this information. If this feature only stops you from waking the phone three or four times a day, you'll still be net positive in the amount of power consumed. Also, Samsung's use of AMOLED displays means only a handful of pixels are given power to display information to you. LCD panels still have to light up the whole panel to deliver you information, but as we saw with the Moto X Pure Edition this past year the difference in power consumption is still quite low because the phone doesn't have to go from low-power to fully active to deliver you that information.
Google's Ambient Display works without changing the way you interact with things like notifications, but the images and descriptions we've seen from LG suggests the G5 will be packing something a little different. You'll get that glance at the display, but the notifications look to be just icons through the case and there's a Moto-esque gesture to get more information. This sounds cool, and again we still don't have a full official explanation, but that raises some double-tap to wake concerns.
It's possible LG will set it up so you can have one or the other, but there's a good chance you won't be able to do both. That may be a good thing, after all Motorola has demonstrated some incredible things with their display software, so it's probably one of those things we'll have to see and touch in order to fully appreciate.
Basically, there's nothing to worry about just yet. Power consumption isn't likely to be an issue, and all signs point to this being something more functional that what these companies are using now. All we need now is for these phones to get here, so we can stop worrying about things that we haven't really seen yet.
Sign up for Black Friday email alerts!
Get the hottest deals available in your inbox plus news, reviews, opinion, analysis and more from the Android Central team.