The weBoost eqo hopes to blanket your home in great cellular coverage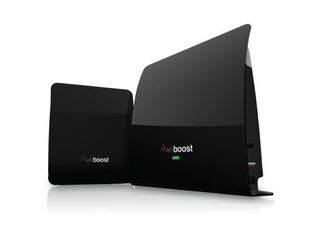 If you want to boost the cellular reception in your home, weBoost's latest product, the eqo Cellular Signal Booster, might be what you're looking for. Compatible with Verizon, AT&T, and other major networks, eqo enhances cellular signals for greater reach across your home. You can find the eqo on Amazon now for $349.99 (opens in new tab).
You'll just need to place the eqo in an area that is receiving a signal, and the booster doesn't require a home internet connection in order to work. weBoost says that it covers up to 1,200 square feet, and also claims that it can provide up to 32x better signal throughout your house, apartment, or condo.
See at Amazon (opens in new tab)
Press release:
weBoost's New and Revolutionary Plug-and-Play "eqo" Booster Available for Purchase
eqo Booster Cuts Out Installation Headaches and Improves Signal Up to 32X Across All Major Carriers
ST. GEORGE, UTAH—April 11, 2016— Dropped client calls? #Failed family conversations? Good news: you can improve your cellular signal at home in under a minute with a new product from weBoost. Today weBoost®, the global leader in cell signal boosters, announced the availability of the eqo (/ˈekō/) Booster, the most cost-effective booster in its category, now available in-store at select BestBuy and Micro Center retail locations, and online at BestBuy.com, Amazon.com and MicroCenter.com for $349.99
"Historically, signal boosters required a lengthy installation, and were accompanied by a price tag of around $400 or more," said Bruce Lancaster, weBoost CEO. "We felt that both of these factors were significant barriers to entry for consumers, and with the eqo, weBoost is breaking down those barriers, allowing everyone the opportunity to experience an improved signal in their home or office.
How Does It Work?
All cell phone signals are wireless signals, and the eqo Booster works by amplifying those wireless signals. The eqo Booster includes two parts – a discrete signal booster and an antenna to broadcast that signal throughout the home. Simply place the eqo signal booster unit in an area where signal is available, plug it into an electrical outlet and connect the antenna, then watch the signal bars go up.
Why eqo?
Previously, signal boosters required either professional installation or extensive DIY know-how. They also required extra time and effort to cleverly hide equipment and cables out of the way in the home. The eqo Booster deftly solves both of these issues providing:
Better Signal Without Installation Hassle: Delivering up to 32X better signal, the new eqo Booster is constructed for easy plug-and-play set-up, requiring just a minute of your time, and does not require an exterior antenna like boosters from previous generations.
A Living-Room Ready Design: With a sleek finish and discreet design that fits right in with other home electronics, the eqo provides consumers with a signal booster that blends with any living room's aesthetics.
Capabilities for All Carriers: Whether you have T-Mobile, Verizon Wireless, AT&T or Sprint, the eqo will amplify signals simultaneously from all major carriers in the US and Canada, including 4G LTE and 3G bands.
Where Can I Buy eqo?
The eqo Booster is available for purchase now online at buy.weboost.com/eqo/ and at participating retailers for $349.99. The eqo Booster can also be purchased in-store at select BestBuy and Micro Center retail locations, and online at BestBuy.com, Amazon.com and MicroCenter.com.
For a video preview of the eqo cell phone signal booster, first unveiled at International CES 2016 please visit weBoost's YouTube page.
The eqo Booster supports all carrier networks and is certified by the FCC Part 20 standard as well as Industry Canada. For more information about weBoost and the eqo Booster, please visit www.weboost.com and follow us on Facebook and Twitter.
32X better coverage sounds amazing, but I already pretty much always have "full bars" every place I go...

Then I reckon this is not made for you. Only people who have spotty service where they live. Posted via the Android Central App

I can't remember what it is called but doesn't T-Mobile offer a device that does the same thing for $25.? Posted via the Android Central App

Theirs uses your Internet connection, which might actually be better for some people if they don't get any cell signal around their house. Posted via the Android Central App

T-Mobile has a couple different boosters. One uses the internet connection which is a ASUS router. Works actually pretty good, but it is for more of the transition to wi-fi calling in a building. The other is a signal amplifier that is useless junk, compared to the more expensive brands.

They used to offer something exactly like this, too. I'm not sure if they still offer it or if it was replaced by the router device, but I have one of the T-Mobile signal boosters in my home, and it works great. If this device works as well as the one T-Mobile gave me, $350 probably isn't a bad price if you have a signal-killing house like I do. Edit: I should say that it works great for me. I have no idea what kind of experience people in general have had with it. Posted via the Android Central App

They sometimes charge a small deposit for it but i got mine (the signal boaster) for free. T-Mobile has 2 different ones. One like this that is a signal booster and one that is a Cell Spot that uses YOUR internet access like Jordan Pt stated to create a virtual cell tower. However the one that uses your internet allows anyone within range of your cell spot to also connect from your internet. Basically its a wireless router from your home internet that identifies as a T-Mobile Tower and lets all your house and neighbors and anyone in range parked in front of your house to use your home internet for free.

I thought cell signal repeaters were banned by the FCC? Or am I thinking of something else? Posted via the Android Central App

Yes and no. The repeaters have to comply with the Safe Harbors order that was put in place back around 2013 I think? I'm sure there are some that comply with FCC standards and some that don't.

I called T-Mobile because my backyard didn't get 4G LTE and they sent me a Personal $g LTE Cellspot for free (not even the $25 charge). Now my whole house has full bars of 4G LTE everywhere. (Note: The Personal CellSpot does allow other people to use the 4G LTE channel which does increase your broadband usage. I have fast (100/5) uncapped service so that isn't an issue.)

How can this possibly make a bad cell signal in the entire area around my neighborhood better if the signal itself is bad to start with?

Doesn't the expansion of WiFi calling make this pretty obsolete at this point?

This would be ideal for someone who needs to boost cellular service but doesn't have an internet connection.

I have a wilson personal range booster, and it worked rather well when I was having very spotty signal at work. I would go between 3G and 4G all the time, and spend a lot of time without a data signal. This would keep a connection with the LTE band all the time. I have since moved to a different spot and I no longer need the signal booster. This can work if you have signal for the booster to boost. If you have no signal, this may not work for you.

Why are these things so expensive? I was looking for one a few years ago and the prices are still the same.

Just curious how does it compare to Wilson. That one actually stretches out for miles - you go from 0 to 3 or 4 bars. But it has a big antenna to install outside plus the one for inside. VZW Moto X DE/N7

weBoost is the new name for Wilson Electronics
Android Central Newsletter
Get the best of Android Central in in your inbox, every day!
Thank you for signing up to Android Central. You will receive a verification email shortly.
There was a problem. Please refresh the page and try again.