The weBoost eqo hopes to blanket your home in great cellular coverage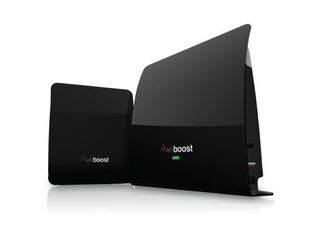 If you want to boost the cellular reception in your home, weBoost's latest product, the eqo Cellular Signal Booster, might be what you're looking for. Compatible with Verizon, AT&T, and other major networks, eqo enhances cellular signals for greater reach across your home. You can find the eqo on Amazon now for $349.99.
You'll just need to place the eqo in an area that is receiving a signal, and the booster doesn't require a home internet connection in order to work. weBoost says that it covers up to 1,200 square feet, and also claims that it can provide up to 32x better signal throughout your house, apartment, or condo.
Press release:
weBoost's New and Revolutionary Plug-and-Play "eqo" Booster Available for Purchase
eqo Booster Cuts Out Installation Headaches and Improves Signal Up to 32X Across All Major Carriers
ST. GEORGE, UTAH—April 11, 2016— Dropped client calls? #Failed family conversations? Good news: you can improve your cellular signal at home in under a minute with a new product from weBoost. Today weBoost®, the global leader in cell signal boosters, announced the availability of the eqo (/ˈekō/) Booster, the most cost-effective booster in its category, now available in-store at select BestBuy and Micro Center retail locations, and online at BestBuy.com, Amazon.com and MicroCenter.com for $349.99
"Historically, signal boosters required a lengthy installation, and were accompanied by a price tag of around $400 or more," said Bruce Lancaster, weBoost CEO. "We felt that both of these factors were significant barriers to entry for consumers, and with the eqo, weBoost is breaking down those barriers, allowing everyone the opportunity to experience an improved signal in their home or office.
How Does It Work?
All cell phone signals are wireless signals, and the eqo Booster works by amplifying those wireless signals. The eqo Booster includes two parts – a discrete signal booster and an antenna to broadcast that signal throughout the home. Simply place the eqo signal booster unit in an area where signal is available, plug it into an electrical outlet and connect the antenna, then watch the signal bars go up.
Why eqo?
Previously, signal boosters required either professional installation or extensive DIY know-how. They also required extra time and effort to cleverly hide equipment and cables out of the way in the home. The eqo Booster deftly solves both of these issues providing:
Better Signal Without Installation Hassle: Delivering up to 32X better signal, the new eqo Booster is constructed for easy plug-and-play set-up, requiring just a minute of your time, and does not require an exterior antenna like boosters from previous generations.
A Living-Room Ready Design: With a sleek finish and discreet design that fits right in with other home electronics, the eqo provides consumers with a signal booster that blends with any living room's aesthetics.
Capabilities for All Carriers: Whether you have T-Mobile, Verizon Wireless, AT&T or Sprint, the eqo will amplify signals simultaneously from all major carriers in the US and Canada, including 4G LTE and 3G bands.
Where Can I Buy eqo?
The eqo Booster is available for purchase now online at buy.weboost.com/eqo/ and at participating retailers for $349.99. The eqo Booster can also be purchased in-store at select BestBuy and Micro Center retail locations, and online at BestBuy.com, Amazon.com and MicroCenter.com.
For a video preview of the eqo cell phone signal booster, first unveiled at International CES 2016 please visit weBoost's YouTube page.
The eqo Booster supports all carrier networks and is certified by the FCC Part 20 standard as well as Industry Canada. For more information about weBoost and the eqo Booster, please visit www.weboost.com and follow us on Facebook and Twitter.
Get the Android Central Newsletter
Instant access to breaking news, the hottest reviews, great deals and helpful tips.