Which voice assistants does Samsung SmartThings support?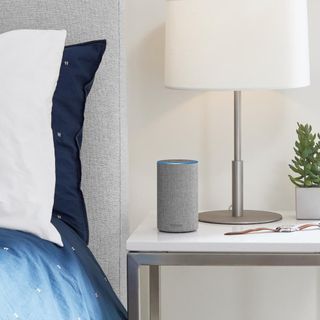 Best answer: SmartThings works seamlessly with both Google Assistant and Amazon's Alexa. It takes a few extra steps to get up and running, but it's smooth sailing once set up.
Talk to Me
One of the best things about SmartThings is that it truly does integrate extremely well with a ton of different devices and services. Unlike some other smart home products, SmartThings can easily be controlled using Google Assistant or Amazon Alexa. The integration and control are extremely fluid and care-free once set up, and it all truly does bring your home one step further into connected bliss. In addition to what you can do in SmartThings, you can use the Google Home or Alexa app to automate your devices by creating custom scenes and routines that fit your daily lifestyle.
To set up either voice assistant (or both, if that's your thing) you'll need to use the respective Alexa or Google Home app on your phone or tablet. You can choose to allow all or some of your SmartThings devices (depending on how much voice control you'll need), letting you control everything from your lighting to your thermostat to your coffee pot using just your voice. If you do happen to have both assistants in your home, there's no drawback to using one over the other for voice control, so just go with whichever you prefer.
Setting Up
Google Assistant users will be able to breeze through the setup process for SmartThings. Google pulls all of your devices and information right from SmartThings, so there's no need to set up or discover your connected accessories directly with Google. Using the Google Home app on your phone or tablet, you simply need to choose to set up a new device, choose Works with Google and enter your SmartThings account information. Once authorized, Google will add any or all of your SmartThings devices and from there, you can use the Google Home app to add devices to specific rooms.
Alexa users won't have a difficult time setting things up either, but there are a few extra steps in the process. Within the Alexa app on your phone or tablet, you'll need to enable the SmartThings skill and log in using your SmartThings account information. Once done, Alexa will proceed to "discover" all of your connected devices. The hiccup here is that there's a small chance Alexa may not discover all of your devices on the first shot, but you can always go back and retry should things go awry. Once your devices have been added, you can use the Alexa app to automate devices or create scenes and routines for total control of all your SmartThings devices.
Our Pick
(opens in new tab)
Control your devices with just your voice
Whether you're a Google Assistant or Alexa user, you'll have no issues controlling your SmartThings devices. You'll need to do a bit of setup with the respective assistant's app, but from there you'll be able to pick which devices you want to control and exclude those you don't.
Smart Assistant
(opens in new tab)
Amazon Echo Dot 3rd Generation
Voice control for all of your smart devices
An inexpensive Echo Dot will give you total voice control over all of your SmartThings-connected devices and then some.
By day, Adam is a writer for multiple Future Publishing brands with over fifteen years of experience. He's expertly researched and written hundreds of articles ranging from mobile phones to mobile homes to baby mobiles. By night, he's a gadget geek, avid disc golfer, 80s nerd, cord cutter, cook, husband, dad, and memory collector.
Android Central Newsletter
Get the best of Android Central in in your inbox, every day!
Thank you for signing up to Android Central. You will receive a verification email shortly.
There was a problem. Please refresh the page and try again.