VLC releases preview app for Android TV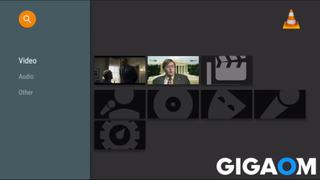 VLC, the popular video player already for a large swath of platforms, has released a preview version of its app for Android TV today. The player, which is known for supporting a crazy number of file formats, should be a boon to Android TV going forward.
GigaOm recently previewed the app running on a Nexus Player, which you can check out below.
It's important to note that this is the first preview version of the app, and it is bound to have a number of bugs. That cavet aside, however, it already looks pretty darn cool. The app brings along many of the same features included in its Android version. However, it also goes a step further by integrating with Android TV's interface and voice search.
If you'd like to give the app a try on your own Android TV device, you can download the preview APK here, after which you'll have to sideload it onto your device. If you decide to do so, let us know what you think in the comments below.
Sources: GigaOm, Geoffrey Métais (Twitter)
Android Central Newsletter
Get instant access to breaking news, the hottest reviews, great deals and helpful tips
What ever happened to Chromecast support that was suppose to be coming 7 months ago.. err

If you cast screen and then launch video from a file manager with vlc it turns into a remote on the device while the video is playing on your TV. It dims the device screen to black when not using the remote control thus saving battery. So it does support Chromecast just not in the way others do it. I like how they do it. I love the remote control. Not to mention that it plays anything you throw at it. Next-us

Did not know this, just tried it and it works, going to test out how much battery it kills in this mode but with the display turning off and no actual video on the screen I assume it won't be much. I am wondering though if it's using much data though. For example if a video file is 100mb does that mean it takes 100mb to mirror that video or is mirroring different. Thanks for this little info. Would be nice if more apps did this if they are not going to support chromecast officially. Annoys me when I'm mirroring a video but the display on my device is sucking up battery unnecessarily. Posted via Android Central App using galaxy s4

Too late.. MX Player is already doing it.

Except vlc handles subbed movies and shows perfectly and aspect ratios and customization Posted via the Android Central App

What does mx player do? Posted via the Android Central App

The question isn't what does it do! It's what doesn't it do?

Oh this is good news! Their regular app functions when sideloaded but the interface is obviously too clumsy for good use. I'll try this one tonight or tomorrow. Posted via the AC App on my LG G3

Well as the article said, it's got some features that need the bugs squashed but if it gets the work it needs it will get a lot of use on my Nexus Player. None of the built in software is really meant to handle external storage but this looks like it will play everything while maintaining the feel of Android TV and providing the features of VLC. Posted via the AC App on my LG G3

Nice, got me a nexus player coming tomorrow... Posted via the Android Central App

I feel as tho I should wait for an improved nexus player yet Posted via Android Central App

Sorry to sound stupid but: how does this work? Would you have to have external storage hooked up to the nexus player? Would a networked hard drive show up?

You can play videos off a usb stick or hard drive via otg cable already on nexus player but with vlc you will obviously get more codec support. Also I'm assuming you should able to stream off local network etc Posted via the Android Central App

I second the NAS/networked content question. I have a Western Digital TV Live player that I use for streaming content from my NAS but it's flaky as hell. I'd be interested in knowing whether this could make for a replacement.

It is called video lan client after all...

Tried on Sony GTV, would not open. This was a longshot, I know. As developers are looking only at newer HW to support. But these TV's still have their user base. It would be great to have some VLC support, particularly to support idx / sub subtitles.
Android Central Newsletter
Get instant access to breaking news, the hottest reviews, great deals and helpful tips
Thank you for signing up to Android Central. You will receive a verification email shortly.
There was a problem. Please refresh the page and try again.