Virgin Mobile announces the LG Optimus Slider, coming Oct. 17 for $199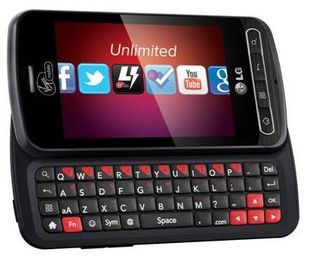 Following up on their rather successful LG Optimus V, Virgin Mobile has announced it will be bringing a full QWERTY slider, the LG Optimus Slider to customers starting Oct. 17 on their website, and Oct. 31 in retail locations. The Optimus Slider will offer a 3.2-inch touchscreen, along with Android 2.3, Gingerbread. The device will come preloaded with Virgin Mobile Live 2.0, their own social media type application, along with all the other goodies of Android 2.3. At a price point of $199, it is set to draw some attention for those who aren't fans of contracts and are looking for a new device.
Source: Virgin Mobile
Android Central Newsletter
Get instant access to breaking news, the hottest reviews, great deals and helpful tips
Jared started off writing about mobile phones back when BlackBerry ruled the market, and Windows Mobile was kinda cool. Now, with a family, mortgage and other responsibilities he has no choice but to look for the best deals, and he's here to share them with you.
That's interesting. I wonder what processor is in this. If it's at least ARMv7 based(as opposed to ARMv6 in the Optimus V and Instinct, which is what blocked stuff like Flash), I might give this a look to replace my Triumph, that I haven't been entirely happy with.

hmmmmmmmmmmmmmmmmmmm.................... to small

I agree. Yay for choices, but that's too small for me.

Not everybody wants a tablet-sized phone. Some people still want small, pocket-friendly phones. I just hope this one is more reliable than the Samsung Intercept.

Totally depends on how good that keyboard is.

And it also depends on if the development community is as strong for it. The Optimus V has a small, but very active and awesome development community that has made the Optimus V a little beast. My Optimus V runs smoother than the Motorola Atrix I used to have.

All well and good, but VM still has no roaming contracts right? So we are basically restricted to "Major" cities and major hiways. If I am wrong please correct me. I would like to change, but their coverage map here in the PNW looks bad. Thanks

If you live out in the middle of nowhere with no native Sprint coverage, you are out of luck. I'm lucky to be within their coverage about 95% of the time, but when I visit relatives in rural Alabama, I'm just out of luck..

Yay, now what to get my gma for her birthday :D. She needs a new virgin mobile phone.

i am wondering what kind of processor this will use. It is uses a 1Ghz i might make the upgrade. my Optimus V is lagging and lack and a lack of flash is annoying me more and more

Sorry guys, it has a 3.2-inch touch screen, a 600MHz processor, and a 5-megapixel camera with flash. The phone includes Bluetooth 3.0, GPS, and 3G support. However, they also announced the HTC Wildfire S. It will hit Best Buy and Radio Shack on October 23 for the same $199.99 price. It also has a number of other similarities as the Optimus Slider, including a 3.2-inch touch screen, Android 2.3 Gingerbread, a 600MHz processor, and a 5-megapixel camera. Read more: http://news.cnet.com/8301-17938_105-20113852-1/lg-optimus-slider-htc-wil...

Here are some pics and info for the wildfire s http://www.ubergizmo.com/2011/09/htc-wildfire-s-headed-virgin-mobiles-wa...

yet another 3.2" phone.. that's disappointing. a 3.7" would be nice.

Also keep in mind that this is Virgin Mobile owned by sprint, so there will be data throttling, just not yet! It will start somtime in 2012. Read more:
http://www.fiercewireless.com/story/virgin-mobile-postpones-smartphone-d...

"owned by sprint, so there will be data throttling" What does Sprint have to do with it? They are the only national carrier that does NOT throttle or cap.

Simply that since they announced there getting the iphone 5, there have been alot of changes to their services. Data caps on hotspots, no more primer service, no more one year contracts blah blah blah. There bound to cut corners everywhere else, till..... they fall... then? A CAP?!?!? Theres also talk about adding $5 a month to boostmobile (also owned by sprint) users using any android smart phone, while blackberry will remain at $60. I know i know, i dont get it either...

I can't wait to try out this phone, I have the V and like it but rather have a keyboard than a slate. Hopefully they bump up the clock speed a bit to 800 from 600 for a little more pep. They better not shrink the battery either! 1500 is barely enough.
Android Central Newsletter
Get instant access to breaking news, the hottest reviews, great deals and helpful tips
Thank you for signing up to Android Central. You will receive a verification email shortly.
There was a problem. Please refresh the page and try again.