Google Videos app now working on all devices rocking Android 2.2 and up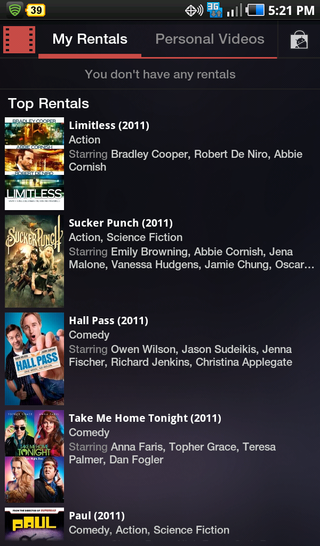 Google Movies, or the Videos app for Android, has been rolled out to some of the lucky Honeycomb devices earlier this summer. While the rest of the Android user base waited patiently, Xoom and Galaxy Tab 10.1 owners were able to rent and watch movies instantly on their devices. Now, the Videos app is available for all devices that are running Android 2.2 (Froyo) or higher.
With the app, users are able to rent from thousands of movie titles to stream instantly on their device. The app also has an offline mode for those that choose not to stream or are in a place that does not support it. There are also settings within the app that allow you to specify what your default preference is for downloading the movie (WiFi-only or mobile network).
The app also has a Personal Videos section that aggregates all of the videos taken from your device.
For those who haven't installed the app yet, check out the links after the break. It's free and available from the Android Market.
Thanks to everyone who sent this in!
Get the Android Central Newsletter
Instant access to breaking news, the hottest reviews, great deals and helpful tips.
What is the difference between this and renting movies from the market?

This app doesn't require you to go into that god-awful cluttered up new Market.

No go on my stock 10.1 wifi Galaxy Tab. Haven't taken the TW update. Seems lame to restrict us...

I really guess I'll NEVER be using this with my current device MY OG EVO because it will SAY rooted lol . . . Maybe when I upgrade In Q4 or Q1 2012 i'll hold off on rooting depending on my device

Worthless for most power users. Every power user I know has rooted their device and this doesn't work on rooted devices. Epic fail.

False. Most rooted users these days are not what anyone would refer to as power users, I'm not sure that name applies to rom junkies, flashing is so easy. Anyway, also not an epic fail. Obviously Google cant yet get content provider approval for playback on rooted devices since the access is a concern for potential piracy. This post was likely read by lots of people, not just you, and i bet there are a bunch of of those readers who are not rooted, so don't be so selfish. Lastly, you should know that I have MOAR POWER than you, by Grayskull. Boom.

Have the Sensation with S-Off and perm root. Stock rom with some bloat removed ect. Just DL the app and it does work on my device. I also have about 20 movies I DL to my phone and they also play very good thru the video player. Just thought I would throw that out there, it does work on rooted devices.

Agreed, useless to me. I can't say it bothers me either. I have Netflix, which works fine on a rooted phone, and since watching a movie on a phone is often just a time killer, Netflix will do. Perhaps someday someone at XDA will come up with a way to mask root. They must be probing for su or something, seems like it could be hidden from specified apps some how.

so easy to get torrents in my country that this is in fact worthless, i migth try it once but if i have to unroot my device then i will not bother trying it :P

It doesn't work for crap on my 3vo it won't even link to the movies its dumb

Honestly, this needs to be updated at Google's Level to actually say 'MOST' non-rooted devices. When I try to install it via the web market, it says my MyTouch3GSlide (HTC Espresso) is not compatible. When I try to search on my Device, it just ignores it.
When I try to scan the QR code, it says no results found.
This seems to be the same issues that Netflix has, it doesn't actually work as well as they (or I) wish it would. Seems I will just have to wait for my new device in the Fall and use it on there instead.

I have the upgraded to Honeycomb 3.2 and have my videos on the SD card. This app does not see the SD card.

I unrooted just to get this but it still says I'm rooted

Installed on rooted captivate... not paying 3.99 to stream movies though... not for rent.

Tt installed on my rooted Galaxy Tab, but it will ONLY stream. I will probably use Samsung's Media Hub going forward since the only time I'd watch movies on the 7 inch screen is in an airplane. On the other hand, Google Movies on the HTPC would work nicely.

so is this the same as the video store in the market?? omg too many apps

To remove DRM of Google Video app is too easy.
just dump your localhost (lo).
to evade rooted device check. remove SuperUser.apk
you can get root access to using "su" command on adb shell
or chmod 4755 to your dump script before removing SuperUser.apk

Can't imagine using Android without being rooted.

im downloading it now on my rooted mytouch 4g. im running cm7.1.0-rc1. it seems to work just fine. havent had the time to see if renting on the videos works for me though, but it linked to my google account just fine...

Its just an APP guy... obviously you can download it. You won't be able to play videos

"Now, the Videos app is available for all devices that are running Android 2.2 (Froyo) or higher." Err, no. Not in my little corner of the world. Google really aren't helping themselves by limiting a lot of their new services (Videos, Music, etc) to the US only.

downloaded to my un-rooted EVO 4G w/GB. could install but get error every time i click on a movie. uninstalled.

Does anyone know when or if the videos app is coming to Canada? It appears In the market when I click on the link in the above article, but it doesn't give me the option to download it.

Google Videos in the Market doesn't want to install it on my stock Inspire with 2.3.3.

same here. i noticed it before in the updated android market that the movies section is suspiciously missing. i was speculating that AT&T blocked it because it would cause catastrophic failure to their HSPA network, lol. but i could be wrong

Supposed to run on ALL devices running 2.2 ? They said the same about Google Music too...

IDK .. Maybe it's just me. But I feel that these movies should be set at. 99cents. I mean we're watching them on a phone or a tab .. But I do think that it's cool that the option is there.

AndroidPolice is talking smack in Twitter. They say "some sites are reporting that the Google Videos app is now Froyo/Gbread compatible. It has been since July, guys. ". LOL

Or you could just download the Google Video that I modified to disable the root check. http://forum.sdx-developers.com/index.php?topic=16930.0O This is the older Google Video but Google Video has always worked with every 2.2+ device anyway.

Did anyone else get charge $0.99 when you made the update yesterday?? Google charge me for the update. I did not receive any email notice for the amount of $0.99. I just notice it today when i check my bank statement. WTF!!

They should have this available to Google TV users first and foremost. What happened there? No love for the early adopters of the Revue.

would anyone be able to upload the .apk for this google video? Can't get it from here yet...cheers!