Doomed luxury phone maker Vertu auctioning its concept phones for $26,000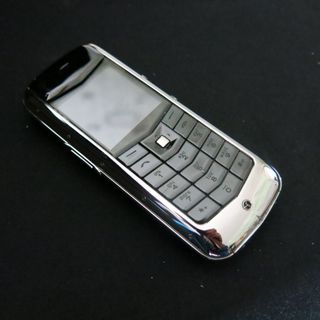 Vertu, known for premium Android handsets that sold for multiple thousands of dollars, announced earlier in 2017 that it would be closing its doors after being sold multiple times in recent years. The company took standard smartphone components, wrapped them in luxurious materials, bundled a concierge service and charged thousands of dollars for the privilege. It wasn't something most people would use, nor something most people would likely encounter.
The company has now announced it would begin auctioning off its concept phones starting at a cool $26,000. This seems expensive, but it's actually a steal in Vertu land: the lucky buyer gets his or her hands on 105 phones, making the average cost per phone a reasonable $250.
There's no indication these are working prototypes, but they sure are pretty. There's a healthy selection of touchscreen and old-school number pad phones, for those that want to spice things up even more.
Are you interested in owning the Vertu concept phones? Let us know down below!
Android Central Newsletter
Get instant access to breaking news, the hottest reviews, great deals and helpful tips
You know, if I had the money I would.

R & D for them means Ridiculous & Dumb

Consider the materials they used. Once you do, you'll realise 22000€ for 105 phones is actually a far better deal than the 1000€ a single iPhone costs lol

Wonder if they finally get the memo that regardless of people being phone enthusiasts that people still won't spend thousands, and thousands of dollars for a phone.

These were made for billionairs, oil barrons and royal asshats - the same people that buy and wreck ferrari's on the same day just for fun. In essence, just pure garbage people...

And how that work out for them?

Slacker,. LOL. Without them, you have nothing. Don't bite the hand that feeds you,puts clothes on your back and a roof over your head....just sayin

These kind of people are generally trust fund babies and do nothing for anyone else

What a joke. Did they really think people would actually pay that kind of price? Even people with money to burn.

In 2013, a non-working Commodore C65 prototype was sold on eBay for $7,625.
And that is just one example. It isn't that far fetched really to think that someone will pay that. While I don't think the brand has anywhere near the awareness surrounding it, I wouldn't be so quick to dismiss it..
A collector, or even a museum maybe.

But that has historical value

Good riddance to bad rubbish

Doesn't seem like a wise bunch of business people... Who would spend that much on obsolete, unfucntional prototypes?

Can't afford it. I'm saving up for a beach house on the coast of Utah.

That phone in the thumbnail has a Siemens S66 vibe to it. The materials and design were cool, but the soc and camera were obsolete, so that didn't help.

You know, if I could buy a working phone for, say, $700 I just might do it. It would be an interesting novelty. But old golden stick phones are on that auction site for over a thousand pounds, so it's pretty unlikely.

All the people who have criticising "who will buy", the bid at the time of writing this stands at over £62000 - more than 3 times of the starting bid.

Yep. Now £66,000 with 3 hours to go.
I was going to say yesterday this will go well over 100,000*

For those criticizing Vertu's business model, keep in mind that the company has actually been around for a while, once being a division of Nokia. Sure, this was a bad model for smartphones, which become obsolete very quickly, but people kept feature phones longer, since the technology wasn't changing so fast. Back then, these kinds of phones had a better shot at selling, since their owners might have kept them for several years without noticing any drastic change in technology.

Good point and there's a lot of silly people here or on any forum. It would may have been a better plan to upgrade some internals for customers, though that would take some doing. To end it all, I was particularly gutted to be outbid by only £133,185 at the fall of the hammer. I wonder how their flagship London store in posh Old Bond Street fared day to day. I'd love to read a story on it.
Having a locked entrance and door security may have worked, or not.

We'll, atleast vertu packs better materials than that hyper expensive, mediocre iPhone thingummies.
Android Central Newsletter
Get instant access to breaking news, the hottest reviews, great deals and helpful tips
Thank you for signing up to Android Central. You will receive a verification email shortly.
There was a problem. Please refresh the page and try again.