Verizon is now making its own Android Wear smartwatch, the Wear24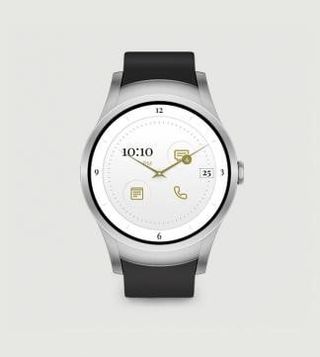 Riding on the news of the the LG Watch Sport being announced, Verizon is also releasing a self-branded exclusive smartwatch (opens in new tab) running Android Wear 2.0 called the Wear24. Much like its own Ellipsis tablets, the Wear24 watch is a less-expensive option that Verizon can offer without managing a partnership for a big brand name company.
The Wear24 in many ways shares design traits with the LG Watch Sport like its large, circular display and metal case with large band attachments. It has a 1.39-inch AMOLED display, 450mAh battery, NFC for Android Pay and IP67 water resistance. It's just a tad thinner than the Watch Sport, coming in at 13.5 mm thick.
Of course with Android Wear 2.0 on board it will function very similarly to the other Android Wear watches, but Verizon is also touting its pre-installed watch faces that are of course customizable but can also automatically change based on your location.
The Wear24 will be available for $299 with a two-year contract when it goes on sale in March, $30 less than the LG Watch Sport costs on the same terms.
Android Central Newsletter
Get instant access to breaking news, the hottest reviews, great deals and helpful tips
Andrew was an Executive Editor, U.S. at Android Central between 2012 and 2020.
Carriers have zero excuse outside of hotspots for having branded devices. Branded devices should have died a long time ago when HTC stopped doing it for carriers.

Really and why are they getting into the hardware business Lil late for that

They've done tablets for a few years now, the Ellipsis tablets.

They have ellipsis branded jetpacks/hotspots as well.

Didn't know that's who made them. Learn something new all the time.

No GPS? Wouldn't be Verizon without VZ Navigator.

Well done! Best comment I've seen in weeks!

Yup, gotta pay for that navigator when you could use Google maps instead for free haha. I used to work in a Verizon store, an alarming number of people didn't know they could use Google maps for free and paid for VZ navigator instead.

This is what the LG Watch style should have been. Doesn't Google still control Android wear? If so then what reason would it be to not get this watch? Unless you hate Verizon that much.

You're willing to pay $299 WITH a 2 year contract plus access monthly fees? That means off contract this will be up in the $400 range.

I think VZW charges $10 a month for tablets and connected devices so add $240 to the price. Oh, and that $175 ETF that doesn't decrease until month 13. Might as well buy the LG outright and just tether it to your data plan. And yes I know that defeats the purpose of the LTE capabilities of a smartwatch.

Even comes preloaded with a complimentary Verizon Watchface that you can't change :)

Verizon still does 2 year contracts?

And $299 with a two year lockdown?

Which means the watch will be $400+ off contract.

Only for tablets and connected devices. 2 Year contracts for phones finally died last month.

Lol. I'm a Verizon customer, and this seems odd, too me.

I am getting so sick of Verizon, I guess this is why they won't sell the Galaxy Gear S3. Might have to go to AT&T.

$299 for a 2 year contract.... Verizon is definitely smoking something.

$300 and a 2 year lockdown???... No way!!!... Easy PASS

Sadly, I won't ever have a connected watch or other device on Verizon because they refuse to let me add it separately from my unlimited data plan for my phone. I don't understand why they don't understand that I'm NOT willingly giving up my UDP.

It'll have a big Verizon logo on the front.

I was just recently at a Verizon store wanting to buy a tablet. They say 2 year contract plus data allowance or full price. I say, keep it, I buy at ebay for half price and use wifi. What a stupid business model that is. People have other choices. Verizon lost a couple hundred bucks on me. The same goes for that watch. If it's worth something it will be on ebay or such for much less money than big V demands.

I'm guessing Android Wear updates to this will come about 8 months after it's been released to every other watch.
Android Central Newsletter
Get instant access to breaking news, the hottest reviews, great deals and helpful tips
Thank you for signing up to Android Central. You will receive a verification email shortly.
There was a problem. Please refresh the page and try again.