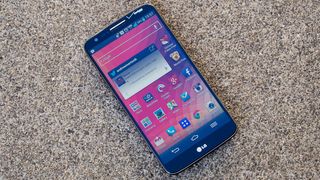 So much to love in one ph​one, with a few potential deal-breakers thrown in
For those who used them, LG's most recent flagships the Optimus G and Optimus G Pro generally have been regarded as really nice devices with solid hardware and a unique software experience. For the end of the 2013 smart phone season LG is launching a new device, the LG G2, that is logically a successor to the original Optimus G, but pushes up the screen size and borrows many design and software cues from the G Pro.
There's no more "Optimus" in the name here, but that doesn't mean that the LG G2 doesn't build on a long history of solid LG phones. LG has taken the latest in internal hardware specs and wrapped them up in a distinctly LG design language that also has a few quirky new features. On the software front it's generally more of the same, but that isn't necessarily a bad thing.
Read on with us after the break for our complete review of the LG G2 on Verizon.
Inside this review: Hardware | ​Software | Cameras | Bottom line
Verizon LG G2 video walkthrough
It's hard to get too far into a review of the LG G2 without talking about the specs, speeds and feeds that have been stuffed into the device:
| | |
| --- | --- |
| Operating System | Android 4.2.2 Jelly BeanLinux Kernel 3.4.0LG Optimus UI version VS98010B |
| Display | 5.2-inch IPS LCD1080 x 1920 resolution (424 ppi)Multi-touch, 16M colorsCorning Gorilla Glass 2 |
| Processor | Qualcomm MSM8974 Snapdragon 800quad-core Krait 400 at 2.26GHzAdreno 330 |
| Memory | 2GB RAM32GB internal storage (25GB available) |
| Camera | Front: 2.1MP with 1080p/30 video recordingRear: 13MP autofocusSimultaneous video and image recordingGeo-tagging, face detectionOptical image stabilization, HDR |
| Battery | 3000mAh Lithium Polymernon-removeableQi wireless charging |
| Connectivity | GSM 850 / 900 / 1800 / 1900HSDPA 850 / 900 / 1900 / 2100CDMA 800 / 1900LTE 700 (Band 13)802.11 a/b/g/n/ac dual-band Wifi, Wifi DirectDLNA, MiracastBluetooth 4.0, A2DP, LEA-GPS, GLONASSNFC |
| Miscellaneous | AccelerometerGyroscopeProximity sensorCompassAmbient light sensor |
| Dimensions | 138.5 x 70.9 x 8.9 mm143 g |
Well-made, but still plastic
With the move to an interesting glass back on the original Optimus G, LG broke the mold (get it?) on its phone design that had generally consisted of glossy plastic materials. Well it turns out instead that the Optimus G Pro was a bit of foreshadowing for what we'd see in an eventual Optimus G successor — the LG G2 is just as glossy, shiny and slippery as any other phone that has been taken to task for its material choices.
But that doesn't mean that the LG G2 isn't well made. Likely helped by the non-removable back plate, the G2 is solidly constructed with not a seam out of place around the entire build. The phone is comprised of three main parts — a complete back plate, a plastic rim around the sides and a slab of glass on the front. The use of a minimal number of main components means the phone feels solid and looks consistent all around.
Ergonomically, the G2 fits much better into your hand than you'd expect considering the 5.2-inch display on the front. It's a touch wider, but is no taller than the other "large" phones out there. All around the phone the edges are nicely smoothed and curved — it will never catch your hand the wrong way or feel physically uncomfortable. But the slickness of the plastic along with the width and height of the phone definitely push the boundaries of what we consider usable nowadays.
As a tradeoff for this very small bezel and relatively compact design for its screen size, LG has moved the power and volume buttons to the back of the phone. LG has put some software tweaks on the phone to help you out with the ergonomic troubles here — which we'll cover further down in the review — but even with these fixes the G2 is still basically a nightmare to try and access these extremely basic phone functions of volume and power on.
The overall hardware package on offer with the G2 is a hard one to stay mad at, even with the unconventional buttons and lackluster material choices. The phone is built extremely well and gives off a feel in the hand like you're holding something that was worth your investment. Spec junkies will be happy with the internal components as well, adding up to an overall hardware-lovers dream.
Verizon LG G2 display and speakers
LG has chosen some great displays in its devices, and the G2 is no exception. The 5.2-inch 1080p LCD panel is bright, stunningly clear and has accurate colors. Although we could argue that it may not be quite as bright as the display on the HTC One, we had absolutely no issues using the phone both indoors and outdoors. Color reproduction and viewing angles are good as well, and we didn't notice any distortion of images in normal usage.
Our only issue with the display came from the way LG handles automatic brightness, which is both confusing and frustrating. You're able to adjust the brightness of the G2's display with a slider in the settings, as well as check a box for "automatic brightness" that should adjust things as you move to different lighting situations. LG's software implementation doesn't seem to dynamically adjust the brightness, however, and simply lowers the brightness level a set amount below whatever the brightness slider is set at.
For example, you can set the brightness to 100 percent and turn on automatic brightness — the screen will dim some, but you can then slide the bar farther down and the brightness will dim more. Leaving automatic brightness on, we never actually noticed the brightness levels changing even if we changed our lighting environment drastically.
Moving on from the display down to the bottom of the phone you'll find three drilled holes for a loudspeaker. This definitely isn't going to be a "BoomSound" kind of audio experience, but we found that for video watching and the occasional song or two, the G2's speaker could go much louder than necessary and do so without any distortion. Our only issue comes with how easy it is to cover up the speaker port with your pinky finger as you hold the phone up, if you're not careful.
The Verizon network
This particular G2 is of course running on Verizon's LTE network — and in terms of connectivity and speed the device performs just as well as the other Verizon handsets we have in, most recently being the HTC One.
Verizon's LG G2 is unlocked for AT&T and T-Mobile HSPA+
When it comes down to the raw numbers, though, Verizon just isn't what it used to be where we live here in downtown Seattle. Although the entire area is blanketed in a deep coating of LTE signal, during the day data speeds have gone down to a crawl. It should be said that the other providers face some of the same issues, depending where you are, but this is just extra surprising for Verizon which claims to have such a robust network.
In terms of call quality we noticed no issues whatsoever, which again we'd expect on Verizon.
Other radios and connectivity
Mobile network aside the G2 has great Wifi performance and includes compatibility up to 802.11ac, which is nice. You'll also find Bluetooth 4.0 inside, along with all of the other sensors and radios you'd expect aside from an FM radio tuner. Although some people have reported GPS issues with the phone we haven't had any such issues in Google Maps or any other app requiring location access.
LG G2 software
One aspect of the G2 that will remind you that you're using an LG device is the software. If you've spent any amount of time with the latest iterations of LG's phones you will probably feel right at home here, although with the G2 it has added a little bit of polish and also a few quirks. The system is built with a base of Android 4.2.2, but this certainly isn't "Stock" Android.
Look and feel
Across the entire interface the colors, iconography and overall layout gives off a very "LG" feel. You can take that statement how you want, but we can at least give LG credit for offering a pretty cohesive look to the entire device. The interface is primarily built on a black, white, grey and blue color palette with some gratuitous transparency and 3D animations thrown in for good measure. We can certainly say that LG's current software offering looks a touch more "grown up" than what Samsung is doing nowadays, but it still just doesn't feel as elegant as what you'll find on a Nexus device or with Sense 5.
One of the most surprising and puzzling inclusions in LG's software build is a persistent software menu key in the on-screen button arrangement, which takes the place of a dedicated multitasking button (now relegated to a home button long press). Not only does this hide basic functions arbitrarily behind the menu button, making it hard to discover and use features, but it just downright flies in the face of the direction that Android software development is headed. Above all, there's little reason to have a persistent menu key on a device that has on-screen buttons — we could see if LG was trying to avoid an HTC "black bar" situation, but with on-screen buttons you'll never have an eyesore like that.
LG goes so far as to offer six different configurations of on-screen buttons, four of which add a button for lowering and raising the notification bar and none of which include a multitasking button or remove the menu button. Android has moved on from the menu button LG, it's time to get up to speed.
Apps and features
Falling into the unfortunate trend of recent Android manufacturer's software design, the G2's software looks rather haphazard out of the box. Pulling down the notification shade reveals a bevy of quick setting toggles, a group of "QSlide" apps and persistent notifications to change the media volume. Moving through the default home screens and into the app drawer doesn't help much either — things are sorted weirdly, there are many uses of the unintuitive menu button to change settings and some colors and animations just throw you off.
Using Quick Memo for notes and annotations on the LG G2
Luckily if you're willing to spend a solid hour (yes, a full 60 minutes) customizing things — primarily to turn features off — you can get the software paired down to something a bit more manageable. The persistent QSlide apps in the notification bar can be turned off, the on-screen button background can be switched to black (as can the app drawer background) and the wacky home screen animations can be toned down.
Daily life with the LG G2
Once you do get the software dialed in the way you like it and back to a more simplistic state, you start to appreciate the speed and fluidity of the system. LG has packed every bit of high-performance hardware under the hood with the G2 and the software certainly takes advantage of that. App performance, from basic tasks up to 3D gaming, moves along without a hitch — and it's clear that there is performance to spare while doing it.
After getting our G2 set up how we like it, we were able to go through our usual routine just as we would with the Nexus 4 or HTC One without any jarring differences. When it comes down to it, the G2's software is perfectly usable without a steep learning curve.
We're sorry to say that the same wasn't true for those buttons on the back of the phone. After using the G2 for well over a week, we never came to a point where our hands would be able to naturally land on the rear buttons — nor could we develop the muscle memory to properly adjust the volume and turn the screen on and off with them. LG's inclusion of a feature called "KnockON" — which lets you double tap the sleeping screen to turn the phone on and double tap the screen again to turn it off — helps a great deal but doesn't make up for the poor button placement. We couldn't get KnockON to work anywhere near 100 percent of the time, and that's just a bad experience.
We soon reached the point where more often than not we were flipping the phone over in our hand to find the power and (more often) volume buttons throughout normal use of the G2. It's an annoying, even bordering on frustrating, experience every time we use the phone. Being that Verizon has redesigned its G2's buttons to be flatter, narrower and of a different material we think that has something to do with our difficulties, but wider buttons aren't going to fix the fact that they're on the back of the phone where you can't see them.
LG G2 battery life
LG has opted for a non-removable battery in the G2, and along with better engineering options for a more rigid chassis it also afforded it the freedom to put a 3000mAh battery in this 8.9mm thick shell. Even with high-end internals and a large pixel-dense screen, the G2 managed to handle our usage very well.
Our primary usage pattern involves lots of time on Wifi throughout the day, mainly using the phone to keep up on messages, social networks and a few casual games. Later in the evening we might step into some more intense gaming, video watching and podcast or music listening. With our standard usage pattern we very often put the G2 on the charger before bedtime at 40 percent battery, after going through a full 16 to 18 hours of usage off the charger. Depending on the day, usage was naturally different — more time out and about with 100 percent screen brightness and on mobile data certainly affected battery life negatively — but we never went to bed with under 20 percent battery left in the tank.
One of the interesting characteristics of the battery was that it didn't seem to drop dramatically when the phone was under use compared to idle. No matter how sporadic our usage throughout day was, the battery seemed to drain down at a generally constant rate when looking at the past few hours of battery history. Now this may have been more alarming if the battery life was poor, but we have no issues with a phone that provide consistent battery drain throughout the day.
It's fair to say that the G2 is going to make it through a full day, even for the heaviest of users out there. For the lighter users you may not have enough juice to push through one day and onto the next — you'll want to look at the Motorola Droid Maxx for that — but you will never have to worry about battery life the way you might on other devices.
LG G2 cameras
Smart phones have taken a leap in camera technology in 2013, and while there are plenty of poor choices out there still, the front runners are doing some great things in both optics and software that raise the bar of what these devices are capable of in terms of imaging. The LG G2 is no exception, and although we have already seen some great camera offerings this year, we can say that nothing comes close to this device.
On the surface it seems as though LG isn't doing anything particularly groundbreaking from a hardware standpoint — we have a 13MP backside-illuminated sensor with optical image stabilization (OIS) and a sapphire crystal glass lens. All things that have been done before in one capacity or another, but never together in this configuration. As some like to say, the camera experience here is greater than the sum of its parts.
Pictures
Let's start quickly by focusing on the camera UI, because it is maybe just as important as anything else to an enjoyable photography experience. The UI follows LG's design language from the rest of the phone, and is actually both well-appointed and easy to use. You get the basic functions of switching between stills and video, a shutter key and gallery button on the right, with options for switching the camera and toggling modes on the left.
By default the G2 is set into an iAuto (intelligent automatic) mode, with no other tweaks available — iAuto scans the scene that you're shooting and selects the best modes for you, much like other manufacturers are doing. Once you toggle iAuto off, the fun begins. You can now select different shooting modes, including HDR, panorama and burst, as well as tweak all of your camera settings. You can manage brightness, focus type, ISO, white balance and a few other settings or choose between different pre-configured "scenes" (the ones iAuto chooses from).
Click images to open full resolution in new window
We carried the G2 with us as our primary device and took pictures every chance we could, and found no situation where it didn't perform fantastically. In the daytime, you can get amazingly crisp pictures with no noise or aberrations and colors that pop — regardless of whether or not you're using HDR. You can give some of the credit to having 13MP to work with and the rest to LG's image processing.
In low light the situation was much the same — having both a high megapixel count and OIS to work with means that nighttime shots in either HDR or "night" mode with a longer shutter speed had less blur and noise than any other phone. In our time with the G2 we found its low-light performance to be better than the HTC One in nearly all situations, and at least comparable in extremely low light.
After spending an extensive amount of time with the G2 and comparing to a whole host of other devices, we have to say it is the best camera available in an Android phone today. Whether you just want to leave the G2 in iAuto and let the algorithms do their magic, pop over to HDR for a punchy shot or tweak the settings manually, you will be able to get great pictures across nearly any situation with this camera.
LG G2 video
You'll have 1080p video at your disposal on the G2 of course, but LG also throws in an option to choose either a 30fps or 60fps frame rate. 30fps is a more "standard" frame rate and usually looks the most natural, but 60fps will give you a smoother video overall — combine that with the OIS we mentioned above and you can get nice and smooth video even when shooting handheld. We noticed that the microphones could get a little overwhelmed and sound unnatural in loud environments, but it seemed to be a sporadic occurrence.
You're not going to be filming your way to Cannes next year with the G2, but it'll do well for capturing those moments that need video instead of stills.
The bottom line
If it isn't clear at this point in the review, there is a whole lot about the LG G2 that should have you excited whether you're a screen snob, tech spec geek or camera aficionado. Personal preference on the material choices and button position aside, LG has built nice-looking and fantastic performing phone. The screen blows just about any other available phone out of the water, and LG has paired back the software notably from its previous offerings and thrown in a handful of very useful features. That's all leading up to the best camera experience we've ever had with an Android phone, capable of matching or outdoing Samsung, HTC and Sony in all conditions.
Should you walk into your nearest Verizon store and buy an LG G2, no questions asked? Well, we're not willing to go that far on any smart phone out there today. Our small gripes with the buttons and software may be more or less of an issue for you than we have found here, but they're still there and aren't going to change. If you're ready to make a buying decision on Verizon for a high-end phone with a large screen and want the best of the best, the G2 should be on your short list.
Image 1 of 17
Image 2 of 17
Image 3 of 17
Image 4 of 17
Image 5 of 17
Image 6 of 17
Image 7 of 17
Image 8 of 17
Image 9 of 17
Image 10 of 17
Image 11 of 17
Image 12 of 17
Image 13 of 17
Image 14 of 17
Image 15 of 17
Image 16 of 17
Image 17 of 17
Andrew was an Executive Editor, U.S. at Android Central between 2012 and 2020.
I AM S4 USER BUT ITS ALSO NICE PHONE. IF YOU WANT TO GET NEW PHONE, YOU SHOULD TRY THIS. OR NOTE 3. ITS UP TO YOU. ;)

IN MY GOOD EAR PLEASE! Posted via my thumb(s) and the Submit button

me personally the ui is way to busy

Awesome phone, all the best specs at very reasonable price Posted via Android Central App

which is better? LG Optimus G Pro or LG G2?

G2 for sure. the OG Pro is nice though....just not as up to date as this one is. but if you need that extra .3" on the screen, the pro is far from a crap device.

I agree 100%. I just got a new white OGP from ATT to use on T-Mobile. I don't need the latest and greatest (impossible to keep up!).

If you can live with the back buttons, theres no reason not to get the G2 over the G Pro.

G2 by far. Posted via Android Central App

Best Android phone ever!!!

and all paid by the nsa...

I am on G2 and its nice to have button at the back. I never wrong press3d the volume button anymore

Who be paying me, yo?! **At this particular moment, his comment is tough to argue.

Paid by Google? Posted via Android Central App

Paid by Apple? Posted via Android Central App

It's a great phone with all the pros and cons mentioned. I used one for a week before returning it and ordering the 32gb dev edition X for Verizon. Size is both a pro and con. The screen is huge and clear but the phone's width meant I was constantly shifting my grip to reach the upper left corner with my right thumb. Combining that shift (from wrappping my fingers around the left side to wedging it against the heel of my thumb and resting on my other four fingers) with the pretty slippery back made me feel like I could drop it. A cover can cut down on the slippery-ness but also makes it even thicker. I've got a pretty average size hand and admittedly it's a personal thing. If you don't mind shifting or using both hands, enjoy. QSlide is an unnecessary gimmick - long pressing the Home key is quicker and already ingrained in Android. Knock on worked maybe 3 out of every 4 times - it helped to do one knock, quick pause, followed by two short ones.

Thanks for the great review Andrew... Good stuff. Answered a lot of my questions and even raised some new ones. Looking forward to getting to the store to actually try it out.

I've noticed that I do 3 quick taps to turn it on and off. Works 99% of the time. I havent ever had to revert to hitting the power button on the back. Obviously you cant do the "knock, knock" inside most apps, which sometimes its a pain to hit the home button then knock. The button placement to me is only natural when your actually on the phone with somebody and when holding the phone with my right hand my finger rests on the volume down. It is a reach to hit the up button. Overall I think Android C has had the most well rounded review of the device.

When inside an app (or a 3rd party launcher) knock on works by tapping on the notification bar. I'll let you decide if that's less tedious than pressing home, then tap. Posted via Android Central App

Wow, even in the review article with a brand new phone there's scratches on the back of the phone already! Check out the photo right under "LG G2 cameras", the one of the top back of the phone. Scary.

I think you're confusing smudges that reflect light with scratches. Looking at the back of the phone right now, it still looks brand new. The plastic seems pretty resilient. If it was scratched and chipped after a week and a half of use, I'd be complaining in the review :P .

Thanks for the clarification!

I've had the phone since it came out and I did get a couple of very fine hairline scratches on the back. You have to really look and be in just the right light at just the right angle to see them, but they are there. I've since put the Zagg shield on the back so I don't have to worry about that anymore. Aside from that it really is an amazing phone.

I also returned the phone, but it made me a little sad to do so. It really is a great phone, I just want a little more screen size that the Note 3 will deliver. The only thing that bothered me a little was the thickness. The GS4 almost feels magically thin, making the LG G2 seem pregnant. Its only a millimeter or so larger, but it was noticeable. I picked up a iPhone 5S in the interim until the Note 3 comes out and I must say, it makes me miss the LG G2.

I hear you - but you are picking up so much phone with the Note for just a little more .5" screen... It's a tough call. The social stigma and size-in-hand of the larger size Note still hangs me up. The LG G2 size is more phone like for now I am going to stick with it... If no issue with Note size then a great choice. Nice to have at least two good options on VZW.

The social Stigma?? Inform me please Posted via Android Central App

After looking at the Note 2, and seeing someone on the phone with one, my wife said no way. "That just looks silly." I am assuming that is what they were referencing. Love the screen real estate though.

When im using my note... Tell your wife...no hard feelings but we aren't worried about what people think.. Lol... Its an extremely solid phone... Best android experience out of all my androids... Thats said.. I think about canceling my note3 order because idk that i wanna carry this large of a phone for another year Posted via Android Central App

Man i kinda want to try the 5s but i am afraid of leaving android after 5yrs... So many things to consider... But i actually like the 5s..the first iphone I've ever considered.... For a couple of reasons... What don't you like other than the screen size? I have a note2 ordered but its between that and the 5s Posted via Android Central App

That extra thickness is because of the built in wireless charging. It makes the back cover just a tad thicker than it would be otherwise.

Its just 1mm thicker, and that's mostly in the middle because LG nicely tapers off the back plate around the sides. In the end we're still talking about a phone that's less than 9mm thick... it really fits in the hand just fine. It's all about the proportions and feel — the actual thickness really isn't that important.

Wow, they must be trying to fill up the entire notification area with icons. I suppose the AT&T version also has the AT&T logo thrown in there somewhere ala iPhone.

The AT&T version has "AT&T" in the notification bar on the left side.

Played with one at the Verizon store and man is that thing fast. Noticeably faster than the SOs GS4 (and that phone is plenty fast) and that screen is absolutely gorgeous. If I didn't want the functionality of the SPen I'd definitely check it out.

They got rid of the best part of the Optimus G Pro on the G2, the LED back-lit home button. The indicator light lighting up the home button when I get a text, miss a call, get an email, etc is one of the coolest product differentiating features of the G Pro vs my old Note 2. I'd gladly trade the stupid volume buttons on the back for that light up home button. I just don't absolutely love the on screen buttons.

Well you have an LED notification light above the screen, too, which does the exact same thing a light up home button does without the downside of having to deal with a physical home button.

Yes but the home button is a lot cooler and something that distinguished it from the plethora of black slabs out there Posted via Android Central App

Don't think being "cooler" makes it different at all in functionality. LG is doing plenty on the G2 for the design to differentiate from other phones... buttons on the back, anyone?

You could have simply said "to each their own" ... don't have to be a prick about it Posted via Android Central App

I just got the LG G2 from Verizon . I am a small female and I have no trouble with this phone's back buttons. I like that better , as I always had to remove the phone from my ear and look at the side volume buttons to operate them . Now I don't need to do that with those buttons on the back. I love this phone in every way.

I love the buttons on the back. I really like the knock on feature. How often do you really use the power button?, maybe twice a day for a fresh reboot, thats actually good for your phone. Now I have a question, I download and installed adobe flash player on my G2 at&t variant and the player works flawlessly on my stock browser and boat browser aswell. But flash player is not in my app drawer?, but if I tap on settings and then apps, its there?, I can't figure out why this is. Can you maybe explain, if you know why this is? Anybody can answer this:-)

I still want this phone so I can flash Paranoid android or Cyanogenmod lol! I'll probably just wait for the Nexus 5 as its based of the same hardware more likely than not.

If this is what the new Nexus is going to be based on, I'll be thrilled! I think this phone looks amazing and that screen size is just perfect! The extra 0.2" really get my hopes up, comparing to what we've seen from the FCC. Posted via Android Central App

FWIW, Verizon LTE performance in my area is similar. It was unquestionably the fastest network two years ago. But now with more LTE devices on it, speeds are significantly diminished. Often it is just marginally faster than 3G. Too bad Verizon screwed up the volume rocker. I applaud LG for thinking outside of the box, and I believe more owners of the international & ATT versions will actually use the feature. But Verizon completely fubar'd it by making the buttons too small and too similar. No one wants to look at the buttons to use them -- that defeats the whole purpose. I have a feeling that will be a dealbreaker for many, and the reason for a lot of returned Verizon G2s. But if you can get used to the rocker, the G2 seems to have the cojones to carry you to the next upgrade, so long as you can put up with some quirks.

I love my g2, i really do, but i just found another dead pixel, which puts me at 2. the first one I got i had to return bc of dead pixels and dust under the screen, and now verizon said i can't do another exchange. either way, I'm not going to bc i have no desire to deal with possibly getting one with a heat issue or something so I'm keeping it. on top of that, i can't take the content adaptive brightness Bs they force on the phone. you can't disable it at all, and it makes the phone screen flicker based off of what is on the screen. you can sit stationary and sit and watch it flickering when a pic is on the screen. it's absolutely TERRIBLE. Posted via Android Central App

No dead pixels here. It sucks, but you really should return it until you get one without dead pixels — that's not supposed to happen. As far as adaptive brightness, you definitely can turn it off. Go into the display settings and uncheck the box under brightness. I'll agree their auto brightness is weird and useless, but you can turn it off completely.

nope, that's not what I'm talking about. it's not auto brightness, it's qualcomms content adaptive brightness. in titanium, you find the app, then use quick shortcut maker to open it.. you can then select "off" but even when you do, it still occurs. watch my video. many people are seeing this issue, and because you can't disable it with that app, it has to be a kernel issue. I'm hoping more devs jump in.. https://www.youtube.com/watch?v=slwkFhpiYbs&feature=youtube_gdata_player Posted via Android Central App

Andrew, concerning the button placement, do you find it more natural for the AT&T version? I haven't seen or used either version, but the AT&T version looks more ergonomically accommodating.

I haven't used the international or AT&T version, but Jerry and Phil seem to have less of a problem with those models' buttons.

As an AT&T customer and owner of the G2, I can agree with their sentiment. For those on the fence about the buttons, I think the VZW version could be a dealbreaker, where it might not be if it used the standard design. I think VZW/LG made a mistake with the redesign. Maybe it was required in order to get wireless charging squeezed in (speculating here) but I'm not so sure it was worth the tradeoff. However, I've seen a ton of very happy VZW G2 owners so it's not the end of the world. To be honest, I barely ever need to use the buttons anyways.

The redesign was most likely necessary to accommodate wireless charging (makes the back flatter ) Posted via Android Central App

I have the phone on AT&T and I am very happy with it. The review states that the camera default is set to iAuto. I have the AT&T version and Normal is the default. It is kind of annoying as I wish it stayed in iAuto.

Things like this are often changed by carriers. Posted via Android Central App

Andrew, who's the "we" you keep referring too?

any mention of the hideous call quality? just returned my vzw lg g2 after a week of using it. great phone.. err great 5.2'' tablet I mean.. as far as a phone it sucks.

Lets be honest all cellular call quality is pretty crappy compared to good VOIP, but I never noticed the G2 being any worse than any other phone.

Agreed, I admittedly don't talk on the phone a lot, but the calls I have been on have been pretty good for me personally. Posted via Android Central App

Probably a defective phone or bad network connection. Posted via Android Central App

I too get this only some of the time, but not every call?, not sure why this is but I just use me headset to settle this issue. Huge difference:-)

I've had the phone since it came out and paid full retail for it and I couldn't be happier. I haven't had the issues with the buttons as much and I'm able to get the knock on feature to work on the first time over 95% of the time. I think it just takes some time to get used to it. I had the Galaxy Nexus before this and I checked out all of the other superphones in the store before choosing the G2.

This is the first review I have read where the user never got used to the buttons on the back at all. I find it pretty easy to use them and in reg use my index finger falls in the same spot as Andrew's. One thing that is never mentioned in the review that has to do with the different buttons (size) is the wireless charging you get with the Verizon version. Why is this not mentioned at all? Sure most everybody knows this but it should still be mentioned.

Exactly. No offense to Andrew but As much as I enjoy AC reviews overlooking things like this (most likely because the author just didn't like the change) is getting old. Each carrier makes changes to the devices. They always have reasons for them. You may not like or agree with them but there are always reasons and many of us like those changes. I love wireless charging now and would have a hard time going back to a device that didn't have it. For me that is more important than slightly smaller and flatter power and volume buttons. Posted via Android Central App

Yes Verizon included wireless charging, but they also made the buttons smaller and harder to hit (when they were already hard to hit in the first place). There's no reason to mention something like Qi — its there, it works, hooray. Poor ergonomics and usability are things that actually need to be discussed.

It is listed in our full spec sheet as having Qi wireless charging, right under the battery size. What else is there to mention? It charges wirelessly, it works with Qi chargers just like every other device. It's not worth spending any more time on — it's a spec.

All I'm saying is since you add a line like this "Being that Verizon has redesigned its G2's buttons to be flatter, narrower and of a different material we think that has something to do with our difficulties". It would be nice to know why they changed them.

We have no information as to why Verizon changed the buttons. They change the designs of lots of phones on their network to be different from other phones on other carriers. Just look at all the branding and some of the software tweaks — its all about differentiation. I can tell you right now that making the back buttons out of another material and making them look different from the AT&T model has nothing to do with the inclusion of Qi wireless charging. There's nothing about including a small charging coil under the back plate that necessitates a button redesign any more than it necessitates having "VERIZON 4G LTE" printed on the back.

I've had the T-Mobile version since last Monday. Coming from an HTC One, which I gave to my wife to replace her POS S4, I am quite happy with the G2. Everything is fast, fluid, and a pleasure to handle. As for the buttons on the rear, I have not had any issues with finding the correct button to push, but then again, unlike Verizon which always has to change something, the T-Mobile version as well as AT&T's and Sprint's use the same buttons as the international version. A colleague of mine bought the Verizon version last night. I can tell you that there decision of the buttons was a mistake. They are to small and to flat. So I can see why Andrew said what he said. But, not so, at least for me with my version! I actually enjoy the stock LG software on the phone. This is the 1st phone that I have not rooted as soon as a root exploit was found. Everything I throw at it just runs silky smooth. 1 thing I do miss from my One, believe it or not, is Blinkfeed. I know most poeple won't say it, but it was actually quite useful, though I wish more feeds could have been added. I will say that my wife definitely enjoys using the One over the S4, and I am pretty relieved not to have to hear her b**** & moan constantly. I'm not a stock Android type of person, and I enjoy mostly what the manufactures try and do with there skins. The menu button doesn't really bother me, but to each there own when it comes to that. Its funny though cause my son which uses a Nexus 4, I think is plain and boring. But then again, thats me... Knock on, knock off works 99% of the time when I use it. LG did a really nice job on this phone. It fits really nice in the hand, and using it 1 handed has not been a problem. The screen is gorgeous, bright and very clear. Being plastic has not bothered me 1 bit. In fact, if you watch the making of the G2 video, there is a lot that went into designing the rear casing. I never keep my phones naked anyhow, so a nice TPU case hides the slick feeling anyhow, and offers more protection. I won't even get into battery stats, as this thing is a beast when it comes down to it on battery! Definitely will get through a day and them some for the next. I charge my phone every night so it doesn't really matter. Could definitely watch a couple of videos on a long flight though. You and Jerry both did a nice job on the reviews! Looking forward to what you guys have cooking up for tomorrow nights podcast.

I personally like the flattened buttons of the Verizon version because it allows the phone to lie flat. I do agree about the Nexus being plain and a bit boring after going from an HTC Thunderbolt, to the Galaxy Nexus, and now to the G2 though. Posted via Android Central App

I couldn't disagree more in regards to use of the rear buttons. It did take me a full two weeks to get the feel down, but now it feels completely natural to use them. I also find that knock on works very well. I'd say 85% of the time. Q slide is pointless, as is slide aside, for me. I have "larger than average hands" I suppose, but I had little trouble adapting to holding / using the phone. Very very happy with this device.

I personally think the button placement is great.I've owned all the S series Samsung phones,the G pro and the HTC ONE.The G2 is the closest to perfect than any I've had.Depending on what you're doing,you have to reposition hand to operate volume on all these.Using the G2 has been great in portrait or landscape,the volume rocker is easily reachable.I guess all the reviewers don't like innovation or changes.And about the power button,I've used it once To turn on when I bought it.With the knock on/off feature the power button isn't used often.Unlike the HTC one that has to be woke up with the power button on top each time.The G2 buttons took me about 10 minutes to get used to.Great job LG best 5" size phone available. Posted via Android Central App

The more I am using this phone,the Galaxy s4 mini, the less I am liking it and I've only had it barely a week! I ģot it because it's small, gs4 has gotten great reviews, and I like the lighter screens like the dialer. I liked the lighter ones on iPhone 4s but it is klunky, can't be customized as much, is slow, and I didn't like being in the IPhone crowd.
I missed my speed dial, the way voice mail is set up and a lot of other things droids come with.
I came from envy touch to razor m and didnt like it's bigger size and dark screens. I was told to go to iphone which I didn't like immediately because the above things, as well as others, were missing.
I've got a lot of time and money in these 3 phones over 4 months.
The battery life in this phone is ridiculous! I loaded on some of the same apps as the 4s and never lost battery power like this. Last night it lost all of its power overnight at 70%. A while ago it lost its power in 3 hours and I had turned off a lot of things. What good and how smart is a smart phone when you have to turn off stuff and that isn't easy.
The mini has some stupid things like no spell check, no way to have ring tones for separate things like text and email, and no colored smileys.
Even right now as I write this, the phone is getting slower and hot and i have it on charger.
Maybe my phone is defective and I need another one. Iphone4s had some low battery Issues but not like this.
Any suggestions? Different droid? Iphone 5s? New one of these because its defective?
This isn't what I expected from a smart phone.
Thank you,
Denise

"Luckily if you're willing to spend a solid hour (yes, a full 60 minutes) customizing things — primarily to turn features off — you can get the software paired down to something a bit more manageable." Would you mind listing exactly what you did during this hour? I'd love to know...

It would be amazing if this question was answered. Or better yet, maybe a youtube video on how to do it? Thanks!

I've had the verizon version of the lg g2 for about 3 weeks now and love it. In the review he seems to have a major issue with the buttons on the back, grow up!! I find it much easier than searching for buttons on the top or side and after a couple of days its so easy to use. The double tap to open it is very easy and I love if you get a call is all u have to do is bring it to your ear, nothing to push at all.
The screen is really amazing and being older I wanted a bigger clearer screen than my droid bionic had. The battery last 1 1/2 to 2 days of normal use which is amazing.
The call quality is excellent and reception about equal to the motorola I had although I've had a couple of dropped calls, but in a marginal area for reception.
I was interested in the note3 but after reading reviews on how poor the voice quality is I got this. It is a phone after all and talking and hearing the person clearly is still important. Some manufacturers seems to get carried away with gimicks instead of having sound basics.
Great phone, very very fast with great battery, screen and call quality, what else is needed?

I just got the G2 & I like it so far. I was a Iphone user for awhile so it's taking a little getting used to. 1 thing I liked about ios7 is how easy it is to post to Twitter. I see on your 1st picture you have some Twitter post app, or whatever it is on the screen. How did you do that? Also, I can't figure out if the Verizon g2 has a FM radio! If it does? How do I use it? I can't find it anywhere in the apps or the phone. HELP!

it has very fine edges can be finer than those of the galaxy note 3 acheter

win the LG G2 with Yugatech's index finger challenge http://m.youtube.com/watch?v=QsSode7AMNU
Android Central Newsletter
Get the best of Android Central in in your inbox, every day!
Thank you for signing up to Android Central. You will receive a verification email shortly.
There was a problem. Please refresh the page and try again.