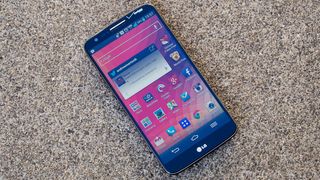 So much to love in one ph​one, with a few potential deal-breakers thrown in
For those who used them, LG's most recent flagships the Optimus G and Optimus G Pro generally have been regarded as really nice devices with solid hardware and a unique software experience. For the end of the 2013 smart phone season LG is launching a new device, the LG G2, that is logically a successor to the original Optimus G, but pushes up the screen size and borrows many design and software cues from the G Pro.
There's no more "Optimus" in the name here, but that doesn't mean that the LG G2 doesn't build on a long history of solid LG phones. LG has taken the latest in internal hardware specs and wrapped them up in a distinctly LG design language that also has a few quirky new features. On the software front it's generally more of the same, but that isn't necessarily a bad thing.
Read on with us after the break for our complete review of the LG G2 on Verizon.
Inside this review: Hardware | ​Software | Cameras | Bottom line
Verizon LG G2 video walkthrough
It's hard to get too far into a review of the LG G2 without talking about the specs, speeds and feeds that have been stuffed into the device:
Swipe to scroll horizontally
| | |
| --- | --- |
| Operating System | Android 4.2.2 Jelly BeanLinux Kernel 3.4.0LG Optimus UI version VS98010B |
| Display | 5.2-inch IPS LCD1080 x 1920 resolution (424 ppi)Multi-touch, 16M colorsCorning Gorilla Glass 2 |
| Processor | Qualcomm MSM8974 Snapdragon 800quad-core Krait 400 at 2.26GHzAdreno 330 |
| Memory | 2GB RAM32GB internal storage (25GB available) |
| Camera | Front: 2.1MP with 1080p/30 video recordingRear: 13MP autofocusSimultaneous video and image recordingGeo-tagging, face detectionOptical image stabilization, HDR |
| Battery | 3000mAh Lithium Polymernon-removeableQi wireless charging |
| Connectivity | GSM 850 / 900 / 1800 / 1900HSDPA 850 / 900 / 1900 / 2100CDMA 800 / 1900LTE 700 (Band 13)802.11 a/b/g/n/ac dual-band Wifi, Wifi DirectDLNA, MiracastBluetooth 4.0, A2DP, LEA-GPS, GLONASSNFC |
| Miscellaneous | AccelerometerGyroscopeProximity sensorCompassAmbient light sensor |
| Dimensions | 138.5 x 70.9 x 8.9 mm143 g |
Well-made, but still plastic
With the move to an interesting glass back on the original Optimus G, LG broke the mold (get it?) on its phone design that had generally consisted of glossy plastic materials. Well it turns out instead that the Optimus G Pro was a bit of foreshadowing for what we'd see in an eventual Optimus G successor — the LG G2 is just as glossy, shiny and slippery as any other phone that has been taken to task for its material choices.
But that doesn't mean that the LG G2 isn't well made. Likely helped by the non-removable back plate, the G2 is solidly constructed with not a seam out of place around the entire build. The phone is comprised of three main parts — a complete back plate, a plastic rim around the sides and a slab of glass on the front. The use of a minimal number of main components means the phone feels solid and looks consistent all around.
Ergonomically, the G2 fits much better into your hand than you'd expect considering the 5.2-inch display on the front. It's a touch wider, but is no taller than the other "large" phones out there. All around the phone the edges are nicely smoothed and curved — it will never catch your hand the wrong way or feel physically uncomfortable. But the slickness of the plastic along with the width and height of the phone definitely push the boundaries of what we consider usable nowadays.
As a tradeoff for this very small bezel and relatively compact design for its screen size, LG has moved the power and volume buttons to the back of the phone. LG has put some software tweaks on the phone to help you out with the ergonomic troubles here — which we'll cover further down in the review — but even with these fixes the G2 is still basically a nightmare to try and access these extremely basic phone functions of volume and power on.
The overall hardware package on offer with the G2 is a hard one to stay mad at, even with the unconventional buttons and lackluster material choices. The phone is built extremely well and gives off a feel in the hand like you're holding something that was worth your investment. Spec junkies will be happy with the internal components as well, adding up to an overall hardware-lovers dream.
Verizon LG G2 display and speakers
LG has chosen some great displays in its devices, and the G2 is no exception. The 5.2-inch 1080p LCD panel is bright, stunningly clear and has accurate colors. Although we could argue that it may not be quite as bright as the display on the HTC One, we had absolutely no issues using the phone both indoors and outdoors. Color reproduction and viewing angles are good as well, and we didn't notice any distortion of images in normal usage.
Our only issue with the display came from the way LG handles automatic brightness, which is both confusing and frustrating. You're able to adjust the brightness of the G2's display with a slider in the settings, as well as check a box for "automatic brightness" that should adjust things as you move to different lighting situations. LG's software implementation doesn't seem to dynamically adjust the brightness, however, and simply lowers the brightness level a set amount below whatever the brightness slider is set at.
For example, you can set the brightness to 100 percent and turn on automatic brightness — the screen will dim some, but you can then slide the bar farther down and the brightness will dim more. Leaving automatic brightness on, we never actually noticed the brightness levels changing even if we changed our lighting environment drastically.
Moving on from the display down to the bottom of the phone you'll find three drilled holes for a loudspeaker. This definitely isn't going to be a "BoomSound" kind of audio experience, but we found that for video watching and the occasional song or two, the G2's speaker could go much louder than necessary and do so without any distortion. Our only issue comes with how easy it is to cover up the speaker port with your pinky finger as you hold the phone up, if you're not careful.
The Verizon network
This particular G2 is of course running on Verizon's LTE network — and in terms of connectivity and speed the device performs just as well as the other Verizon handsets we have in, most recently being the HTC One.
Verizon's LG G2 is unlocked for AT&T and T-Mobile HSPA+
When it comes down to the raw numbers, though, Verizon just isn't what it used to be where we live here in downtown Seattle. Although the entire area is blanketed in a deep coating of LTE signal, during the day data speeds have gone down to a crawl. It should be said that the other providers face some of the same issues, depending where you are, but this is just extra surprising for Verizon which claims to have such a robust network.
In terms of call quality we noticed no issues whatsoever, which again we'd expect on Verizon.
Other radios and connectivity
Mobile network aside the G2 has great Wifi performance and includes compatibility up to 802.11ac, which is nice. You'll also find Bluetooth 4.0 inside, along with all of the other sensors and radios you'd expect aside from an FM radio tuner. Although some people have reported GPS issues with the phone we haven't had any such issues in Google Maps or any other app requiring location access.
LG G2 software
One aspect of the G2 that will remind you that you're using an LG device is the software. If you've spent any amount of time with the latest iterations of LG's phones you will probably feel right at home here, although with the G2 it has added a little bit of polish and also a few quirks. The system is built with a base of Android 4.2.2, but this certainly isn't "Stock" Android.
Look and feel
Across the entire interface the colors, iconography and overall layout gives off a very "LG" feel. You can take that statement how you want, but we can at least give LG credit for offering a pretty cohesive look to the entire device. The interface is primarily built on a black, white, grey and blue color palette with some gratuitous transparency and 3D animations thrown in for good measure. We can certainly say that LG's current software offering looks a touch more "grown up" than what Samsung is doing nowadays, but it still just doesn't feel as elegant as what you'll find on a Nexus device or with Sense 5.
One of the most surprising and puzzling inclusions in LG's software build is a persistent software menu key in the on-screen button arrangement, which takes the place of a dedicated multitasking button (now relegated to a home button long press). Not only does this hide basic functions arbitrarily behind the menu button, making it hard to discover and use features, but it just downright flies in the face of the direction that Android software development is headed. Above all, there's little reason to have a persistent menu key on a device that has on-screen buttons — we could see if LG was trying to avoid an HTC "black bar" situation, but with on-screen buttons you'll never have an eyesore like that.
LG goes so far as to offer six different configurations of on-screen buttons, four of which add a button for lowering and raising the notification bar and none of which include a multitasking button or remove the menu button. Android has moved on from the menu button LG, it's time to get up to speed.
Apps and features
Falling into the unfortunate trend of recent Android manufacturer's software design, the G2's software looks rather haphazard out of the box. Pulling down the notification shade reveals a bevy of quick setting toggles, a group of "QSlide" apps and persistent notifications to change the media volume. Moving through the default home screens and into the app drawer doesn't help much either — things are sorted weirdly, there are many uses of the unintuitive menu button to change settings and some colors and animations just throw you off.
Using Quick Memo for notes and annotations on the LG G2
Luckily if you're willing to spend a solid hour (yes, a full 60 minutes) customizing things — primarily to turn features off — you can get the software paired down to something a bit more manageable. The persistent QSlide apps in the notification bar can be turned off, the on-screen button background can be switched to black (as can the app drawer background) and the wacky home screen animations can be toned down.
Daily life with the LG G2
Once you do get the software dialed in the way you like it and back to a more simplistic state, you start to appreciate the speed and fluidity of the system. LG has packed every bit of high-performance hardware under the hood with the G2 and the software certainly takes advantage of that. App performance, from basic tasks up to 3D gaming, moves along without a hitch — and it's clear that there is performance to spare while doing it.
After getting our G2 set up how we like it, we were able to go through our usual routine just as we would with the Nexus 4 or HTC One without any jarring differences. When it comes down to it, the G2's software is perfectly usable without a steep learning curve.
We're sorry to say that the same wasn't true for those buttons on the back of the phone. After using the G2 for well over a week, we never came to a point where our hands would be able to naturally land on the rear buttons — nor could we develop the muscle memory to properly adjust the volume and turn the screen on and off with them. LG's inclusion of a feature called "KnockON" — which lets you double tap the sleeping screen to turn the phone on and double tap the screen again to turn it off — helps a great deal but doesn't make up for the poor button placement. We couldn't get KnockON to work anywhere near 100 percent of the time, and that's just a bad experience.
We soon reached the point where more often than not we were flipping the phone over in our hand to find the power and (more often) volume buttons throughout normal use of the G2. It's an annoying, even bordering on frustrating, experience every time we use the phone. Being that Verizon has redesigned its G2's buttons to be flatter, narrower and of a different material we think that has something to do with our difficulties, but wider buttons aren't going to fix the fact that they're on the back of the phone where you can't see them.
LG G2 battery life
LG has opted for a non-removable battery in the G2, and along with better engineering options for a more rigid chassis it also afforded it the freedom to put a 3000mAh battery in this 8.9mm thick shell. Even with high-end internals and a large pixel-dense screen, the G2 managed to handle our usage very well.
Our primary usage pattern involves lots of time on Wifi throughout the day, mainly using the phone to keep up on messages, social networks and a few casual games. Later in the evening we might step into some more intense gaming, video watching and podcast or music listening. With our standard usage pattern we very often put the G2 on the charger before bedtime at 40 percent battery, after going through a full 16 to 18 hours of usage off the charger. Depending on the day, usage was naturally different — more time out and about with 100 percent screen brightness and on mobile data certainly affected battery life negatively — but we never went to bed with under 20 percent battery left in the tank.
One of the interesting characteristics of the battery was that it didn't seem to drop dramatically when the phone was under use compared to idle. No matter how sporadic our usage throughout day was, the battery seemed to drain down at a generally constant rate when looking at the past few hours of battery history. Now this may have been more alarming if the battery life was poor, but we have no issues with a phone that provide consistent battery drain throughout the day.
It's fair to say that the G2 is going to make it through a full day, even for the heaviest of users out there. For the lighter users you may not have enough juice to push through one day and onto the next — you'll want to look at the Motorola Droid Maxx for that — but you will never have to worry about battery life the way you might on other devices.
LG G2 cameras
Smart phones have taken a leap in camera technology in 2013, and while there are plenty of poor choices out there still, the front runners are doing some great things in both optics and software that raise the bar of what these devices are capable of in terms of imaging. The LG G2 is no exception, and although we have already seen some great camera offerings this year, we can say that nothing comes close to this device.
On the surface it seems as though LG isn't doing anything particularly groundbreaking from a hardware standpoint — we have a 13MP backside-illuminated sensor with optical image stabilization (OIS) and a sapphire crystal glass lens. All things that have been done before in one capacity or another, but never together in this configuration. As some like to say, the camera experience here is greater than the sum of its parts.
Pictures
Let's start quickly by focusing on the camera UI, because it is maybe just as important as anything else to an enjoyable photography experience. The UI follows LG's design language from the rest of the phone, and is actually both well-appointed and easy to use. You get the basic functions of switching between stills and video, a shutter key and gallery button on the right, with options for switching the camera and toggling modes on the left.
By default the G2 is set into an iAuto (intelligent automatic) mode, with no other tweaks available — iAuto scans the scene that you're shooting and selects the best modes for you, much like other manufacturers are doing. Once you toggle iAuto off, the fun begins. You can now select different shooting modes, including HDR, panorama and burst, as well as tweak all of your camera settings. You can manage brightness, focus type, ISO, white balance and a few other settings or choose between different pre-configured "scenes" (the ones iAuto chooses from).
Click images to open full resolution in new window
We carried the G2 with us as our primary device and took pictures every chance we could, and found no situation where it didn't perform fantastically. In the daytime, you can get amazingly crisp pictures with no noise or aberrations and colors that pop — regardless of whether or not you're using HDR. You can give some of the credit to having 13MP to work with and the rest to LG's image processing.
In low light the situation was much the same — having both a high megapixel count and OIS to work with means that nighttime shots in either HDR or "night" mode with a longer shutter speed had less blur and noise than any other phone. In our time with the G2 we found its low-light performance to be better than the HTC One in nearly all situations, and at least comparable in extremely low light.
After spending an extensive amount of time with the G2 and comparing to a whole host of other devices, we have to say it is the best camera available in an Android phone today. Whether you just want to leave the G2 in iAuto and let the algorithms do their magic, pop over to HDR for a punchy shot or tweak the settings manually, you will be able to get great pictures across nearly any situation with this camera.
LG G2 video
You'll have 1080p video at your disposal on the G2 of course, but LG also throws in an option to choose either a 30fps or 60fps frame rate. 30fps is a more "standard" frame rate and usually looks the most natural, but 60fps will give you a smoother video overall — combine that with the OIS we mentioned above and you can get nice and smooth video even when shooting handheld. We noticed that the microphones could get a little overwhelmed and sound unnatural in loud environments, but it seemed to be a sporadic occurrence.
You're not going to be filming your way to Cannes next year with the G2, but it'll do well for capturing those moments that need video instead of stills.
The bottom line
If it isn't clear at this point in the review, there is a whole lot about the LG G2 that should have you excited whether you're a screen snob, tech spec geek or camera aficionado. Personal preference on the material choices and button position aside, LG has built nice-looking and fantastic performing phone. The screen blows just about any other available phone out of the water, and LG has paired back the software notably from its previous offerings and thrown in a handful of very useful features. That's all leading up to the best camera experience we've ever had with an Android phone, capable of matching or outdoing Samsung, HTC and Sony in all conditions.
Should you walk into your nearest Verizon store and buy an LG G2, no questions asked? Well, we're not willing to go that far on any smart phone out there today. Our small gripes with the buttons and software may be more or less of an issue for you than we have found here, but they're still there and aren't going to change. If you're ready to make a buying decision on Verizon for a high-end phone with a large screen and want the best of the best, the G2 should be on your short list.
Image 1 of 17
Get the Android Central Newsletter
Instant access to breaking news, the hottest reviews, great deals and helpful tips.
Andrew was an Executive Editor, U.S. at Android Central between 2012 and 2020.