Knock Knock: How to turn on the LG G2 without the power button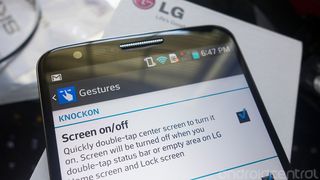 One of my favorite features in the LG G2 is the ability to wake the phone without using the power button by tapping twice on the screen. Called "Knock Knock" or "Knock On," it's sort of a necessary side effect from the power button being on the back of the phone. You might want to wake the phone to see a notification, but not necessarily pick it up to do so.
Nokia has done this in the past, and you can get the same sort of feature with a custom kernel. But this is the first time we've seen an Android manufacturer build it in.
And, so, we knock. Or tap. A double rap on the dark display wakes the phone. From there, you can double tap again on the lock screen to put it back to sleep.
Now this doesn't work everywhere, for the obvious reasons. You can't just go around double-tapping the display while you're in an app, or on widgets on the home screen. That'd break how apps and widgets work.
But you can "knock knock" on a black space on a home screen — or in the status bar that's always at the top of the screen — to put the phone back to sleep.
If you don't want to use the feature, you don't have to. And you can turn it off in the settings, if you prefer. (Go to Settings>General>Gestures>Knockon.)
Us? We're having way too much fun with this.
Get the Android Central Newsletter
Instant access to breaking news, the hottest reviews, great deals and helpful tips.