Knock Knock: How to turn on the LG G2 without the power button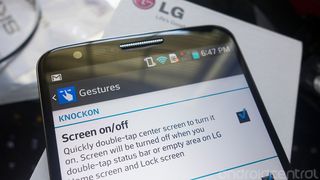 One of my favorite features in the LG G2 is the ability to wake the phone without using the power button by tapping twice on the screen. Called "Knock Knock" or "Knock On," it's sort of a necessary side effect from the power button being on the back of the phone. You might want to wake the phone to see a notification, but not necessarily pick it up to do so.
Nokia has done this in the past, and you can get the same sort of feature with a custom kernel. But this is the first time we've seen an Android manufacturer build it in.
And, so, we knock. Or tap. A double rap on the dark display wakes the phone. From there, you can double tap again on the lock screen to put it back to sleep.
Now this doesn't work everywhere, for the obvious reasons. You can't just go around double-tapping the display while you're in an app, or on widgets on the home screen. That'd break how apps and widgets work.
But you can "knock knock" on a black space on a home screen — or in the status bar that's always at the top of the screen — to put the phone back to sleep.
If you don't want to use the feature, you don't have to. And you can turn it off in the settings, if you prefer. (Go to Settings>General>Gestures>Knockon.)
Us? We're having way too much fun with this.
Is there a 3rd party alternative to this? It would be extremely useful for the HTC One Posted via Android Central App

Custom kernel can enable the bottom inch of the screen to function this way. Read my post below. Posted via Android Central App

This is a great feature that I'd definitely use a lot. I'm totally requesting ktoonsez to get this to work on his kernel!

Same for a non-rooted n4 & TouchPad! Posted from my HP TouchPad & cm10 via Android Central App

I completely agree! Somewhere put one on the Play Store! Posted via my HTC One or S4 using the Android Central App

Yes, Knock Knock Phone.
https://www.androidcentral.com/e?link=https2F2F...

I hate autocorrect with a passion.

Can't wait to see the overall review... After some major time with it... Idk im in between going from a note2 to this or a note3... I love the step down in size... But hate to leave Samsung... Because plan and simple i know what im going to get from Samsung.. Posted via Android Central App

I am in the same situation...I love my note 2 and thought I wanted to go even bigger with my next phone, but this thing I really really like it Joshua Jordan

Yea im actually looking for a bit smaller... That's one reason I'm majorly interested in this phone Posted via Android Central App

I understand completely. I love my note 2 and wouldn't mind going smaller. But lately I find myself using the spen a lot and I had to use an s3 for a couple days and I really missed my big screen. In the end depending on the note 3 specs and pricing I will most likely upgrade to 3 or stick with 2 and wait for a software upgrade. Posted via Android Central App

You can run a custom kernel and enable the bottom inch of the screen to function this way on the htc one. I have five ways to wake my one. Posted via Android Central App

I have double tap bottom inch of screen. Volume keys. Power button. Long press htc logo. And swipe right across capacitive area to wake and left to sleep. Posted via Android Central App

Link to your custom kernel please? Or is it private? Just trying to share it with Galaxy S4 devs and see if someone can see about enabling it for our device as well. Thanks.

There are several that support it. The one I like is Bulletproof. It's pretty much stock with some nice additions. It's on xda. Posted via Android Central App

So.... when can we preorder it?

A third party app that does this would be nice for those of us who aren't rooted. Sony Xperia Z here. Posted via Android Central App

You don't have to be rooted. You do however need an unlocked bootloader and a custom recovery. Posted via Android Central App

rip off of nokia's double tap feature first implemented a couple years back on the N9. still a nice feature though.

Knock knock: whose there? D-r-o-i-d Sent from the heartland of Africa

I use the swipe right across capacitive buttons to wake my htc one most of the time. It's natural. Posted via Android Central App

How can I get this on Note 2?

Seems like a good battery waster. I do use the home button to wake my GS3 though which is very similar so I could see liking this feature if you are used to having to use power button on the side of a device.

what about this App? Tap Tap App ( Screen On-Off )
Pedro Maicas - July 5, 2013
Tools Description
Lock and unlock the screen with a double tap the proximity sensor.
And widget, locks your phone with one click.
Reduces use of the power button.
Turns off screen fast.
You will not find a better program than this to lock and unlock the screen :-)
It works ! See videos:
Or search youtube: "tap tap app for htc desire hd"
User say:
First & Best This is the very first App on Google play to utilize the sensors for on and off functions. Has been developed many years ago. All other apps are made after this one. And I have been a big fan of it since it's creation. Plus it just WORKS. Simply
All I can say is THANK YOU!! I just place my hand or wave it near the top of my phone and it goes to sleep....and when it's asleep (black screen) I just place my hand or wave it across the top front and oila! It wakes up! Thank you for taking the time and your skills to create this app for android peeps. It's MUCH appreciated! TEN STARS!!!

I like that pic.. Lmao Posted via Android Central App

The Optimus G Pro went from $549.99 to $439.99 in weeks on ATT with month to month. The Nexus 4 obviously at $349 and now $249. If this isn't at $399 out of gate, it will be shortly after.

I never touch the power button on my s4. Just download gravity screen. Works beautifully. Posted via Android Central App

Gravity Screen - cool app! do you notice much battery life difference?

I actually notice better battery life since I no longer wait for the screen to turn itself off. It turns off the moment I put the phone down. Over the course of the day it adds up to less on screen time. Posted via Android Central App

im looking for an app that will turn my screen off and on with two snaps of my wrist. Two snaps to the left for on and two for off. Do you think this will do that?

Is there any chance that the optimus g pro would get that in any sort of update? Posted via Android Central App

Every time I see this phone I dream of the next Nexus

I think it's awesome and I really wish this phone would be released in September rather than later. Posted via Android Central App

LG messed up about announcing this a month ago and not releasing it or giving a release date and now samsung and iphone are about to announce there new flagship phones and they always release no more than a week to two later after announcements. They wont sell very many now.

Google needs to copy this feature for real!!!

Wonder how much more battery it uses. It has to be supported by kernel changes, basically keeping the touchscreen sensors on with screen off, and kernel has to be slightly awake (instead of fully sleep mode) to react.

I've read somewhere else that it only keeps the accelerometer on to detect the knocks, which probably uses less power idling than touchscreen sensors. Basically any time the screen is off, knock-knock will turn on, and if it's on, & a screen area understands double taps, it will process it like normal (i.e. zooming a webpage), but in areas that don't do anything (such as statusbar), it turns screen off. Sounds like a nifty feature that I hope will be in the Nexus 5 or future Android default kernels.

I am unable to get lock screen when flipping open the quick window cover of LG. If i do not flip close the cover the lock screen appears. Please help.

Thanks to your publication. What I would really like to add, is that while trying to find an excellent smart telephone, first inquire the pros and cons, the two most popular alternatives are , a android ,iphone or a computer smartphone. Android phones has more programs available on the market today but has a few issues like android phone error symbols , while a computer mobile has all the attributes as a full-size computer and is the quickest growing . If you have already purchased a android and seen the storage problem, feel free to visit http://www.mafillia.com/insufficient-storage-available/android/ to repair it.

https://www.androidcentral.com/e?link=https2F2F...
Android Central Newsletter
Get the best of Android Central in in your inbox, every day!
Thank you for signing up to Android Central. You will receive a verification email shortly.
There was a problem. Please refresh the page and try again.