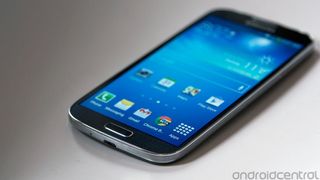 Enter, the Samsung Galaxy S4. Despite the abundance of unique hardware from a wide variety of manufacturers, the smartphone space remains a two-horse race, dominated by Apple's iPhone and Samsung's Galaxy series. Arguably a triumph of marketing as much as technology, the Galaxy S3 emerged as the Android king in 2012, selling some 30 million units worldwide. Longtime foes HTC and Motorola struggled to compete with Samsung, and the Korean behemoth cemented its position as the alpha Android later in the year with the pen-toting Galaxy Note 2.
Now, as tick follows tock, it's time for a successor to the Galaxy S3 -- and the Galaxy S4 is as incremental and familiar as its name might suggest. Rounded edges. TouchWiz. SuperAMOLED. A big clicky home button. At first inspection it seems it's business as usual for Samsung owners.
On the other hand, the Galaxy S4's feature list is staggering, bringing new tricks to the table beyond faster hardware and a larger screen. "Air view" can detect your hands at a distance. A front-mounted IR blaster and TV app allow the phone to serve as a viewing companion. The video player tracks your eyes. The web browser scrolls with a tilt of your head. Add to that more new software features than you can shake a very large stick at -- including everything from the Galaxy S3 -- and you'll see why the S4 could be the most feature-laden smartphone out there. Conversely, the S4's design -- in both hardware and software -- is essentially unchanged. Of course, not every smartphone upgrade needs to be revolutionary, and those manufacturers who've reinvented themselves lately -- HTC and their flagship HTC One, for example -- have arguably been strong-armed into doing so by Samsung's dominance.
Like arch-rival Apple, Samsung's new product is all but guaranteed widespread success. The company's colossal marketing budget and newfound consumer mindshare will take care of that. Expect a relentless advertising campaign and news of tens of millions of sales in the months ahead.
So plenty of other humans will buy the Samsung Galaxy S4 this year, but should you? Does it deserve its inevitable success, or is it all parlor tricks and gimmickry? The one place you'll find out for sure is after the break, in our extensive Galaxy S4 review.
Pros
The Galaxy S4 is a speedy all-rounder which manages to deliver great performance and a big, bright screen in an ergonomic package. Widespread availability, tons of features and the latest version of Android work in the S4's favor, as does its impressive 13-megapixel camera.
Cons
The TouchWiz UI remains a clumsy construction, and still lacks any kind of overarching design language. The bewildering array of settings and features and poor UX design will confuse some users. The occasional performance hiccups are disappointing to see, and the plastic chassis feels cheap.
The Bottom Line
Swipe to scroll horizontally
Galaxy S4 hardware and build quality
For all its newness, the experience of picking up and using a Galaxy S4 is steeped in familiarity. Up close, subtle differences come into focus. But if you've used any of Samsung's 2012 line-up, you should already know exactly what to expect when it comes to build quality and external hardware -- specifically, shiny plastic and rounded corners. The front is a covered with a sheet of Corning Gorilla Glass 3, sandwiched between the speaker grille up top and a large central home button down below. Beside the home key sit capacitive menu and back keys. (That's right, Samsung's still playing fast and loose with the Android design guidelines.)
The similarities continue around the sides and back. There's a silvery faux-metal trim circling the edge of the device, punctuated by metal power and volume keys on the right and left sides respectively. The keys have much more of a premium feel to them than earlier Samsung phones, with reflective chamfers on their sides and a firmer click than those of the Galaxy S3. If you look closely, you'll see similar design cues around the side of the speaker grille and camera assembly.
The battery door is furnished in shiny plastic with a fine reflective diamond pattern. On the "mist black" Galaxy S4 we're reviewing, it contrasts sharply against the dark grey on the front; on the white version, it's less noticeable. It's inoffensive enough, but it does tend to pick up fingerprints and smudges more easily than we'd like. From the front there's a similar, but less pronounced diamond pattern surrounding the screen, which breaks things up visually, contrasting with the pitch black of the display.
What the Galaxy S4 lacks in looks it makes up for in ergonomics. Its curved chassis makes it easy to palm, and its 5-inch display is packed into a footprint almost identical to that of its predecessor, meaning you get more screen and less bezel in a device of the same size. It's also incredibly light, weighing a little less than the S3 at 130 grams. Other 5-inchers like the Sony Xperia Z and HTC Droid DNA have struggled to pack such a large display into a hand-friendly package, so it's a remarkable achievement for Samsung to have crammed so much screen into an S3-sized body.
The overall profile of the phone is a little more squared-off than earlier Samsung handsets, and the flatter trim fits more firmly in the hand, making slippage less likely. Consequently, the Galaxy S4 is staggeringly comfortable to use, proving that you don't have to sacrifice comfort in the name of screen size. It's a quintessentially Samsung design, and it's become clear over the past year Samsung wants to create an iconic look of its own across all its mobile devices. So for better or worse, the S4 is clearly identifiable as a Galaxy smartphone.
Galaxy S4 display
Main: Galaxy S4 screen close-up; Below: iPhone 5, Galaxy S3, Nexus 4, HTC One (click to enlarge)
The Galaxy S4's 5-inch display is a full HD (1920x1080) SuperAMOLED panel. That means you've got a ridiculously high pixel density of 440ppi, and so the irregular PenTile matrix -- the arrangement of little colored dots that make up each of the 2 million pixels -- doesn't result in any noticeable jagged edges. Color accuracy too is improved compared to early SuperAMOLEDs. In fact, the screen's overall brightness and color quality is as good as we've seen on any AMOLED display, including the Galaxy Note 2, with no yellow or greenish discoloration in white areas.
Despite its bright colors and pitch blacks, the Galaxy S4's SuperAMOLED panel struggles somewhat in bright daylight compared to modern LCD and IPS screens. Those issues are aggravated by the phone's poor auto-brightness mode, which doesn't ramp up anywhere near aggressively enough. The Galaxy S3 suffered from similar issues at launch, and they were later fixed in a software update, so it's disappointing to see auto-brightness problems surfacing once again. Daylight visibility is an inherent weakness of AMOLED panels, and although the Galaxy S4 outperforms other SuperAMOLEDs in this area, it doesn't quite match up to the performance of modern LCDs.
Beyond display quality, the Galaxy S4's screen also incorporates a high-sensitivity touch mode designed for use with gloves. It's hidden behind a few layers of menu, but it's there, and it's a capability you won't find on the vast majority of smartphones.
Galaxy S4 display comparison
Galaxy S4 internal hardware and performance
When it comes to internal hardware, things become a little more complex. The U.S. Galaxy S4 we're reviewing (and many other international 4G versions, including models sold in the UK) pack a Snapdragon 600 CPU running at 1.9GHz, compared to the 1.7GHz version found in the HTC One and Optimus G Pro. In some markets, including Samsung's native South Korea, an Exynos 5 Octa (4+4 core) version will be offered, though we're not expecting the different CPU to make that much of a difference to overall performance. Both flavors of Galaxy S4 include an ample 2 gigabytes of RAM.
There's 16 GB of storage onboard as standard -- although in some territories 32 GB and 64 GB models will be offered. Furthermore, Samsung includes a microSD slot to expand the available storage, a rarity among high-end Androids. On our 16 GB model there's 9.62GB available for your own stuff out of the box -- not an abundance of space, but that's easily expanded with a microSD card purchase. Similarly, the built-in 2600 mAh bundled battery is removable, allowing a second one to be swapped in during days of heavy use. That also opens up a world of possibilities for higher-capacity aftermarket batteries.
The concoction of high-end silicon bubbling inside the Galaxy S4 produces fairly speedy performance in most tasks. We should note, however, that the HTC One seems just a little more responsive across the board, likely due to software tweaks on HTC's part (or possibly some of the patents it licensed from Apple in late 2012.) A few examples of what we mean -- the home screen launcher on the S4 seemed more sensitive to background tasks, whereas the HTC One animated its home screen transitions flawlessly every time. Similarly, certain apps like the Samsung gallery app would take a second or so to load up, whereas just about every app loaded instantly on the HTC One. The S4's suffered from infrequent jitteriness in some of its animations from time to time. Given the similarities in hardware between the two phones, it's curious to see that HTC's pulled ahead slightly in terms of perceived performance.
The Galaxy S4 continues the megapixel race with a 13-megapixel rear camera with f/2.2 aperture and BSI (backside illumination) tech. On the software side, Samsung's rearranged its camera app with a number of special scene modes, inspired by its Galaxy Camera device. The combination of the higher pixel count and re-vamped software makes the Galaxy S4 one of the most versatile mobile cameras we've used, though as you'll see in our comparison articles, it loses out to the HTC One's "Ultrapixel" camera in low light conditions. On the front is a 2-megapixel front-facer, and both front and rear cameras can shoot video at up to 1080p resolution. Though it lacks the optical image stabilization tech found on some competitors, the Galaxy S4 is nonetheless a great video performer.
Being a modern smartphone, it should come as no surprise to see the Galaxy S4 packing 4G LTE support in most markets in addition to various flavors of 3G -- HSPA or EVDO depending on the carrier. We used the Sprint Galaxy S4 in New York City, switching between 3G and 4G as we moved around Manhattan. As anyone who's used Sprint outside of its few pockets of great coverage will know, network performance is highly variable. (That's a polite way of saying Sprint's network is a joke in many locations.) In NYC -- admittedly not yet an official Sprint 4G market -- our speeds averaged at around 3 Mbps down and 1 Mbps up on LTE, which is far from what we'd consider acceptable over 4G. That's not the phone's fault, though, and your mileage will no doubt vary depending on your location and carrier of choice.
Call quality too will be network-dependent, but even with Sprint's variable network quality we didn't notice any issues in this area. In speakerphone calls and general audio playback, the Galaxy S4's rear-facing speaker is reasonably loud and clear, though it doesn't match the insane volume and quality of the HTC One's BoomSound speaker.
Using the Galaxy S4 on Sprint
The Galaxy S4 is also one of a small number of phones to support the newer 802.11ac Wifi standard, meaning you'll get higher data speeds over newer wireless networks based on this standard.
In summary, the Galaxy S4's hardware is familiar and comfortable, if not particularly exciting. The focus is clearly on an incremental upgrade over previous Samsung products, and the S4's hardware does exactly what needs to in order to bring this design language forward into 2013. No more, no less. As such, it does little to win over buyers who may have been underwhelmed by the industrial design of phones like the S3 and Note 2. With the Galaxy S4, Samsung takes baby steps forward, as opposed to the quantum leap some may have been hoping for.
Galaxy S4 specs
Accessories
Samsung is bringing to market a wide range of accessories for the Galaxy S4, including regular plastic cases, flip cases and a new "S View case." The S View case replaces the back cover of the phone and has a protective front cover attached to protect the screen. Unlike earlier Samsung flip cases, a magnet in the cover can switch the screen on and off, and windowed area up top allows you to view the pertinent data, and answer calls using touch input.
A wireless charging back should be available for the Galaxy S4 in the months ahead, but Samsung isn't committing to any release date at the moment. An official game pad accessory will be hitting the market too, although there's no date for that either.
Hit up the ShopAndroid.com newsletter to learn when the first Galaxy S4 accessory stock arrives.
Galaxy S4 S View case accessory review
Galaxy S4 software and features
The Samsung Galaxy S4 runs Android 4.2.2 Jelly Bean, topped off with Samsung's latest TouchWiz Nature UX. It's one of the first non-Nexus devices to ship with Android 4.2, showing Samsung appreciates the value of keeping on top of the latest code from Google. With the latest version of Jelly Bean, the S4 stands in good stead for the rest of 2013, having features like lock screen widgets and "Daydreams" right out of the box, not to mention the latest security and performance updates.
TouchWiz retains all of the features found in the latest Galaxy S3 software, and as such it's already bursting at the seams with software capabilities. That means everything from Smart Stay (the eye-tracking screen-off controller), multi-window (the ability to split the screen between two full-screen apps) and S Beam (the NFC and Wifi Direct-based photo and video sharing deal) is included out of the box. For more on all of these features, check our review of the Galaxy S3 and Note 2.
Samsung revamped its Android UI extensively on the Galaxy S3, introducing a new nature-themed interface. This time around the visual changes are less pronounced, and you can clearly see that this year's Samsung UI has its roots in the designs of the S3 and Note 2. It's big, bright, colorful, more than a little chaotic, and you'll be tripping over features and settings left and right. Compared to the simplicity of vanilla Android and HTC Sense 5, you're confronted with a lot more noise as you use Samsung's interpretation of Android.
That, in part, is down to the sheer volume of features that now make up Samsung's Android-based firmware. And to the manufacturer's credit, it's taken a few steps to make things a little easier to understand. The quick settings area in the notification shade provides an easy way to control all of Samsung's features as well as Wifi, Bluetooth and other toggles. And after the initial setup process you're invited to enable or disable these on a menu page that also briefly explains what they do.
Outside of quick settings, the main Settings app has been rearranged into a tabbed menu split between "Connections," "Device," "Accounts," and "More." It's supposed to make the S4's labyrinthine assortment of menus easier to navigate, but in reality we found the tabs only served to obscure things further. Instead of quickly swiping down one list, we had to tap and swipe down all four, and it wasn't always obvious whether settings should be under the three main tabs or the overflow "More" tab.
This kind of thinking is evident throughout Samsung's UI -- an emphasis on complexity and ticking feature boxes over simplicity and ease of use. Samsung has tried to address this for first-time users with its redesigned "Easy Mode," which is intended to serve as a set of training wheels for new users. On this S4, this presents users with a simpler home screen launcher and larger text, and ties into the stock Samsung apps too. For example, UI elements are larger in the Calendar app, and there's less information displayed in the main month and week views. But this is a clumsy workaround rather than a solution to Samsung's software design woes. If your design is up to scratch, there should be no need for an easy mode. Furthermore, there's little to prompt users to leave Easy Mode once they've enabled it, and a less advanced user is less likely to go poking around in the settings for such a toggle switch.
So while the Galaxy S4's internal hardware and feature list has evolved, its software design has not. TouchWiz remains a mixing pot of design languages -- some of it Android-inspired, some of it iOS-inspired. TouchWiz isn't necessarily ugly, it's just messy, and there's too much stuff.
But there are advantages to being messy -- for one, it lets you introduce new features and customizations left and right, and that's exactly what Samsung's done with the Galaxy S4.
Samsung's lock screen, for instance, can be customized with different unlock effects and a variety of proprietary Samsung stuff, in addition to standard Android lock screen widgets. Lock screen widgets can also be disabled entirely if they're not your cup of tea.
Air View and Air Gesture
A heavily promoted feature, Air View allows you to interact with the screen without touching it -- think of it the same way as hovering your mouse over something. A few apps have been enabled for use with Air View right away, and all but one them are stock Samsung apps. The gallery app lets you preview folders and images by hovering over. In the email client, messages can be previewed. In the browser you can open up a magnification window to view small text. The sole third-party app to support Air View is Flipboard, which allows you to open a small preview of items in each category by hovering over its square.
The usefulness of Air View varies from app to app, and although we dismissed it as a gimmick at first -- it's especially fiddly and useless in the Samsung browser, for instance -- we did find it useful in navigating a large selection of photos in the gallery app. It's also worth enabling the haptic feedback for Air View, as it gives it some much-needed physical feedback to this hover-based feature. (The little laser pointer effect while hovering over the lock screen is a neat trick, too.)
Air Gesture works a little differently -- instead of relying on the touchscreen, the proximity sensor is employed to support a variety of gestures in front of the phone. In the gallery and music apps you can scroll through images, photos and tracks. In the stock browser, you can scroll pages one screen at a time. Directional gestures can be used to accept or reject calls. And possibly most useful of all, you can hover your hand over the device when it's asleep to see an overview of notifications, messages and battery levels alongside the time. We noticed this feature was prone to turning on all by itself when the device was laid flat on a desk, however, leading to some confusion as we attempted to work out exactly what it was doing.
Smart Scroll
In certain apps like the stock web browser, it's possible to scroll down the page by tilting your head or the device. The latter is fairly useless and the former is the dictionary definition of a gimmick, but given a reasonable amount of ambient light, the feature works pretty well. As it uses the front-facing camera to track your eyes, you can control the scrolling motion with a fair degree of accuracy, and you soon get a feel for where you need to tilt to to keep things steady.
Yet again, you need to be living in the Samsung app ecosystem to get the most out of Smart Scroll, so we suspect it'll go unnoticed for the vast majority of users.
S Translator
Samsung's first attempt at a translation app of its own is a mixed bag, and in our testing we found its speech recognition component was easily tripped up. Much like Google's own translator app, you can juggle phrases between the few dozen supported languages, and there are options for voice input too. While the translator component worked well enough, the speech recognition part often wasn't accurate enough. S Translator has the advantage of being completely offline-based, though, making it a more attractive choice for travelers without reliable (or affordable) data connections.
Keyboard
Samsung's SwiftKey-based keyboard (it uses SwiftKey prediction through the company's SDK but has its own skin) is good, but not quite as capable as the stand-alone SwiftKey app when it comes to straight-up text input. Samsung's version is unique in a few other ways, though. It's possible to detach it from the bottom of the screen and use it as a floating keyboard like the Galaxy Note 2's. What's more, there's an camera typing mode, which allows you to pick out text from real-world documents using optical character recognition and bring them into any text field.
Smart Pause
The much-touted smart video playback feature, Smart Pause uses the front-facing camera to work out whether you're watching a video and pause or unpause accordingly. As with Smart Scroll, this feature is lighting-dependent and a little gimmicky, but a neat technical showcase.
Smart Pause seems to work in all apps that use native Android video playback, including the YouTube app.
Optical Reader
Samsung's bundled an Optical Reader app, which uses optical character recognition to import barcodes and business cards, and translate documents. All three function well enough -- though the app has a little difficulty distinguishing between multiple phone numbers on the same card, and translation is limited to one word at a time.
S Health
Many third parties offer diet, exercise and weight-tracking apps, but Samsung's built this functionality into the firmware itself. S Health incorporates a pedometer, exercise tracker, food monitor and weight management capabilities within a single app. The idea here is that by tracking your calorie intake and activities throughout the day, the phone can help you control your weight. To make this easier, S Health supports some AND and Omron smart scales
If you're walking, S Health is able to track your movement automatically and calculate how much energy you've expended. For other kinds of exercise, you're prompted to select a type of exercise and a duration, each of which has associated calorie values. The same goes for food, which can be searched from an in-app database. You can even attach a photo for each meal for posterity.
S Health is the kind of feature that'll prove its worth over time, so we'll revisit it in the future in more detail, however if you're willing to put in the time (and data) to use it properly, it could be a valuable asset. Samsung also tells us the app will be updated in the future with the ability to track additional stats like blood pressure and blood sugar. These features, we're told, are currently awaiting FDA approval.
WatchOn and TV features
TV apps are becoming more and more common on mobile devices, and after Peel-based smart remote and listings apps appeared on the HTC One and Galaxy Note 8.0, it's only natural to find similar functionality included on the Galaxy S4.
WatchOn is mostly identical to the Peel-based apps we're already familiar with. The setup process consists of a little trial and error as the app tunes itself to your TV, cable box and sound system, but once that's out of the way it's smooth sailing. The viewing experience is driven by shows, not channels -- you can set favorites, and these are displayed front and center when the app starts. You can then tap a show's icon to view it immediately if it's on now, or set a reminder if it's showing in the near future.
A universal remote section is included, and there's a handy lock screen widget for the remote control part of WatchOn too, which eliminates the hassle of unlocking the phone and loading an app.
If you've got a 2013 Samsung Smart TV, Samsung says you'll also be able to wirelessly mirror from the TV to the phone over a wireless network. We weren't able to test this feature on our own equipment, but we got to see it in action at a Samsung demo presentation.
Samsung Hub
Samsung has rolled all its individual content hubs -- Music Hub, Books Hub, Games Hub, etc. -- into one central application with a sleek, image-centric interface (though admittedly one that bears little resemblance to the rest of the phone's UI.) The layout of the main hub pages lists some fairly old stuff under "new releases," but a quick search of the Hub app revealed a fairly concise library across the world of music, TV and movies. Unfortunately the games section, which links into Samsung's own app store, is a sparsely populated, with few titles of note.
For most users, we suspect the Samsung Hub will continue to play second fiddle to Google Play, but unifying everything under one app is a big step forward for Samsung, and we imagine the manufacturer will continue to expand its content offerings in the months ahead.
A note for international readers -- as is often the case with movies, TV and music content, availability will likely vary depending on where you live. In the U.S. at least, the Samsung Hub offers a reasonably wide selection.
Other bits
S Voice -- Samsung's not-Siri voice assistant -- has improved significantly in terms of speed and accuracy. It still occasionally falls victim to the dreaded "server error" message, but it's at least worth keeping its double-tap home key shortcut enabled this time around.
AllShare media streaming capabilities have been bundled into a new app called Samsung Link, which functions in much the same way.
Samsung's music app sports some minor visual tweaks -- and of course the Air Gesture support we've already mentioned -- but it's mostly unchanged from its Galaxy S3 incarnation.
The Samsung video editor isn't included out of the box, but you can download it from Samsung Apps, and it works really well on the Galaxy S4.
Polaris Office is bundled on the Galaxy S4 for those wanting to edit Microsoft Office documents on the go. There's also a special "Samsung version" of the TripAdvisor travel app, complete with its own "S Travel" home screen widget.
In summary, the Galaxy S4's extensive feature list straddles the line between genuinely useful functionality and blatant gimmickry. Features like Air View and Air Gesture are fun to play around with, but we have to wonder whether they were designed to look cool in ads and showroom demos rather than being really beneficial to end users. Ultimately, it comes down to this -- Samsung compensates for its lack of design prowess with an exhaustive feature list.
Galaxy S4 c​amera review
Samsung has never made a big deal about its camera hardware, but it's always managed to bring to market some of the best Android-based smartphone shooters on devices like the Galaxy S2 and S3. And it's a similar story on the Galaxy S4, which packs a 13-megapixel rear camera and 2-megapixel front-facer. In keeping with Samsung's track record, the S4's camera performs admirably in almost all conditions.
In daylight, the camera manages to capture plenty of fine detail while keeping visible noise to a minimum. Colors are generally accurate, if slightly more saturated than they appear in real life, and although the on-screen capture effect and shutter sounds give the impression of a slight lag, shots are captured almost instantly. Dynamic range in still images isn't drastically better than the Galaxy S3, though it is superior to the HTC One in this area. What's more, Samsung's made some improvements to its HDR mode (now called "Rich Tone HDR") resulting in dramatically improved HDR performance. There are still a few instances were HDR will result in shots taking on a slightly ethereal quality, but if you use this scene mode where it's intended to be used you'll come away with some stunning images.
In addition, panorama mode has been the subject of some serious enhancements. Depending on how smoothly you're able to pan from left to right, the Galaxy S4 can produce panoramas of 50 megapixels or more, and it does so without sacrificing too much in the way of image quality compared to regular still shots.
Unlike the Galaxy S3 and many other devices, there's no dedicated macro shooting mode on the Galaxy S4, but it excels at macro shots regardless, in part thanks to its sheer megapixel count. The phone has no difficulty picking out close-up objects in Auto mode, and there's an abundance of fine detail to be found in the resulting JPEGs.
Predictably, the Galaxy S4, like most smartphone cameras, shows its limits in low light, though it is partly compensated for by its high megapixel count. Night-time shots exhibit increased noise and reduced fine detail, which is evident even when the images are reduced down to one or two megapixels. We tested the Galaxy S4 side-by-side with the HTC One in low light, and the HTC device has it conclusively beaten in low-light -- that's simply the result of Samsung choosing more megapixels and HTC opting for larger pixels on its sensor. That said, if you've got a steady hand the Galaxy S4's night mode compensates for some of its weaknesses in this area.
Image 1 of 19
Galaxy S4 sample shot gallery
The Galaxy S4 also makes for a competent video camera, shooting at up to 1080p resolution with 30 frames per second. Though it lacks optical image stabilization, the camera didn't seem particularly sensitive to motion, and coped well in our daylight and low-light test shots. Samsung's previous-generation Galaxy S3 was already pretty good video performer, and the S4 builds on these capabilities with slightly sharper 1080p video with somewhat improved dynamic range -- particularly noticeable in daylight footage.
A wealth of new photo-related software features can be found on the Galaxy S4. The most hyped of these is the dual-shot mode, which allows you to capture your own image on the front-facing camera at the same time as shooting a larger image with the rear camera. You can then include your face anywhere in the shot -- in a floating postage stamp, a Polaroid-style miniature shot or a big floating heart. Line things up just right and you can overlay your own head with someone else's body with hilarious (or terrifying) results. It's a neat little trick that's easy to use, but we're not sure if the mass market is ready for dual-shot photography just yet.
Equally impressive is the "animated photo" mode, designed to assist with the creation of looping animated GIFs. In this mode, the S4 first records a short section of video, then lets you "paint" moving areas, trim the animation or change the direction before exporting.