Using Quick Memo for notes and annotations on the LG G2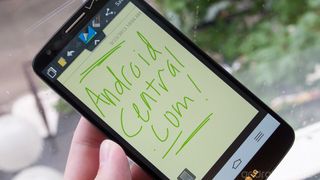 Along with other nifty software features like Slide Aside and QSlide, LG has included an app called Quick Memo on the G2 that makes it simple to annotate screenshots and write notes with just one tap. You can access Quick Memo simply from the notification bar quick settings menu, where by default it is in the leftmost position. Tap it and you'll be taken to a simple interface that lets you write on the screen with a variety of drawing tools.
By default Quick Memo takes a screenshot of whatever app or home screen you were on when launching it and lets you draw on top of it, but you can also toggle over to a plain old notepad if you'd prefer. You can select between four different pen tip styles or a snipping tool as well as 16 different colors for the pens. Of course you don't have access to a stylus for precise input like you would on a Galaxy Note 3, but for quick jots your finger does just fine.
Once you've drawn your next masterpiece or circled an interesting portion of a web page, you can instantly share the image out to any app in your sharing menu that can handle pictures. You can also choose to save the note to your Notebook app or into your Gallery for use later. Quick Memo is a simple tool that will be useful for those who think and remember things visually, and can easily be hidden for those who don't. Stick with us after the break for a quick video showing off Quick Memo on the LG G2.
Andrew was an Executive Editor, U.S. at Android Central between 2012 and 2020.
Well this is an advertisement if I ever seen one phone's Posted via Android Central App

Great. Thank you for showing.
Will get the phone when it is available in 32 GB here in Germany! Posted via Android Central App

neat features. Considering this phone the more I see it. The Xperia Z is my first choice though

You gotta stop with all the articles about the G2 - you're making it hard for me to wait for the Nexus 5!

+effing1 Posted via my thumb(s) and the Submit button

I love this phone. If it came with a stylus I'd get it. But as of now is thewonderful . Note 3

G2 gets love.. But gotta wait on note3.. Lol Posted via Android Central App

I love my LG OG... I would upgrade to the G2 in a heartbeat if given the chance. Posted via Android Central App

The default on mine (VZN) isn't just a screenshot, it's a transparency that sits over all homescreens and any app you open. You can write yourself a reminder and it will always be visible until you decide to dismiss it. I'm really digging it. The whiteboard app I used to use for the same purpose had the drawback of only being visible if you happened to be on the right homescreen. Change homescreens or open an app and reminders would go unseen.

At first glance I saw "Android Centra Cum!"... confusing... and disturbing

That's funny, my free Lucid 2 I got 6 months ago also has Quick Memo. What's the big deal here again?

That's what I was wondering. The Optimus G has this too.

Manufacture kickbacks bring, not so subtle, advertisements to websites? Just thinking out loud hear.
Android Central Newsletter
Thank you for signing up to Android Central. You will receive a verification email shortly.
There was a problem. Please refresh the page and try again.