Verizon has the worst 5G speeds according to T-Mobile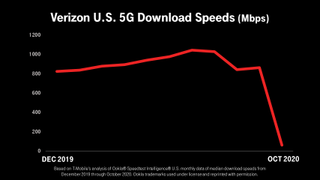 (Image credit: T-Mobile)
What you need to know
Verizon deployed its nationwide 5G network using DSS which shared spectrum from its LTE network.
T-Mobile claims that since launching its nationwide 5G network, Verizon has the lowest median 5G speeds in the nation.
T-Mobile's dedicated 5G spectrum and 'layer cake' deployment have allowed it to deploy 5G without impacted LTE performance with room to add more capacity.
Mobile networks need plenty of spectrum to work and so far, 5G just hasn't had much available. At least, not as much as LTE currently has. While T-Mobile and AT&T have been able to deploy coverage on dedicated low-band spectrum, speeds haven't exactly been impressive compared to the more mature LTE networks. Still, according to T-Mobile CTO Neville Ray (opens in new tab) this approach allows T-Mobile to build a 5G network without disrupting speeds on LTE while delivering great speed and coverage.
Verizon on the other hand is using DSS for all of its nationwide 5G network. This is separate from the Ultra Wideband network Verizon has deployed in several cities. Performance on the Ultra Wideband network is very fast with optimal speeds over 1Gbps which is closer to fast Wi-Fi than LTE. Like Wi-Fi though, Ultra Wideband has extremely limited coverage. Verizon's DSS network shares its large pool of LTE spectrum with 5G devices and, as T-Mobile points out, has led to Verizon's 5G speeds taking a nosedive to become the lowest median 5G speeds in the country.
If you're not familiar with T-Mobile's 5G network there are a few reasons why it's so confident. T-Mobile started building its network on 600MHz spectrum dedicated to 5G. Following T-Mobile's acquisition of Sprint this spring, T-Mobile has also been able to deploy 5G on the 2.5GHz spectrum it got from Sprint's network. This higher-frequency spectrum is great for speed but doesn't offer as much coverage. T-Mobile will also eventually expand its mmWave network in dense urban areas.
T-Mobile is referring to its three-tiered 5G network as a 'layer cake' and expects this network to be able to offer coverage in rural areas with more capacity in suburban and urban areas. This network is currently the best way for people to test out a new 5G phone.
When Samuel is not writing about networking or 5G at Android Central, he spends most of his time researching computer components and obsessing over what CPU goes into the ultimate Windows 98 computer. It's the Pentium 3.
Well, they are absolutely correct. I did a speed test once in Phoenix, AZ and my LTE was just marginally lower than being on 5G. Another thing I hate about that 5G - at least on verizon - is that very frequently, when my phone switches from 4 to 5G, I loose all connection. I then have to switch on Airplane mode and off to refresh the signal in order to load a website or map detail, etc. Had I known beforehand what a crap 5G is I'd bought a none 5G phone and saved some money!

Yeah I notice very little difference between LTE and 5G as well (I'm on Metro by T-Mobile). And yes I have the same issue with the network switching and airplane mode works most of the time but sometimes I have to reboot the whole phone (N20 Ultra) to get my network back in good shape. I'm not too thrilled with 5G at this time so I just disabled it and that fixed everything.

Good for you. I have no option to disable that crap. Mine is also a note 20. Maybe it's the phones? Who knows! But it definitely sucks!

As far as I know, the Verizon version doesn't allow you to disable 5G. I wish carriers would give us more direct control of our devices for sure.

T-Mobile better enjoy it while it lasts because with the upcoming spectrum auction, Verizon is going to spend big $$ and once again wipe the floor with T-mo.

Exactly! They have the BIG $$ to SPEND!
Android Central Newsletter
Thank you for signing up to Android Central. You will receive a verification email shortly.
There was a problem. Please refresh the page and try again.