The Pixel 2's eSIM makes it dead simple to ditch your carrier for Project Fi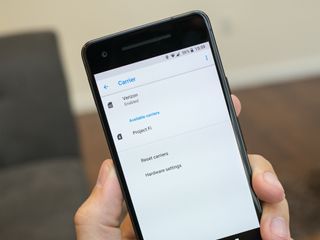 The Google Pixel 2 and Pixel 2 XL have what's called an "eSIM" — essentially an embedded SIM card that can be activated and deactivated on the fly to emulate a physical SIM card. But you don't have to know the details about how it works — you just need to know that it's an amazing innovation that makes it dead easy to use Google's Project Fi cell service on your new Pixel 2.
With these new phones, it takes but a few minutes to go from having no cell service at all to having an active Project Fi account. And if you already have Project Fi, things are even simpler: it'll take just a few seconds to switch between using whatever SIM card is in your Pixel 2, and being back on Project Fi. And vice-versa, as often as you want.
If you intend to give Project Fi a try, all it takes is downloading the Project Fi app on your Pixel 2 or 2 XL. Set up your account, and it will recognize that your phone has an eSIM. It takes just a couple of minutes to assign your phone number to the phone and enable service, and you're ready to go. Yes, it's really that easy.
Even cooler is how things work when you have a regular SIM card in your phone and Project Fi service. You can be using Verizon, for example, with a regular Verizon SIM in the phone. Just go to the "Mobile network" settings and tap on "Carrier" and you'll see both your current carrier and "Available carriers" — sweet. Verizon is enabled, but you just tap "Project Fi" and confirm that you want to switch — your phone will be operating on Project Fi in a matter of seconds. No reboot, no removal of your Verizon SIM, nothing.
This is an amazing gateway into Project Fi, but it's also a fantastic option for anyone who wants to keep Project Fi around as a secondary carrier option — particularly for its international roaming option. You see, Project Fi works internationally at the same $10 per GB as it does locally, which is far cheaper than Verizon charging you for specific packages or per-day rates. Fi also lets you "pause" service for 90 days at a time with no fee, meaning you can let it sit on your phone dormant until the day you need to go international. What a world.
Should you use your Google Pixel 2 on Project Fi?
The Pixel 2 or 2 XL will be many people's first chance to use Project Fi, and I seriously recommend it. Using the eSIM in your phone is just an example of how simple and pain-free Project Fi is. It may not be the go-to choice for everyone as their daily phone plan, but having the option available at a moment's notice when you do want to switch, or just use it internationally from time to time, is a great feature of these phones.
Get the Android Central Newsletter
Instant access to breaking news, the hottest reviews, great deals and helpful tips.
Andrew was an Executive Editor, U.S. at Android Central between 2012 and 2020.