The Pixel 2's eSIM makes it dead simple to ditch your carrier for Project Fi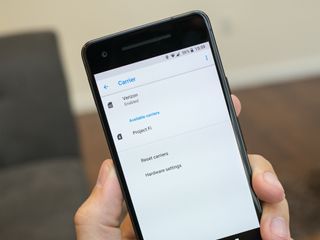 The Google Pixel 2 and Pixel 2 XL have what's called an "eSIM" — essentially an embedded SIM card that can be activated and deactivated on the fly to emulate a physical SIM card. But you don't have to know the details about how it works — you just need to know that it's an amazing innovation that makes it dead easy to use Google's Project Fi cell service on your new Pixel 2.
With these new phones, it takes but a few minutes to go from having no cell service at all to having an active Project Fi account. And if you already have Project Fi, things are even simpler: it'll take just a few seconds to switch between using whatever SIM card is in your Pixel 2, and being back on Project Fi. And vice-versa, as often as you want.
If you intend to give Project Fi a try, all it takes is downloading the Project Fi app (opens in new tab) on your Pixel 2 or 2 XL. Set up your account, and it will recognize that your phone has an eSIM. It takes just a couple of minutes to assign your phone number to the phone and enable service, and you're ready to go. Yes, it's really that easy.
Even cooler is how things work when you have a regular SIM card in your phone and Project Fi service. You can be using Verizon, for example, with a regular Verizon SIM in the phone. Just go to the "Mobile network" settings and tap on "Carrier" and you'll see both your current carrier and "Available carriers" — sweet. Verizon is enabled, but you just tap "Project Fi" and confirm that you want to switch — your phone will be operating on Project Fi in a matter of seconds. No reboot, no removal of your Verizon SIM, nothing.
This is an amazing gateway into Project Fi, but it's also a fantastic option for anyone who wants to keep Project Fi around as a secondary carrier option — particularly for its international roaming option. You see, Project Fi works internationally at the same $10 per GB as it does locally, which is far cheaper than Verizon charging you for specific packages or per-day rates. Fi also lets you "pause" service for 90 days at a time with no fee, meaning you can let it sit on your phone dormant until the day you need to go international. What a world.
Should you use your Google Pixel 2 on Project Fi?
The Pixel 2 or 2 XL will be many people's first chance to use Project Fi, and I seriously recommend it. Using the eSIM in your phone is just an example of how simple and pain-free Project Fi is. It may not be the go-to choice for everyone as their daily phone plan, but having the option available at a moment's notice when you do want to switch, or just use it internationally from time to time, is a great feature of these phones.
Andrew was an Executive Editor, U.S. at Android Central between 2012 and 2020.
Do you need mobile data or Wi-Fi to download the project fi app?

Well yeah, you need to get the app on your phone somehow to start :)

Ah ok. I wasn't sure because the article mentions that you can go from no cell service at all to project fi in minutes... But that's a bit tricky especially if you are worried about privacy /security if you have no cell service and want to use project fi because of the Wi-Fi bug that is floating around....

I don't think that's something to worry about in this case. If you need service and have none, it's worth being on Wi-Fi for 3 minutes to download the Fi app and set it up :)

My teacher always told there's no such thing as a stupid question.

That is awesome. Actually makes me even more excited to pick up my XL2

My question is when you pause your service, do they also prorate the $20 base fee for texting/calling?

Yup. You pay absolutely nothing when your service is paused.

Fi prorates to the day, and to the MB for data. I tried pausing/unpausing/pausing again once to see what happened (for this exact reason — keep it around in case of travel) and that cost me $1.10

It's dumb that it's not a true dual Sim phone so you could have fi and carrier service activitie at the same time. That's why I went with the xperia xz premium instead.

What I'm wondering is what happens when you get a new Pixel 3, or whatever. Going from one eSIM to another -- is it a simple process, or will it require hours on the phone with tech support? There is a certain amount of comfort knowing that swapping a physical SIM to the new phone is quick and easy.

I've switched my Project Fi number between two Pixel 2s and last year's Pixel XL (with a Fi SIM inserted) without issue. Takes a few seconds. The Project Fi app makes it dead simple. Fi already has the capability to handle this even with its physical SIM cards because its numbers are virtualized and not actually tied to the SIM itself. So switching between eSIMs is no different.

Fi is account based not SIM-based. Same google account has the same number on any phone with any Fi SIM. ESim should be the same

have a ook at the image posted in the article. your answer is clearly answered in one of the image.
it will deactivate old phone and activate on new phone

Can this be used to activate it with Sprint?

Google's making no claims about eSIM being used for anything but Project Fi.

Right now, only project Fi supports eSims. But whenever other carriers implement the technology, you'll be able to use an esim enabled phone on them, such as the pixel 2.
So it's a no until Sprint starts implementing the technology

And it makes ditching your phone more of a pain.

You were going to do a factory reset before ditching anyway, right? That's all you have to do...

See comments above from the AC staff.

So when you switch from Verizon to Fi (to use your example), the phone automatically knows what number to use for sending and receiving calls and texts? And is it like having the phone turned off, where it will simply show you missed calls and retrieve missed texts when you switch back? Also, does this mean the phone won't have issues activating on other carriers if it's "locked" to Fi via e-sim?

No phones are locked to Fi. I know some Moto X4 marketing makes it sound that way, but they aren't. Any warranty would be, though. And you probably need an active Fi account to get service.

Maybe "locked" isn't the right term. I had two different friends buy a used Pixel and they both had the same problem - they had a heck of a time activating it on their carrier because it was still linked to a Fi account. They were both able to get it sorted by working with the original owners who had to get it cleared up with Fi, but it was still an issue. Honestly it reminded me of how Sprint behaves with devices that are originally attached to their network.

Ahhh. OK. The previous owners didn't do a full factory reset, or did one then turned the phone on to check with the SIM card still in place. Pixel 2 from Fi doesn't have the Fi app pre-installed so it shouldn't do that. The app is what triggers the setup for both a SIM and eSIM. Without it, it only asks you to install it so it can register

The new Pixel 2 XL and Project Fi - is just dropping into my lap like it was meant to be... I have a BMW 1200 GS Adventure bike which my wife and I travel the Pacific Northwest and beyond during the summer months. We have done part of the Lewis and Clark trail etc. We love being tourists. There is so much to see and a lot of history to go through - all very impressive. AT&T has spotty or no coverage in some areas and we plan to go into Canada. Also my daughter wants to go to Europe to visit a friend. Project Fi seems to be the perfect companion for our travels. Thanks for the articles. 👍

So if I have Verizon and I want to switch back and forth between that and Fi, would it cancel my Verizon service and port my number over for good or would I be able to switch carriers on the fly depending on coverage and keep the same number?

Depends on how you want to do it. If you want Fi to just be a backup that you use sometimes and use internationally primarily, it's just going to sit dormant most of the time so you'd want to keep Verizon active and keep your number there. If you'd prefer to use Project Fi as your only carrier, you'd obviously want to port your number over to Fi and cancel Verizon. No need to keep paying Verizon if you don't expect to use it. The important thing to remember here is that switching your phone to the eSIM to use Project Fi does absolutely nothing to your current Verizon service. The SIM just sits in the phone ready to be used again, just like if you had removed it and set it on a table. Of course while you're using the eSIM for Fi, you won't receive calls on your Verizon number. Again, it's completely disconnected when you switch to the Fi account.

New Pixel 2 owner here, regarding swapping between Verizon and Project Fi, I'm on device payment plan with Verizon to get the $300 discount on phone but if I pay off early or cancel service I have to pay full price for phone. If I switch to Fi intermittently but still keep my Verizon service will not having an active device on the Verizon network be viewed as a problem? Maybe as long as I keep the Verizon account active it's not a requirement to have an active device? Maybe that's more a question for Verizon.

Give is Project Fi in Canada!

I have a pixel and wife's pixel2 is due in 2-3 days. I'd love to move to Fi but the data rates aren't even close to being competitive. I can often get away with a gig or 2 a month, but if I work at a customer location (not uncommon) where I can't get on their network for a month or two (vendor access processes are often slow and complex), I have to tether, which probably starts are 3gig and 6 gig could likely happen. Their "should you switch" modeling shows it as "a wash, you may save money", but that's extremely optimistic in my case.

I have a network of converts to Project Fi that we work with. One message comes through loud and clear - When you have a SIM or ESIM system that automatically securely connects and encrypts on trusted WIFI nationwide, you data usage comes down.
If like me you travel internationally the savings are immediate.
Project Fi - won't suck as much data as you think and the folks at Google have created a first class simple experience. When I call UK and here this call will cost you 1cent per minute - Great!
Other great thing is you get money back.
I used to use 30 gig on Verizon - I have a 5 Gig forecast on FI + end up getting refunds from Google when I don't use it all.
My vote A1
PS: depends where you live - they don't have AT&T or Verizon so you need to know you will be OK in your home area + Some people will find their movement profile doesn't allow enough WIFI and could end up with big data bills.

I don't understand project Fi. So do you get a new phone number? What speed service do you get, LTE? If you, in your your example, switch from Verizon to project Fi do you still have to pay Verizon? Can I use project Fi with no other carrier service? Is there a tethering charge? What are the usual download speeds? When I get off of a plane in Paris do I instantly have cell and LTE service?

Project Fi isn't all that different from any other cell service. Project Fi is just a carrier, just like Verizon or T-Mobile. If you want Project Fi to be your "main" carrier, you can port your number to it. if you just want it to be a backup, you can get a fresh number with it. You get LTE, of course, just like other carriers. Project Fi is unique though in that it gives you access to T-Mobile, Sprint and US Cellular towers. It also has a fallback to 3G and 2G when needed. If you start up Project Fi and switch your phone number, you can cancel Verizon if you wish. Project Fi is a 100% functional carrier that doesn't require that you have any sort of backup. If you don't cancel Verizon, then you have to keep paying for it. There is no fee for tethering. You just keep paying for data at the same rate as you would if you were using the data locally on your phone. Project Fi works in ~120 countries around the world at the fastest possible speeds allowed by its roaming partners. There's no configuration or management or different plans. It just works, and data costs the same $10/GB as it does in the U.S.

This is even cooler than I expected. Does the Pixel 2 series get LTE Advanced on Verizon?

To the best of my knowledge yes. Edit: my stepdaughter is a store manage for a non corporate Verizon distributor and she also told me that it should. Flicked via the BlackBerry keyboard on my Pixel 2

Wait, so do you move your number when setting up on Project Fi or not? I want to be able to switch between my T-Mobile sim and Project Fi. I'm just not sure what to do on that step of setting it up this way.

You can start with a new number on Project Fi, or you can bring your own number if you plan on making Fi your "main" carrier. It's your choice. But obviously if you don't move your phone number over, you won't receive calls when using Project Fi. You really have to just pick one and settle on it ... because you can't port your number back and forth on the fly.

I just wish they had an unlimited data option. I use way too much data for Fi. I am actually surprised Fi is recommended as the majority of people who know Fi are likely heavy data users. Really cool carrier concept, just too expensive.

My data usage actually went down after I switched to Project Fi. I guess because the Nexus phones grab wi-fi wherever they can. I was surprised. I'm not a heavy data user and I can get by with 1gb or less data each month.

That's great to hear since we can't depend on Sprint or TMO for quality data usage.

And I wish Fi played nice with Google Voice.

No esim phones for me. I like moving my SIM from one phone to another without having to deal with my carrier.

You do know that the phone has a physical Sim slot too right? And you can still get a physical Sim card from FI. But not many phones are compatible with the service

It's tempting but I don't want to lose my Google voice number.

It would be better if it could make and receive calls from both sims like a regular dual SIM phone.

Too bad project fi is the worst carriers. TMobile that only works outdoors and Sprint that only works in city. No roaming
Android Central Newsletter
Get the best of Android Central in in your inbox, every day!
Thank you for signing up to Android Central. You will receive a verification email shortly.
There was a problem. Please refresh the page and try again.