Should you use your Google Pixel 2 or Pixel 2 XL on Project Fi?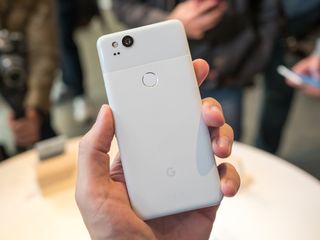 If you're already set on buying a Pixel 2 or Pixel 2 XL, or even have one already, you may be thinking about switching carriers at the same time. Google's own Project Fi service is quite popular, but unless you had a previous Nexus or Pixel phone, you haven't even had the choice to use it. So now that you can use Project Fi, we're going to help you decide whether or not it's the right carrier for your shiny new Pixel 2 or Pixel 2 XL.
Who should use their Pixel 2 on Project Fi?
Project Fi has a solid set of clear advantages when compared to a "traditional" carrier. For the most part, it boils down to just how simple Project Fi is compared to the competition. With Fi, you don't have any sort of contract, fine print, agreements or even set plans to decide on. You simply pay $20 per month for the base service, and then $10 per gigabyte of data thereafter. That's it! The Fi app and website make your data usage, account management, and billing super simple, removing the stress of dealing with your phone service. You also get a combined nationwide cell network that utilizes T-Mobile, Sprint and US Cellular towers.
That makes Project Fi useful for people who need to have coverage wherever they go, but at the same time are willing to actively cut back on data usage to save money. Data usage is billed down to the megabyte, so every time you hop on Wi-Fi or wait to make a big download there's a direct correlation to having a lower bill at the end of the month. If you're regularly in the 2-3GB range monthly, you will probably find this to be a good deal compared to your current service.
If you use your phone internationally often, Project Fi is a fantastic choice. You can use your phone exactly as you do at home and pay the same $10/GB, and even save on calls back to the U.S. when you use Wi-Fi or the Hangouts Dialer. You don't have to change your plan or buy an international package before you leave — just turn on your phone in a new country, and you have service right away.
Who should use their Pixel 2 on a different carrier?
Conversely, many of the core tenets of Project Fi can make it instantly unappealing to many Pixel 2 owners. The biggest issue for most people will be the cost of data. At $10 per gigabyte, with no savings or discounts available, Fi gets really expensive if you're using a lot of data on a consistent basis. Anyone who uses 5GB or more in an average month will likely be better off paying for one of the unlimited plans available from the other carriers.
The same goes for people who want to combine multiple lines of service with a family plan. Project Fi does offer a group plan option, but the savings with extra lines are minimal and in the end the same $10/GB data restriction is going to get in the way. The limitation of only being able to use Nexuses, Pixels and the Android One Moto X4 on Project Fi may also be a consideration if you need an inexpensive phone for your children on a family plan.
One other aspect of this whole comparison to consider is that you don't have to stick with Project Fi if you're just looking to save money. Yes Project Fi can be a very inexpensive way to get service on a new Pixel, but there are also many great prepaid carriers that offer more data for the money — just remember it comes at the expense of many of the extra features that make Fi so appealing.
Get the Android Central Newsletter
Instant access to breaking news, the hottest reviews, great deals and helpful tips.
Andrew was an Executive Editor, U.S. at Android Central between 2012 and 2020.