US Cellular releasing the Motorola Electrify at midnight online, in stores Sept. 26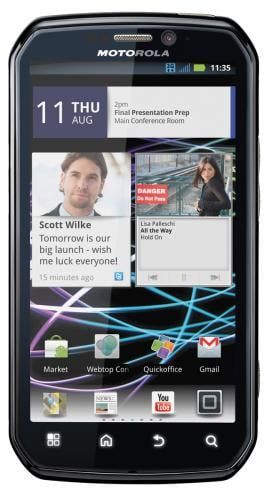 We let you all know not too long ago that US Cellular would be getting their own variation of the Motorola Photon (Full review) later this month dubbed the Motorola Electrify and now -- is later. Tonight at midnight, the Motorola Electrify will be available online through the US Cellular website and in some store locations tomorrow. A full launch of the device in store locations is expected on Sept 26 so if you're looking to pick one up tomorrow, make sure you call ahead to ensure they have stock.
The Electrify will be available for $199.99 after a $100 mail-in rebate along with purchase of a data plan. A new two-year agreement and activation fee may apply for new customers but customers on Belief Plans who are eligible for an upgrade can get the promotional price without signing a new contract.
so this is a non 4G phone. all the stuff i have read havent mentioned 4G. im almost positive US Cellular doesnt have 4G.

Us cell 4 g service should be in selected arias in November. The only leak on a 4 g phone was a couple days ago a samsung part was shown.

No 4G? I hope they have unlimited everything at a very low price.
Two year contract, $300+ for the phone, and no 4G.

$30 unlimited data. 4G rolls out end of 2011/2012.

USCC has alot of customers with the OG Desire, and it's low memory issues. Many of those folks are clammering for this Beast. It will sell very well. For me, my next phone is still hiding, in the testing Dept. ;-) 4G for USCC will roll out to 25% of it's customer base yet this year. So it won't be long now. (And it will be real 4G/LTE) P.S.- Those of us in the Cornfields, are not looking for 4G anytime soon.

This is only available for NEW lines until Monday the 26th when upgrades will be accepted
Android Central Newsletter
Get the best of Android Central in in your inbox, every day!
Thank you for signing up to Android Central. You will receive a verification email shortly.
There was a problem. Please refresh the page and try again.