Unlocked HTC 10 has Wi-Fi calling support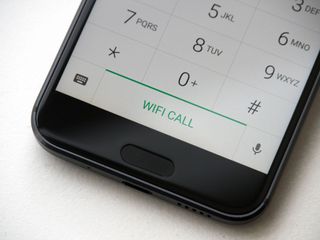 It used to be that in order to use Wi-Fi calling — the ability on certain carriers to place calls and texts over Wi-Fi, even when you have no cellular reception — you had to be using a carrier-branded handset. But we've seen a trend towards Wi-Fi calling on unlocked Android phones of late, including the Galaxy S7 and Nexus 6P with the Android N developer preview.
The latest Android phone to bring support for Wi-Fi calling in an unlocked model — at least on some carriers — is the HTC 10
We've been using Wi-Fi calling with the unlocked European HTC 10 on EE in the UK, and with the U.S. unlocked variant on T-Mobile in the United States. So far we've been unable to get it up and running on Vodafone UK's Wi-Fi calling — and since Vodafone isn't officially carrying the HTC 10, it's unclear if that'll change anytime soon.
Just like the GS7, W-iFi calling setup is simple and pretty much instantaneous. Pop in your SIM as usual, install carrier settings if prompted, and connect to a Wi-Fi network.
A few things will change to let you know you're making calls and texts over Wi-Fi. First you'll see an icon in your status bar — a phone with a Wi-Fi symbol above it. Then there's the hard-to-miss persistent notification that shows up in the notification tray. And finally, the "Call" button in the HTC Sense dialer app will change to "Wi-Fi Call."
If you need to disable Wi-Fi calling for any reason, fire up the dialer app hit the overflow menu (three dots) in the top right corner, then tap "Settings." You'll find it under "Enhanced communications" at the bottom of the menu.
Alex was with Android Central for over a decade, producing written and video content for the site, and served as global Executive Editor from 2016 to 2022.
I've had the Nexus 6P since it can out on both the public marshmallow build and the latest developer preview for Android N and I've always had wifi calling out of the box on the t mobile network!! So I don't get where you claim it's only been available on the developer preview?? Posted via the Android Central App

I guess they aren't familiar. Glad to hear this is the case for the HTC 10, it needs to be this way for more phones.

Does T-mobile wifi calling require specialized hardware? I upgraded my Nexus 4 to Cyanogenmod 13 on the hope that it'd enable wifi calling, but no such luck. My partner's LG-G2 (purchased from T-Mobile) has it, so I'm guessing it's purely a software feature, no? I guess the G2 is a newer device than my N4 (which is handling Marshmallow pretty nicely, by the way).

No, it requires T-mo to approve it. I had a 5x and I was able to use Wifi calling after hitting the toggle. Same with the iphones I have/had.

I think it's tied to their VoLTE certification, if you're not VoLTE certified then WiFi calling won't work either. Might be because they have handoffs working between the two now. That or WFC is an extension of their VoLTE infrastructure to begin with (as in the same IP call protocol, just over WiFI instead of LTE).

True. This is available on Nexus 5X too. Posted via the Android Central App

I wonder if this will work with Google Fi then?? Posted via the Android Central App

As far as I'm aware it has no Sprint support, so it couldn't.

HTC confirmed this during the week they announced that unlocked model supports wifi calling and band 12 on T-Mobile.

I also believe that t will be supported on At&t like HTC said that Advanced LTE would for the Unlocked version.

Will be supported on nexus 6p with AT&T or is now?

Does this mean it works on Project.Fi? Posted via the Android Central App

The Unlocked version is GSM-only, with no Sprint support. Project Fi relies on T-Mobile and Sprint as its networks in addition to WiFi.

You can actually use Project fi on any T-mobile phone, you just have to get the SIM card activated then it will run T-mobile only. It will even work in iPhones and windows phones

Defeats a large amount of the point, though, doesn't it?

Wait, what?! But then how does it work?
You wouldn't be able to download the app though on iphone and windows phones, though?

By connecting to T-mobile only. Basically like using any other T-mobile MVNO. You only need the Fi app to activate the SIM card. It's not the greatest experience and can be more expensive than other T-mobile only MVNOs but it does work if you ever don't have a Nexus device for a few days for whatever reason.

Would Wi-Fi calling work with an att sim? It'***** or miss with my s7 edge. Posted via my s7 edge

Ahaha looks like you forgot to leave a space between the s (at the end of It's) and hit

This is good news and makes the phone more intriguing. I wasn't sure, because while Marshmallow technically supports this, not everyone's bothering. My girlfriend's unlocked Z5 Compact has no WiFi calling, for instance.

AT&T needs to pull it's head out and offer wifi calling on more than just their beloved iPhone. Meanwhile, T-Mobile churns along supporting it on Nexus phones and a bunch of others. VoLTE and all (AT&T requires a branded phone for VoLTE). They are so behind the times and stubborn.

just like the HTC a9 which the unlocked version works on AT&Ts VoLTE the HTC 10 should as well which htc has I dictated. Posted via the Android Central App

Well, I had wifi calling on my BlackBerry Z30 since 2014, so I don't get what's with all that buzz, anyway, never used it... Posted via my Note 4, missing bb10...

It's great if you have a weak signal.

That persistent notification is so ******* stupid. Thank goodness the way Google implements it in the 5X and 6P does not require that garbage mucking up the notification area. I couldn't even tell you when I am making a wifi call or when it is on the cell network and that's the way it should be. Having a dumb notification always present is so stupid.

Actually I like the thought of having a nice day to see indicator that I'm on wifi calling.

The way Google does it is pretty good. If you're on wifi calling and you open the quick settings shade, you'll see "WiFi Calling" instead of LTE in the signal box. So you can check if you want to, but it's not gunking up your notification bar. Posted via the Android Central App

I have a Nexus 6, I'm familiar with how Google did it. Posted via the Android Central App

Its not the overflow menu.
It is the hamburger menu!

I've heard that the Nexus 6P also does the same, probably the first one to do it, coz the software's directly managed by google itself as seen in this comparison as 'direct updates from OS vendor' https://versus.com/en/huawei-nexus-6p-vs-htc-10 . It's great that other manufacturers are following the trend, though it is true that the service would still be dependent on the network provider, they might even charge additional charges for the service so better be sure and check with your provider.

What's interesting is that the Moto X running Marshmallow does NOT support it. Posted via the Android Central App

Yeah!Let's hear it for lenovo,and yes,I have a moto x pure as a spare phone. Posted via the Android Central App

That "WiFI Call" should be in a darker color.

Can you get WiFi calling to work on a rooted device, or is there some issue there? Thanks. Posted via the Android Central App

Cant seem to get wifi calling to work on my unlocked HTC 10 im using T-MOBILE. HELP?
Android Central Newsletter
Get the best of Android Central in in your inbox, every day!
Thank you for signing up to Android Central. You will receive a verification email shortly.
There was a problem. Please refresh the page and try again.