Unlocked Galaxy Note 8 in the U.S. is being updated to Android 8.0 Oreo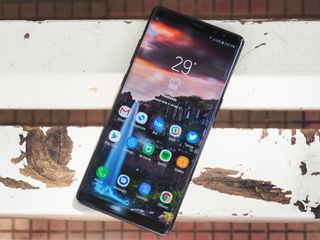 Wireless carriers in the U.S. have recently been updating the Samsung Galaxy Note 8 to Android 8.0 Oreo, but those that bought the phone unlocked have been missing out. Thankfully, after months and months of waiting, the update is finally being rolled out.
We just received the 8.0 Oreo update on our U.S. unlocked Galaxy Note 8 today, and it weighs in at a little over 1122MB. This also changes the Samsung Experience to v9.0 and the Android security patch has been changed to the March 2018 one.
Like we've come to expect with Oreo, this update includes features like picture-in-picture, smoother performance, adaptive notification dots, Google's Autofill API, and more.
Samsung also notes that the Note 8 now supports high-quality Bluetooth codecs, such as AAC and Sony LDAC, new settings for the default video player, the ability to use the Clock app in landscape mode, and more.
The update is rolling out to unlocked Note 8 handsets in the U.S. now, so keep an eye out for the new software over the next couple days.
Joe Maring was a Senior Editor for Android Central between 2017 and 2021. You can reach him on Twitter at @JoeMaring1.
Being the note is Samsung's premier flagship the unlocked version should get updated first not last. All that money for what!!!!

I think the unlocked US S8 still doesn't have Oreo.

Why should the unlocked version get the update first? Seems they should be last. Carriers will always get preferential treatment over Samsung's unlocked devices.

Yep. Far more of their loyal customers have the carrier variant. They just need to get faster overall.

Agree with you. Unlocked should get first and motivate users to buy unlocked. Slowly should not be any carrier specific at all like Apple updates.

Great. Now maybe all the whining will stop. 😭

Remember everyone, if anyone besides good ol' deke states an opinion they're whining, but deke's comments are irreproachable. Lmao, yeah, sure thing bud. 😂👌🏻

I'm unlocked in Canada. Getting mine now. 1,259.48MB

took less than 10 minutes to install the new software.

I got it couple of days ago on my Exynos N950F. So far so good. After owning a One Plus 3T I can see where the extra dollars went. Best 2 phones I have ever had.

Have some problems after updated.
Game launcher work not smoothly.
Mobile data not stable.

Is nice. Notification update is great. Took about one minute of using the stock launcher to install Nova, I always try the stock apps after an update, can't resize wishes to for 5x wide. The keyboard is nicer and gif/sticker integration is nice, went back to Gboard. Messaging app hasn't changed, using mood.
Something weird. When in recovery menu the front is tiny and it no longer swipes to change selection. It doesn't seem any faster, but it is smoother. Has to fdr as when I tried uninstalling apps it froze the phone.

Update went well last night, so far no issues or glitches. My Trek Total Launcher theme still works but temporary defaulting to touchwiz just to have a look around. So far no difference from nougat. Samsung Pay still works on my Note8 and S3 gear. 👍😃😎

Got it. And now I can establish a bluetooth connection to my Google mini speaker...even though both Google and Samsung never acknowledged this was a problem before. ;)
Android Central Newsletter
Thank you for signing up to Android Central. You will receive a verification email shortly.
There was a problem. Please refresh the page and try again.