Traveling with tech makes everything more complicated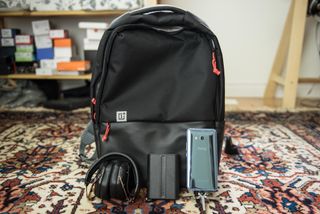 I will soon be leaving on a jet plane, connecting to another jet plane, and then, a few days hence, a third, fourth, and fifth. Two weeks later, I'll be doing it all over again.
Traveling isn't a particularly pleasant activity for most people — the waiting, the scrutiny, the running through terminals, bags flailing, to catch tight connections — but more and more these days, it's the packing I find most intimidating. The clothes and toiletries part I have down to a science, though; it's the technology side of things I am always unsure about.
On a trip like this, where part of it is for work and part for fun, I have a baseline tech packing list that is, I'm sure, pretty familiar to most people: phone (opens in new tab), laptop (opens in new tab), tablet (opens in new tab), camera (opens in new tab), headphones (opens in new tab), battery packs, and chargers. But what about an e-reader, for which I'll have the best intentions but likely won't touch at all, and my Nintendo Switch (opens in new tab), which I've brought with me on my last three trips and have neglected each time. My backpack usually has a hornet's nest of cables — a mix of USB-C, Micro-USB, and Lightning — and AC adapters, though I've effectively consolidated them to a single multi-port adapter (opens in new tab).
I'll be traveling through several countries, totaling three different plug designs, all of which support 220V input, so I'll be packing a bevy of adapters while ensuring that all of my electronics support the change in voltage. Ultimately, though, I'm going to minimize wall charging by using high-capacity battery backups and charging my portable electronics through them wherever possible. But those packs will need to be charged, and thankfully my largest one holds 22,000mAh (opens in new tab) and can be charged overnight with USB-PD.
Don't get me wrong, I'm not complaining — these tools definitely enhance the travel experience. But as they get further entrenched in our home lives, they become more indispensable when we're away, too. The tablet will go unused for all but a few hours on the plane, for example, but I'd rather lug it around than watch the same content on my phone or laptop. It's a problem of my own creation.
You want to account for every possibility while traveling, so you bring everything. On the other hand, purposefully (or accidentally) leaving something behind forces you to contend with the unknown, from wiling away the long plane hours watching someone else's movie sans sound (we've all done that, right?) to reading all of those magazines you've been reluctant to throw away for this very occasion. Should my adapters not work or my batteries deplete, I will gaze instead at the unfamiliar stars of an unfamiliar city, or aimlessly walk the streets to learn more about them. That's the point of traveling, isn't it? When tech becomes a chore, or interrupts the moment, or just doesn't work, it becomes a burden, a weight I wish I wasn't carrying in the first place.
So maybe, while packing this week, I'll choose to bring fewer gadgets and leave more room for being lost, confused and aimless.
At least that's the intention. Thankfully, good intentions don't weigh anything.
And now, onto some other matters.
We're only a few days away from the start of Mobile World Congress, and we're already awash in details on what's to come. Obviously, Samsung's Galaxy S9 series will top the list of important announcements, but it's not the only show in town. LG has scaled back its plans, but we're expecting a V30 refresh of some sort, while Sony will likely announce its latest flagship in the Xperia XZ2.
ASUS is looking to make its first big splash at MWC with the ZenFone 5 series, and we already know that Alcatel has at least three phones to talk about at this year's show. Alcatel's sister company, BlackBerry Mobile, unveiled the KEYone's name and availability at MWC 2017, so it's possible we'll see its sequel this time around. We already know that Huawei isn't unveiling the P20 until March, but it's possible we'll see new MediaPad tablets from the Chinese giant, and Lenovo is sure to show off a few of its innovations, too.
As usual, I'm excited to hang out with the AC team in the beautiful city of Barcelona, so follow my adventures on Instagram for the behind-the-scenes shenanigans, if you're so inclined.
Take care!
-Daniel
Daniel Bader was a former Android Central Editor-in-Chief and Executive Editor for iMore and Windows Central.
Great article Daniel... Travelling is a pain BUT you can do my day job & I'll have your MWC ticket!! Lol.. Have a safe journey & enjoy the show... kindest regards as ALWAYS Richard U.K

The Galaxy S series is a lot less fascinating than the Note series so I guess the biggest draw of MWC this year, as I type this on my KEYone, is BlackBerry Mobile's latest offerings. Everyone else has become like clockwork and it seems like BlackBerry Mobile is the only ones doing anything different, even if it is slightly nostalgic and not exactly ground-breaking.

As somebody that use to travel with a Garmin (with international maps), portable DVD player and physical books (for entertainment) and physcical books for local info (Fodor's), I feel we're way better off when it comes to travel. I'm not sure the last time I had a device that didn't take 220v, and my all-in-one travel adapter (with 2 USB ports built in) means I don't even check what my destination requires. As a non-Apple consumer, I bought white USB chargers (AC and Car), white 6" micro-USB/USB-C cables and keep them in their own pouch. White is my "travel color" so I can keep it all together. Grab that pouch and I know I've got all my chargers ready to go. Kindle never goes (phone works just fine) and digital content means I can be entertained for hours. Even Third World Airports have USB charging stations. In-Ear active noise canceling earbuds are not as good as over-the-ear, but work good enough and take a fraction of the space (And 40 hrs on 1 AA). It's a pain that my Surface Pro 4 doesn't charge from USB-C (boohoo!) and I've got to find a place for that brick.

My travel stuff
Bose qc 35 2
Pixel 2 xl
10k mAh power brick

I'm fine with switching between 110 and 220v when on the go. The United States would definitely benefit by adopting the Metric System.

Power outlets are a completely different animal than the metric vs imperial measure debate. Not the same thing.

They didn't claim they were the same thing...

Most of the important stuff, science, tech, manufacturing, the military... Seen to already have converted. Just need to convert the plebs! Something which hasn't happened fully here in the UK yet either.

As an engineer who uses both, metric is fine for science, but not as useful for other common applications for which there are more expressive scales. My opinion.

Your Nintendo Switch can join my VR headset in the "unused" corner, lol. It works well with the high PPI U11, but I never get around to at the hotel for some reason.

KeyOne for travelling and 15" laptop as portable work station.
No need for external power supplies as KeyOne will last up to 2 days. Went out sightseeing around Kathmandu yesterday. Started at 10, back 2100 with 56% left after using it as satnav, camera, email and BBM. All with WiFi and Bluetooth on and hooked up.

But what would you take if you could only take one and only one main piece of technology? Wow I dont see how you could find space for a toothbrush lugging around all that gear. Simplify already.

I'm curious what you need a tablet for if you have a laptop. Especially when you say the tablet will barely get used. It sounds like it's for entertainment but if that is the case, why can't you put that content on something else? Or read a book? Or the in-flight magazine?

From the article. "The tablet will go unused for all but a few hours on the plane, for example, but I'd rather lug it around than watch the same content on my phone or laptop." Guess the question would be why would he rather use the tablet on the plane?

What is "clearly inferior" about the "110V Standard" in North America? Our split-phase 120/240V service allows us to use lower, safer voltages when appropriate, and higher when necessary. Besides, with nearly-ubiquitous switched-mode power supplies almost everything electronic doesn't even care anymore.
Android Central Newsletter
Get the best of Android Central in in your inbox, every day!
Thank you for signing up to Android Central. You will receive a verification email shortly.
There was a problem. Please refresh the page and try again.