These are all the phones Sony is launching in 2018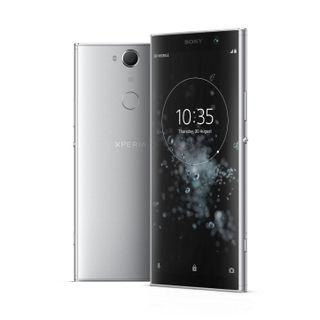 Sony has an...interesting...position in the Android smartphone space. Sony produced some darn good phones in 2017, such as the Xperia XZ Premium and XZ1, but when compared to handsets like the Galaxy S8, Pixel 2, and even the OnePlus 5T, Sony's offerings fell flat in one area or another.
We've seen Sony's hand for 2018, and while this year's phones still won't keep everyone from jumping on the Samsung and Google bandwagons, they are compelling handsets that are at least worth checking out.
The phones that are still coming
Sony Xperia XZ2 Premium
In mid-April, Sony announced the Xperia XZ2 Premium. This is a bigger, badder, more expensive version of the regular XZ2 that's already been released, and while there's no denying its power, it's going to set you back a very pretty penny.
One of the main draws to the XZ2 Premium is its 5.8-inch 4K HDR display. That's the same resolution found on most premium TVs these days, and Sony says it's 30% brighter than the previous Xperia XZ Premium.
You'll also find dual 19MP + 12MP rear cameras, the Snapdragon 845, 6GB RAM, and a 3,540 mAh battery.
The Xperia XZ2 Premium costs $999.99, and pre-orders are open now at Amazon and Best Buy with shipments expected to start going out on July 30. Buying the phone from Amazon will let you get a free pair of Sony's Xperia Ear Duo earbuds (opens in new tab) that retail for $280, but even then, only die-hard Sony fans will likely give any serious thought to the phone with a price that big.
See at Amazon (opens in new tab)
Sony Xperia R2/R2 Plus
Last October saw the release of the Xperia R1 and R1 Plus — two budget phones that offered rock-solid specs at seriously affordable price points.
The rumor mill on successors to these two phones is pretty quiet at the moment, but there's no reason to believe Sony won't kick out an R2 and R2 Plus before 2018 is over.
India was the target market for the R1 series, and assuming the we get an R2, that'll likely remain the same.
Mid-range Sony Xperia R1 and R1 Plus now available in India
The phones that have already been released
Sony Xperia XA2 Plus
In January of this year, Sony announced the Xperia XA2 and XA2 Ultra as its two midrange handsets for 2018. Fast forward to July, and we now have the Xperia XA2 Plus.
As the name suggests, the XA2 Plus is very similar to the other XA2 phones we already have. There's the Snapdragon 630 processor, an aluminum unibody design, the XA2 Ultra's 3,580 mAh battery, and Android Oreo.
Perhaps the biggest change with the XA2 Plus lies with its display. While the XA2 and XA2 Ultra use the older 16:9 aspect ratio, the XA2 Plus steps up to an 18:9 6-inch Full HD+ panel. There's also a single 8MP front-facing camera which is a step down from the XA2 Ultra's dual front-facing cameras. Lastly, the XA2 Plus will offer much better audio thanks to support for Sony's High-Resolution Audio platform.
The Xperia XA2 Plus goes on sale in late August with an unspecified price.
Sony Xperia XZ2
Sony's big flagship this year is the Xperia XZ2. The XZ2 is a successor to last year's XZ1 and features a completely new design language compared to other Xperia phones of the last few years. The glass back is super reflective with elegant curves, the fingerprint sensor is smack dab in the middle below the rear camera, and there's an 18:9 screen with slim bezels.
Under the hood, the XZ2 is packing all of the latest specs — including the Snapdragon 845, 4GB RAM, 19MP/5MP rear/front cameras, IP68 dust/water resistance, and Android 8.0 Oreo. The phone costs $800 and is on sale now (opens in new tab).
Sony Xperia XZ2 preview: Slimmer bezels, wider appeal
Sony Xperia XZ2 Compact
There's no denying that the XZ2 is a powerful phone, but what if you want all that horsepower in a phone that's considerably smaller and a bit cheaper? For you, Sony's got the Xperia XZ2 Compact.
The XZ2 Compact is mostly the same phone as the regular XZ2, save for a smaller battery, 5-inch screen, and a plastic back. Everything else, such as processor and cameras, are exactly the same.
It's not necessarily cheap at $649 (opens in new tab), but it's one of the few truly small phones that offers a no-compromises flagship experience.
Sony Xperia XZ2 Compact review: The new standard for small
Sony Xperia XA2/XA2 Ultra
During this past CES, Sony officially took the wraps off of the Xperia XA2 and XA2 Ultra. Both phones are mid-rangers in Sony's lineup for the year, and while there's nothing particularly exciting about them, they do the basics really, really well while keeping costs low.
The XA2 offers a refreshingly small 5.2-inch display, and for those of you that prefer big phones, the XA2 Ultra should serve you just fne with a 6-inch screen size. Both come equipped with an LCD panel and resolution of 1920 x 1080, and for the first time ever, these two Sony phones have working fingerprint sensors in the United States 👏.
Each phone also shares NFC, Android 8.0 Oreo out of the box, USB-C for charging, and a 3.5mm headphone jack. Aside from the screen size, the only other big difference lies with the XA2's 3,300 mAh battery and the XA2 Ultra's 3,580 mAh unit.
The XA2 sells for a fair $349, and stepping up to the XA2 Ultra will cost you $449.
See at Best Buy (opens in new tab)
Sony Xperia L2
If you like what the XA2 and XA2 Ultra bring to the table but want to spend even less, Sony's Xperia L2 is for you.
The Xperia L2 has a 5.5-inch display with a resolution of 1280 x 720, MediaTek processor, 3GB of RAM, and a 3,300 mAh battery. As for the cameras, you'll find a 13MP sensor on the back and an 8MP one up front.
There's a working fingerprint sensor on the L2 and support for NFC just like on the XA2 and XA2 Ultra, but unlike those phones, the L2 ships with the older Android 7.1.1 Nougat.
You can buy the Xperia L2 in black, gold, and pink, and its price of $250 is more than manageable.
See at Best Buy (opens in new tab)
Updated July 11, 2018: Added the Xperia XA2 Plus to the list.
Android Central Newsletter
Get instant access to breaking news, the hottest reviews, great deals and helpful tips
Joe Maring was a Senior Editor for Android Central between 2017 and 2021. You can reach him on Twitter at @JoeMaring1.
I'm glad that the XA2 (non-Ultra) will actually be shorter over the original one and the XA1. Good that Sony is making less phones but I'm a little sad about no updated Compact to come.

Came to post the same thing. Was really looking for a full screen-ish phone the physical size of the X Compact. Midrange CPU, camera, etc. would be fine. Single handed use works far, far better for a quick glace at something before the phone goes away.

Honestly, if the XZ1 compact didn't have much in the way of bezels, it's screen wouldn't be particularly small by recent standards...somewhere between the iPhone 8 and iPhone X sizes.

Uhhh the xz2 compact is legit.

True, but at the time this was posted originally, there was no mention of an updated Compact. I'm glad Sony made it happen.

I would have picked one up but I can't stand the new 2:1 aspect screens. Otherwise from handling one in the store it is an awesome phone.

I really hope people start to notice sony phones. I moved from wp to android and tried a few until I got the zx premium and for me I love it ok it dose not have a edge to edge screen but ide take camera button, fingerprint scanner on the side, front facing speakers and headphone jack and a 4k screen over that any day. Hope sony hit the ground running in 2018.

I will consider a Sony phone is they make one unlocked and compatible with all US carriers. That and of course make the fingerprint sensor available to work in the US and make the phone affordable as well.

I think since they are now making a dedicated spot for the finger print sensor, it should be working for US now.

Fingerprint sensor isn't super difficult to fix, but then people shouldn't have to monkey with it to get it to work either.

I have the Sony XZ Premium and Galaxy Note 8 and keep going back to the XZP as my goto Android phone. It's great Sony continues to push forward and improve even without the support from the masses. I may be in the minority here and will continue to root for Sony to produce well made and quality devices.

Not sure if it's hardware or software but the camera heat issue Sony has totally failed. One more chance Sony, 2018 if there's any sliver of camera shutdown coz of heat. I'm gone. Rocking the Xperia XZ.

I want to see Sony win. But they have major software bugs they need to work out. Samsung and Apple need a company that defects the trend but presents as powerful a package as they do. Huawei ain't it (even though the V10 looks good, but EMUI?)

I'm running an Xperia X, and I have no software bugs. What specifically is the issue?

Unless they come with fingerprint sensors or other forms of bio authentication, they are already DOA.

I think since they are now making a dedicated spot for the finger print sensor now (on the back), then it should have finger print for all regions. They wouldn't just make one with out a finger print spot on the back just for 1 region. It would not be financially feasible to change the back design of an entire device just for 1 region.

Considering the state of Sony's mobile division, "not financially feasible" doesn't necessarily mean they won't do it.

I have the XZ Premium. Bought it from the UK so the fingerprint reader works OOTB. Mine works great! No issues. Would prefer the fingerprint reader on the back as it works good on the power button but I do not like having to press the power button to get it to work, plus with a case it makes it harder to land the print reliably every time. I have seen a few different renders and hope that they come out with one of them that I have seen. Some of them are really looking sharp!

Ok, I want that wallpaper.

This list feels a little curious, namely the XZ2 Premium listing. It feels like not enough real info to go by to warrant a spot on this article yet. Also, what about the two Sony phones you mentioned in the SD845 article? XZ Pro (sounds like the Premium line being renamed) and the XZ2.

Really hope Sony doesn't jump on the 18:9 bandwagon just yet. Need a company that produces high-end device with the normal widescreen aspect ratio in 2018 since most media is still produced on 16:9. Yeah, Sony will be a sacrificial lamb till the 18:9 trend becomes the norm but Sony's been tanking the smartphone game for years anyway, lol. P.S. I'm a huge Sony fan.

i hate 18:9, if the XA2 Ultra is a decent price, I'm going to buy it just to support large screen phones with 16:9

Will ANY of them...touch Verizon's network?

Do any Sony phones work in the US? I had an Xperia years ago, on Verizon. But hadn't really seen anything lately.

The xz2 compact is suppose work on Verizon!

if it is priced right, the XA2 Ultra will be mine

I think it's already leaked that new flagship will be named XZ Pro A. Whatever that means. 845/6GB/128GB is rumored configuration with usual 4K HDR 16:9 LCD screen and who knows what else. XZ2 should introduce 18:9 screen by the end of the year.

The pink and blue colors are AWESOME! Might grab both of those for my wife and I.

I would get another Sony. I had the Z3 compact and I loved the phone.

Get the XZ1 Compact then. It's EXACTLY the same phone but with 2017 specs.
Mind you... Being exactly the same phone means it still has the exact same shortcomings.

Once again I'm disappointed in Sony not including a 6" to 6.4" phone in the xz2 high end segment. But Sony does it in the mid range segment with the xa2 ultra. Ever since the Z ultra (which I definitely liked) I never saw a high end big ass screen from Sony again. I rarely call on my phone but I do read / watch videos on it and occasionally play games. 5.5" is my minimum but I rather have a bigger screen.

That's because most people actually DON'T like phablets. Sony's best selling flagship has always been the Compact. So that's kind of why ;)

I like the XA2Ultra, here's the problem. 450.00 bananas is a lot too much. The op5t is fifty dollars more & incorporates the 835 processer & ditto for the Nokia8 which also has the 835 processer & you can purchase on Amazon for 441.00. Sony's pricing is always out of wack! But it finally get's the FPS on US models & ships with Oreo if that makes any difference!

The Sony Xperia XZ Premium is one of the best out there , even compared to the iPhone X and the Samsung S8, one of the best displays you can buy

Anyone who need Sony repair parts wholesale please visit https://www.etradesupply.com/sony.html

Fingerprint scanner is placed too low ...

XZ2 has been great for me personally, this year camera is also improved greatly and Sony got great software with regular updates as usual. I might sell the XZ2 and jump to the premium model when released. Only concern is the XZ2 premium looks like a thick and heavier phone than XZ2 which is already thick and heavy.

Never realized how antiquated their design is, especially their Compact models. Of what I've seen, their new upcoming flagship changes that, but still.

Song are crap with phones and I wouldn't choose any Sony Xperia phone over a Pixel 2 XL, which I'm finally getting this Friday.

You will be so much surprised how Pixel 2 XL is just another overhyped crap for a $900 just like rest of the phones in that price range. Disappointment will hit you by Monday.

Shhhh... Don't spoil the surprise. 😀

Nope I'll be absolutely over the moon with my Pixel 2 XL all the over phones don't hold a candle to the Pixel with Samsung being the most overhyped of all with their bloatware and crap that make the phone lag and poor updates. I know exactly what I'm getting with the Pixel 2 XL, clean, fast software which is the best Android experience available and timely updates unnecessary features or rather gimmicks aren't important to me along with worthless wireless charging or expandable memory which 128GB is more than enough for most people.

The Sony Xperia Z3 was my first Android phone and what a legend. I miss that battery life, sleek build and camera button along with the front firing speakers. It sucks that it was pretty much the end of being able to get one through carriers. I'm not dropping $900 for any phone regardless of branding or features.

My Z3's still alive and kicking. No plans on replacing it until it kicks the proverbial bucket. 😎

Sony should be killing the smartphone market.
It makes great screens, some of the best small sensor cameras and it's build quality and QC are excellent.
Never owned a Sony phone but reviews are never that great. What's going on?

Sony makes camera sensors for many phones. What I can't understand their own camera's barely crack the top 10. I could never figure that one out!

Looking forward to the XZ2 Premium this summer, I'll be upgrading.

I like how Android Central views a 5" screen as small. I can remember when no one liked the huge 5" screen of the original Note.
What I"d like to find is a phone with around a 3.5-4" screen, about the size of my old iPhone 4s, but with a modern proc, camera, and memory.

Because 4" phone is so 2012? 6 years for smartphone technology is tremendously long.

1000? To no avail. Seems everytime I attempt to look into getting a Sony phone, something they do stops me in my tracks.

A very delusional company.

Although Sony has not been doing well in the US market, their pride or ego doesn't allow them to sell a cheaper flagship. It's following HTC's path.

$1000 is pretty steep, but not much more than competing options.
Android Central Newsletter
Get instant access to breaking news, the hottest reviews, great deals and helpful tips
Thank you for signing up to Android Central. You will receive a verification email shortly.
There was a problem. Please refresh the page and try again.