Top 5 favorite chargers for Galaxy S6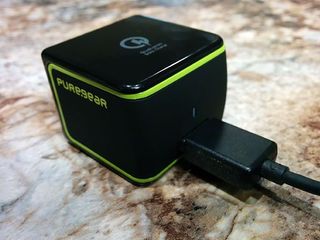 With a brand new Samsung Galaxy S6 in hand, it's safe to assume we're blowing through that first full charge before we're unglued from it. And since we're not counting on extended batteries to bail us out of a dead device this time around, we're looking for the best chargers for the Galaxy S6 straight from our very own ShopAndroid.com.
This brief roundup of our favorite Galaxy S6 chargers will give you some better direction on what's available and worth investing in. We're talking car chargers, wall chargers, backup batteries, heck — even a wireless charger for good measure. Have one in mind that's not on the list? Let us know your charger of choice.
READ MORE: Top 5 favorite chargers for Galaxy S6
Puregear 2.4A Extreme USB Wall Charger
Image 1 of 3
Small in design and an extremely effective charger for your Galaxy S6. Puregear's Extreme wall charger rocks Qualcomm's mad Quick Charge 2.0 skills and doesn't take up the entire outlet while doing it.
The fact that it has folding blades is a plus, making it easier to toss in your bag, pocket, purse, whatever. The 2.4A USB port on the front accepts your OEM cable (since they don't include one), or any USB charging cable for that matter, giving you increased charging speeds up to 75%. There's a small LED above the port that lights up while it's doing its thing, too.
Check out the Puregear Extreme USB Wall Charger
Qmadix Next-Gen Power Micro USB Vehicle Power Charger
Image 1 of 4
You'll definitely need an efficient charger in your vehicle, and the Qmadix Next-Gen vehicle power charger will do the trick. It's fairly compact, and while it does have a hardwired micro-USB cable — at least it's coiled.
This Galaxy S6 car charger comes packed with Qualcomm Quick Charge 2.0 written all over the box, so you know it's got the goods. When plugged into your vehicle's DC outlet the back of the adapter lights up white. Pretty plain and simple, but it'll certainly juice up your Galaxy S6 with a quickness.
Check out the Qmadix Next-Gen Car Charger
TYLT VU QI Wireless Charging Pad
Image 1 of 3
We can't talk chargers without tossing in a sweet wireless charging pad. You're looking at the TYLT VU QI wireless charging pad for the Galaxy S6. This thing is simply awesome in design, compared to the traditional flat pad or puck we're used to seeing.
The entire charging pad has this soft coating that helps your Galaxy S6 from sliding around, and it just looks great. It comes with its own wall adapter and proprietary plug that goes into the underside of the pad. Turn it around, though, and there's a neat little notch you can tuck the cable under to keep things clean looking. No, it's not a quick charger, but it will look great in any color with your Galaxy S6.
Check out the TYLT VU QI Wireless Charging Pad
Ventev Qualcomm Quick Charge Dashport Car Charger
Image 1 of 2
If space is an issue in your vehicle, look no further than this Quick Charge Dashport Charger from Ventev. This miniature Galaxy S6 car charger is so small it nearly sits flush with your dash while plugged in.
Not only does it rock Quick Charge 2.0 speeds, it comes with its own spiffy (detachable) micro-USB cable that's flat in design, eliminating those annoying knots and tangles. When it's plugged in, there's a small Quick Charge logo that lights up green. Proof that big things do come in small packages.
Check out the Ventev Qualcomm Dashport Car Charger
TYLT ENERGI 10K Battery Pack w/ 3 USB Ports
Image 1 of 4
So, Samsung doesn't want to give us a replaceable battery with the Galaxy S6. That's OK. They've got their reasons, and we've got a backup plan. Well, a backup battery, actually.
The ENERGI 10K Galaxy S6 battery pack from TYLT gives you all the charge you need, plus some. This beast has 3 separate USB ports you can charge from, simultaneously if your heart desires. With a complete capacity of 10,400mAh and a charging speed of 4.2 amps, this sucker will keep you out of the red zone whether you're at the airport or hiking in the Smokies. A must-have for multiple devices.
Check out the TYLT ENERGI 10K Battery Pack
More chargers for Galaxy S6
Get the Android Central Newsletter
Instant access to breaking news, the hottest reviews, great deals and helpful tips.