Top 5 favorite chargers for Galaxy S6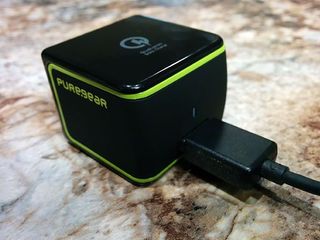 With a brand new Samsung Galaxy S6 in hand, it's safe to assume we're blowing through that first full charge before we're unglued from it. And since we're not counting on extended batteries to bail us out of a dead device this time around, we're looking for the best chargers for the Galaxy S6 straight from our very own ShopAndroid.com.
This brief roundup of our favorite Galaxy S6 chargers will give you some better direction on what's available and worth investing in. We're talking car chargers, wall chargers, backup batteries, heck — even a wireless charger for good measure. Have one in mind that's not on the list? Let us know your charger of choice.
READ MORE: Top 5 favorite chargers for Galaxy S6
Puregear 2.4A Extreme USB Wall Charger
Image 1 of 3
Image 2 of 3
Image 3 of 3
Small in design and an extremely effective charger for your Galaxy S6. Puregear's Extreme wall charger rocks Qualcomm's mad Quick Charge 2.0 skills and doesn't take up the entire outlet while doing it.
The fact that it has folding blades is a plus, making it easier to toss in your bag, pocket, purse, whatever. The 2.4A USB port on the front accepts your OEM cable (since they don't include one), or any USB charging cable for that matter, giving you increased charging speeds up to 75%. There's a small LED above the port that lights up while it's doing its thing, too.
Check out the Puregear Extreme USB Wall Charger
Qmadix Next-Gen Power Micro USB Vehicle Power Charger
Image 1 of 4
Image 2 of 4
Image 3 of 4
Image 4 of 4
You'll definitely need an efficient charger in your vehicle, and the Qmadix Next-Gen vehicle power charger will do the trick. It's fairly compact, and while it does have a hardwired micro-USB cable — at least it's coiled.
This Galaxy S6 car charger comes packed with Qualcomm Quick Charge 2.0 written all over the box, so you know it's got the goods. When plugged into your vehicle's DC outlet the back of the adapter lights up white. Pretty plain and simple, but it'll certainly juice up your Galaxy S6 with a quickness.
Check out the Qmadix Next-Gen Car Charger
TYLT VU QI Wireless Charging Pad
Image 1 of 3
Image 2 of 3
Image 3 of 3
We can't talk chargers without tossing in a sweet wireless charging pad. You're looking at the TYLT VU QI wireless charging pad for the Galaxy S6. This thing is simply awesome in design, compared to the traditional flat pad or puck we're used to seeing.
The entire charging pad has this soft coating that helps your Galaxy S6 from sliding around, and it just looks great. It comes with its own wall adapter and proprietary plug that goes into the underside of the pad. Turn it around, though, and there's a neat little notch you can tuck the cable under to keep things clean looking. No, it's not a quick charger, but it will look great in any color with your Galaxy S6.
Check out the TYLT VU QI Wireless Charging Pad
Ventev Qualcomm Quick Charge Dashport Car Charger
Image 1 of 2
Image 2 of 2
If space is an issue in your vehicle, look no further than this Quick Charge Dashport Charger from Ventev. This miniature Galaxy S6 car charger is so small it nearly sits flush with your dash while plugged in.
Not only does it rock Quick Charge 2.0 speeds, it comes with its own spiffy (detachable) micro-USB cable that's flat in design, eliminating those annoying knots and tangles. When it's plugged in, there's a small Quick Charge logo that lights up green. Proof that big things do come in small packages.
Check out the Ventev Qualcomm Dashport Car Charger
TYLT ENERGI 10K Battery Pack w/ 3 USB Ports
Image 1 of 4
Image 2 of 4
Image 3 of 4
Image 4 of 4
So, Samsung doesn't want to give us a replaceable battery with the Galaxy S6. That's OK. They've got their reasons, and we've got a backup plan. Well, a backup battery, actually.
The ENERGI 10K Galaxy S6 battery pack from TYLT gives you all the charge you need, plus some. This beast has 3 separate USB ports you can charge from, simultaneously if your heart desires. With a complete capacity of 10,400mAh and a charging speed of 4.2 amps, this sucker will keep you out of the red zone whether you're at the airport or hiking in the Smokies. A must-have for multiple devices.
Check out the TYLT ENERGI 10K Battery Pack
More chargers for Galaxy S6
So, it has come to this.... Is the general consensus that the batteries on the S6 and S6 edge just aren't going to cut it? Can anyone suggest an AT&T carrier phone with the best battery life?

No, this is just AC promoting their shopandroid website. Phone with best battery life would be a feature phone.

'Is the general consensus that the batteries on the S6 and S6 edge just aren't going to cut it? ' That's kind of a subjective question, as it will usually depend on how long you're away from a charger. If you pretty much live indoors, it's probably fine. For the 2-3 times a year you're away from a charger for 10+ hours, there's always battery cases. In the meantime, you get to enjoy a thin phone the other 98% of the time, if that's your thing. On the other hand, if you spend a lot of time outdoors/away from a charger for hours on end, this probably ain't the phone for you.

Perhaps you are away from a charger 2-3 times a year. For me, I'm the away from a charger hours on end guy. Phones used to last and I wasn't worrying about battery(or had a spare battery to take me to 100% in a few seconds). Batteries have always been a discussion with smartphones its just now, they are talked about a lot more. Battery tech simply has to get better.

I'm a little confused by this article... none of these are specific to the Galaxy S6. Edit: Let me rephrase... I guess I'm not confused, but I don't get the implication that these are chargers made specifically for the Galaxy S6 when that's simply not the case, at all.

I'm sorry. I know how embarrassing it is to not comprehend a simple article. Been there. Posted via the Android Central App

No need to be a douche. Posted via the Android Central App

It's an SEO post. So when people search for Galaxy S6 Chargers this might come up, hence giving them more $$ in ad revenue and they might even have referral income from this as well. All of us regular visitors know these are just regular micro-usb charges, but this is to fool those people who search "Galaxy S6 Chargers".

That makes sense... I swear there are more and more of these types of articles showing up here lately. Maybe I'm dreaming, though, and simply used rose-colored glasses in the years leading up to "recently".

You mean articles that help people who are new to Android? Oh the horror!! Posted from my Droid Turbo, Kelly and Ozone

+1 Posted via the Android Central App

Wow you're getting very emotional about this haha look how many comments you've posted. Plain and simple it's an advertisement post!

The only emotion i have is annoyance at comments like yours Posted from my Droid Turbo, Kelly and Ozone

Oh c'mon, you're taking my comment to extremes. I simply get annoyed by articles that mask themselves as helpful articles when the true intention is to bring additional ad revenue to the site. This could've just as easily been framed as "Hey you've got a new Galaxy S6 - don't forget it does quick and wireless charging. Here are some of our favorite quick and wireless chargers." See my response to the author's comment below...

News flash - every single article ever written on this site is with the intent of bringing in additional ad revenue. Every one of them. Yes, Phil and Co love android and they love writing for this site and most of what goes along with it, but if there was no revenue, there would be no Android Central. So these ridiculous comments about these articles that are written to help newbies are annoying at best and they need to stop . Unfortunately people aren't bright enough to realize that even an article about chargers can be extremely helpful when you are new to the platform. Posted from my Droid Turbo, Kelly and Ozone

#1 I'm well aware the site is provided to us free because of ad revenue. (though I'm one that would be willing to pay for a subscription)
#2 I have no problem with all the hard working people of AC and other MN sites earning income for their work.
#3 I agree this article can be helpful for complete newbs - I don't think I ever stated otherwise. The problem I have is this - there is a line that is crossed (and you're ignoring it, which is your choice) with regard to journalistic integrity, and articles like this are crossing it. I get that every article on AC is meant to provide a product to readers that in turn generates income for the site. The problem is articles like this feel like they're 110% completely motivated by revenue, rather than motivated by producing a quality product first. If you can't see that, or aren't bothered *at all* by that, then this discussion will likely never go anywhere.

Well, that depends. Are these chargers bad? Or are they considered 5 of the best? If the answer is the former, I agree with you. If it's the latter: 1. Users are informed of some good chargers they can get for their new phone
2. Android Central gets ad revenue The way I see it, it's a win/win situation... just the way it ought to be.

How is it fooling anyone? Any of these chargers will work with the S6, so if someone does a search and ends up here and gets one of these they won't have been fooled at all. Posted from my Droid Turbo, Kelly and Ozone

I never said it was fooling anybody.

Hint: It's basically an advert for shopandroid.

That's unfortunate... all it's going to do is lead me to purchase the Tylt Vu on Amazon, not here.

Yes , it's very unfortunate that if the S6 is your first Android or first smartphone and you want to pick up an extra charger, someone made recommendations and pointed you where to buy one. That is just an awful thing to do. Posted from my Droid Turbo, Kelly and Ozone

You're taking my comments and then making them overly dramatic. Feel free to have some constructive discussion instead.

Actually I'm mocking your comment because it deserves to be mocked. Make a comment that deserves a constructive conversation and i will be happy to have one. Posted from my Droid Turbo, Kelly and Ozone

Why does the title of this article bother you so much? Posted via the Android Central App

Honestly it's the content more than the title. Why can't they just write the facts instead of plugging "Galaxy S6" into every item title... it's pretty blatant SEO fodder. Provide quality factual content first, then let the ad revenue come as a result - don't force the ad revenue here by articles like this.

I don't begrudge them making some money. However, I wish the title was a little more specific; "Our top 5 favorite chargers for the Galaxy S6 from ShopAndroid." or something like that.

Not implying any of these chargers are 'strictly' for the Galaxy S6, but simply that these are the top picks from our shop that will work best with the device. Posted via the Android Central App

If you say so... "...our favorite Galaxy S6 chargers..."
"This Galaxy S6 car charger ..."
"You're looking at the TYLT VU QI wireless charging pad for the Galaxy S6."
"This miniature Galaxy S6 car charger..."
"The ENERGI 10K Galaxy S6 battery pack from TYLT" I get it - it's SEO shadowed in a "helpful" article. Why not frame it as something like this... "You've got your new Galaxy S6... bla bla... it does Wireless and Quick charging - here are some of our favorite wireless and quick chargers that will work with your Galaxy S6". And then NOT plant "Galaxy S6" in every description.

-1 Posted via the Android Central App

I do say so. Things will be okay. They're only chargers. Posted via the Android Central App

You'll have to forgive me - I'm not criticizing your writing skills, it just really feels like Mobile Nations' sites have slowly started mixing in blatant SEO/ad-generators with the quality content I'm used to reading here. It makes the information stated feel tainted and the reader feel like he's being used to generate revenue more than to consume information. Maybe I'm just too old school and too much of a curmudgeon about this stuff now.

I don't care if it's an article to generate ad revenue. This is a great Android1 website and these guys do a great job. I hope they are getting revenue so they can hire more people and cover more content. But...I am wondering if everyone thinks these phones are gonna need juice. My thought is yes... And, what AT&T smartphone has the longest battery life? Posted via the Android Central App

TYLT Vu is the best hands down!

This kind of answers my question of whether or jot the Qualcomm 2.0 quick chargers work with the s6. I assumed that it uses the same hardware tweaks that allowed the quick charge as the Qualcomm chips, but I wasn't sure. I'm also assuming that it's not actually Qualcomm since Samsung ditched them for the processor, but I could be wrong.
At least I know they work! Posted via the Android Central App

I would recommend the lithium card. It's a great little battery pack and the lithium card pro is on kickstarter and indie gogo right now. If you back it now you can get up to $40 off retail. With the pro you get 3 times the charging capacityof the original lithium card with a 3 amp quick charge. It can be stuck to the back of almost any device. With the included Nanostik pad. So no worries about messy wires and what not. I ordered one as soon as i saw it. As well as an $8 wireless charging pad that was on sale for 70% off on Amazon. All to prepare for the galaxy edge

I've been impressed by the Anker 18W USB Wall Charger with Qualcomm® Quick Charge 2.0 Technology for in the home or office, and the Powermod Quick Charge 2.0 Certified D/C In-Vehicle Car USB Charger. Both $20 or less and have been solid for all of my quick charge 2.0 devices.

One MAJOR annoyance with using certain wireless chargers with the Galaxy S6 is that Samsung does not give you the ability to turn off the charging tone. Let me explain:
I've had the S6 for a few days now, and being a big proponent of wireless charging, I have a few TYLT wireless chargers around my house and desk at work. Now, we all know that Galaxy phones emit a sound when you plug in a power cord. That sound emits when placed on a wireless charger also. The TYLY, like many other chargers, turns off when the phone hits 100%. The problem occurs when the phone drops below 100%, because the juice starts flowing again and, BAM, the phone emits this sound. Oh, and the screen comes on too.
Now, imagine placing your phone on the wireless charger before you go to bed and hearing that bloody sound every 10 – 15 minutes, accompanied by that a nice glow from your nightstand. This never happened with my Nexus 5, 6 or 7, and like I said before, Samsung does not allow you to specifically turn off this sound, other than turning off all notifications. Whereas muting all notifications during bedtime is an option sometimes, I don't want to have to do this every time my phone is sitting on the wireless charger, e.g. during at work.
I've noticed similar complaints from users of other Galaxy phones and rooting the phone seems to be the only option. One person did note that the Nokia wireless chargers seem to keep a constant trickle charge, thereby taking care of the issue, however I have not tried this as yet. I would assume that the official Samsung charger would act the same, but I really don't want to replace my TYLT chargers cause 1) They cost me a lot and 2) They work fine otherwise.

I don't have a S6 but have a Note 3 with the official Sammy cover and while I do get the initial wireless charging tone, I don't hear it after it has hit 100%. I have the standup Nokia Qi unit by the bed (DT 910) and a dt900 and a Sammy unit elsewhere and don't recall hearing it there either. What Qi unit are you using? Edit: I assume a Tylt unit. I assume others have complained as well or is it a defective unit? Posted via the Android Central App

Yes, I've got a couple Tylt Vu chargers and it happens with both of them. It seems to be an issue with the Tylt cause i was able to test on a friend's Nokia dt-900 today and never got the tone after reaching 100% charge.

Did you get the chargers when they first came out? I had that problem with my S4 and TYLT sent me new ones that behave perfectly. Posted via Android Central App

Yes, I got a couple Tylt Vu chargers when they first came out. It does seem to be an issue with the Tylt cause i was able to test on a friend's Nokia dt-900 today and never got the tone after reaching 100% charge.

So can anyone tell me the main difference between the Ventev Quickcharge Dashport with quick charge 2.0 compared to Ventev dashport r2240 is a dual USB port (2.4A per port) rapid charger? Does the 2.1A compared to 2.4A make the rapid charger qualify as a quick charging cable that would work the same on GS6? Thanks folks!

I'd urge caution if considering the Tylt Vu. I've just bought one for my Galaxy S6 and it's been connecting-disconnecting-reconnecting every couple of minutes, even without a case. I've had a look around and it seems I'm not alone.
Android Central Newsletter
Get the best of Android Central in in your inbox, every day!
Thank you for signing up to Android Central. You will receive a verification email shortly.
There was a problem. Please refresh the page and try again.