Best Samsung Galaxy S6 cases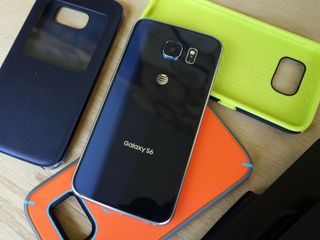 We all have different needs to be met, but there are particular covers out there that stand out among the rest, providing both quality protection and exceptional design.
After careful consideration and input from members of the Galaxy S6 forums, we've selected cases that have made the biggest impression. These choices aren't limited by their size, manufacturer or price — only tried and true options that keep your Galaxy S6 safe from the inevitable drop.
OtterBox Defender Series Case
First up, we have the OtterBox Defender Case for the Galaxy S6. Easily the most rugged of the bunch, this hybrid case comes loaded with 3 layers of protection along with a tough belt-clip holster to keep on your belt or pocket. Its size isn't meant for everyone, but those who do use it are keeping their Galaxy S6 safe from the worst impacts.
Speaking of its size, the Galaxy S6 OtterBox Defender (opens in new tab) is actually the slimmest version we've seen to date, and that's really saying something. You've still got all the familiar features of the Defender series, including an interior foam that seats your device safely, port covers to keep out dirt and other debris, an exterior slipcover that helps absorb impacts while enhancing your grip around the case, topped with a high-impact polycarbonate shell that keeps it all together.
Let's not forget the built-in screen protector, either — great for shielding against those pesky scratches. The Defender's holster holds the Galaxy S6 with the case on, allowing quick and easy access when you need answer a call, text or email while you're out and about. Many users opt out of utilizing the holster, but it's definitely handy for certain occasions.
See at Amazon (opens in new tab)
OtterBox Commuter Series Case
The slimmer option of the OtterBox series is the Commuter Case, providing just about everything you'd need to protect your Galaxy S6 from scratches, drops and dirt intrusion.
Surprisingly lightweight for its design, the Commuter Case (opens in new tab) features a smooth polycarbonate shell on top of a shock absorbing silicone interior that slides together for a compact fit. It comes with port covers pre-installed to keep out dust and other debris, but are able to be permanently removed if they're more annoying than useful.
With this hybrid case around your Galaxy S6, you can enjoy an enhanced grip thanks to the skinned edges and easy-press side buttons. It comes in black, blue or glacier color combinations and even includes a self-adhesive screen protector.
See at Amazon (opens in new tab)
Ringke Slim Case
There's always a total transparent option that makes it to the top of the list, and the Ringke Slim Case is ranked most popular this time around. And, if clear's not your thing — there are 6 other colors to choose from.
Perfect for slim, casual protection, this clear cover keeps bulk out of the equation and the good looks of the Galaxy S6 in. There's complete access to the side buttons, ports, camera and display while the case is worn, too. Included with the Ringke Slim Case (opens in new tab) is a complimentary HD film for shielding the back and front of your Galaxy S6 from unwanted scratches — so that's a plus.
Keep in mind, however, that you're not getting a huge amount of protection with this case. It's slim, yeah, but when it comes to more serious impacts — don't expect a whole lot. For everyday use and minor drops it'll do the job, though.
See at Amazon (opens in new tab)
Urban Armor Gear Composite Hybrid Case
If you're into rugged looks, the Composite Hybrid Case from UAG Read our hands-on review is definitely worth considering. Don't be put off by its damage-resistant design, though, because it's actually slim for the level of protection it provides. Both the TPU and polycarbonate shell are fused together with extra impact protection around all 4 corners.
There's obviously a lot to grip with the Composite Hybrid Case (opens in new tab), between the TPU side grips and busy pattern on the back shell — dropping your Galaxy S6 becomes a rare occasion. There aren't any port covers to get in the way, but the case meets military drop-test standards — including a screen protector to ward off any scratches.
This case comes in some pretty cool color options, too. Solid colors include: black, white, rust and slate — for more transparency, there's ice and ash.
See at Amazon (opens in new tab)
Spigen Slim Armor Case
An all-around favorite is Spigen's Slim Armor Case, sporting dual layers in an incredibly low profile. It's no secret that Spigen has been at the forefront of the popularity list for quite some time now, and for good reason. They're consistent with their quality and design, offering options for both heavy duty and average users.
What's great about the Slim Armor Case (opens in new tab) is its ability to shield against impacts without bulking up the Galaxy S6 to the point that it's no longer attractive. It leaves precision cutouts for everything you'd need, including the camera, flash and ports. The side buttons are raised for a more uniformed look, and are easy to press.
On the back shell is a fold-out kickstand for convenient viewing when you need it, and it doesn't protrude from the rest of the case like we've seen with the Trident Kraken AMS. It's designed to allow you to face your Galaxy S6 down on any flat surface while elevating the display, keeping away any possible scuffs or scratches. The Slim Armor Case comes in gunmetal (as shown), metal slate, shimmery white, and blue topaz.
See at Amazon (opens in new tab)
Speck CandyShell Grip Case
Speck's CandyShell Grip is back by popular demand with the Samsung Galaxy S6. It's got serious grip, and we can't blame users for enjoying that level of security.
Featuring an easy, snap-on installation the CandyShell Grip Case (opens in new tab) provides a soft, rubbery interior that keeps your Galaxy S6 safe from wear. Each corner has been reinforced to help handle impacts if and when they occur, while the raised bezel keeps the display from touching flat surfaces.
The polycarbonate shell is glossy, so fingerprints and smudges can be an issue over time, but are easily manageable. The most notable feature of the CandyShell Grip is its rubber stripes that wrap from side to side, enhancing grip in the most important areas. The symmetrical pattern has a unique look, too. If the black and grey (pictured) isn't your style, choose from 5 other color combinations.
See at Amazon (opens in new tab)
Spigen Neo Hybrid Case
Sporting excellent grip with its textured TPU skin is Spigen's Neo Hybrid Case for the Galaxy S6. This slim cover combines a thin polycarbonate bumper with a shock absorbent skin that's design to keep things slim yet protective. Metal coated buttons along the sides add to the case's good looks, too. Bumper colors include slate, gold, blue, and silver.
See at Amazon (opens in new tab)
Obliq Thin Bumper Case
This slim bumper case for the Galaxy S6 is designed to offer easy installation and removal while keeping you safe against minor impacts. The back cover rocks a brushed aluminum finish that looks amazing around the Galaxy S6 in any color. Ports and buttons are left open for easy access as well. Take your pick from 7 different color combinations.
See at Amazon (opens in new tab)
Verus Card Case
Who says a wallet case has to be a flip cover? The Verus Card Case for Galaxy S6 features a dual-layer design that provides optimal protection against impacts while adding storage under the shell for your personal items. Keep your ID, credit card, even some cash in your new case by sliding it open when you need. Available colors include silver, red, yellow, gold, and dark silver.
See at Amazon (opens in new tab)
Supcase Unicorn Beetle PRO
The next best thing to an OtterBox is the Unicorn Beetle for Galaxy S6. This rugged case turns your device into a beast that's ready for anything. Between the textured exterior shell, built-in screen protector, and shock absorbent skin inside, impacts don't stand a chance in damaging your Galaxy S6. Also included is a rugged belt holster for keeping your protected device at your side. The Unicorn Beetle comes in black, blue, green, pink, and white.
See at Amazon (opens in new tab)
Caseology Wavelength Series Case
If you're after grip, then Caseology's Wavelength Case for Galaxy S6 is right up your alley. This incredibly slim cover utilizes both polycarbonate and TPU materials to handle impacts. The grippy "wave" patterned skin on the back is what makes this case stand out. Choose from a handful of different color combinations to find the Wavelength that suits you and your Galaxy S6 best.
See at Amazon (opens in new tab)
Which is your favorite case?
Bike (opens in new tab)
How do you keep your Galaxy S6 protected? Let us know in the comments!
Get the Android Central Newsletter
Instant access to breaking news, the hottest reviews, great deals and helpful tips.
Marc Lagace was an Apps and Games Editor at Android Central between 2016 and 2020. You can reach out to him on Twitter [@spacelagace.
That's funny I just got your #2 choice yesterday and wow it is perfect. Well if you like a super slim case that is. Posted via the Android Central App

I just got this case for my S6 http://www.amazon.com/Galaxy-Case-Phatboy-Knight-Protection/dp/B01E69C3F...
It has dual layered protection and look amazing.

I bought something from caseology with a leather back. Nice looking and slim. Only problem is that the opening for the headphone port is too skinny for the tape deck cable in my car. Just ordered a Bluetooth adapter this morning to fix that. Posted via the Android Central App

Incipio NGP all the way Posted via the Android Central App

A tempered glass screen protector round up would be great. Posted via the Android Central App

I know some people like cases, but I really don't get all the people going crazy over the new build quality and looks when people use cases like this...

Would you look at that?! A "for Samsung Galaxy S6" article that may actually be called for...

All are hideous except for the Rearth slim case. Thanks but no thanks, I'll stay naked. Hold onto your S6 like it is seven $100 bills, and you won't need a case

Haha yeah hold on to it is right that being said I choose a nice thin clear case for my gs6 edge don't remember the name cause it was a cheap knock off . But it fits and looks good and protect my phone without all the balk . Posted via the Android Central App

sometimes life, physics, and alcohol intervenes. get a case.

I-Blason Clear Halo case rocks. $10 on Amazon. Posted via the Android Central App

Casemate Nearly Naked case from Android Central Store )))) Posted via Samsung Galaxy S6

Let's see some of the best S6 bumpers?

I think anything is better than a Otterbox. Highly overrated compAny in terms of protection. Posted via the Sailfish iMore app

I've got the Bear Motion slim case and it's awesome. Super slim and awesome grip. You've got to try it to believe it. Posted via the Android Central App

I had Ringke SLIM on my nexus 5, I have one on the s6. It's amazingly good looking case, especially in gold. Protects the phone really well, while being super thin and minimalist. The case has a lip that protects the camera lens when you put your phone face up on desk, and its edges are slightly raised when you put your phone face down on the desk.

I'm waiting for lifeproof to start selling their S6 case... In the meantime. I have spigen ultra slim crystal... Is just like the #2 on this list Posted via the Android Central App

I went in to Best Buy expecting to buy the #5 Speck case, but didn't really like the "stripes" on the black case. I bought the Otter box Commuter case, which happens to be #1 in this list. I trust the Otter box name, and it really is very nice looking. I don't necessarily like the rubber covers over the ports, but I did not know you could remove them. I may not want to, as those port covers are there for a reason, keeping any foreign matter (dust, moisture, etc.), from harming those ports. Plus, it's wireless friendly! I don't use any screen protectors anymore, as the glass keeps getting firmer with each new model.

OtterBox Commuter is also my case of choice. Commuter has proved itself worthy for my last 3 devices. Highly recommend this case. Posted via the Android Central App

What is that Neon Green and Black case on in the picture at the top of this article?

I just got my Samsung Galaxy s6 edge. And am looking for a reasonable
A Price case for it, and that comes with a screen protector. Any opinions
Out there for me, and the place that sells it, and the name of the case.

Someone help me I want advice about my phone case. Please respond.

Griffin Survivor Core Case
This case is very tough and can survive the fall of 2 meters into the concrete as well. The stylish and shock resistant case has an easy grip as well.
Ballistic Tough Jacket Case
The tough jacket case has reinforced corners. The strong case can survive 6 feet fall as well. If you are concerned about the drop, this is an excellent solution. This can even provide you easy grip and can slide in the pocket very easily.
Verus Crucial Bumper
This has a dual layer to increase the protection of the phone. The finishing of the case is excellent and at the same time, the polycarbonate bumper is very effective. The bezel is elevated to protect the screen of the phone.
Cruzerlite Bugdroid Circuit Case
This is a simple case with pure design. The classy and fancy looking case is excellent for protection. The fine grip, excellent flexibility and comfort of using are the major features of the case. This is one of the simple yet effective cases for Samsung Galaxy S6. http://www.iosvlog.com/best-cases-for-samsung-galaxy-s6/

Anyone could please give advice to choose Between: Griffin Survivor
Lifeproof
OtterBox Defender
Supcase Unicorn

I'm using a Spigen Neo Hybrid, just as I did on my S4. The main reasons for getting it were protecting the phone and improving my grip on a slippery glass phone but I like the way it looks as well. Posted via the Android Central App

I prefer a glass screen guard and a natural wood slick wrap for the back

I have the Obliq Thin Bumper Case on mine and love it!

I purchased the Spigen Slim Armor case in blue a long time ago and haven't looked back, this is the absolute case I've ever used on this device. I also have a Caseology Wavelength case, but it's very deceiving. The Caseology case honestly doesn't have much, if any grip to it at all and is easily slid across a table. The wavy portion on the back has no grip to it and is just there for looks.