Top 5 wireless chargers from ShopAndroid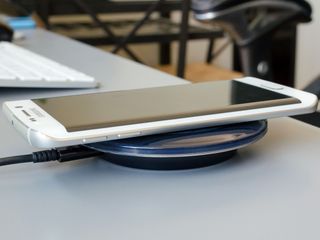 If you haven't thought about picking up a wireless charger already, it's only a matter of time. They're convenient in just about every scenario, whether you're at your office desk or on the road. There's no fumbling for lost charging cables or adapters, just a clean and simple solution that only requires you to drop your Qi-compatible device on a pad, puck or dock and go about your business.
Need help choosing the best wireless charger for your device? We're here to help. Take a look at our 5 favorite wireless chargers available right here at ShopAndroid.com.
READ MORE: Top 5 wireless chargers from ShopAndroid
Samsung Wireless Charging Pad
This handy OEM puck sports a sleek design from top to bottom, and features a cool LED that lights up blue while charging your device and green when it's fully charged. The top has a rubber circle that's designed to keep your mobile device from sliding off the charger, but you'll still want to be careful — especially with glass-backed devices like the Samsung Galaxy S6.
Included with the Samsung Wireless Charging Pad is a 5-foot USB charging cable along with a 2A USB charging brick to match either the black or white pad you roll with. Underneath the pad is more rubber to keep from sliding on flat surfaces. Currently priced at $44.95, it's a solid charging pad that provides some cool lighting. Maybe not ideal for bedside use, though.
iOttie Easy Flex Wireless Charging Car Mount
Designed to fit on your dashboard or windshield, this wireless charging car mount keeps a slim profile so your field of view isn't compromised while driving. No matter where you place this mount, you can easily adjust it to your liking. Vertically for managing your music or horizontally for navigating with Google Maps — it's all possible with a simple twist.
The arms are also adjustable from 2.6 inches (closed) to 4.25 inches (expanded), fitting a wide range of Qi-compatible devices. Included is a micro-USB car charger and a handy cord organizer to keep things tidy. You can snag this wireless charger right now for $69.95.
Learn more about wireless charging in the car
TYLT VU-MATE Wireless Receiver Cards
Whether your current device doesn't support wireless charging or you can't find the appropriate battery door to enable the feature, TYLT's wireless charging receiver cards provide you with the power to make the magic happen.
Although installation can be a little tricky, the idea is simple. You line up the receiver card with the internal charging contacts and attach it to your battery so it stays in place. Pop the battery door back on and you're good to go. Keep in mind that you'll need the appropriate wireless charging receiver card for your specific device. Devices such as the Galaxy Note 4, Galaxy S5 and Galaxy S4 all have cards available for those interested in trying one out.
TYLT VU QI Wireless Charging Pad
Switching up your typical design is TYLT's VU Wireless Charging Pad, a dock-style charger that handles most Qi-compatible devices out there. Available in black, blue, and red, the surface features a soft coating that prevents your device from slipping off the dock. You can place your device vertically or horizontally for a steady 1A charge.
Included with the TYLT VU is a charging cable that reaches behind the dock for a clean look is and plugged into its matching USB power block. This particular wireless charger is ideal for office desks or even your nightstand since the charging light isn't very bright. Choose your favorite color and pick one up for $69.95.
Incipio Ghost 220 Dual Qi Wireless Charging Base
Perfect for households with more than one device that supports wireless charging, the Incipio Ghost 220 wireless charging base gets the job done and has some additional features worth bragging about.
An integrated 2.4A USB charging port is built-in, allowing you to charge a third device via USB charging cable (not included). While your mobile devices are getting juiced-up, two blue LED's light up on the front side of the base, giving it a cool presentation. Keep in mind those LED's are pretty bright, and may be best left outside the bedroom. This pad is going for $74.95 right now if you're interested in scooping one up.
Read our Incipio Ghost 220 review
Get the Android Central Newsletter
Instant access to breaking news, the hottest reviews, great deals and helpful tips.