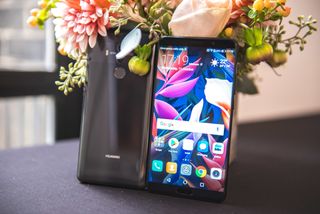 EMUI 8 is the software running on the Huawei Mate 10 and Mate 10 Pro and Honor View 10, and it will soon be coming to a bunch of Honor and Huawei devices being upgraded from EMUI 5.x.
While not a huge evolution in design or features, EMUI 8.0 has a number of advantages over its predecessor, including optimizations for AI and machine learning, and an underlying layer of Android 8.0 Oreo that brings a bunch of cool new things. Whether you're waiting for that all-important software update or are just looking to get apprised of Huawei's latest and greatest, here's what you need to know about EMUI 8.0.
Change that launcher
If you're using a phone running EMUI 8.0, such as the Huawei Mate 10 or Honor View 10, you're going to have to contend with the default launcher, an experience that may be jarring coming from another phone. First, the launcher lacks an app drawer, which forces you to throw your app icons and widgets, iPhone-style, into a series of pages. It can get messy.
Make that change by going into Settings —> Display —> Home screen style and changing it from Standard to Drawer. If you're still not satisfied (as I wasn't), download an alternative like Action Launcher or Nova Launcher, which seem to do the job quite well.
Accept that notifications aren't quirky but solid
The fastest way to loving a device like the Mate 10, Mate 10 Pro or View 10 is to accept that EMUI 8 has some idiosyncracies, particularly in the way it handles notifications. While the behavior is different depending on the product, they all share Huawei's love for blue accents, curved boxes and oversized text. With the Mate 10 series, lockscreen notifications don't expand; on the View 10, they do.
But given that EMUI 8 is based on Oreo, the main thing you need to know is that notifications, while quirky in places, are solid. They support snoozing and in-line replies and, for system apps, get really small and all that good stuff.
Dive into the display settings
Like any Samsung or LG phone today, Huawei phones have a bunch of display settings to tweak not only the color temperature but the resolution, text size, the presence of a blue light filter and more. It's a lot.
The good news is that EMUI 8 cleans this up considerably from previous versions, making it easy to find exactly what you want. See whether you're OK with your phone running at its full resolution or, to save a bit of battery, lower it to HD+. Even better, enable "Smart resolution" which does the decision-making for you.
For phones with 2:1 displays running EMUI 8, like the Mate 10 Pro and View 10, there's also a setting in the Display area to force all apps to stretch to run within the taller aspect ratio. It's quite handy.
Play with navigation
All phones running EMUI 8 utilize an optional on-screen navigation dock in lieu of permanent navigation buttons. The gesture area can be moved around, and the tap/hold/swipe dynamic is easy enough to learn that, before long, you won't need the navigation keys at all. Or, if you want to use both you can do so easily. EMUI 8 is customizable without feeling bogged down by the choices.
Find the right theme
Phone theming is so hot right now, but Huawei has been there from the beginning with free downloadable themes to make your home screen and navigation areas look great. EMUI 8 comes with a native Themes app that, in one tap, applies new colors and icons to your whole phone. Feeling particularly festive? Grab a limited-time seasonal theme to celebrate Christmas or Easter (or Halloween or...) or just search through the myriad creative submissions from Huawei designers and creative fans alike.
How are you thinking about EMUI 8? Looking forward to the update? Let us know in the comments!
Be an expert in 5 minutes
Get the latest news from Android Central, your trusted companion in the world of Android