Get a landline you'll actually use with the $63 Ooma Telo free home phone service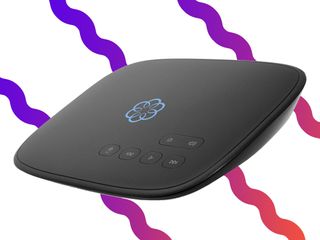 The Ooma Telo free home phone service device (opens in new tab) is down to $63 as part of Amazon's Gold Box deals of the day. This is the lowest price ever for the Ooma Telo, matching a drop it hasn't seen since April. Over the last six months, its street price has fluctuated around $80-90.
If you haven't heard of Ooma Telo before, it's basically a system that wants to replace your landline or any landline you might be paying for but not using (through a cable bundle, for example). Once you pay for the initial device, the only thing you'll pay for after that is monthly taxes ($3-6 depending on where you live). Given how much your cable bundle might be costing you, this system could end up paying for itself within a year.
Ooma Telo creates a landline that uses your home Internet connection. It gets you free nationwide calling, call waiting, caller ID, 911 service, a call log history and voicemail. It's easy to set up, comes with good mobile apps, and you can keep your original phone number if you want. Ooma also has some neat extra features like sending voicemail to email or text message and also lets you block known telemarketers.
Ooma Telo is better than other VoIP services like Vonage because you're paying up front for the device and then, except for taxes, don't have to pay for anything ever again unless you want to. With Vonage's best deal you're paying $10 a month, which means Ooma Telo pays for itself over that service in half a year with this deal.
See at Amazon (opens in new tab)
More from Thrifter
For more great deals be sure to check out our friends at Thrifter now!
Android Central Newsletter
Get instant access to breaking news, the hottest reviews, great deals and helpful tips
J.D. Levite has been in the deals game since 2012. He has posted daily deals at Gizmodo, The Wirecutter, The Sweethome, and now for Thrifter. He was there for the first Prime Day and has braved the full force of Black Friday. If you cut him, he bleeds savings. But don't try it for real. That's a metaphor.
I don't understand having a home phone these days.

Because sometimes you might be at home and your phone may not work or maybe you have a guest that is there taking care of your house and they somehow don't have a cell phone or misplaced theirs. Or maybe it's after a storm and the only service available is landline service.... Many other reasons.

True for some of those reasons, however this is not a POTS line. Ooma is only as good as the Internet service or power that may or may not be available during inclement weather.

Very good point. I guess the question is, how many redundancies do you want to have in case of an emergency.

I've been using Ooma for years, I bought the hardware for like $80 then, and pay around $4 a month in taxes. Well worth the convenience of having a house phone to use when you want to call someone or use in an emergency.
It helps that I only have 100 minutes on my cell plan. and use Google Voice to ring the house phone too.

Why would this be better than just re-purposing an old smartphone to run Google Voice?

I guess it depends on the tech-savvyness of whoever's buying it. I think something like the Ooma Telo could be set up by the grandkids and looks kind of like an answering machine when they were separate from the phone base back in the day, it wouldn't be too difficult to quickly learn how to use vs. a repurposed smartphone/Google Voice set-up for some. I can completely see someone saying "so, my home telephone number is up in the clouds now? With the Google? I dunno, doesn't seem safe....." I think of my dad, who just got his first smartphone last year (after Verizon was charging him smartphone prices for dumbphone service, but that's another story altogether), and if he was interested in saving money on his landline (I shudder to think what that's costing him), this is something I could get running for him with a couple of hours in an afternoon.

Just get an Obi 200 box for $40 and use your Google Voice number for free. No taxes. That's what I use with an old cordless phone. As easy as setting up the Ooma box.

I have one too, it certainly works, but without paying you don't get 911 service (which I assume is what the "taxes" are for with Ooma Tello as well). The Ooma thing is probably significantly more user-friendly from the looks of it. I certainly wouldn't expect my parents (or whatever non-technical example you prefer) to be able to set up the Obi without help.

I also set up an Obi 200 with my landline number ported to Google voice. I agree the Ooma is probably a more user friendly initial setup but the costs to me make it worth the effort. There are no taxes for the Obi. You'll just have the cost of the Obi 200, around $40, and if you want to port a specific number to Google, they will charge a one time $20 number port in fee. If you want the 911, that is $25 per year but that is it. No monthly taxes. Once set up, it works flawlessly. The setup was easier than I expected.

My wife and I have had an Ooma Telo for a few years now, the model just before this one. I think this model improved on the internal speaker which was very shrill and tinny on the model we've got, so we just use our home phone's voicemail instead of the Ooma (my wife's not very tech-inclined anyway, so the option to listen to voicemail from anyway through the Ooma website wasn't a huge draw.) It's cheap as all heck, we pay a couple of bucks a month for regulatory fees/911/etc., the sound quality's no different than a normal landline phone to my ears, and we've recommended it to multiple people. It's easy to set up, works like a charm.

I have not seen anyone mention using it to fax. Can this fax?

Yes, this works fine for in and outbound fax. http://support.ooma.com/home/faxing-with-ooma.
However, I question the need for it for that, for the average home users infrequent fax needs, which can be met for next to nothing with free FaxZero outbound fax, and free inbound eFax.

Good looks. I'm bookmaking this link. Thanks.

I got magikjack. Much cheaper than this, great mobile app and very reliable service so far.

None of these thought can be used with a home alarm system I'm guessing?

This doesn't save you any money if you have Comcast's Triple-Play bundle. Comcast charges you more money to have just two (internet and television) than it does with all three including phone. Plus this is not a traditional phone line. In the event of a power failure or internet outage with your ISP the service will not work.

Comcast is VOIP also and not everyone wants or needs triple play. Most of their reasonable triple play packages do not include 200Mbps internet which is what some of us want. If I get on this, plus my $50/m Comcast internet and $35 DirecTV Now, it's far cheaper than any comparable triple play package even promo ones (the key being the 200Mbps internet).
Android Central Newsletter
Get instant access to breaking news, the hottest reviews, great deals and helpful tips
Thank you for signing up to Android Central. You will receive a verification email shortly.
There was a problem. Please refresh the page and try again.