Three reasons the RED Hydrogen One could be the most interesting phone of 2018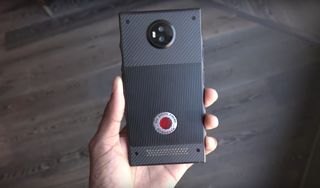 For a company that's never made a smartphone before, RED is sure getting a lot of attention with its upcoming debut phone, the Hydrogen One. That's thanks in part to RED's massive brand recognition outside of the smartphone space, where it's known as a leading name in cinematography. Whether you were aware of it or not, most of your favorite movies were likely shot on RED's digital cinema cameras, along with videos from some popular YouTubers.
Of course, it takes more than a fancy name to sell a phone — especially when that phone starts at $1200. On top of its unique design, featuring ribbed sides for easy grip and premium materials like titanium and kevlar, the Hydrogen One is full of features that you won't find on any other phones. Here are a few reasons why, good or bad, the Hydrogen One is likely one of the most interesting phones we'll see all year.
The holographic display
Everybody loves a bit of mystery, right? Though RED has been teasing its glasses-free holographic display since it originally announced the Hydrogen One, only a few people have gotten to actually see and use it — none of whom were allowed to take photos or videos of it, though they've all seemed to come away impressed. Here's the main idea: the Hydrogen One will be able to switch between the normal "2D" display mode and what RED is calling "4V" (or "4-view") mode.
4V is RED's glasses-free 3D technology — a category we haven't seen much development on in years. You'll need special, 4V-specific content to take advantage of this feature; the Hydrogen One can capture 4V video natively, and RED is creating a content hub called the HYDROGEN Network where you can view and share 4V content with other Hydrogen One owners.
The cameras
RED has already claimed that the camera experience on the Hydrogen One is so good that it can only be bested by the company's own production-grade cinema cameras, beating out other phones and even DSLR and mirrorless cameras. I'm … skeptical, to say the least, but such a bold claim definitely has me interested in seeing photo and video comparisons against other cameras. If even remotely true, the buyer's perspective could shift from the Hydrogen One being a gratuitously expensive phone, to being a relatively inexpensive, pocketable camera with cellular capabilities — just think about the excitement the Blackmagic Pocket Cinema Camera 4K caused amongst videographers for roughly the same price.
By default, the Hydrogen One has two rear cameras in a circular housing, capable of shooting RED's 4V format natively. It'll simultaneously save a 2D version so you can still share your videos to your non-Hydrogen One touting friends (aka all of them), and the dual front cameras mean that you'll be able to shoot in 4V in either direction. While I'm doubtful that a phone could possibly outshoot dedicated cameras like the Panasonic GH5 and Sony a7III, RED's legendary sensors and color science will likely give it an edge over other smartphones.
The modularity
Just like Motorola's Moto Z lineup, the Hydrogen One features a series of magnetic pin connectors that allow for a collection of hardware mods to expand the phone's capabilities. It goes without saying that the majority of these attachments will augment the cameras; we've already seen an attachment that adds a lens mount to the Hydrogen One, meaning you'll be able to add real lenses meant for dedicated cameras to the Hydrogen One, undoubtedly improving optics.
We've also seen the patents to an entire video rig for the Hydrogen One, adding shoulder mounts, rails, a follow focus, and so on. If you happen to own a RED camera like the Raven or the Epic-W, you can even use the Hydrogen One as an external monitor. We'll have to wait and see what else RED adds to its mod lineup, but the hardware we've seen so far makes it clear that the company is serious about the Hydrogen One as a production tool.
Would you buy one?
It goes without saying that the Hydrogen One's unique features are as of yet unproven. For all we know, the phone could be full of bugs that ruin the overall experience and fill the few people who order one with regret — or they might all work flawlessly and the Hydrogen One could end up being a sleeper hit for 2018.
Okay, that may be a little overly optimistic, especially considering how few manufacturers manage to pull off a great phone on their first attempt. But RED is no stranger to ambitious hardware, quickly dominating the cinema field in its short 19 years of business. While I didn't pre-order a unit myself, I'm extremely excited to get my hands on a Hydrogen One when it's finally released this summer — even if only in the AT&T and Verizon carrier stores it'll be available at.
Did you pre-order a Hydrogen One? Are you waiting out for the subsequent model once RED irons out the potential bugs, or is the Hydrogen One not even a consideration for you in the first place? I want to know — sound off in the comments below!
Get the Android Central Newsletter
Instant access to breaking news, the hottest reviews, great deals and helpful tips.
Hayato was a product reviewer and video editor for Android Central.